Has Anyone Built Their Truck in Stages?
07-30-2010, 12:26 PM
---
Hate to go against the grain here, but I tore my 52 F1 down to the frame. Storing and marking parts along the way. Taking pictures before helps for when it comes to putting things back together. Once it was down to the frame, I concentrated on one step at a time. Got the frame straight, cleaned, and welded in new chassis components. (I'm on the dark side). Put in the drive train, brake lines, fuel lines. Then I worked on the cab. As someone else said, that gives you the chance to get to areas that can't be reached otherwise. Put the cab back on and wire it. I drove mine around once I got the cab back on with no doors or glass! Not far,just enough to know things were working ok. It may seem overwheming at times, and I've felt that way too. One thing at a time. Finish each phase as best you can so when it's all together, you have a better chance of everything working. Nothing compares to driving your pride and joy for the first time after completion. Keep your eye on the prize. Zoot
07-30-2010, 01:02 PM
Join Date: Apr 2009
Location: South west Idaho
Posts: 3,032
I do all of my projects in stages.
1- Engine and all drivetrain including brakes and steering.
2- Test run everything.
3- All small mechanical including changes and modifications.
4- Body work and metal prep.
5 -Partial disassemble and paint all.
6- Reassemble and adjust everything.
7-Upholstery.
I never seem to get to upholstery before I get side tracked on to another project.
Be nice to just take it in to a shop and say ' build it' but then I would miss out on all of the fun.L.O.L.
07-30-2010, 01:28 PM
I'm going a combination Stage/Cost/Time Frame combination with a spreadsheet to project what the costs of parts would be. I only have a few hours a week and limited funds for the 54', so started with getting it running. Luckily it did or I would have had to revamp the order I needed to work in. Next was the brake system, if it moves I gotta' stop it. Next will be gauges, lights and signals, generator, and general wiring. Each step making it more driveable. Paint and body will wait till last while I decide if I do it myself or have someone else do it. So far I am pretty close on projected cost, save some here, spend more there. Each step leads to another but is satisfying when you complete it.
07-30-2010, 02:28 PM
I appreciate all the responses. It sounds like more people have chosen this route than I had thought. There really isn't much to a stock truck mechanically and if I was building a stocker, I'd probably try to do the whole thing in one shot. My mechanical plans for this truck are anything but stock, though. Some of the mods I'm planning and parts I'm going to use are items that I've never seen used in anyone else's build. I'll be doing a fair amount of trailblazing, fabbing, and engineering on the fly to get this all put together. I've planned and researched as much as possible, but some things just can't be laid out and planned for until the body is off and you start hanging parts. It is for that reason that I'm leaning towards building it in phases. After the body is off, I plan to mock up and test fit everything on the chassis. Once I know everything fits, all the holes are drilled, and any welding is finished, I'm going to knock it back down to a bare frame and have it sandblasted and powdercoated. I found an outfit nearby that can handle both tasks. I'll work on rebuiding a few of the mechanicals that aren't done yet while the frame is gone. Once the frame is back, I'll reassemble the whole thing and put the body back on. It sounds like a good plan. We'll see!
07-30-2010, 04:08 PM
I started my project, a 49 f1, out at my Dad's farm. I got the truck from a friend around 25 years ago for my son. He was about 15 then. My son commenced taking it all apart. The only thing that was in it's original location was the cab. His intention was to rebuild it for a driver but he lost interest in a short while. When he realised the work involved and the cost he became ovewhelmed and gave up on it. We had acumulated a couple other trucks also for (we thought parts). Needless to say none of the parts of these other truck were compatible with the 49. One was a 51f1 and the other was a 52f1. These also ended up totally dissassembled and stashed in my Mom's chicken coop along with the 49. There were no chickens any more and it was pretty well cleaned up for storage.
To make a long story short, my son grew up, left home, got married and left all these apart relics behind at his grandfather's place. Then, about two years ago handed all this back to me and said go ahead and get rid of all this stuff.

I then assembled the 49 back to original after sorting through the coop, with all it's own parts out in my Dad's backyard under the blazing hot sun. Man there was a lot of parts. I was sorting through the remains of three trucks out there to find all the appropriate 49 parts. Took me nearly a whole month to put it all back together.

When I finally had all the correct parts roughly assembled into a truck I trailered it home. This is the 49 I am building in the photos.

I live in a condo in town with a really small single garage attached. I made a commitment to myself to build this the best I can under these cramped conditions. I'm sure all my neighbours have sore necks trying to get a look at what the heck am I doing. And I don't even have a mess or hint of truck building out in the strata.

I am doing it in stages and it is rewarding to achieve small goals that are part of a bigger picture. I have built hotrods and replica cars before but that was in a different life with a bigger garage.

This FTE site keeps me stoked and inspired and I sure do appreciated all the good people on here. This were my inspiration is coming from so keep it up girls and guys. You do a wonderful job. Sorry for taking up so much space on here but I just had to say stuff.
07-30-2010, 04:51 PM
Yup, stages is the way to go man. When I got mine the 1st stage was just to get it started, once that was done I did the brakes. Then so on and so on. Right now I'm in the stage of swapping out the motor and since I have it apart as much as I do I'm getting the frame while its all nice and open. I'm hoping to actually get the new motor and tranny in next weekend...
07-30-2010, 05:07 PM
The stages routine is what was planned when I rebuilt the front end about five summers ago. The truck was running, paint fading and after one trip around the block with the new front suspension, I stopped to put the 3 deuce manifold on.
Not a bad idea... had rebuilt the carbs, done my research and was oh-so-close to having it going when one of my hot rod buddies gave me a new in the box set of classic instruments gauges. Cool... but this is where it fell apart, Joe.
My PO had hodgepodged the gauges, switches and seats in the truck, so with the new set I thought I'd just fab me up an engine turned panel and mount those matched and shiny rascals.
Under the dash was that rats nest of hodgepodging mopar switches and instruments... nothing to do but buy a rewiring kit. The story goes on and on... one thing leading to another.
I did manage to upholster my seat and build some door panels, but they are not installed. Then my wife took sick. My pile of unfinished projects have been sitting until her recent early stages of recovery.
This summer I cleaned the leaves out of the bed and found a bunch of rotten wood.
[IMG]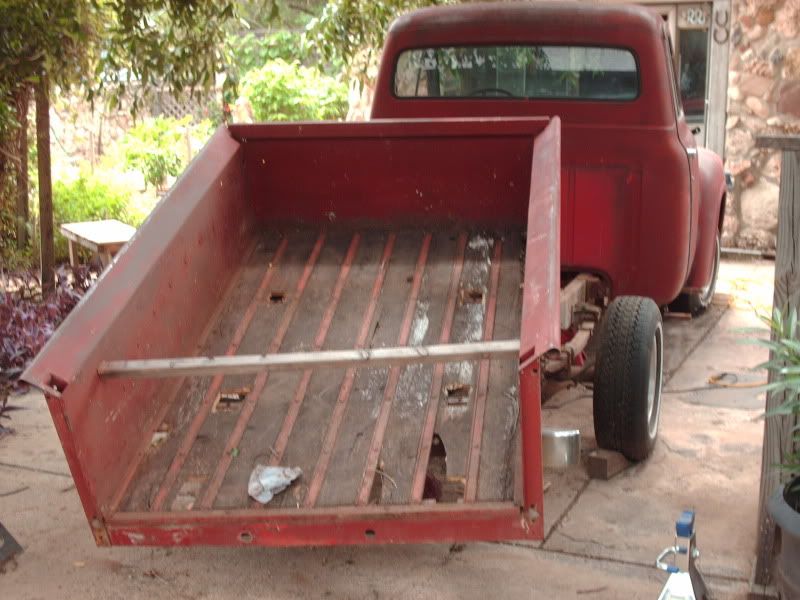 [/IMG]
Determined to add this to the list of undone things I started rebuilding it... including paint. All I lack is putting the tailgate on and remounting the bed on the frame.
Of course the rest of the truck needs paint and the front tilt hood is coming along slowly as I learn to weld. I guess the answer to your question is: I wish I had finished one stage before getting involved with another.
The upshot is, with this post as inspiration, that I am bound to finish each part before adding another to the list... or the truck sits for another 5 years. There will always be interruptions, but if each chunk gets done like you have outlined, well, then I imagine I might be driving it much sooner than later.
This means I won't be painting the frame just because the bed is off. I've got to go practice my welding.
[IMG]
[/IMG]
best, himmelberg
07-30-2010, 06:22 PM
Stages? This is the first time I've had an opportunity to not have to build in stages. One year into it, I'm sure wishing it would have been possible to rebuild it in stages. My 53 is all primered, the chassis is pretty much done, the motor and transmission went in last week-end, but I still have to shoot color, rebuild the doors, rewire the whole vehicle, replace the glass, redo the interior, get a drive shaft made, and sort out the steering; I guess I'll see how the next year goes.
07-30-2010, 09:56 PM
I think your idea in stages is a great way, that is if you have a close to complete truck to start with. I started with a few pieces and bought many more. Dont have much to this point done just lots of parts all over the place. If i had it all over to do again i would buy a driver and than do weekend projects to get closer to what i want. That way i would not lose interest and stall....... Seems to be where im at now. Good luck!!
07-30-2010, 10:29 PM
I'm with Zoot, because this will probably be my last frame up build I have cleaned, painted, and detailed each part as I went. The toughest part is figuring what needs to be done ahead of time so that when a component is needed it's done. When it works it's like an assembly line, just reach for a part and it's there and ready. Takes a while that way but when it's done it's DONE!!!! As done as these things are ever done anyway. Good thread guys (gal)
07-30-2010, 11:03 PM
After reading a lot of posts on here and experiencing some heartache over selling a previous 56 I say stages is the only way to go. A Few hundred dollars and i go t my new old 55 running with a fun 3 on the tree/ 292 combo. I have been driving it for a few months like this and BAM... a 429/c6 with only 55 k fell into my lap. Next up is a full IFS upgrade and back to the daily driving until i find a good deal on a bed. Once that's done daily driving until i decide to do paint and finish work. Unless your doing an all out build why tear it down and make it of no use to you. Have fun with your toy in stages. Each stage will give you joy and push you to a new point with your build.
07-30-2010, 11:17 PM
I usually build in stages, mainly because I have a lot of desire to work and not the funds I want to do it how I really want to. It allows me to make things the way I want them and enjoying it along the way.

Personally I think it would be easier to make a show truck or anything else if you did it all at once, mainly because you can see how everything is working with everything else and make sure it all flows together, plus some things are a whole lot easier to do while you're doing something else (ie, since I have the cab off, why don't I...). I find this also gives me time to experiment and see how I like certain ideas.
07-31-2010, 09:44 AM
I don't get over here as much as I used to and that especially goes for the months with warmer weather. So, I kind of hit this thread after it has been going for a while. However, that gave me a chance to read a lot more from the folks that are doing... It seems that there are two separate interpretations of building in stages, the first being a kind of drive and build thing and the other being build for while and switch off to something else. From the posts in this thread it's obvious that each method has it's pros and cons.
For a number of reasons I seem to fall into the second category. First of all, the stuff I buy is at the bottom end of the quality scale, you know, the kind that you can't just buy and drive. As a matter of fact I wasn't prepared to start on a project when I got my first '53 F-100. It was sort of by accident. My son was looking for one down around Atlanta where he lives. He found more than one, and called me to see if I was interested in one. The price was right and I bought the other one he found. Of course it had to stay down there until I could get a dead head back from that area. About three months after I bought it I was able to bring it home. The first hold up was the fact that the seller had two trucks to sell and it was a great way to get them cheaper. The other one was a '49 Chevy that I sold for enough to pay for both trucks. There again it was a matter of waiting until I had another dead head back. All that was over two years ago and at the time I was working on another project that I managed to drag out over a five year period.

Flash forward one year... While finishing off the other project I managed to acquire another '53 as well as a lot of other '53 parts including a bare cab with no doors, a bed, several sets of fenders and a really good frame. During this time period I kept scheming, plotting and planing the truck project which became two projects. Along the way my plans have changed regarding the current project and the first '53 I got is still sitting here untouched. The current project is actually a truck being built from parts from seven different vehicles, and counting. CLICK HERE to see the build thread.

Unfortunately I have two, (maybe more), factors working against me. I have way too many interests and projects and I'm an old geezer with a short attention span. Being retired I don't really have to do anything. If I push myself and set definite time limits it starts to turn into a regular job. I also occasionally take on jobs like rebuilding and restoring generators and welding machines, building custom Rotary Phase Converters for guys like us that can't afford 3 phase power and transporting custom and classic cars. So, I think you can see that I have to divide my time. This obviously forces me to do my project in stages.

For me the whole point of doing a project is to enjoy doing it. So, I work on it when I can and when I have the stuff to do the job with. I have several self imposed rules which include doing the project with as little investment as possible and not to get burned out on it, which is easy to do when you are retired and can put in lots of time on it. Being a card carrying confirmed Darksider, I have lots of ideas and innovations I want to incorporate into my project. That also keeps my project evolving as it progresses. I started out with a basic but flexible plan that has already gone through several stages of design and engineering changes, and will continue to do so. My avatar is the basis for the project's concept. Sometimes these new ideas and changes come to me when I am in one one of the working stages and some when I am working on something else.

After a slow start in the first year I have picked up the pace and things seem to be going a little faster. I'm sucker for sticking with it when progress is swifter. However, I have once again set the main project aside because I have to strip down a T-Bird Super Coupe for the engine and rear suspension I'll be using in my project. I have the rest of it sold to various people including the crusher. When I am done I will have zeroed out the cost of acquisition and effectively have a cool supercharged engine for my project. The good part of this is that when I am done I will have a very unique truck with all the modern features for less than $3,000.00. If Ihad gone full tilt and paid whatever the going price was for everything to get it instantly, it would cost me at least five times as much and I wouldn't have had nearly as much fun. In my quests for donor vehicles and parts I have met a lot of interesting people and enjoyed every minute of the time I have spent in all those public and private junkyards. So, there is a lot to be said for doing a project in stages.

Later Folks...