Nameless Project - 1995 Ford F150
07-02-2010, 11:08 PM
Join Date: Jun 2008
Posts: 67
Nameless Project - 1995 Ford F150
---
I guess its time to finally start a build thread on here..
When I bought the truck, it was a 1995 F150, 2wd, with a 4.9L/m5od-r2 with an 8.8" with 2.73 gears and a 3" body lift. First thing I did was bought some used 32" buckshots.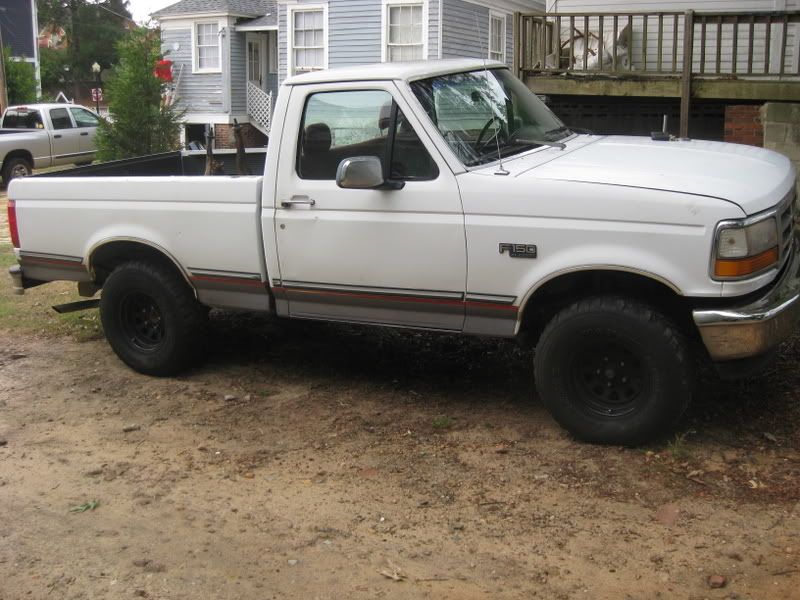 6 months or so after that, I bought a used 6" ProComp lift with extended radius arms. When I swapped in the lift, I installed a d44ttb/8.8" combo with 3.55s. And scored some 36x15.50 Dick Cepek Mud Countrys on closeout through 4WP.
Then some KC Daylighters, 150w.
Somewhere in there, I swapped out my porno red interior for a perfect condition gray interior. As well as a factory tach.
Swapped in a 4x4 ZF5 I picked up at a junkyard, as well as a bw1356.
Got some beadlock rims in a trade, so I ordered a set of custom rings for them from Creative Engineering Offroad.
Then finally got to take it wheeling at K2 (Katemcy), where I messed up my steering and twisted my rear driveshaft.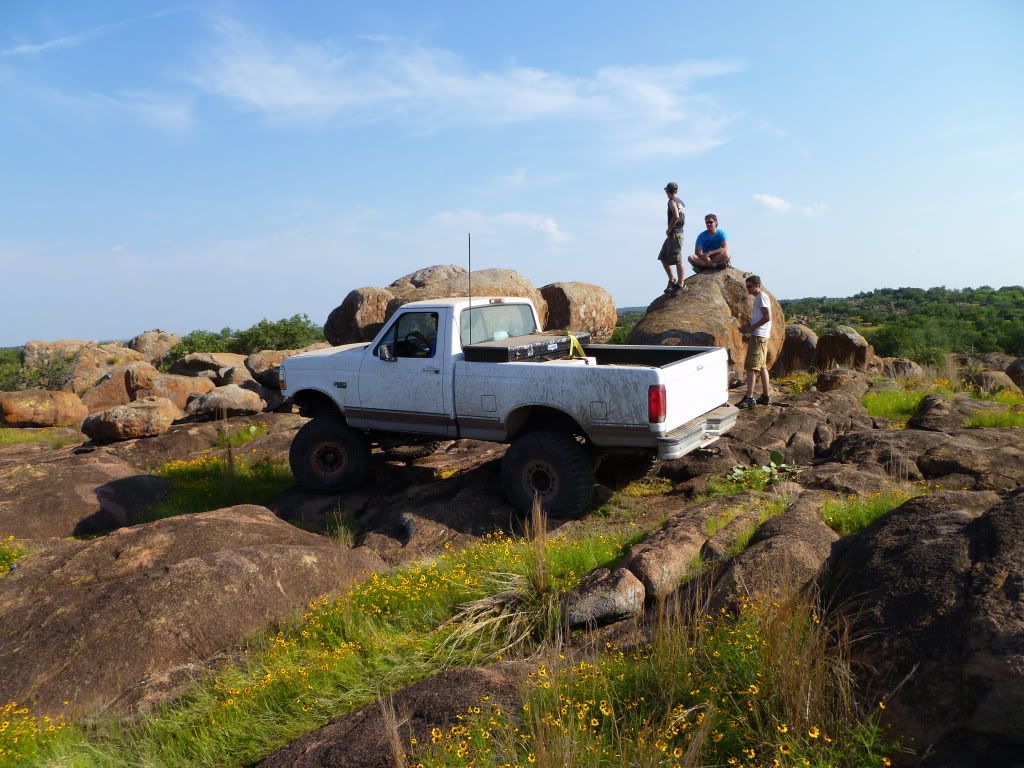 Took the body lift off. And right now, its sitting outside with the bed pulled off, and the rear suspension being redone. I'm planning a flatbed for it, swapping in a sky-manufacturing shackle flip, 7" USDR custom shackles from DIY4x, 3" wide 4x4 leaf springs, and an 8.8" with a full carrier detroit.
Also have a bunch of parts to start on a SAS. Waiting on coil springs, and am saving up money to buy or build a set of extended radius arms.
07-03-2010, 11:12 AM
Join Date: Jun 2008
Posts: 67
07-03-2010, 01:32 PM
Join Date: Jun 2008
Posts: 67
07-03-2010, 08:32 PM
Looks like you've made some pretty good progress so far!Definitely a sweet lookin truck.

I've always hated red interiors,unless they were in a White/Red Tu-Tone truck.I would've done the same swap if it were my truck.

Good luck on the new plans!
07-03-2010, 08:50 PM
lol, seriously though, im a TRUCK guy, ford,chevy,or dodge.....ive owned them all, ive loved/hated them all........just like women, they each have there good points and bad.....
07-03-2010, 09:08 PM
Join Date: Jun 2008
Posts: 67
Just take your time and idle up until you're about to hit the fender, then stop. When your truck is badass, you don't have it give it much gas, or "bump" up it.
07-04-2010, 01:02 AM
Join Date: Nov 2006
Location: Texas
Posts: 973
SOOO MUCH FLEX!!!!
It looks about as flexy as mine haha. But the SAS will defiantly help address that issue.
What springs are you running in the front?
07-04-2010, 01:05 AM
Join Date: Jun 2008
Posts: 67