2010 FTE Online Fat Fendered Mob Round-6 Championship Entry Thread.
05-30-2010, 05:38 PM
2010 FTE Online Fat Fendered Mob Round-6 Championship Entry Thread.
---
Let's See if We can Get some Truck's in Here!
We didn't have a contest last Round due to lack of Participation.
Here I'll simplify, Post pictures & Specializations of your truck, along with pictures. (The Bigger the better
) And your in....
First 10 Truck's are in! Any after that and I'll contact you for the next round.
Here's the rule's:
And with that - entry threads are now going to begin popping open
These are the updated rules for all classes - for all to see
~
1) Contest open to all model and year Ford Trucks (includes vans, SUV's, All Wheel Drive, all levels of customization, etc) WITHIN THAT CLASS
2) Number of entries in each round limited to the first ten who enter a round. If after two weeks have passed there are less than ten but more than one entries, the entries for that round will close and the deciding poll will run anyway. If there is only one entry it wins by default and moves on to the CHAMPIONSHIP round. Contestants may only enter ONE TRUCK per round.
3) To enter - post a picture of your truck at least 700 by 800 pixels in size (no links to other sites. Picture must be displayed in thread) Avoid extremely large images, please. (1024 pixels largest side of image). Huge pictures may interfere with some connection speeds. ALL images will be tailored to size by committee to fit in poll thread. You may only enter ONE truck in each round
4) RULE OF OWNERSHIP: You must have owned the truck AT THE TIME YOUR PICTURE OF IT WAS TAKEN to enter it. You may not enter anyone elses truck FOR them. No exceptions
5) CHAMPIONSHIP RULES:
The first place finisher in each round qualifies and is entered in the CHAMPIONSHIP ROUND.
After ten regular rounds, the CHAMPIONSHIP consists of the first place finishers from the preceding ten rounds running in a "Best of the Best" contest.
6) VOTE MONGERING: You may enlist your buds and chapter, other groups or whatever to vote for your entry. HOWEVER - be warned that all of the polls are anonymous, and your buds can always vote for someone else. There is no way to know! SPAMMING the forums should not be done at any time for this purpose, be careful what you do...
7) Once a poll is up for a round, it will be active until the last day of the month. These polls close by themselves and whoever wins does. If for some reason there is a tie - a tie breaker poll will run until the following sunday night at the latest. Local midnight is based on Central Time in the USA.
8) NON-EXCLUSION: Employees of FTE and/or IBI welcome to enter including moderators or other unpaid affiliates as well as sponsors of the site
9) REPEAT ENTRIES: Out of sportsmanship, it is asked that if you want to enter a following contest, enter no more than two in a row. After waiting for one in between, you may enter again. THIS WILL NOT BE ENFORCED! It is a request, in order to give others a chance. ONCE YOU HAVE WON A ROUND (this is important) you may not enter another round that season with another truck - your winning truck is automatically entered in the finals, and no more than one entry in the finals by the same person is permitted.
10) PRIZES: 1st place winner in each round will receive a free one year paid membership to Club FTE, which provides access to extra features such as the Club FTE Members Only forum. Those who already are supporters will be given a twelve month extension to the membership they already have.
PS:
"You're damn right we're doing it again!"
Let's show 'em how us "Fat Fenders" roll...
Thanks,
-Anthony 76SCS-
06-07-2010, 09:47 PM
OK, do you have a class for the homely orphan step-sisters?
52 Mercury M-1
Flathead V-8
3 on the tree
needs a whole lotta lovin'
Originally purchased as a cab and chassis, a custom flatbed was installed and used by a moving company in Vernon, BC in it's early life. Imported to the states in the late 50's by Canadian sheep ranchers, it was a family owned truck for many years passing through 3 generations before my purchase last fall. I'm looking forward to bringing it back to life, very soon.
06-08-2010, 06:21 PM
Found it!
06-13-2010, 10:15 PM
Ok, lets try again
Sam
1955 f100
House Of Kolor Organic Green candy over Planet Green metallic base.
460/c6, 435hp,
volare front, Lincoln 8.8 rear, custom rear trailing bar suspension
wheels 18x7 front, 20x10 rear
shaved handles, drip rail, emblems, all seams closed.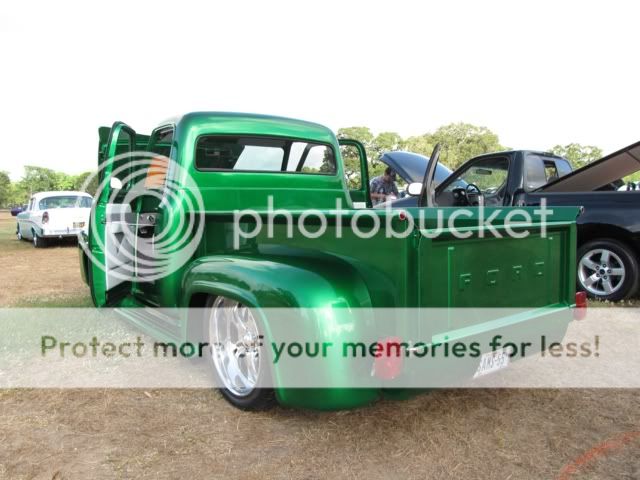 06-14-2010, 12:22 AM
https://www.ford-trucks.com/forums/9...pionships.html
Make sure ya rate, rep & Vote, Comment!
I'll fix things later.