GF's F100 build. (77 F100)
03-09-2010, 06:12 PM
Join Date: Mar 2010
Posts: 23
GF's F100 build. (77 F100)
---
Hi everyone from sunny Aus.
Well we finally bit the bullet and decided to do something about the GF's 2wd, LWB f100.
So we bought a SWB 4x4 donor off ebay since they are getting a little rear around these parts.
Big plan. Hopfuly it all comes together without too many dramas.
New truck is a 77 4x4 short wheel base. Comes with a 351 and 4speed. It's a bit more complete than the pics show since all the panels and rad support etc are out of camera.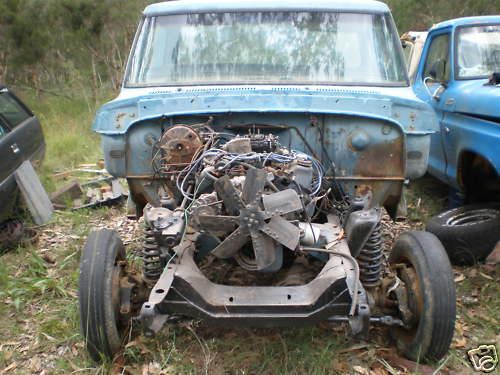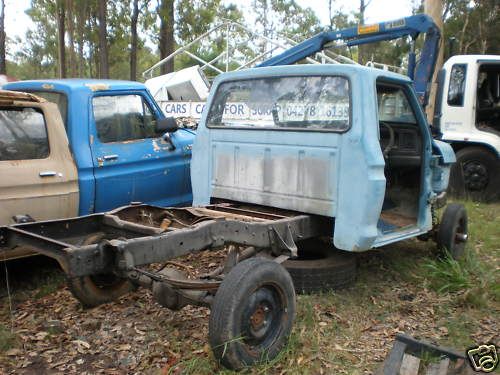 The 302 2wd long wheel base we have now that we'll be using as the donor. It's a great truck, but it oversized for what she needs, and simply can't keep up with my chev FJ40 when we're out destroying the environment.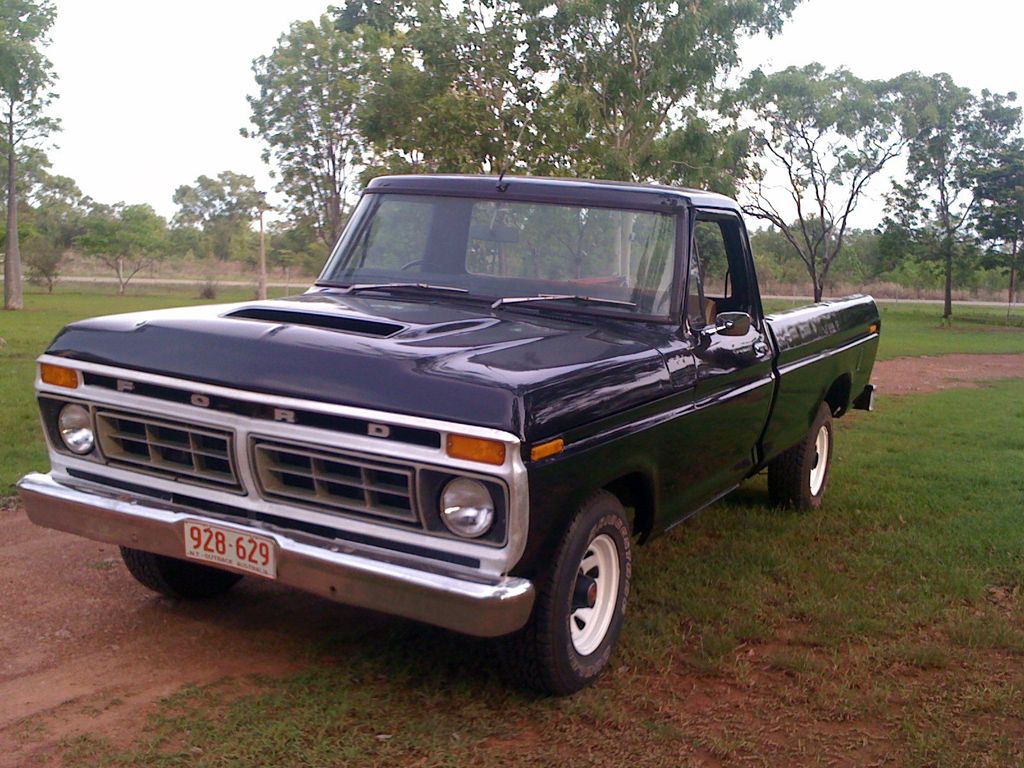 We're looking to do a small lift of the cab to fit he 33s, then i'll make up a flat tray for her. Something like these I think, but with some kind of rear wheel arch/mud flap setup. We are still arguing about the tray style (tube vs box). Time iwll tell I guess.
(Stolen from Pirate)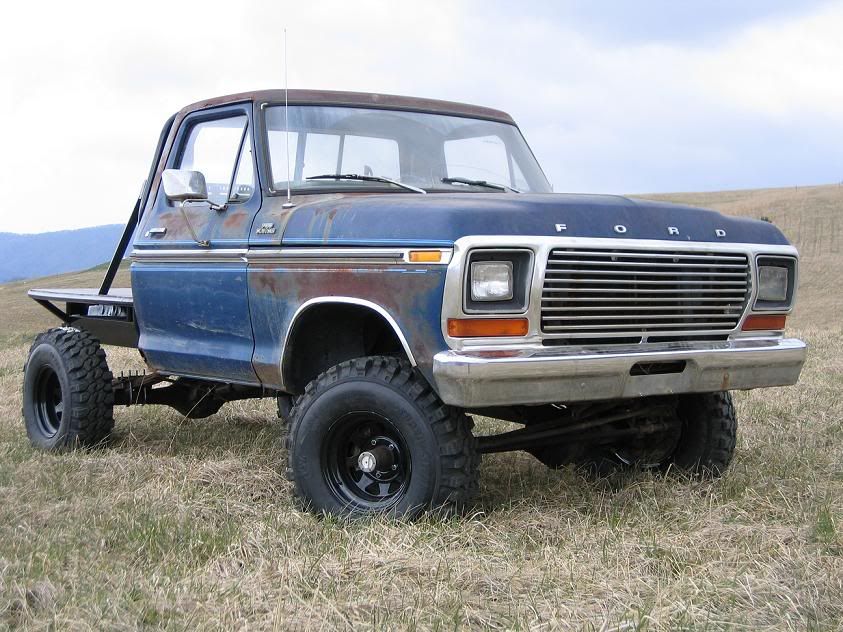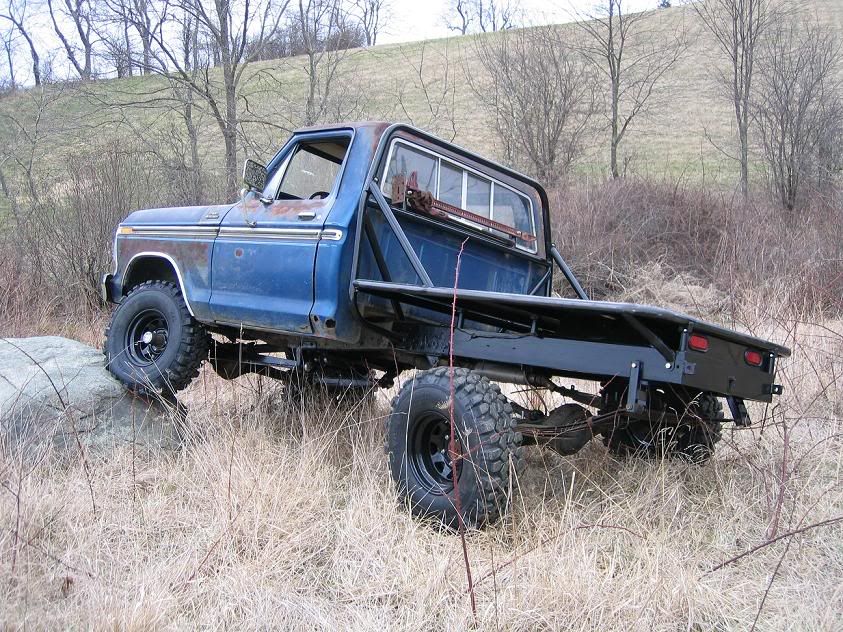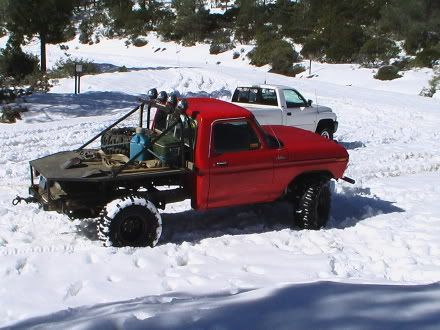 If i can get it too look a bit like the red one in design I'll be a happy camper
03-09-2010, 06:13 PM
Join Date: Mar 2010
Posts: 23
Picks from the first depot as it sits now. Panels are in alot better condition that I imagined so I may just flatten and paint these instead of swapping the cab with the black LWB.
Hopefully the motor is as good as claimed. If so there is actually very little work to be done.
Can't wait to start attacking it.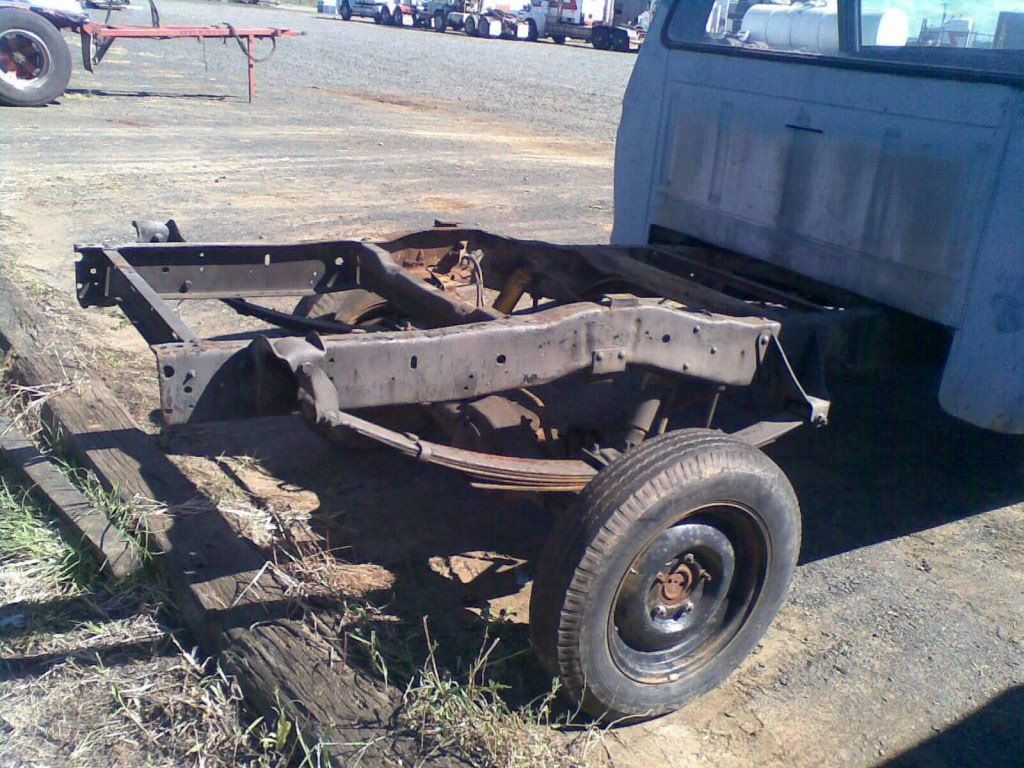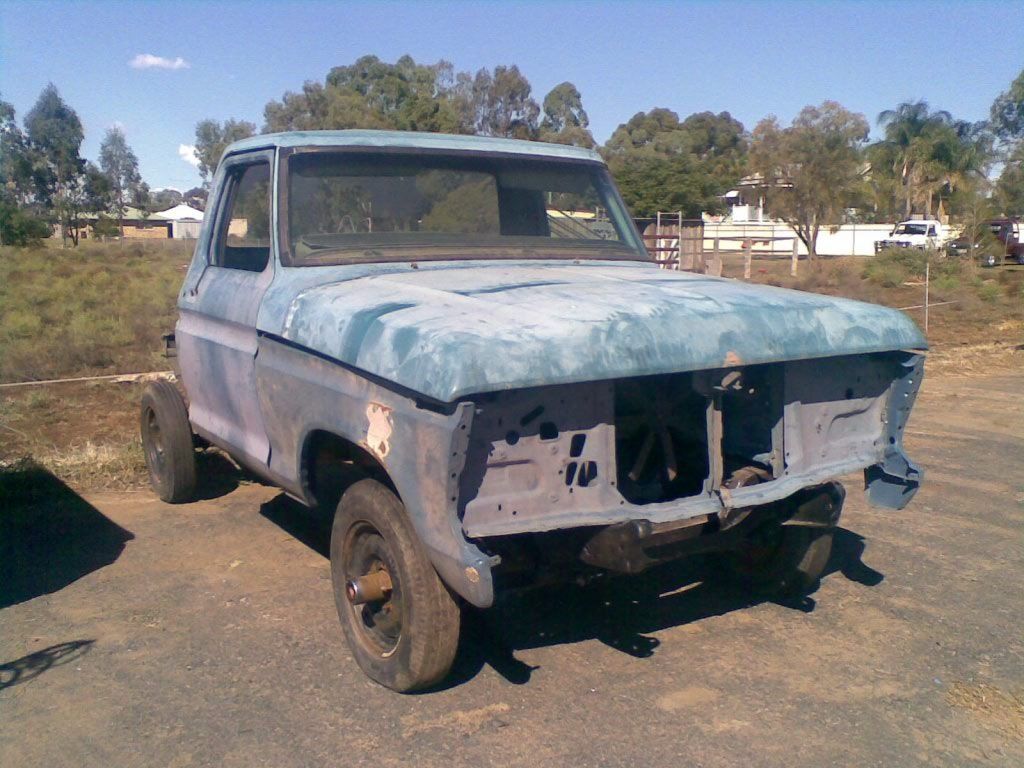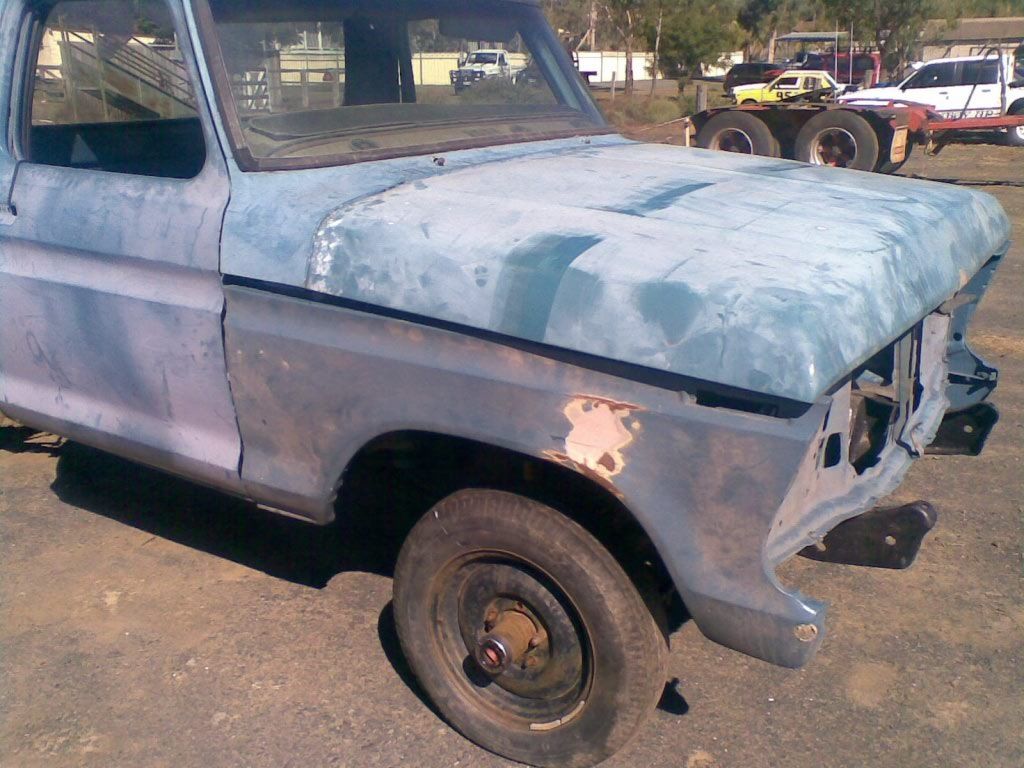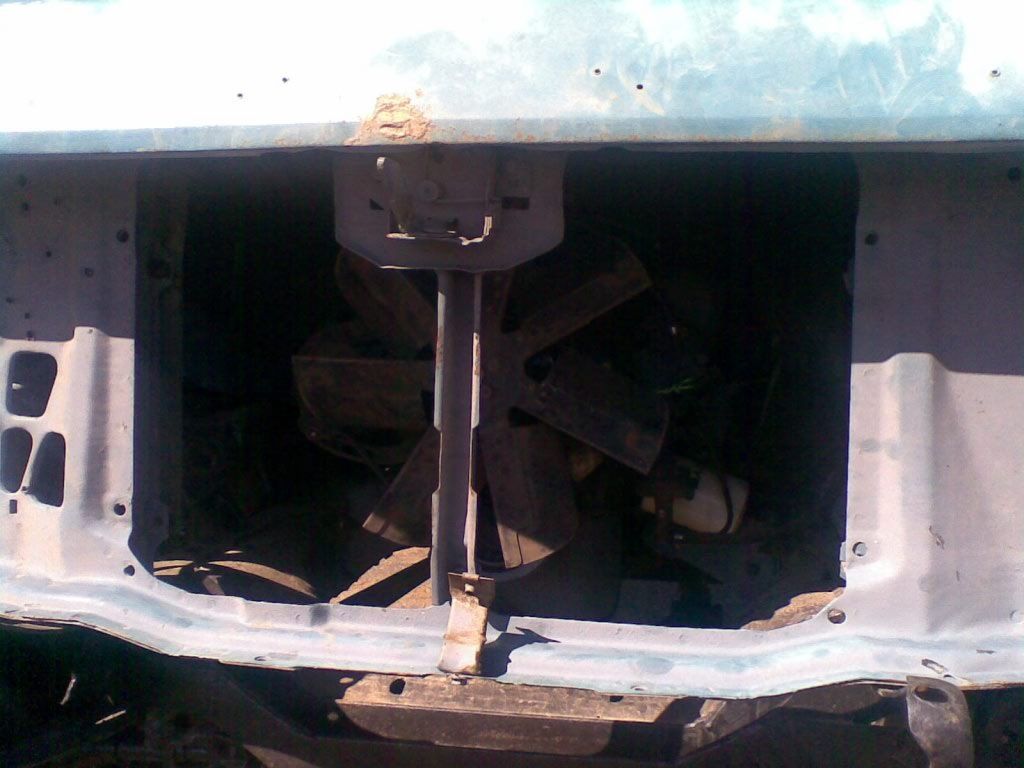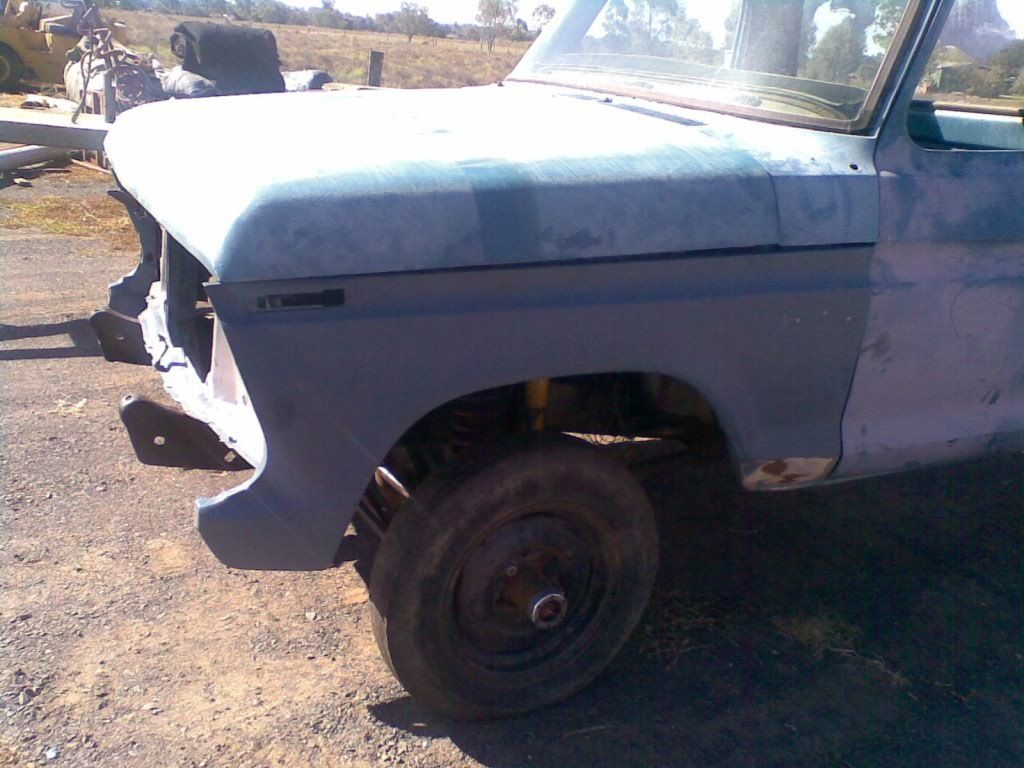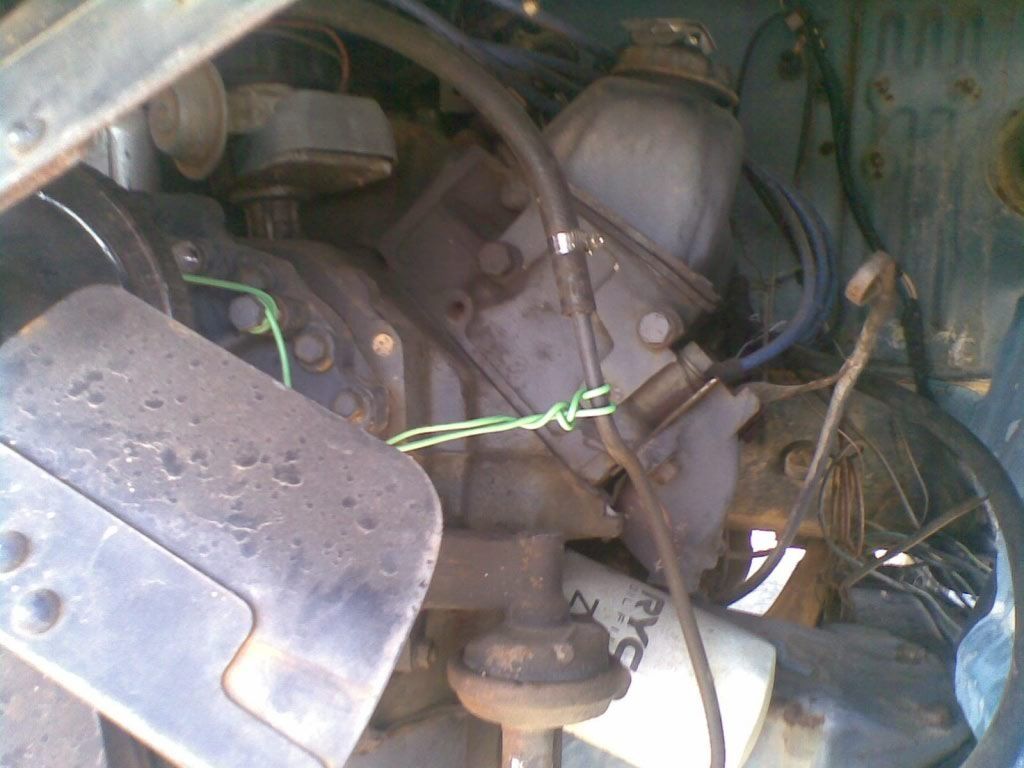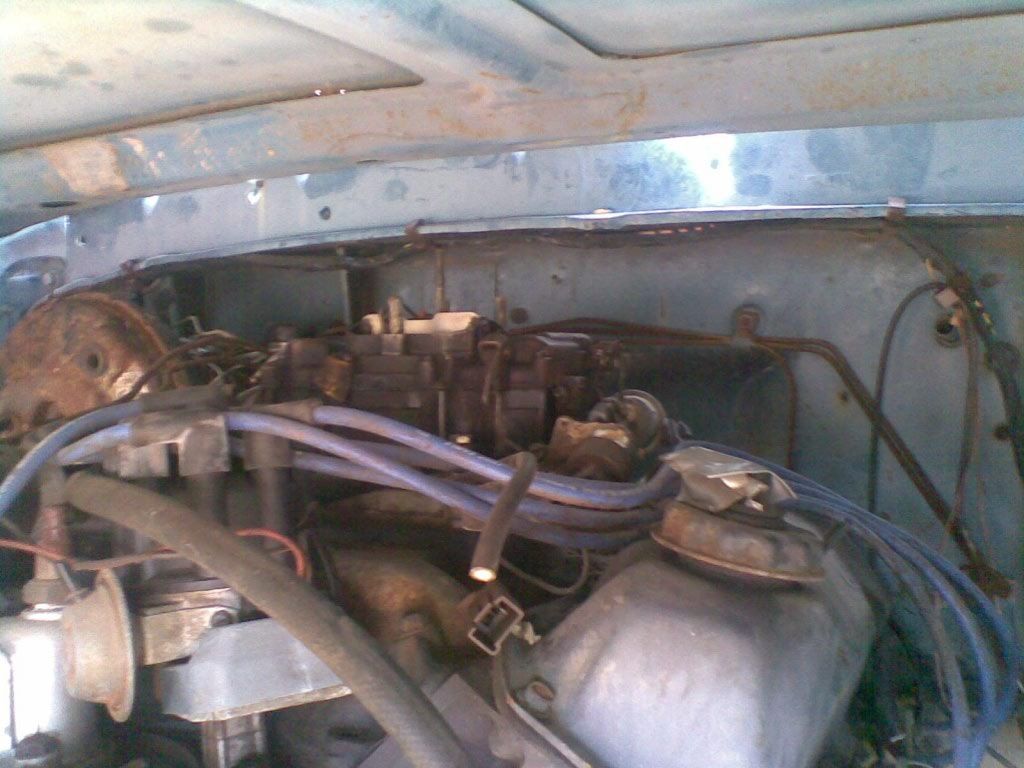 03-09-2010, 06:16 PM
Join Date: Mar 2010
Posts: 23
Well a weekend's worth and it's about read to start recieving donor parts.
Striping the wiring, lines, hoses etc...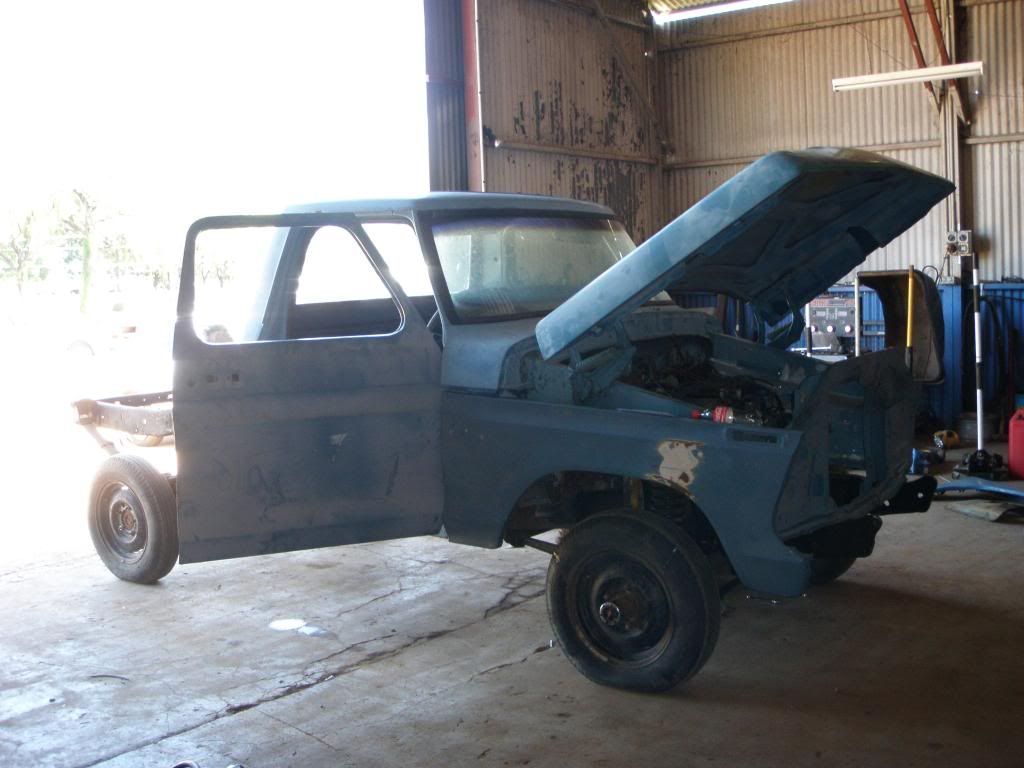 Passenger panel has no bog so it will be getting painted and used instead of the slightly repaired black one. The rest of the metal work just wasn't as good as we'd hoped, so its back to using the black F100's metal. Also the 4x4 trans cover to save from having to cut the xfer case lever hole out.
Sits level and the spings feel great, if a little ridged.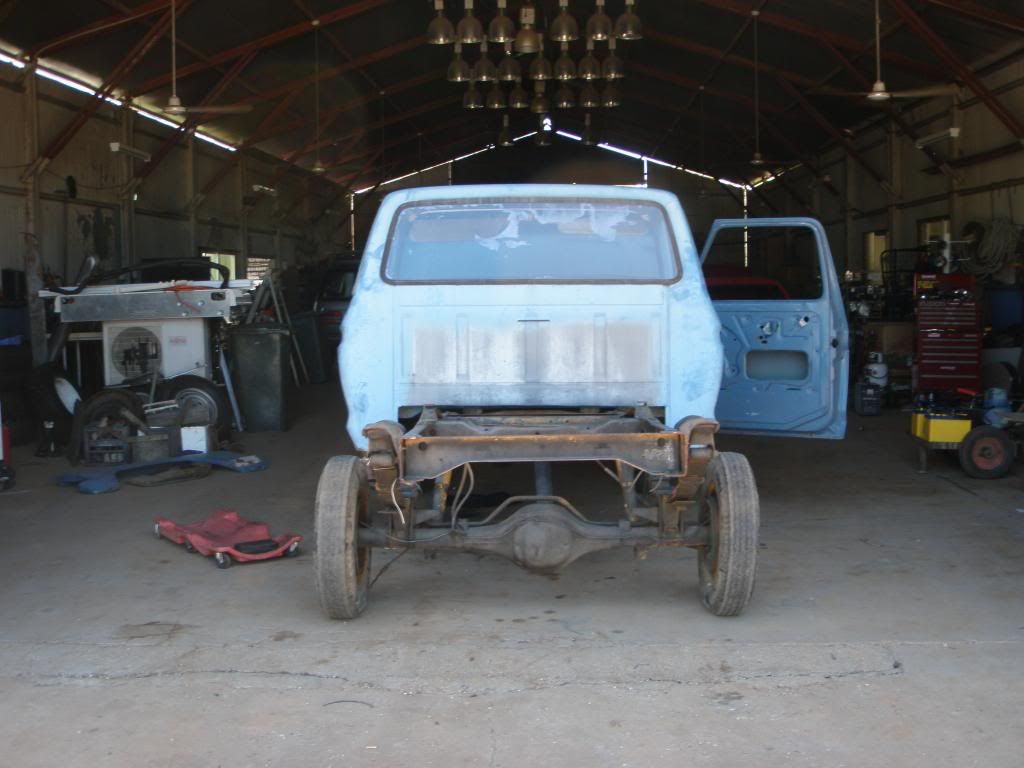 Not much worth saving in the interior unfortunatly.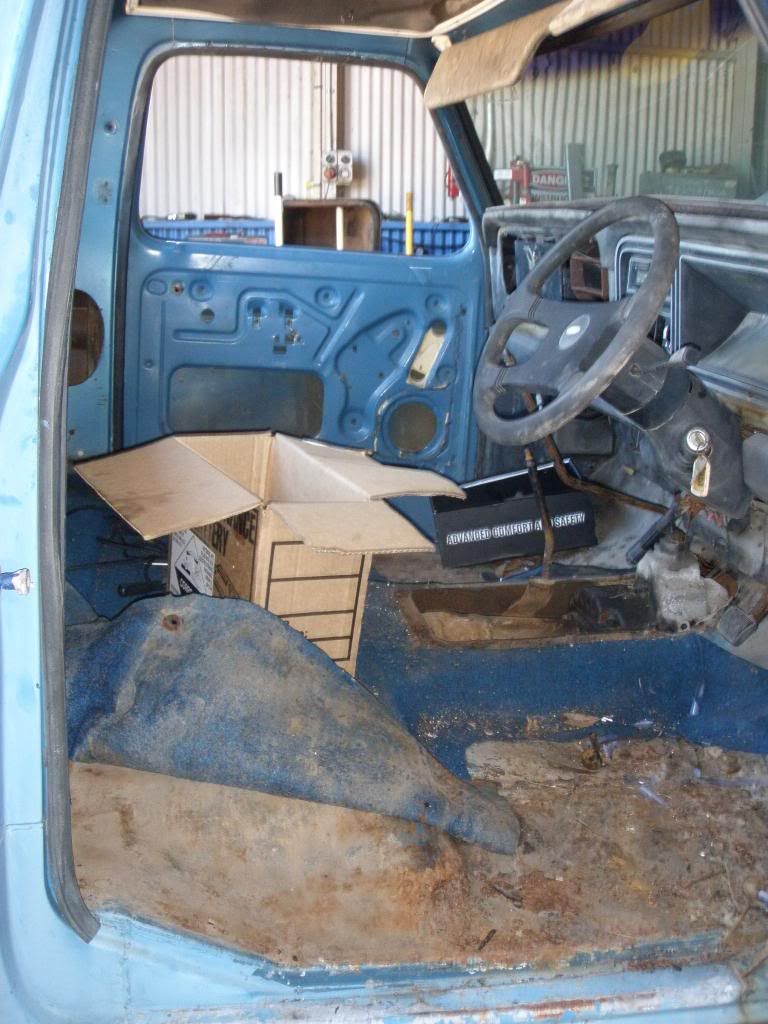 The de-cabbing process. The PO just bolted the front guards on for transport so they didn't like being lifted too much lol. I couldn't bothered taking them all off for it just o be scrapped anyway.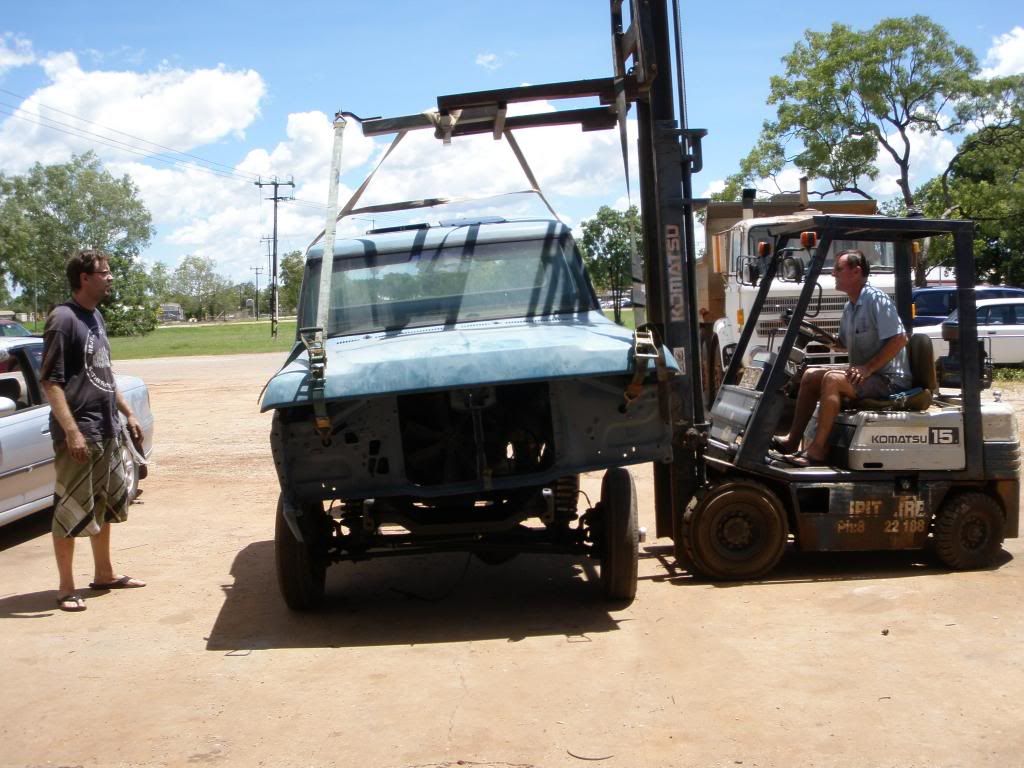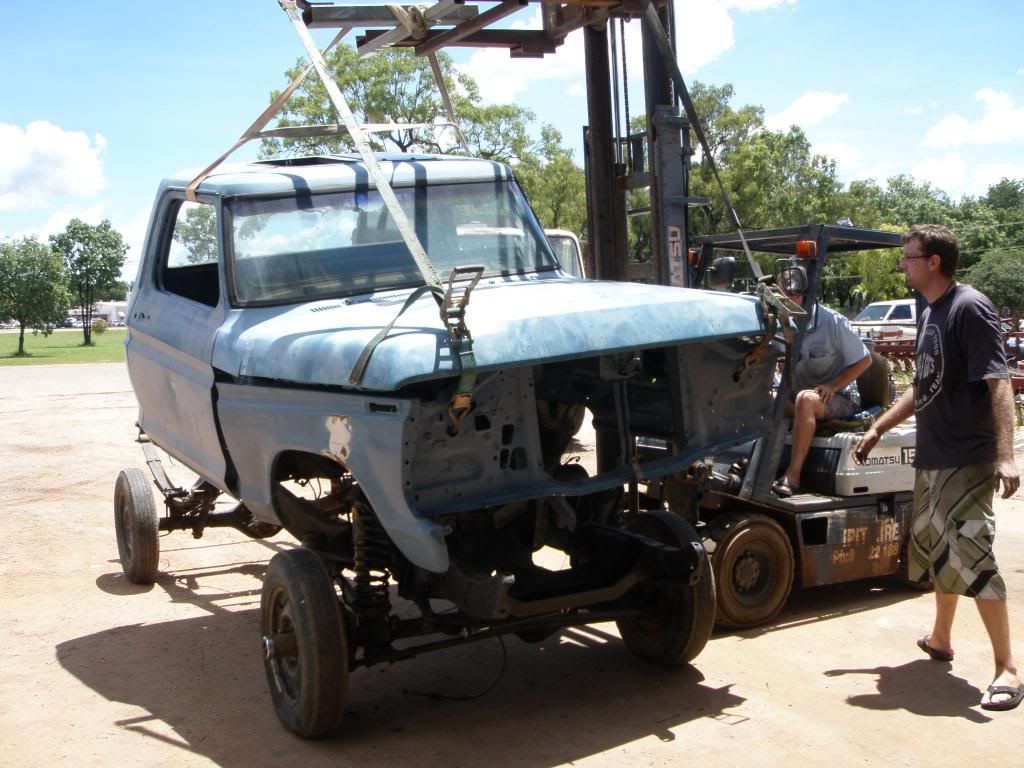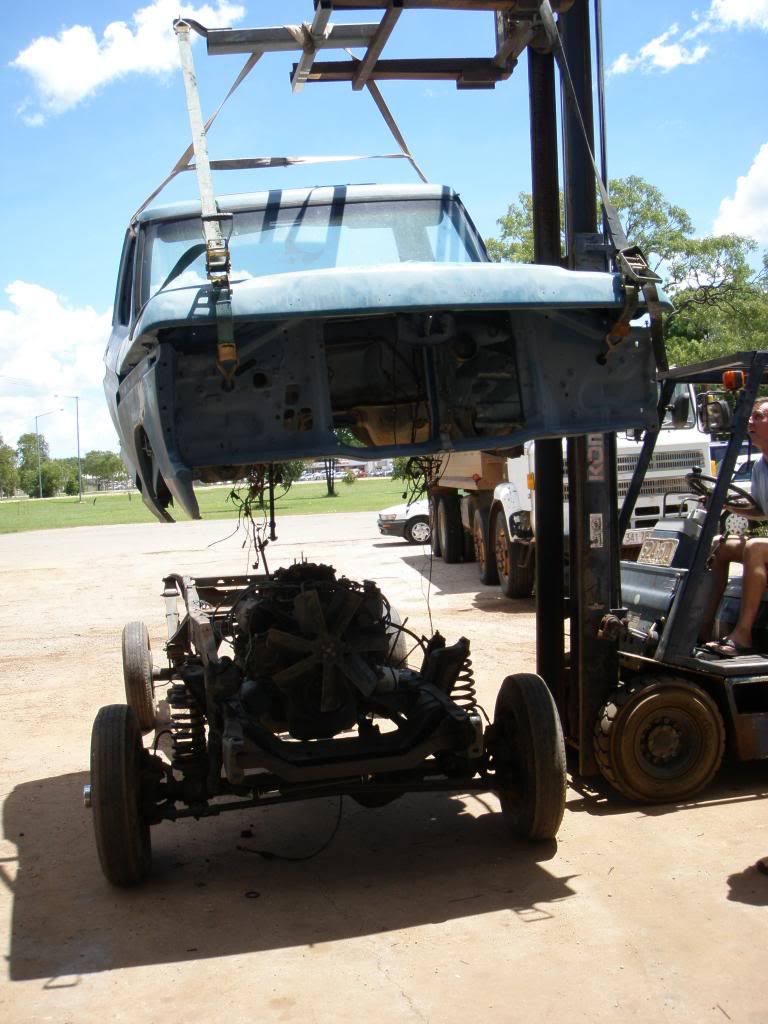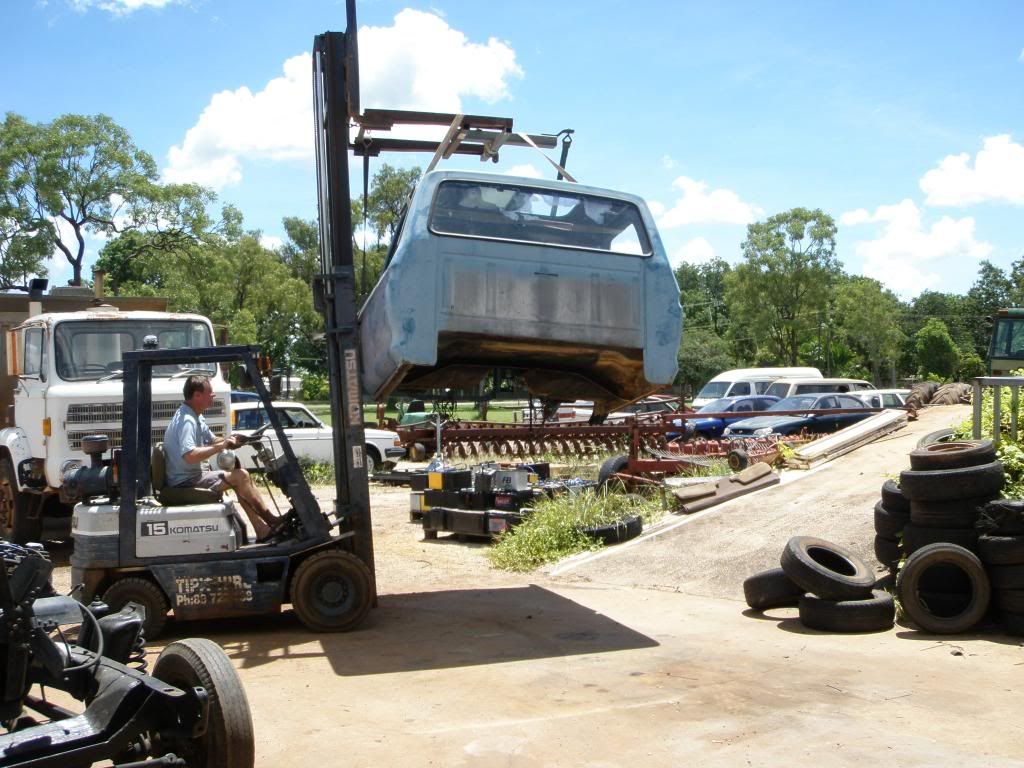 It's going to sit there until I know that I don't need anything else from it.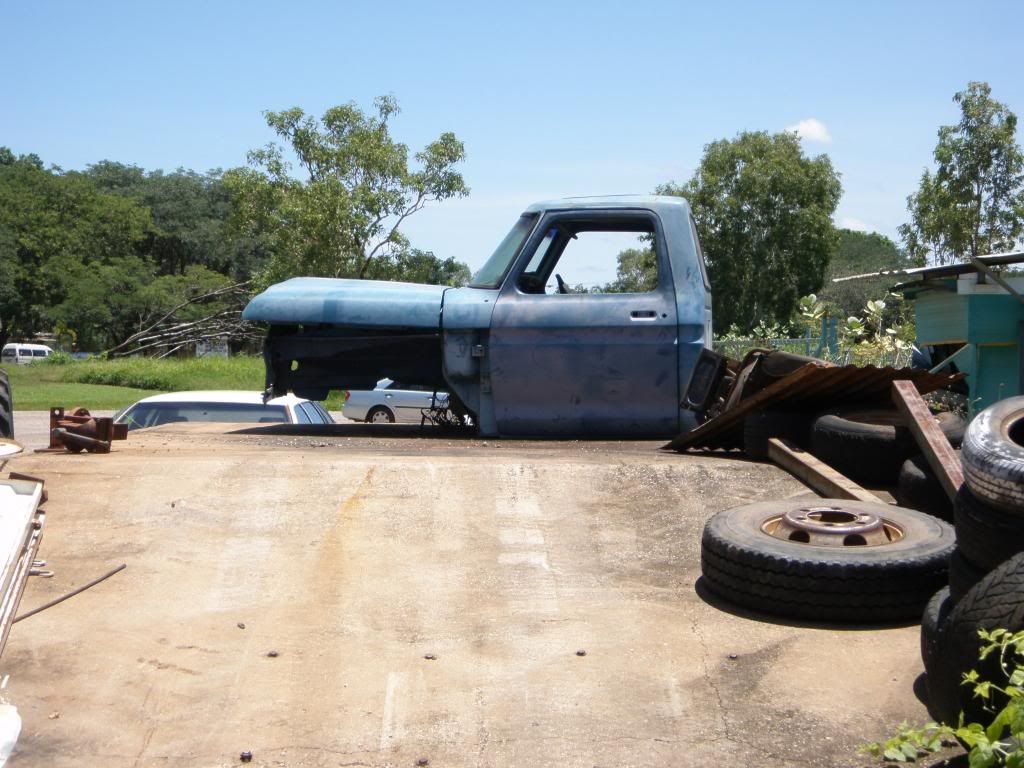 Just before firing up the 351. Started instantly, no smoke or misses and sounds the goods.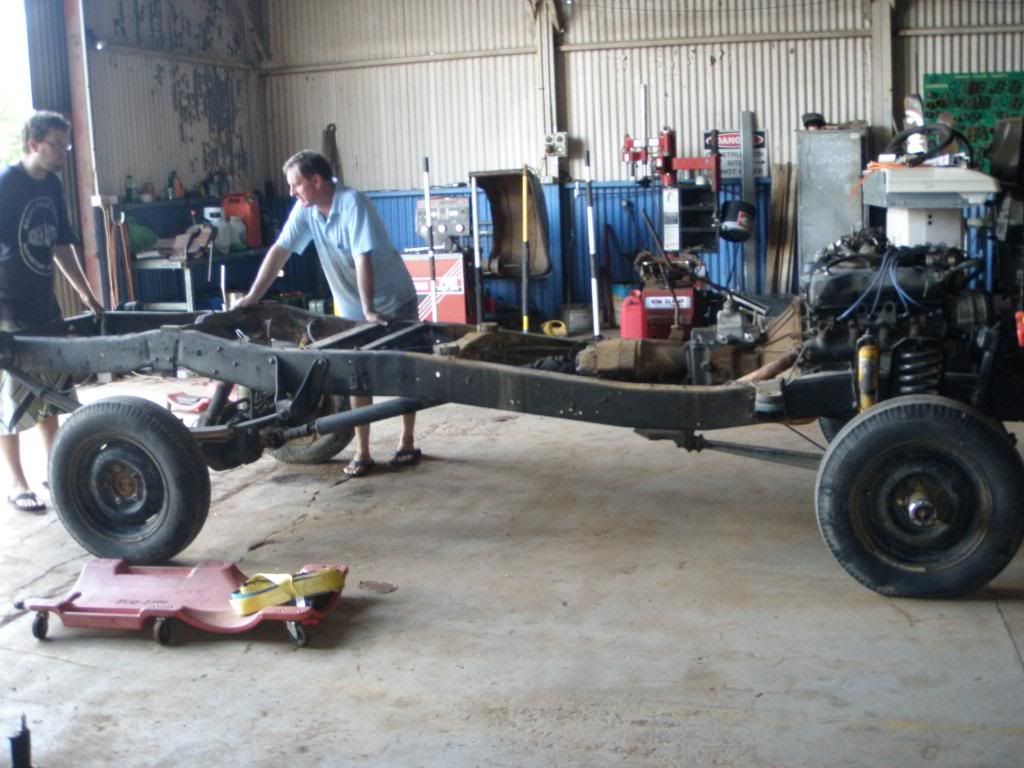 Then we just spent a bit of time on the wire-wheels cleaning up the chasis abit before a coat of black Killrust.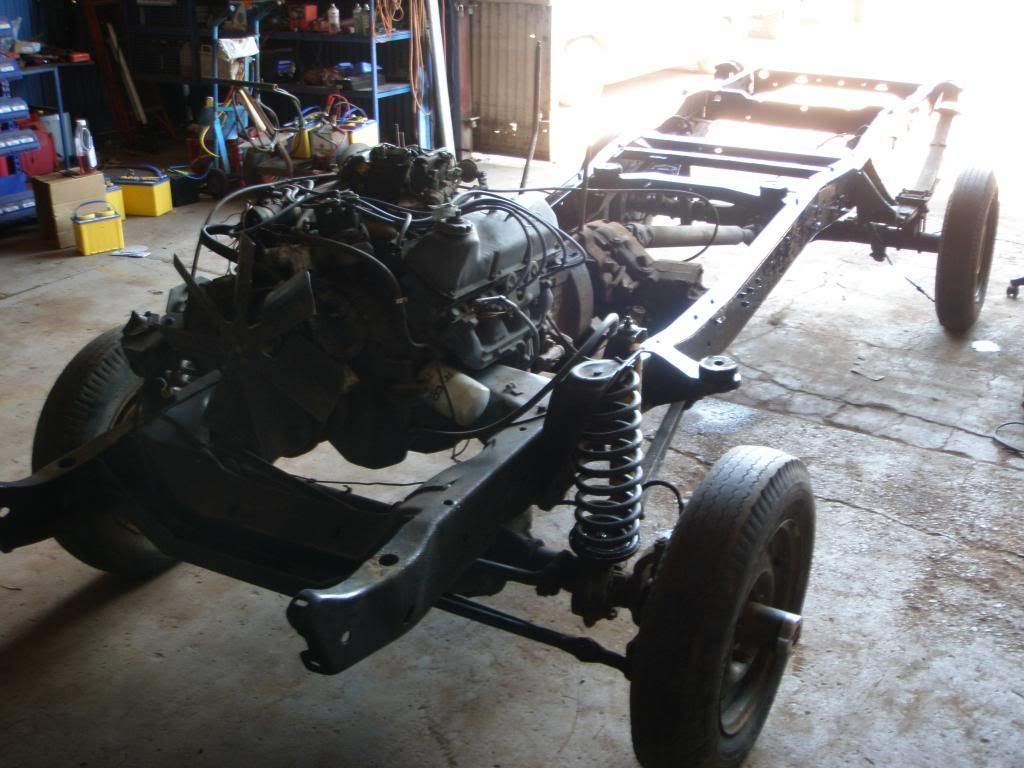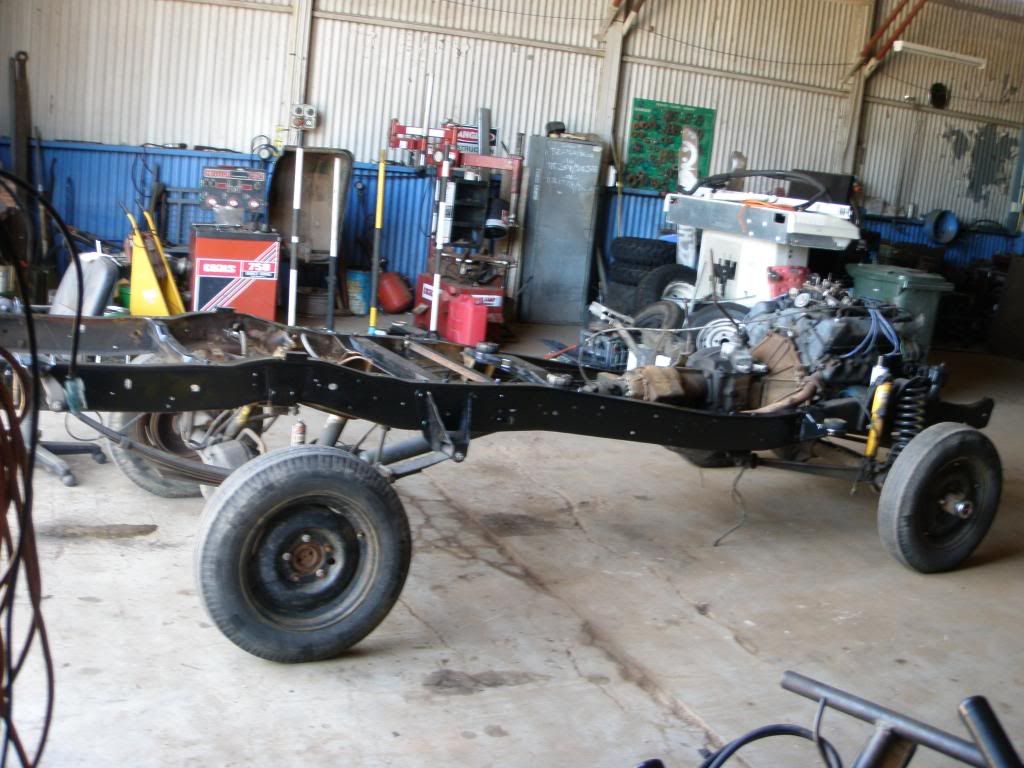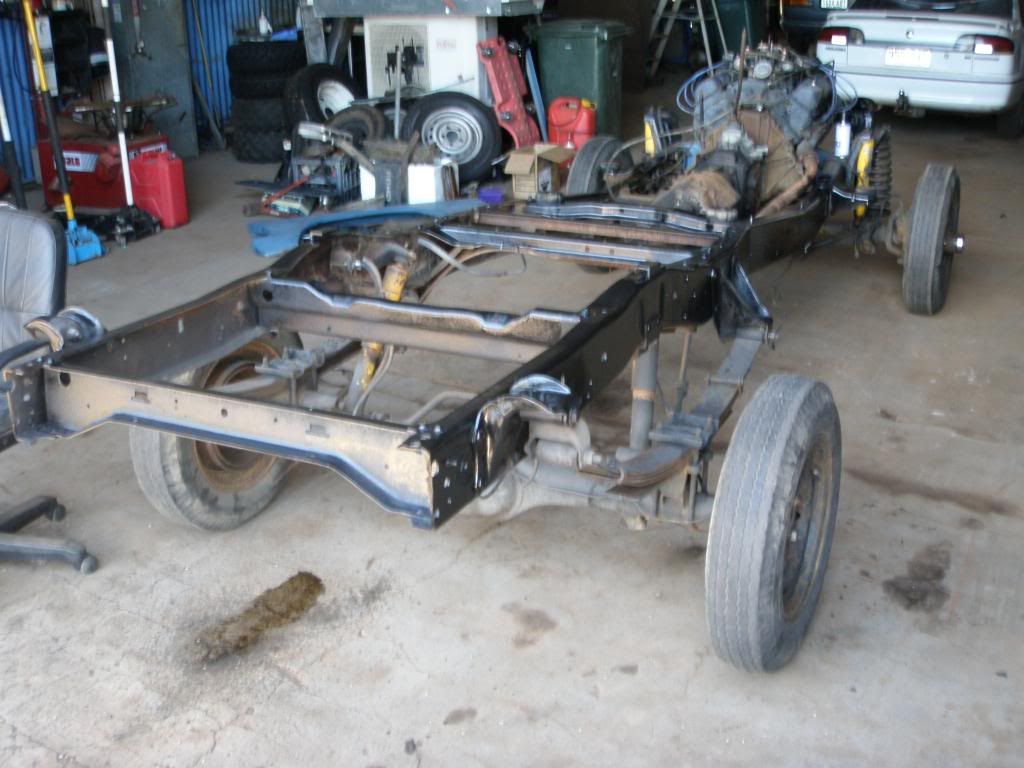 Next up is to hang the exhaust and weld in a bit of chasis bracing as these things seem to twist like a slinky. Then we start moving parts over from the black F100.
03-09-2010, 08:14 PM
Join Date: Mar 2010
Posts: 23
Scoop was from a mates 70 series Cruiser that he wrote off. Was a fair bit of work but like you said, it matches the lines quite well.
03-09-2010, 09:08 PM
Join Date: Mar 2010
Posts: 23
Yeah cut the hole, welded some tab/rails to give it strength, then welded the scoop in place. Then just blended it in with fiberglass. When I cut it from the cruiser I took about 50mm of the hood with it so I was just joining 2 flat surfaces together.
It was a 70 series cruiser. Not sure what they are called in yanky land.
03-09-2010, 10:05 PM
Join Date: Mar 2010
Posts: 23
Thats exactly the sort of info I joined for. Those posts were copied from another (less helpful) forum so I was trying to insite a response without being one of those guys that asks the annoying 'will they fit" questions.
Small wheels are hard to find around these parts. Remember this is for the girlfriend and its only a Ford so I don't expect too much from it :P
I'm wheeling this ATM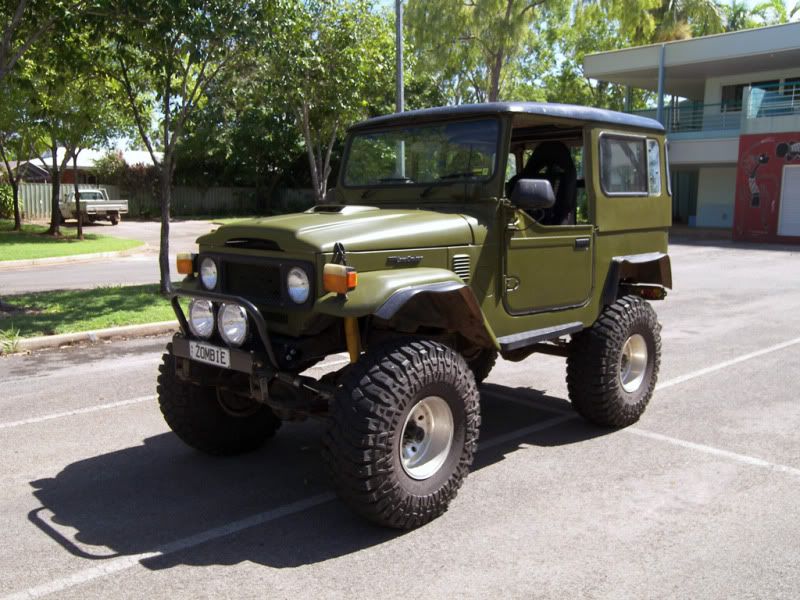 Thanks for the help guys. No doubt I'll have other questions as I go.
I've been search for a while, but is there a thread already with flat beds people have made for the SWB trucks? The only one I can find is filled with big *** tree hauling box things.
03-09-2010, 10:11 PM
i tell ya what. throw a set of lockers or at least limited slips with 4.10 gears at that F100, a set of meaty 35s, and a two inch lift, and youll be VERY surprised where those suckers will go.
my 76 has no lift, 31x10.5s, and no lockers. i can go almost anywhere i want.
and thats all sand, i might add. lol.
03-09-2010, 10:16 PM
Join Date: Mar 2010
Posts: 23
I'm sure mate. It's not being built as a serious wheeler. Just a cool tough truck for the girly to follow us to the spots where we go, take the dogs for a swim or laod up with camping gear (as Zombie has somewhat limited carry capabilities lol). It's really too heavy and wide to go a lot of the spots we use buts still a very capable 4x4.

I just re-read your post. I didn't mention a 3inch lift, I was more thinking about 1-1.5inch. But if i can be assured the 33's with fit under a stock front end without loss of steering I won't bother.
03-09-2010, 10:27 PM
lol. i have no clue where i came up with a three inch lift...

anyways, yeah, 33s will fit just dandy. in fact, 35s should do nicely as well. if you found a set that were a little narrower, say, 35x10.5 or 11.5, there should be no issues with clearance at all, even if you get it all twisted up on some gnarly trails.

man, i wish i could come down that way with my trucks and wheel with you guys!
03-09-2010, 10:32 PM
very nice cruiser...boy if you think the swb 4x4 are big, you need to see a crewcab lwb. 33's should fit without any issues at all. 35's might fit as well, not too sure on the 1/2 tons. i know on the f250's 35's will clear with no issue. i'd say the ford would work good as a good winch truck for your cruiser, but that thing being so little if it gets stuck you can get out and just pick it up...lol as far as flat beds go, if you can't find one pre made they're not too hard to hand build...