1953 F-600 4-door dually - OPINION
01-20-2010, 09:40 PM
What year is the truck? I dont mind doing one for you if you have a decent square on side view.
Look up gimp photo editing, its free.
heres a 61-66 f800: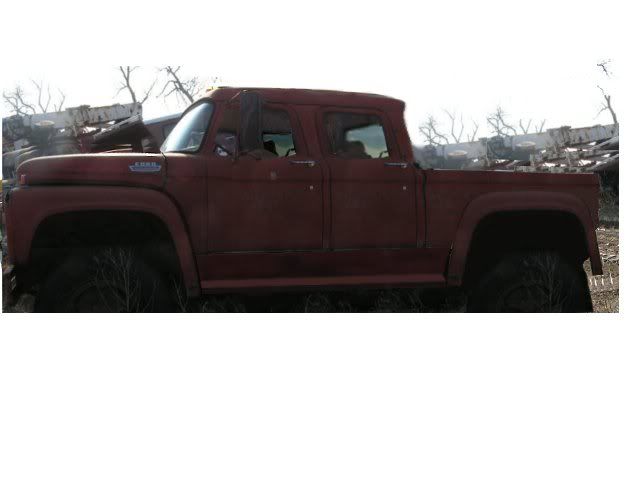 01-21-2010, 12:29 PM
Okay, can't steal credit.

I was in a hurry when posting pics and failed to disclose that the tandem rear crew cab coe isn't mine. I'm definitely taking notes and studying the pics, though. I've gone thru and editted the postings to better clarify, not mine...

sorry for the confusion, fellas.

JML
12-17-2011, 08:35 AM
Hey Bill,What's up Man??? I'm still waiting for those valances you have. I recently bought a '54 COE cab Big Job with title that I will probably put on the '93 E-350 ambulance package diesel van chassis I have unless I can come up with a dually 4WD diesel rolling chassis. I have a build thred started on my message board and if you want to see it just click on
Another COE project...
I don't plan on a crew cab or a sleeper, just a bob tail for hauling all sorts of trailers, fifth wheel, gooseneck and conventional. I also just bought a brand new 20 foot tilt deck that will haul 8,500 pounds with an 8,000# Warn winch. Even got it ordered with metalic blue paint to match the the Super Duty.Get in touch with me Man, I need those valances.Later Man...
12-17-2011, 01:25 PM
03-13-2012, 02:53 PM
I know this is an ole thread, but wow there is some stuff here.

Been looking for a couple of years now for a 53-56 F5/6/7 fire engine four door truck to bring back to life as a Super Pickup. I love the tandem COE in the pictures, would be real interested in how the drives work, last time I did anything like that I used a Duce and a half transfer case and toploader axles.

I am thinking about a Non-COE project based on either a 550 ford or a 5500 Dodge chassis, would love to incorporate the tandem rear design in.

Cheers
Rob