Whats the difficulty rating for changing rear spring hangers & shackles
12-05-2009, 10:42 PM
Join Date: Jun 2006
Location: peterborough ontario
Posts: 259
its not too hard to do if u got torches and air tool afew hrs max i needed new u bolt so i got a spring shop to do mine last week 400 bucks and thay re arched the springs and added a leaf . that was a friday cash job .
12-06-2009, 10:33 AM
Join Date: Sep 2009
Location: Northern Illinois
Posts: 23
I just did mine. If you have dual fuel tanks the drivers side is a pain if you have big hands because of how close the tank is to the frame on that side. It isn't really too bad of a job.
Follow all safety guidelines. Chock the front wheels and make sure that you are rock-solid sturdy on the jack stands. If you are using a torch of any kind make certain you have at least a 1A 10BC fire extinguisher handy and at arms reach.
If you do a search you'll find many how-to threads on this site on how to do this job.
If you do not want to completely remove the spring (I didn't) I built a helping device to push the spring down so I would have better access to the spring eye where I could go to town with my propane torch and air tools. I took 3 pieces of a 2 X 4 each about 18" long. I used screws to hold it together. If you look at it on the short side it is shaped like an H with the horizontal piece and made a type of cradle that would fit over the top of the spring. There is a support block I used against the bed cross rail. I used some corner reinforcements that I got from the hardware store to keep the bottle jack from crushing it. The drawing shows it hopefully well enough to understand. I'm not as good as some of the other folks with illustration and I wasn't thinking about taking pics when i did the job.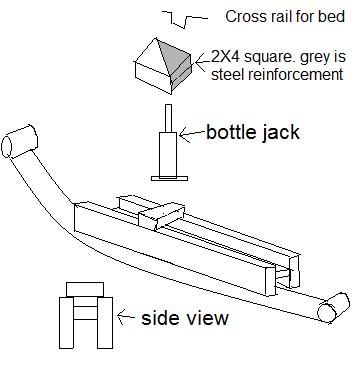 The cradle goes over the spring. The bottle jack base goes on a piece of 2X4 that goes across the top of the cradle and the shaft end of the bottle jack goes against the metal reinforcement on the small block that goes against the bed rail. Of course this gets employed after the shackle has been disconnected from the mount or the spring.
12-06-2009, 11:53 AM
I agree, please observe all safety precautions if you decide to DYI this job. I replaced the rear hangers and shackles on my '92 F350 last spring in my home garage. My best friend was a Harbor Freight angle grinder:
I used that to grind the rivet heads off. Some have used an air chisel. The grinder works well with the proper wheels and cutoffs.
The most important is safely getting your vehicle elevated to do the job. Buy some of these:
6 Ton Jack Stands
You need the height not necessarily the capacity to safely elevate and support your vehicle.
If using the grinder or air chisel, get some of these too:
and
Allow 4-6 hours and a 6 pack of beer.
Difficulty depends on how much rust you have. Parts? I bought my hanger kit here:
http://www.autoandtrucksprings.com/
12-06-2009, 12:52 PM
Join Date: Apr 2007
Posts: 23
Thats real good information, when i check most of the sites seems they sell "front of rear kits" or "rear of rear kits" separatly? Does anyone sell a complete kit "front & rear of rear"? I do have dual tanks, and my rear of rear shackle is broken loose and touching bottom of bed on both sides.
12-06-2009, 01:05 PM
Join Date: Sep 2009
Location: Northern Illinois
Posts: 23
I did use the Harbor Freight angle grinder. I must say I'm ready to chuck it into the trash. It went through the first set of rivets and the shackle like butter. half way through the second bracket it began to bog down to about half speed. I replaced the brushes with the spare set that came with the grinder and it was good for about 1 more rivet before bogging down under load. I highly recommend spending a little more money on a better grinder. If you have a pawn shop or cash converters type store good deals can be found on high quality grinders.
my list of tools to complete the job were;
1. Angle Grinder
2. Air Chisel
3. Impact Wrench
4. Propane Torch Head (use Mapp gas because it burns MUCHO hotter.)
5. Air compressor (mine is a simple Coleman 13 gallon unit)
Safety equipment;
1. Heavy duty jack stands
2. Wheel chocks
3. Safety glasses AND full face shield
4. Hearing protection
5. NIOSH approved resperator mask while burning out bushings
6. Gloves
Essentially it will take you longer to do the first side because that is where you will make the most mistakes but they are important to make. You won't make those same mistakes on side 2 and you will refine your practices. I did the passenger side first and it took me probably 6 hours. When I did the drivers side it took me about 2 hours. I did it all on my back laying on a piece of plywood on my gravel driveway.
If you have a 2 wheel drive (2.5" width springs) see if you can find a local parts store that has Dorman Parts. The part numbers are as follows: Dorman OEM Solutions 722-001 Shackle and 722-003 Hanger Bracket. The reason I like those in particular is that they include all of the hardware and bushings. O'Reilly Auto has them in the warehouses if they don't have it in the store. You will need one of each per side. I just searched on
www.Oreillyauto.com
and the shackles come up but the hanger does not. When I needed them I called with the part numbers and they were able to look them up on the store's computer.
http://www.oreillyauto.com/site/c/de...PartType=C0106
12-06-2009, 03:02 PM
Join Date: Apr 2007
Posts: 23
I am trying to understand, you can possibly do the rears and wont have to do the fronts a year later? I just assumed if your rears are rusted through (or even broken in my case) That the fronts are next to rust through? just my thoughts
12-06-2009, 03:13 PM
Rear only here too (mine were also rusted through). The tires pick up debris, salt, etc. and toss it behind them. That is what sticks to the rear hangers. I thoroughly inspected everything to find the front hangers were in perfect shape.