Newbie F-150 owner saying hi and a few Qs
12-03-2009, 02:25 AM
Newbie F-150 owner saying hi and a few Qs
---
Hi all, I'm Axell, an Australian, and i just recently bought a 1991 F-150 Custom with a 351 windsor. I have been on the Australian fordforums.com.au but there are not alot of people with ford truck on there. I thought this F-truck dedicated site would be agood bet.
So far my fruck has... Bullbar, Flexiglass Canopy, Heat exchange unit, 300L LPG, Remote central locking, Bench Seat, Alarm, Pioneer Head Unit & 6" Clarion Splits, Foggies, Side steps etc.
First question is, has anybody put a twin turbo on their truck? would the be any good?
1988-1991 FORD F150/F250 SUPER CAB V8 5.8 T3 TURBO KITS:eBay Motors (item 180427754987 end time Jan-01-10 16:36:52 PST)
Cheers in advance guys, I look forward to contributing to this forum and getting some advice too
12-03-2009, 05:49 AM
12-03-2009, 06:13 AM
Welcome!

I think that putting anything like that on your truck would be a mistake. The engine will probably not last very long with it either.

I also wouldn't buy anything like that, that is a no name kit for that kind of money. I seriously doubt that that setup will make 450 hp on a stock 351.

Why not just rebuilt the engine and upgrade the cam, heads, and so on to build more reliable power? It would be cheaper, and a much more reliable setup.
12-03-2009, 06:29 AM
12-03-2009, 06:35 AM
Those CAI setups are junk. I had one for a little while and got rid of it. My truck's fuel economy decreased when using it. They just suck in warm under hood air. Your best bet for that is to get the lower intake tube from a 4.9 300 I6 truck or from an F250 or F350 with a 460. It pulls air from behind the grille by the headlight instead of on top of the radiator. If yours is already setup like that then leave it that way.

Also, all of those KN or high flow reusable filters are really not all the great. They let in more dirt and are not worth fooling with with all the cleaning, drying, and re-oiling.

Just stick with a good quality replacement air filter like Motorcraft, Wix, Purolator. Stay away from Fram filters. Also, fresh fluids, and filters, and general tune up parts would be a good place to start.

Also, throttle body spacers and chips are a waste of money.

You could upgrade the coil, cap and rotor, wires, and put in a set of fresh plugs. Only go with Motorcraft or Autolite plugs. You can get an MSD or Accel coil. As for wires, MSD, Ford Racing, Accel, etc would be fine.

There are several ways to setup your exhaust. Summit and Jegs both sell Bassani and Magnaflow Y pipes. The Bassani Y pipe is larger diameter tubing. These will work with you manifolds or direct replacement shorty headers.

Full length headers will give more noticable gains, but require the exhaust to be redone by a shop, since there is not any afterarket kits for them.

When choosing mufflers there are many types. You can check out You Tube for sound clips. I prefer straight through mufflers, since they generally flow better, and don't have an exagarated hollow sound, and dont drone inside the cab.
12-03-2009, 06:46 AM
12-03-2009, 06:57 AM
Cheers for all you help TexasGuy
I was also wondering where to get those windscreen visors? Are the made specifically for each model? I have not been able to find them in Australia.
like this..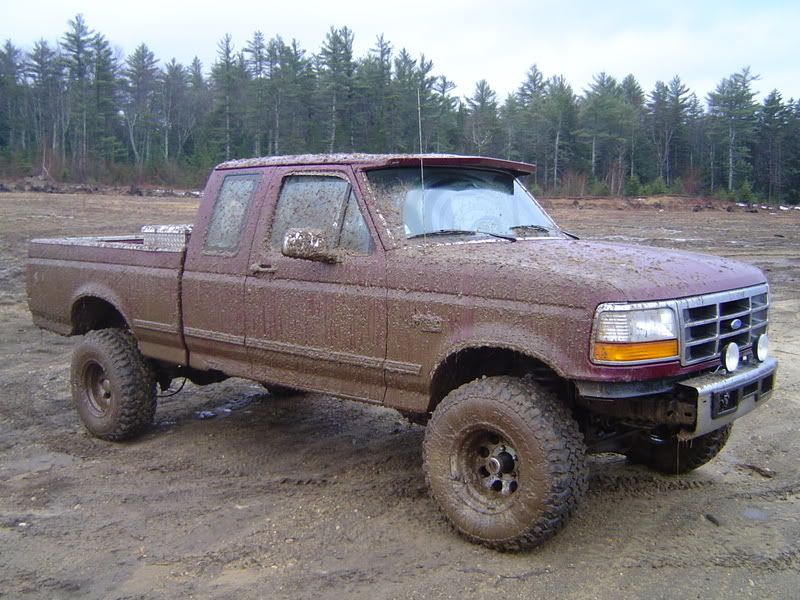 12-03-2009, 07:10 AM
With the air intake you mentioned,
"Your best bet for that is to get the lower intake tube from a 4.9 300 I6 truck or from an F250 or F350 with a 460."

Im not sure exactly what i am looking for, i need a new airbox as mine blew up from a backfire. Could you do me a favor and post an ebay link of what you are talking about?
Cheers mate
12-03-2009, 08:32 AM
AC Delco supplies General Motors parts here. I don't know what they are called over there. A Wix or Motorcraft or Purolator will be just fine. Those are what I run.
The intake tube may be slightly different on yours than what I am talking about. Where does yours pull air from?
I'm talking about this. Its the part that goes from the air box to the radiator support. Since you need an air box anyway. It may be easier to just get a complete assembly from a salvage yard or Ebay.
Since your truck is an Aussie truck, it may have a completely different setup though. If you get a chance take a picture of your engine bay.
12-03-2009, 08:34 AM
In Australia, I'm not sure. Know J.C. Whitney sells them ( large aftermarket auto parts co. here in the states ). Not sure if they do international orders or not. Yes they are specific to your vehicle. P.S, Nice looking truck. Welcome to
. I'm still a
here myself ( only joined a couple months ago ). Great place. If you haven't already, I'd suggest joining your ( international ) chapter.
12-03-2009, 08:54 AM