P.I.E. Adapter Install w/ Pics (2006 F250)
06-28-2009, 11:59 AM
P.I.E. Adapter Install w/ Pics (2006 F250)
---
Okay, I didn't completely finish the install how I wanted, but I am very close. I have to blame it on the Texas summer heat. My thermometer indicated that it was 103F in my garage. The only thing I didn't accomplish was an audio input jack to make the install look a bit more factory. But for those that simply want to install the P.I.E. interface, this will get you there.
First, force an introduction between your PIE adapter and your factory head unit. I actually took this picture to show you guys what I am working with.
Before you start the installation, you probably should disconnect the negative side of the battery/batteries. I opted not to do it because I was being lazy. I am sure that you could easily destroy your electrical system, so you should probably disconnect the ground.
Parking brake in:
Shifter placed in 1 and the steering wheel lowered. This is done to make room for the dash to be removed.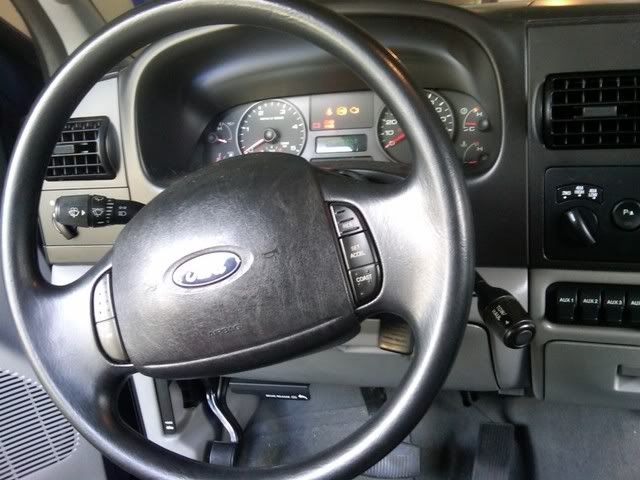 Pull off dash. I started in the lower driver's side corner and worked my way all the way around. It came off easier than I had anticipated.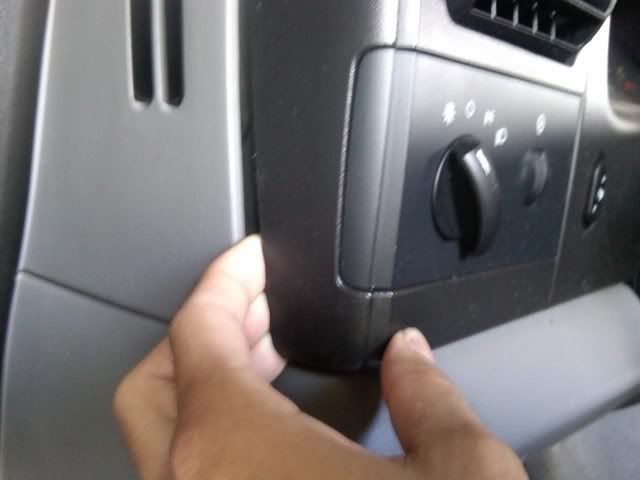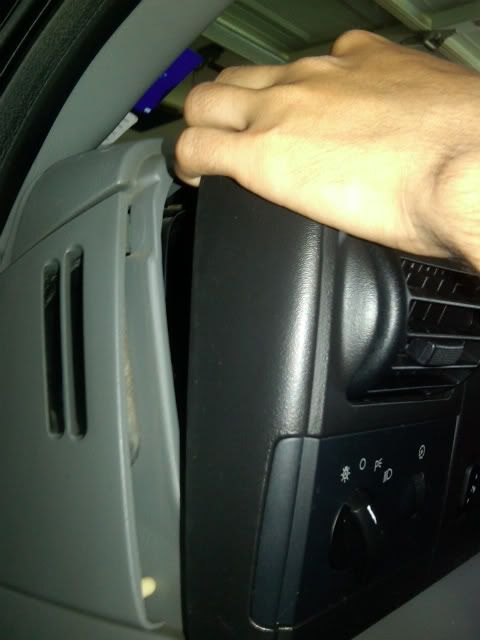 Now disconnect the harnesses that are connected in the back of the dash panel. I had all sorts of things to disconnect, such as pedal adjust switch, headlights, a/c, power station, 4x4, and so on.
Now place that panel in the back seat so you don't crush it.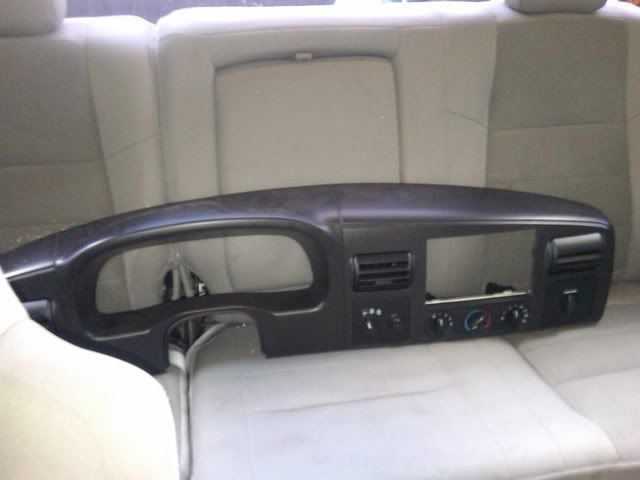 This is what you have: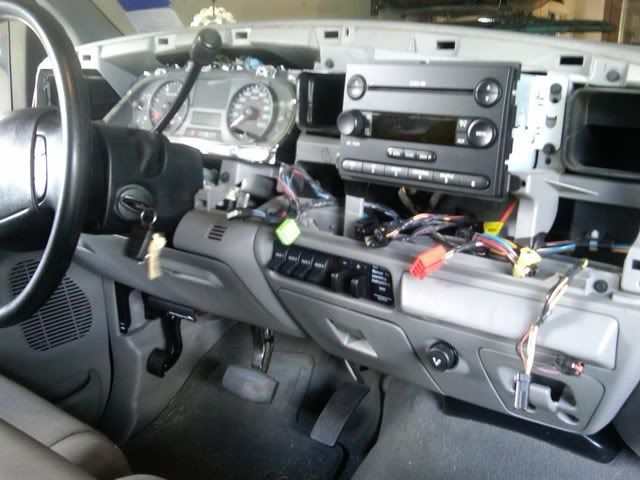 Now remove the radio. There are 4 bolts that mount it to the dash.
1 of 4:
3 of 4:
I wanted the PIE unit to be powered until I opened the door, so I did some multimeter magic.
Eventually I found these two here (pink is + the black was -):
Key turned on, then off:
Door opened:
Plug in PIE:
Splice the gray/violet wire from PIE to the PINK power wire (I used a interconnect):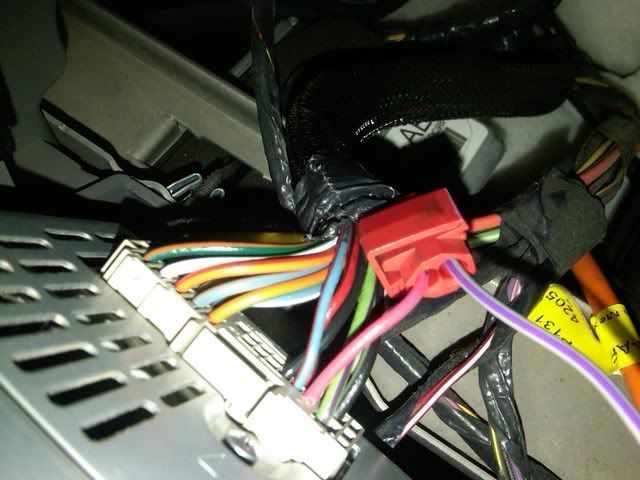 I used the radio chassis as a ground: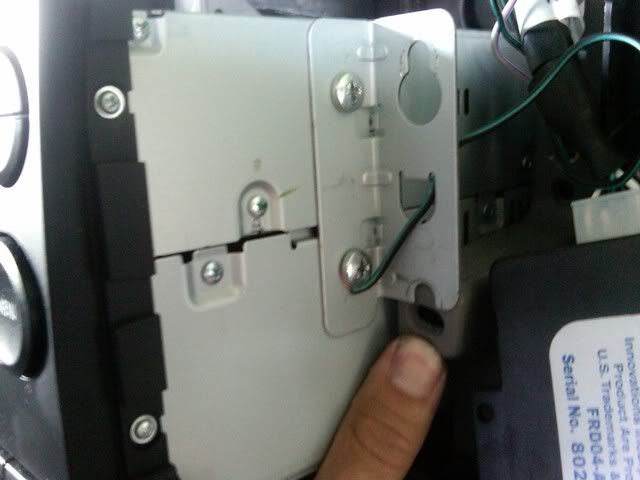 You are done right there with the wiring, here's my test: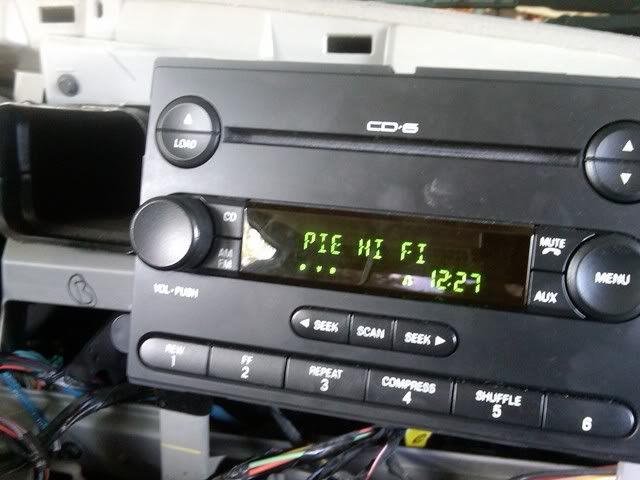 Dash put back together and audio jack coming out of the bag hanger: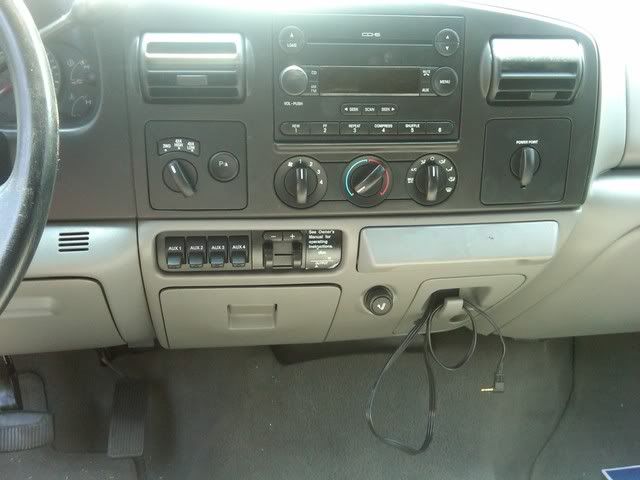 I hooked it up with my blackberry's pandora app for internet radio. It sounds excellent. My phones audio actually comes out of the speakers now too. Eventually I will wire in a audio input jack, but it's just too dang hot right now. I have the gain on the PIE adapter almost to it's maximum level. My phone was at about it's 75% level.
I hope this helps someone.
It really was as easy as pie.
06-28-2009, 12:45 PM
well, after I cooled down for the 30 minutes or so it took me to email/upload/caption the pics, I went out and hooked up my XM. I will probably eventually hard wire it in, but it has to be at least 106F in my garage now.
The XM sounds better than ever!
I really need to clean off that oil stain that I smeared even worse on the cupholder.
06-28-2009, 12:59 PM
Join Date: Apr 2002
Posts: 529
Very illustrative- nice job!

I'd submit for those that use FM and a sat radio feed; dial the PIE output level so that audio from your XM "matches" the level of audio from an FM channel you like. This lets you go from one to another without having to fiddle with the volume. Of course, if you will use it more for the Blackberry-adjusting for best fit there is an obvious choice.
06-28-2009, 05:15 PM
Join Date: Nov 2006
Posts: 1,154
OK guys, I'll be the first to admit that I'm a techno-idiot. I rarely even listen to the radio any more. What does PIE stand for? What does it do? With the accessory delay wouldn't any accessory power do for supplying this unit so that you wouldn't have to tear into the dash?
06-28-2009, 05:22 PM
P.I.E. = Precision Interface Electronics

P.I.E. is a company that makes a variety of car audio solutions. The most common for discussion here is probably the FRD04-AUX. This product plugs into the CAN bus (typically used for connection to the rear seat entertainment) on the back of OEM headunits that have the AUX button. The box (shown in the 1st picture up above) has two RCA jacks (Red/White) for connecting a large array of aftermarket devices to your factory stereo. The iPod being one obvious example.

As this ties the audio device directly into the stereo, there is no distortion, loss of audio, or any other weirdness that tends to plague the cassette tape-adapters & FM modulators.
06-29-2009, 08:18 AM
06-29-2009, 02:39 PM
no tools required whatsoever to remove the dash.
I think the only tools that I used were:
7mm socket-driver
multimeter (which isn't totally required, but recommended when doing anything electrical)
pliers to snap on splice (interconnect)
Phillips head screwdriver (for ground)
06-30-2009, 10:34 AM
i actually wasn't sweating because of the dash, but I was because of the heat.
i have ripped into a dash before, so I wasn't really too afraid about that.