Leaking rear seal---How do tell rear axle type
05-27-2009, 04:56 PM
Join Date: Apr 2009
Posts: 16
Leaking rear seal---How do tell rear axle type
---
Door code is 35 and that tells me gear ratio but not maker or size. Tag on rear end "V129C 10 10 2 9C28". need to know for seals and bearings. How hard to change? 1989 F250 7.5 4 speed w/od ext cab long bed.
05-27-2009, 06:48 PM
Join Date: Jan 2002
Location: Baltimore
Posts: 1,346
Door tag 35 = Rear Axle capacity 6250 lbs. 4.10 Ratio
V129C = Manufacturing Plant Van Dyke Plant I believe it's in Warren, MI
Conventional Diff. Single Rear Wheel.
I believe the 10 is for 4.10
The other 10 2 is for 10.25 Ring Gear Diameter
9C28 is the Build date Year-Month-Date
05-27-2009, 07:05 PM
05-28-2009, 01:32 AM
Join Date: Apr 2008
Posts: 4,802
You have a Sterling axle, the full-floating version of it. It's a very good axle, but there are three known issue with it:

1) wheel hub seals wear prematurely and develop leaks.

2) if lots of engine braking is done while hauling heavy, the crush collar on the pinion gives a bit, thus causing slop in the pinion and premature wear of both that and the ring gear.

3) the bolts that hold the ring gear to the diff case can back out, results are fairly disastrous - if a gear swap is ever done to one of those axles, high-strength thread locker must be used on the ring gear bolts to prevent that from happening.

Seems to me you have #1 going on for ya. To get those seals you will have to take the wheels off, then pull the axle shafts (that's what those smaller 8 bolts are for), and finally pull the entire wheel hubs (that requires a special tool for the big hub nuts). Additionally Ford attempted at some point to come up with a better design of seals, and failed again, there is however a company that makes very good double-lip seals that keep both oil in the axle, and water out of it. Unfortunately, I do not remember the name of the company or the part number for the seals, but IIRC these seals can be bought through NAPA. Someone else will chime in with more info, I'm sure.
05-28-2009, 06:27 PM
Join Date: Jan 2002
Location: Baltimore
Posts: 1,346
06-11-2009, 06:42 PM
Join Date: Apr 2009
Posts: 16
Need help with seal. I picked up one from Auto Zone, but it did not look like the same thing that was in there. Took it back thinking they gave me wrong part, again. Got another one from another place, they said one from auto zone was for a semi floater and mine was a full floating, ok. got mine tore apart and was same as the one from auto zone. NOW WHAT !
06-11-2009, 07:15 PM
Join Date: Jan 2002
Location: Baltimore
Posts: 1,346
If you pulled your axle like in this picture you have a full floating axle.
If you had to remove he rear differential cover and pull out a C clip you have a semi float rear axle.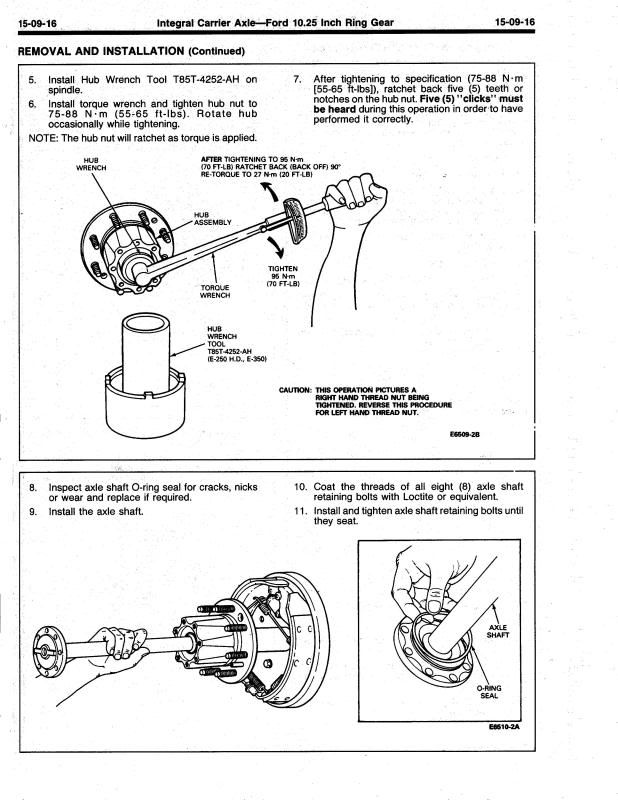 06-11-2009, 07:27 PM
To start with a V129C is a 4.10:1 10.25 Non-Locking rear end.
The V129C was used in the 1987-1991 F250 HD & 1987-1991 F350.
Do you have to pull the axle out before you take the hub off?
If so it is full floating axle.
The part store should have been able to get you the right part from the V129C number.
As it was used in the F350 It would be a full floater.
06-11-2009, 07:30 PM
Without looking at it, I couldn't tell you how to replace it, but a haynes or chiltons manual will have the procedure in it.
Getting the correct part is of course important.
Are you sure you're comparing the right seals?
06-11-2009, 07:55 PM
Join Date: Apr 2009
Posts: 16
Ok, so it's a full floating, I had to just take out bolts on hub and axle came right out. My problem is both seals were suppose to be for full floating, but they were very different. Auto Zone one had what looked to be rubber teeth at the back. The other had flat steel back that i just tapped around to seat. When I tried to put hub on it would not go all the way on. There was a steel piece on spindle that I thought was suppose to stay on. I tried pulling it off and it looks like seal had separated leaving this piece on. It has the rubber teeth around it! Now what? Can either seal be used????