Air conditioning for a 53, the good, the bad, the ugly??
05-18-2009, 10:44 AM
I have a Vintage Air Gen II compac unit in my 53 and it is very good in hot, humid Oklahoma summers. I agree with Tacson about the underdash unit though. It is the most direct airflow to your body. Proper sealing and insulating is of utmost importance to satisfactory cooling. I have used a couple of other a/c units that were not even close to VA, IMO. I would buy another from them. Joe
05-18-2009, 01:57 PM
I ditto what Okie and Tacs are saying. With the trouble of putting the VA Gen II under the dash and look I was going for, the underdash unit would have been a better choice. Now my system cools very well in a short amount of time in a black truck. I did use lizard skin inside the cab and rhino liner underneath the cab and standard auto insulation and carpet, the truck doesn't really get that hot in the summer.
06-13-2009, 10:48 AM
Update:
---
Well, I ordered the Vintage Air unit from Mid-Fifty, looks to be a quality unit. I didn't order the under-hood part because of my unique powerplant
, but have almost gathered all of the needed parts for the installation. The compressor fittings are on factory backorder, so I will have to come up with another setup for this
. I bought 4 rolls of the sound deadener mat from Mid-Fifty and a large roll of the Mylar insulation from HD, so I should be set for insulation. Now comes the hard part, finding time to put it all in
Time and temp has come to do this, I am tired of riding in my effie and having to wipe sweat
06-13-2009, 11:52 AM
06-13-2009, 09:20 PM
Join Date: Oct 2001
Location: Spokane USA
Posts: 276
AC in a sleeper cab??
---
AC will be something I'll add to my F1, and I may use a unit from a Kenworth sleeper cab I was given. Turns out it has a built in heater too, and from the look of it, might even fit under the seat?? Still a ways off before all that happens, but maybe someone has attempted using one of those units?
Such units do get a lot of hours of use in a big rig, so have to be pretty durable.

Food for thought anyway...


RG in Spokane
06-13-2009, 10:51 PM
06-28-2009, 09:31 AM
I bought this Saturday at the F100 show in Pigeon Forge.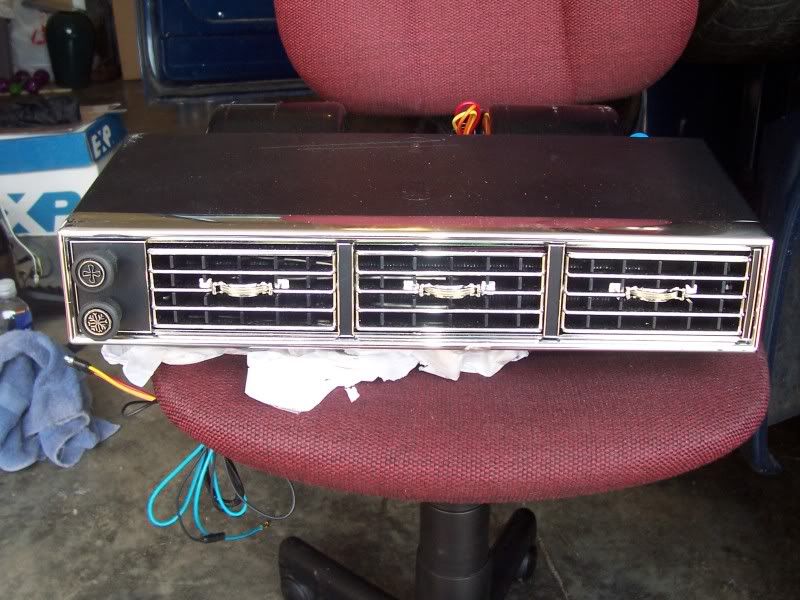 Going to be taking this out.
06-28-2009, 02:23 PM
Here's what I have used on my own trucks: I use an old favorite, the Mark IV which is an underdash add 0n unit popular in the 60s and 70s. It is being made again and sold for about $180. I buy new receiver dryers, use rotary GM compressors for Chevy engines, and Japanese Sankyo rotaries for other engines. I fabricate the engine brackets and use generic idler pulleys and v belts. I still do not use serpentine belts on my own stuff. I buy new condensers of the proper size (as big as the radiator), and use #6 and #8 hoses. I charge them with R-134. The deal here is that R-134 needs a large condenser, and the old trucks have huge radiators, so it is highly worth the cost of a huge condenser. I use a flex fan (stainless steel) of a large size and have used the original metal shroud. I have to offset the Evaporator Case to the Passenger Side a bit and I also offset the Cowl Vent handle toward the driver. I did not use any of the combined heater AC units because they interfere with the windshield wipers and the glove compartment. I have all the stuff for my '53 and it cost $135 for the condenser, $80 for the underdash unit (used) $65 for the A-6 compressor and bracket, $25 for the receiver/drier, and $39 for the hoses and hose clamps. I have my own AC servicing tools. So admittedly the price I paid is low, but anyone can do it. Incidently, Nostalgia Air has underdash units that are small, have 3 speed blowers and do 135CFM for $129. They also sell complete kits but now we are talking a lot of money and I am cheap. $344 for mine, complete. I also will have my electric windshield wipers (original but with 12V motor) my full size glove compartment, and my cowl vent which I dearly love.

Regards,

Alan
06-28-2009, 02:35 PM
Join Date: Jun 2009
Posts: 6
My family had a Ford galaxy 500, it had an under dash unit That was Chrome finished I suppose the big job was running the copper through the firewall...
Now,,, was that a Frigi-King??? Boy that was some great A-C in the day of R-12, I nearly stuck my finger to it once it was soo cold !!!
I don't know how to get you any closer to finding what you need, Hope you find something soon, or we'll be peeling you off the seat like an over done fritter :O
---
Last edited by HowlinDave; 06-28-2009 at

02:41 PM

. Reason: Incomplete
06-28-2009, 02:39 PM
I would like to suggest that if you use a an underdash unit with a large evaporator, and a rating of 125-175 CFM, along with a large condenser, you can turn any cab into an icebox.....insulation or not. However there are some marginal units sold, mostly as combination heater AC. units. I have found that the problem with underdash units is that they are too cold, and it is hard for the passenger to be comfortable with all the air blowing. The change to R-134 from F-12 raised the outlet temperature of AC units about 14 degrees and requires a very large condenser. This makes it virtually impossible to freeze up the evaporator, but you can keep the outlet temp at 45-50 degrees at high fan speeds and that is pretty cold..
Alan
06-28-2009, 02:57 PM
Have any of you looked at using a rear unit out of some of the mini Vans or SUV's?
Some of them include a heater unit and fit into a pretty small area and have outlets to run ductwork into the roof from.

Richard
06-28-2009, 04:28 PM
Originally Posted by
alanco
Here's what I have used on my own trucks: I use an old favorite, the Mark IV which is an underdash add 0n unit popular in the 60s and 70s. It is being made again and sold for about $180. I buy new receiver dryers, use rotary GM compressors for Chevy engines, and Japanese Sankyo rotaries for other engines. I fabricate the engine brackets and use generic idler pulleys and v belts. I still do not use serpentine belts on my own stuff. I buy new condensers of the proper size (as big as the radiator), and use #6 and #8 hoses. I charge them with R-134. The deal here is that R-134 needs a large condenser, and the old trucks have huge radiators, so it is highly worth the cost of a huge condenser. I use a flex fan (stainless steel) of a large size and have used the original metal shroud. I have to offset the Evaporator Case to the Passenger Side a bit and I also offset the Cowl Vent handle toward the driver. I did not use any of the combined heater AC units because they interfere with the windshield wipers and the glove compartment. I have all the stuff for my '53 and it cost $135 for the condenser, $80 for the underdash unit (used) $65 for the A-6 compressor and bracket, $25 for the receiver/drier, and $39 for the hoses and hose clamps. I have my own AC servicing tools. So admittedly the price I paid is low, but anyone can do it. Incidently, Nostalgia Air has underdash units that are small, have 3 speed blowers and do 135CFM for $129. They also sell complete kits but now we are talking a lot of money and I am cheap. $344 for mine, complete. I also will have my electric windshield wipers (original but with 12V motor) my full size glove compartment, and my cowl vent which I dearly love.

Regards,

Alan
Alan,
where do you source your condensor? Also what do you use for the rear mounting of the evaporator. THe one I bought came with two brackets for side mounting but I was wondering how to secure it in the back. I haven't looked but do you have pics in a gallery of your interior and firewall as it relates to your AC install? thanks