Someone hit my '59 today: Update Feb 04 2010. Pics last post.
05-13-2009, 09:20 PM
id kill them, kill them. i no my truck is not in perfect condition but id kill them. no one can touch my truck. i dont know how you held back? stronger than i am. but your truck is still beautiful, nicer than mine.
02-04-2010, 11:43 AM
Join Date: Feb 2007
Location: San Diego
Posts: 104
time for an update
---
Just got my truck painted. It's been 9 months since some guy hit it while parked at my house. Lets recap with pictures and for extra fun we'll Tarantino it (backwards).
My truck as of today.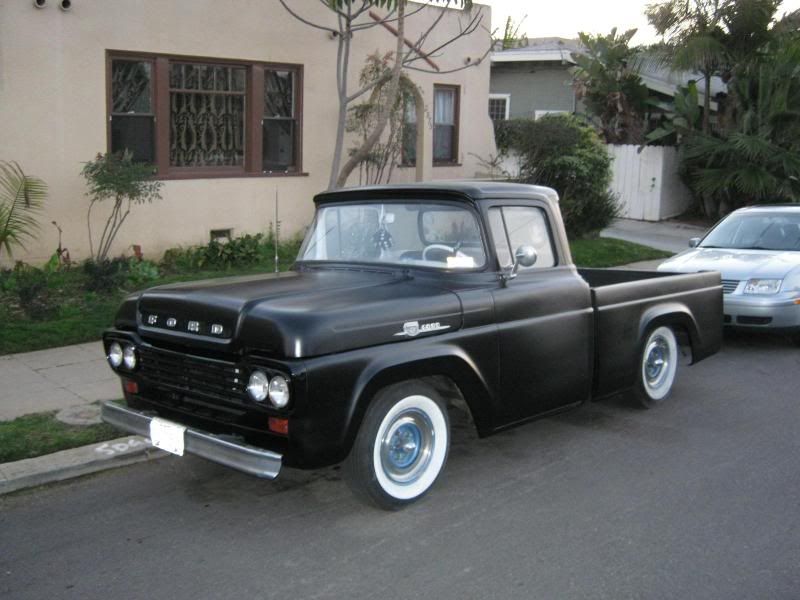 Pre-paint at the body shop
The day some idiot hit a parked truck.
The day i bought it 3 years ago this month.
02-04-2010, 11:48 AM
Let me be the first to say congrat's man. It looks great. I gotta ask, how'd they fix the cab and bed? Replacements, or actual metal work? I just made up my mind this morning to sell my truck. It needs a little touching up, but I'll throw it out on Craigslist now that it's tax time, to get some heads thinkin', while I freshen it up. Congrat's again, John
02-04-2010, 12:21 PM
Join Date: Feb 2007
Location: San Diego
Posts: 104
the bed I replaced with one I found with the help of cobraguy, and the cab was hammered back into shape. very little filler.
Thread
Thread Starter
Forum
Replies
Last Post
Y-Block V8 (239, 272, 292, 312, 317, 341, 368)
1948 - 1956 F1, F100 & Larger F-Series Trucks
Y-Block V8 (239, 272, 292, 312, 317, 341, 368)
1948 - 1956 F1, F100 & Larger F-Series Trucks
Y-Block V8 (239, 272, 292, 312, 317, 341, 368)