Let me see your lifted F350's!
02-03-2009, 01:04 PM
Join Date: Nov 2006
Posts: 1,866
02-03-2009, 09:37 PM
02-03-2009, 09:50 PM
02-03-2009, 10:08 PM
Originally Posted by
lossscause
Here is my 97 F350 with a 6" Skyjacker lift, and 37" tires. If you haven't purchased the lift yet, my advice would be to stay away from the Rough Country stuff. If you do some research around here you will find stories of sagging springs and lesser quality parts. (IMHO)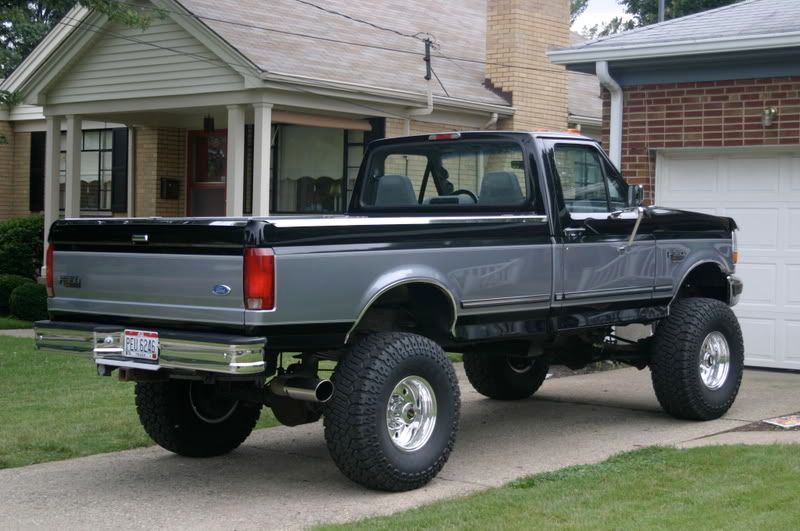 DAM I WANT IT !!!!! Gotta love the to tones !
02-03-2009, 10:11 PM
Join Date: Aug 2007
Location: Belle Mead NJ
Posts: 2,026
02-03-2009, 10:44 PM
02-03-2009, 10:46 PM
Join Date: Nov 2006
Posts: 1,866
02-03-2009, 10:48 PM
Join Date: Dec 2004
Posts: 119
02-03-2009, 11:54 PM
Join Date: Dec 2005
Posts: 557
02-04-2009, 12:53 AM
02-04-2009, 03:28 AM
02-04-2009, 06:55 AM
Ah no offense taken, I did have a difficult time deciding on the 37x13.50's, I really love the way 40's look on these trucks, but I needed a decent highway tire so this fit my needs a little better. To my surprise though, they measure a little over 38" tall, so not too bad.
Originally Posted by FordF350Baby
Your truck is ill! That is perfect looking, did u go with Skyjacker? And did u use have to upgrade your sway bar links, and did you add a single or dual stabilizer link? Also, what gearing are you running?
Yes it is a Skyjacker; I did not upgrade the sway bar links. They are a bit of a stretch to get back into place, but it can be done. I went with dual steering stabilizer shocks, which I think are definitely necessary for these trucks, they tend to have a bit more play in the steering than the newer ones. The gears are 4.10, which is really reduced to about a 3.55 (maybe slightly higher) with the bigger tires. I don't mind the higher gearing, it helps out alot at higher speeds, and the diesel has plenty of power, so it isn't too bad. I'd love to re-gear, but that's pretty far down on the list at this point.
02-07-2009, 07:57 PM
Join Date: Nov 2005
Posts: 342
02-07-2009, 08:11 PM
Join Date: Nov 2006
Posts: 1,866
02-07-2009, 08:15 PM
Join Date: Nov 2005
Posts: 342