Lets see pics of your rigs!
09-26-2011, 04:38 PM
Welcome to the forum, sounds like youve got a nice truck, but we cant see it
. You can get emblems from LMC trucks, or National Parts Depot. I'd go for an original, and fyi those IDI diesels like a little backpressure since they have no turbo. Dual 4in may be a lil much
11-04-2011, 05:33 AM
---
Do they have to be just Fords or can I be the oddbal and throw a Chebby into it? I think I will. Here is my DD and money maker:
And what she looked like Thanksgiving '08 when I sunk her to the chassis:
Right after it happened:
Here is my real baby. This is when I got her in 2004. (Buddy looking at me like "How in the Hell did you do that?")
Think I "flexed" her enough?
And How she looks now: Recently painted and bodywork performed (I know, I left the door open.)
As you can tell, I am NOT gentle with these trucks. Although the '89 is now retired awaiting a full ground up restoration into a show truck. Sorry for being so long.
12-28-2011, 12:17 AM
My 89 F250, lots of time spent making this into a wheeling machine. Currently fabricating a winch bumper for it. More info on it in my Signature. Its got 35's on it in this picture, it'll clear 38's without rubbing, haven't tried 40s though.
01-18-2012, 10:30 PM
Here's my current rig. 1981 F100 Custom, almost all original including the hubcaps. 4.9 cyl inline 6 300 big block, 4 speed OD manual trans, 2wd.
Shot of the motor
Custom interior by me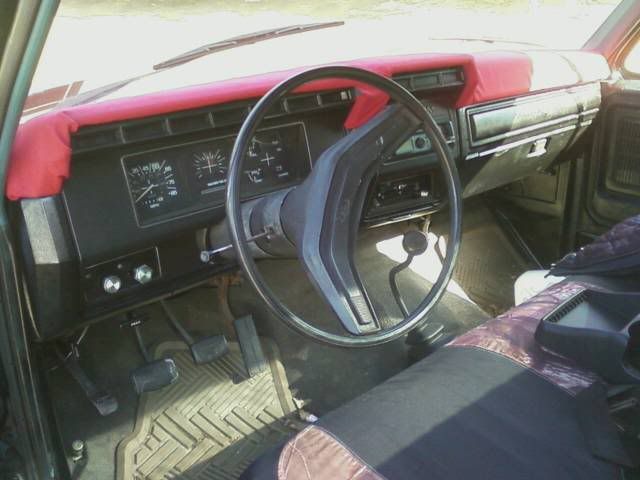 And me being a georgia boy, I gotta have somewhere to hide my beer!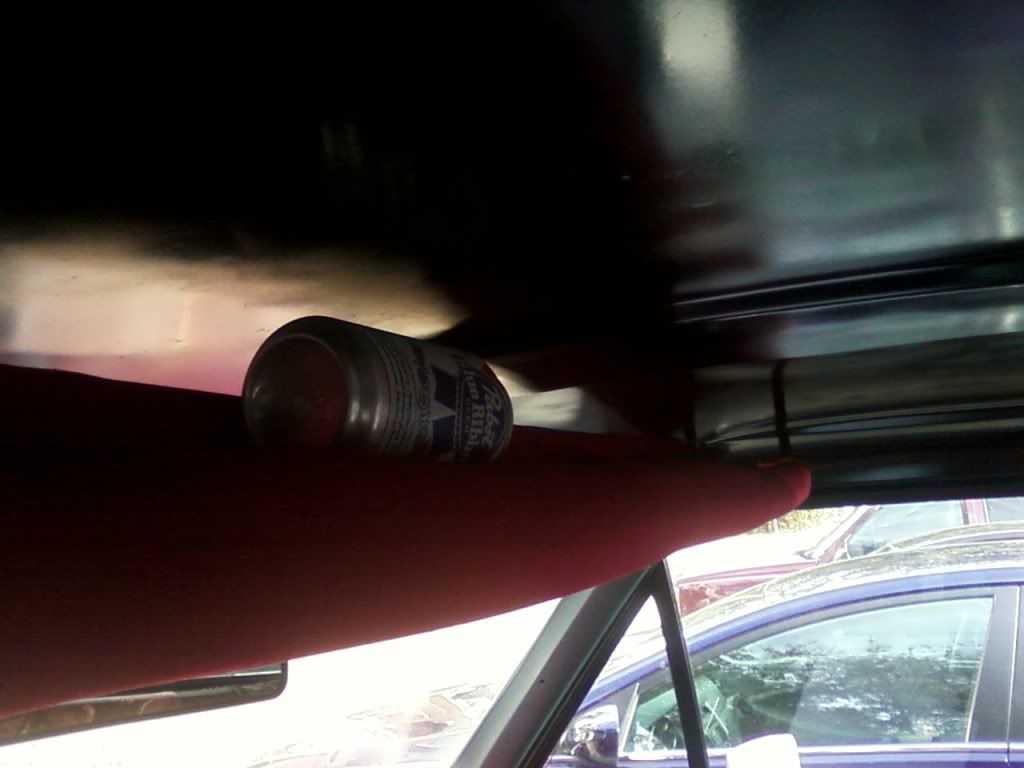 01-19-2012, 10:02 PM
I don't think I've posted in here for a little while. My F150 gained herself a 1995 D44 TTB. Along with that came around 2" of lift.
Unfortunately I came to realize her 4.9 300 was the victim of a shoddy rebuild, as well as the infamous tap water coolant fiasco, so I have pulled and disassembled the 300 I6 to make way for a 6.6 400 V8.
As she sits right now.
02-07-2012, 11:27 AM
Here is our rides. I will list what they are as I go through. Ya I have driven all of theses at least when they ran only the 86 and 02 run right now.
First off my 1988 Ford F150 302 all stock automatic transmission with 4x4 a ladder rack and truck box now. The bug deflector is coming off. Here is a pic of it with me by it. We call it White Lightning.
The 2002 Ford F250 4x4 crew cab Triton V10 with a truck box also. My Favorite out of all of them. Has a 2005 Grill and bumper. We call this one Big White.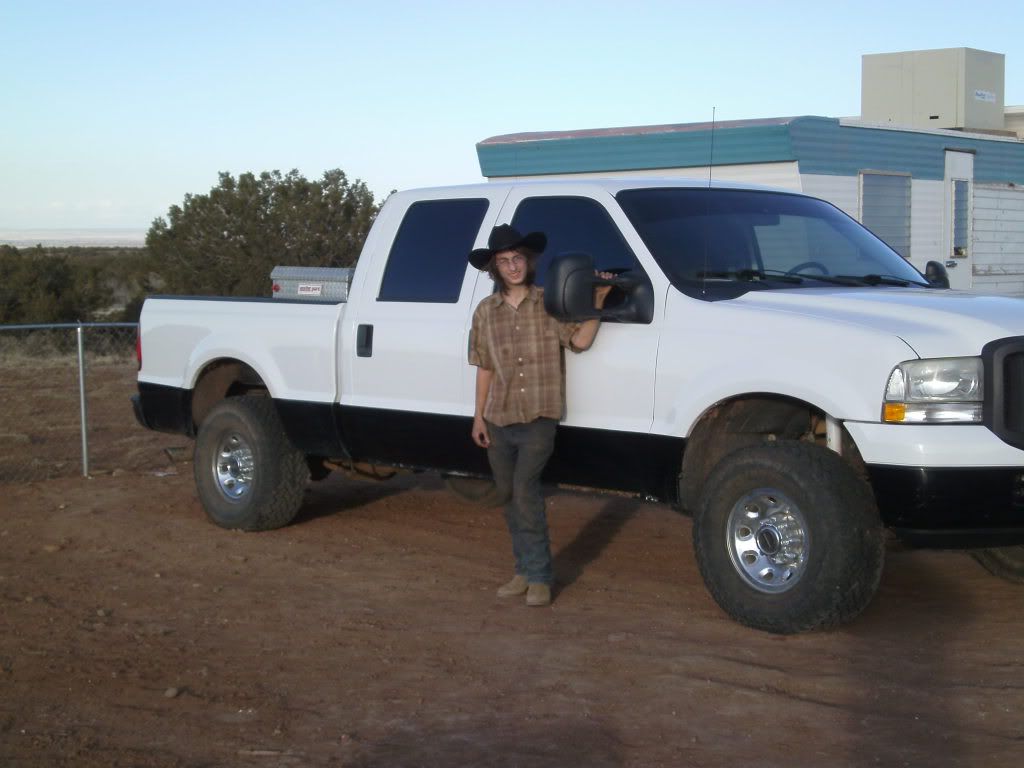 my girlfriend's truck she is 16 years old same as me. She drives a 2000 Ford F250 4x4 super cab V10 It has came along way since me and her started fixing it to her standards. I call this one the truck that thought it could it is constantly getting stuck. No mods other then trailer tow mirrors and a truck box and these wheels.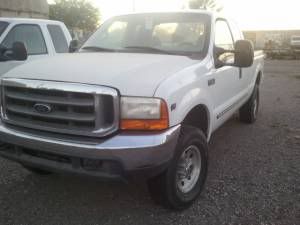 Our/ My dad's 1986 Ford F150 4x4 302 no mods auto everything. It is fast. this one is called Blue Jay.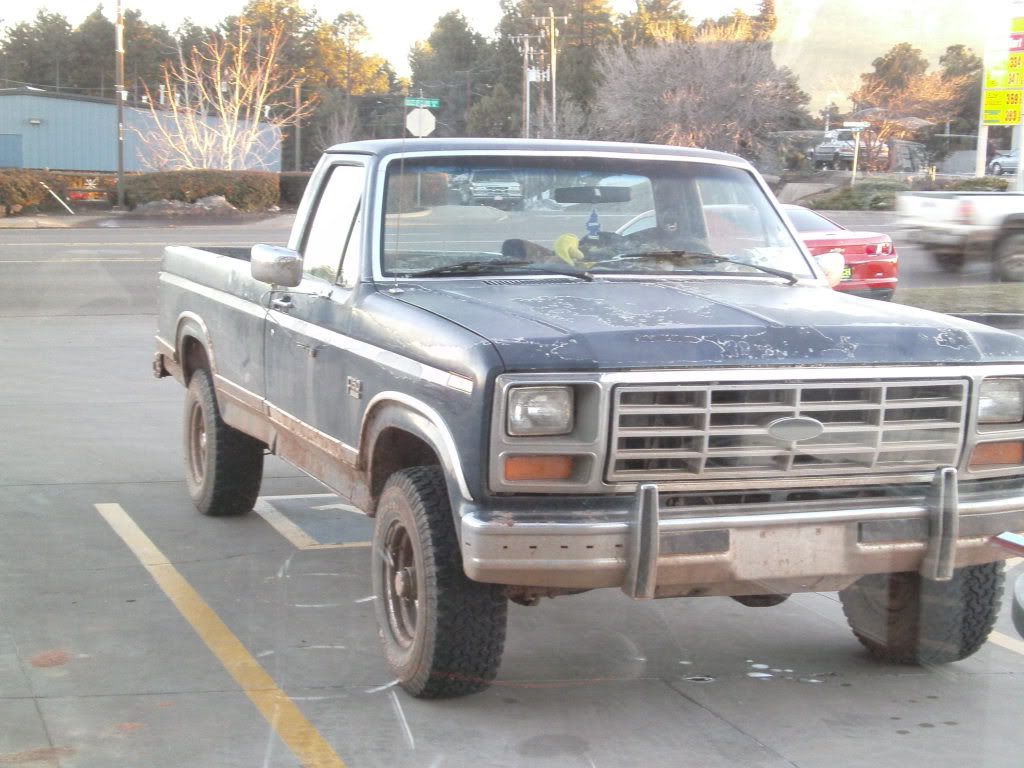 Our/ my yougest brother's 1984 Ford Bronco 2 4x4 no mods manual everything. We call it Blue thunder there is no muffler on it right now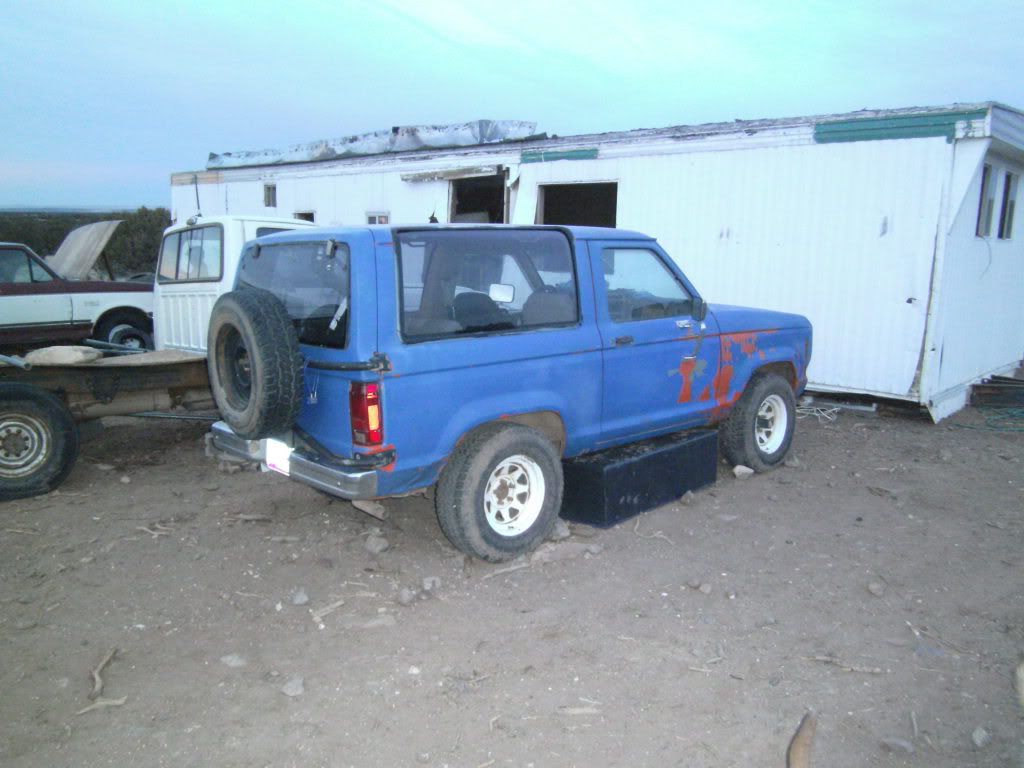 Big Red the 1989 Ford F350 2wd crew cab no mods and is ours/ my other brother. It has a 460 v8 standard everything.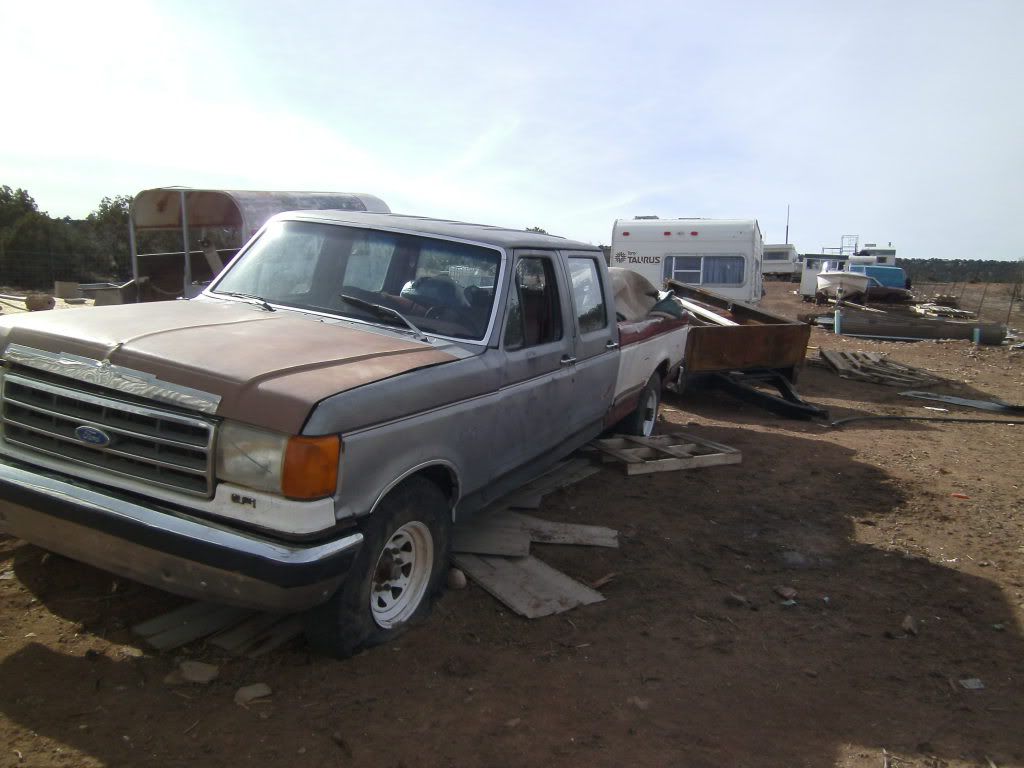 Taz a 1989 Ford F250 4x4 351 V8 standard everything runs but needs alot of work. Currently the ranch truck but will be my little sister's if the Reliant sells.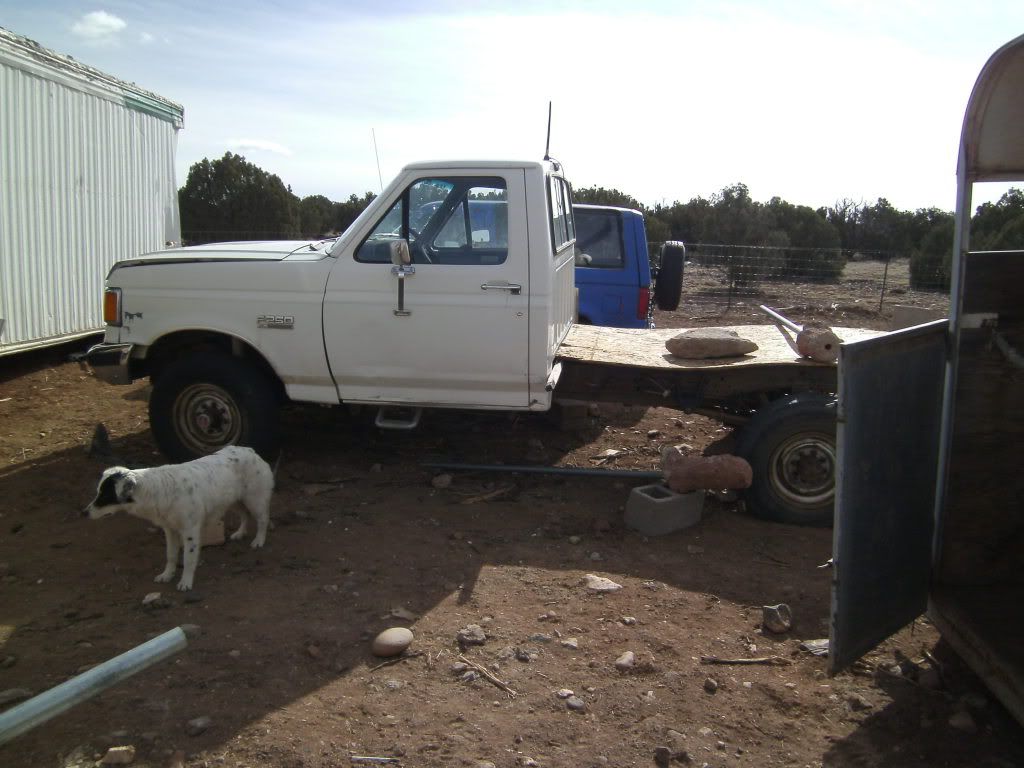 The Reliant named Mearalin Monroe it is a 1987 Plymouth Reliant that is right now ours/ my sister's and is for sale currently. It was my first car and I hated it because I don't like cars it is a good car but I like lots of horsepower like my 1988 F150.
And lastly our prized possesion that isn't going anywhere forever. I love this van I learned everything I know off this van. Yes it is a Chevy. It is called Baby Blue it is a 1985 Chevy G20 Sportvan. I love the color of this thing.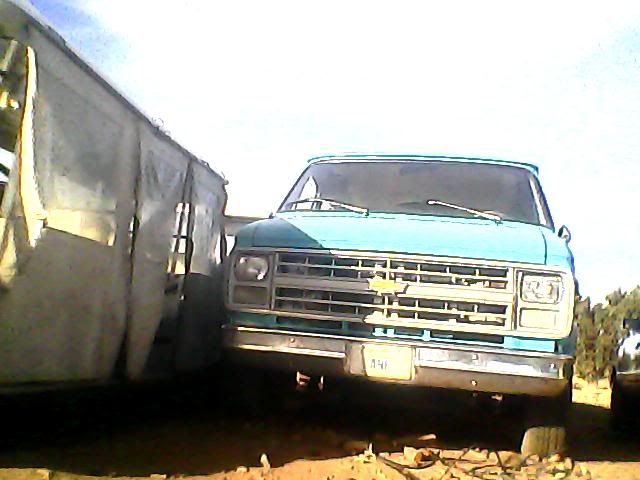 02-09-2012, 01:50 AM
Join Date: Feb 2012
Posts: 1
Really good and terrific pics. I like it nice rig.
02-11-2012, 10:30 AM
Here is my 1997, heavily modified and built for off roading. 45 inch American Farmers, 5.13 gears and front spool, front chromo shafts, AGR hydro assist steering, tons of other mods.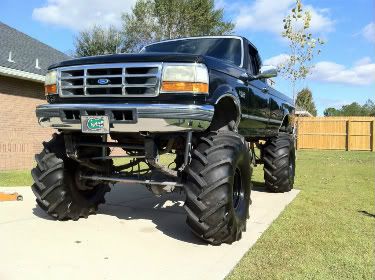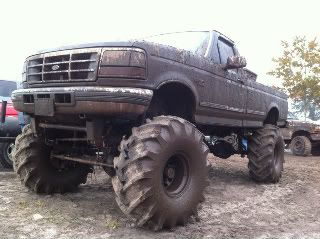 Here is links to bigger pics:
http://i1208.photobucket.com/albums/...5/IMG_0993.jpg
http://i1208.photobucket.com/albums/...IMG_0819_2.jpg
02-11-2012, 09:24 PM
02-12-2012, 12:38 PM