Any Mercury stuff on this site??
01-02-2009, 09:54 AM
Hi Rick, I noticed in your gallery a picture of the location of the spare, did you put it there yourself or was that the factory location. I had a 56 back in 69 that had the same mount but on the opposite side, I have inquired a couple times on hear with no response as most seem to have been underneath and between the frame rails. This where I plan to install mine but would still be interested if it was factory.
01-02-2009, 11:20 AM
Join Date: Jan 2009
Location: Brights Grove,Ont. Canada
Posts: 384
Hi Rick. I haven't seen very many Mercury panels . Very nice looking. I'm another merc fan. Justjoined this forum. I've got a 1949 M-47 that I've started on. Would like to find other '48-'50 M-47 owners to compare findings from my tear downs with.
There is a red Merc panel down in Florida that I saw some pictures of. Real nice to see yours. Thanks for the picture.
Greg
01-03-2009, 06:04 PM
Join Date: Jan 2009
Location: Brights Grove,Ont. Canada
Posts: 384
Hi Rick, Got your message but guess I don't have the okie dokie to go to it to answer so I'll answer here and hope you get this message.( Tried a couple times and no go ) I've heard about the SOCP. I have been a regular at the Arthur truck show for the last few years when I manage to get the time off.
Brights Grove is just across the river from Port Huron and up the lake 10 minutes. A long way from Ottawa. I'm thinking of joining the west coast club. Their meetings are held in Grand Bend, Ont. which is about an hour north for me. I just need to fit it into my plans. And Dean seems like a good guy. Might even have some parts I need. Hope you get this and it answers your questions.
Greg
10-04-2009, 09:50 PM
I just purchased a 1946 Mercury 1 ton pickup all in pieces...Im glad there are Merc friends around! Cause I'm going to need lots of help...LOL

Pablo
10-05-2009, 08:45 AM
Join Date: Jan 2009
Location: Brights Grove,Ont. Canada
Posts: 384
Hi Pablo, Glad to hear of another Mercury truck owner on this site. Okay so now you just have to tell more about your Merc. What kind of shape is it in and how did it find it's way to Vero beach FL ??
Greg M-47
10-05-2009, 11:39 AM
Well I found it in Melbourne Fl. I bought it from a guy that had it sitting in a storage unit for a while. He had it all apart in pieces because he had started on the project but the friend he had that was helping him moved or something, so the project stopped. He listed it and I found it. I went to look at it (little overwhelm seeing it all in a million pieces) but was happy to see that everything was reading to be rebuilt. Cab and frame are all primed and he had purchased all new fiberglass pieces. So the running boards and all fenders are all new! So I had started rebuilding the rear to get it ready to put back on the frame but I ran into a problem where one of the drums is bent and no one sells a new one for a 46 1ton pickup just 1/2 and 3/4 ton. So now I have to find what donor rear I can use on this truck to continue on the build. Any suggestions?

pablo
10-05-2009, 01:52 PM
Join Date: Jan 2009
Location: Brights Grove,Ont. Canada
Posts: 384
Off hand I haven't got an answer to your problem but I'm sure someone on here will be able to give you some advice. Have you got all the Mercury trim with your truck ? The grill pieces seem to be getting pretty hard to find for the '46-'47 Mercs. Hopefully someone will help you with an answer to the rear end problem. Good luck with your truck.
Greg
10-05-2009, 08:28 PM
pablo
what are you plans for your merc?i have a 50 m-68,the 60-72 f-250 is a straight swap for me.might be a good thing to check out for you.
how many would you like to see,this is my 50.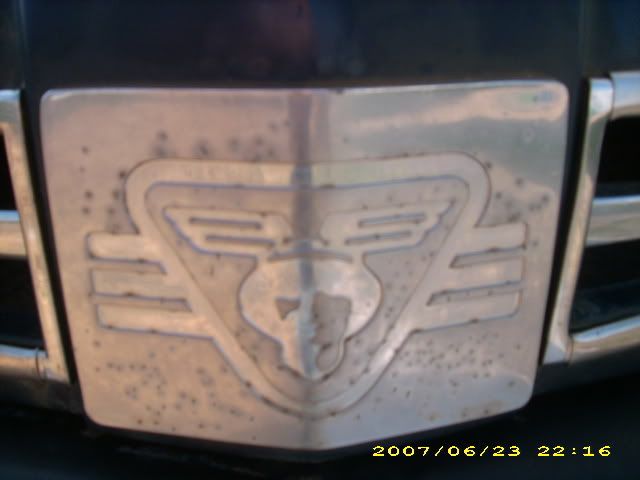 this is a 52 m-3 next to my work.
pablo ,is your bolt pattern 5 lug or 8 lug?
btw,there are lots of old mercs in and around lethbridge alberta.
if you want more pics let me know.
10-06-2009, 07:51 PM
pablo,this forum is 48-60 so im not sure on the 46.
i do know that the 48-50 front frame is narrower than 51f-1 and up,how ever i did get a 53 complete front axle for cheap,all i did was swap the backing plates and hubs had to run smaller hard lines for the brakes how i have the 5 on 5 1/2 bolt pattern on the front.the 51 f-1 to 60 front end is about 3 inches wider that 48-50 so i couldnt swap the hole axle.
how they say the ford 9 inch is a direct bolt in for these trucks(1/2 3/4 and 1 tons)but i have not done this as yet,i dont know if the 46 is the same.
i hope this helps some.you may want to try the 47 and older forum and see if they can help you better.but these guys and gals here are pretty smartwhen it comes to our trucks just not sure if it will cross over to yours.