"just a though" ttt FTE Logo (image)
06-27-2008, 02:58 PM
"just a though" ttt FTE Logo (image)
---
I played around with these for a few minutes on my lunch. I looked at the FTE store window decal but I'm not a big fan of the huge window stickers. I was thinking of possibly getting something like a 4-6" oval sticker printed up kind of like the attached image shows? would I have any problems with copyright issues?
anyways let me know what you think of these?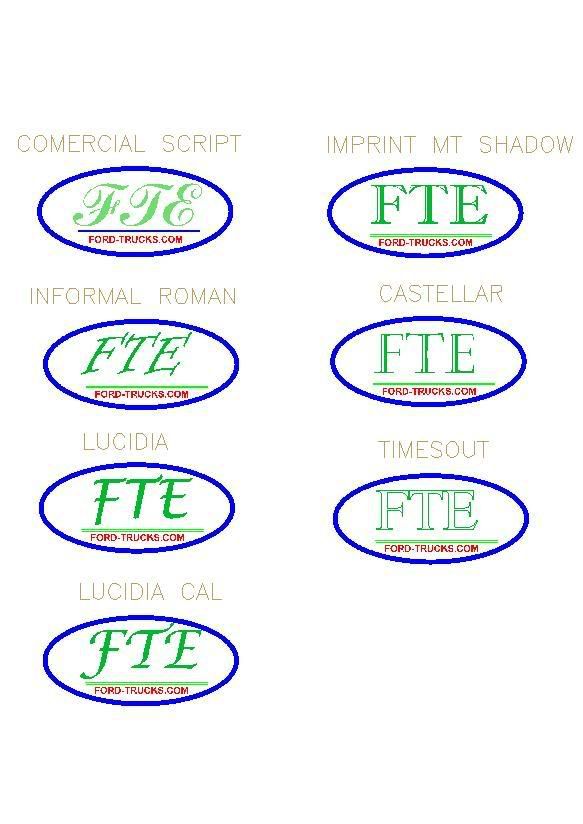 I think I like the top two the best, and of course the color scheme could be totally changed, but figured it had to have blue in it, then the lighter green I tried to match the flathead engine color on my block, just ideas.
Josh
https://www.ford-trucks.com/forums/7...a-thought.html
06-27-2008, 03:53 PM
I like the two Lucidia's or the imprint.. My old eyes (brain?!) can't take the fancy fonts that aren't clear..

we want people glancing at these to get the text.. not have to think about what they saw..

if someone searches FTE on google, what do they get? bummber, nothin related, but in the related (at the bottom) its the first thing..

Sam
06-27-2008, 04:02 PM
I can't see any copy right issues there. Anyone can have a blue oval because it's a common shape, Ford don't have a trademark on the oval shape, but soon has you start using the Ford logo then you will have a issue, they look kinda neat also. Cheers
06-27-2008, 04:21 PM
Sam, I agree they would need to be easy to read, especially since they would be fairly small to begin with. The main reason I like the "commercial font" is because its similar to the ford script from the earlier models,
My 45 ford jeep has the F script on every bolt and misc part.
If they (FTE) made them I would buy them.
06-27-2008, 07:13 PM
As brother, Penn Dick, suggests the owners of this site might have an objection... especially if you were to cut into their business. Fellows on the HAMB have made sincere efforts like this and most are firmly rejected.

Art and marketing guys will try to tell you that logo design is sort of sacred territory and that all others need not apply. It seems unfair on the surface, especially since your ideas are so appealing.

Ownership is the key here. What do the owners here have to say about it? Moderators? Morris? How about it.

I say, good luck to you.

helpfully, himmelberg
06-27-2008, 11:22 PM
If your doing it for yourself and not printing anything to sale or make money then I think you shouldn't have a problem. Hey it's your truck you should be able to put what you want on it. I have a buddy who can print decals of anything you want like that, if it's a 4-6" decal or even alittle bigger that would look good on the back glass. I'd put it on there, it would look good.

Scott B.
06-29-2008, 08:47 AM
So that's why...
---
And that's the reason some corporate logos
really suck.
Have you ever noticed that some of the older logos say it all and the ones that suck are the product of this
new sacred teritory cult of idiots
? A good example of this is the Ford logo which they actually all but abandoned for a while years ago. Obviously, better minds prevailed and they are sticking with their 100 year old plus logo. Some of the new stuff this cult has produced struggles to describe the entity it represents. So far as I'm concerned, these neuvo-numbskulls are only fooling themselves and thier Madison Avenue cronies. Time will be the ultimate judge. Consider this, it is all but impossible to find even one of these newer logos burned into you mind with that instant recognition factor that is associated with logos like the Ford and Coke logos.