Archived CO Buy/Sell/Trade Ads
09-11-2010, 08:53 PM
'63 Unibody in Cheyenne
---
Truck is a 1963 Ford F-100 Unibody SB 2wd. Has a 302 cu in V-8 with a newer 2 bbl carb, dual glasspack exhaust, electronic ignition and 12v system. Trans is a C4 auto, and the rear is the original (recently rebuilt) FOMOCO DANA 44 with 3:73 gears and limited slip. ruck has new fuel pump and fuel filters, new bench seat, new front suspension bushings, new Optima red top battery with master shut off switch, and newer rims and tires. The cooling system has been upgraded with a lower temperature thermostat, a larger radiator and a 5 blade flex fan. All glass is good, with the front having been replaced within the last 5 years. The seat belts have been upgraded to lap and shoulder restraints.
Also comes with the truck are:
5 original FOMOCO rims
4 original (not repops) dog dish hub caps
Original trim
1 full size spare tire (235/75/15)
Literature collection:
Parts catalogs
Original parts identification manual
Shop manual with supplements on CD-Rom
Owner's manual
Full color 1 page wiring diagram
Memorabilia collection:
Hat pins
Vintage magazine ads featuring truck
NADA lists low value at over $6800
Asking price of $3000 obo
Truck is located in Cheyenne, WY. I have owned this truck for the past 14 years and was my daily driver until a couple years ago when I purchased a 4x4 daily driver.
This truck is ready for someone to restore, customize, or just drive as is!
Contact by email:
[email protected]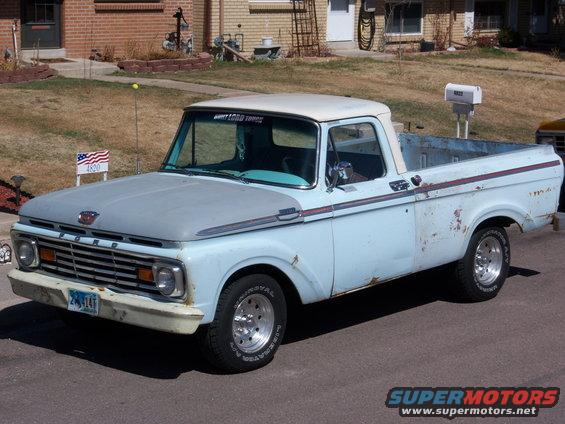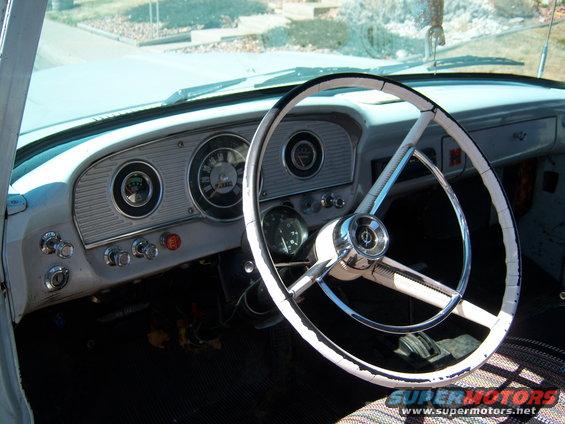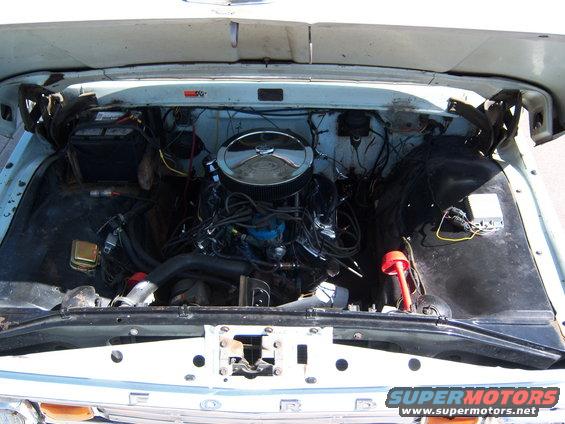 09-19-2010, 04:54 PM
Join Date: Oct 2008
Posts: 46
1979 2wd bracket
---
Hey guys,
Was wondering if anyone had a right side radius arm bracket off of a 1979 2wd half ton chassis.
This is the one without the welded on washers on it. My Indy truck has run over something before I got it and the bracket on the right side is the earlier one. Would like to get it back to the correct bracket. Let me know if you have one or see one in a pull and save yard. Thanks a bunch.
Might be interested in a complete chassis if someone has the later one for a long bed 2wd.
Also let me know if you see a f-150 with a 460 in one of the yards. Building some kits to get big blocks into my other trucks.

Thanks,
Don
10-15-2010, 09:03 PM
Join Date: Jun 2004
Location: near Daytona
Posts: 660
New Super Duty or Excursion Grille 99-04 - Gloss Black OEM
---
I bought a new grille for my 04 then sold the truck 2 weeks later. Kept the grill.

Ford oem part, gloss black, has Ford emblem, perfect condition. Looked great on my black/gold Lariat. Would look great on any black or gray. Looks great on Excursions too.
I'm south of Denver
about 240 new, will sell for $190
11-17-2010, 01:31 AM
I might want it. Id have to paint it, my excursion is green. Send me a PM if you still have it.
11-17-2010, 08:53 AM
Join Date: Jun 2004
Location: near Daytona
Posts: 660
12-20-2010, 04:14 AM
In grand junction. i have a good C6 auto off of a 400, clean and in good shape, asking $200 for it. needs a spacer and a transfer case married to it then you are set.
01-05-2011, 11:13 PM
Join Date: Apr 2010
Posts: 7
Wanted: Passenger side door 87-96
---
I need an 87-96 passenger side door to match this paint scheme
Email me at
[email protected]
Call or text me at 3072219163
Or just PM me here.
Thanks in advance,
Cody Fife
01-07-2011, 08:29 AM
Join Date: Jun 2010
Location: Colorado
Posts: 244
Parts from my 79 F350
---
I have some parts for sale off my 79 f350

drivers side window $50
drivers side wing window $30
Passenger side window $50
Passenger side wing window $30
window regulators (2) $40 / pair
door handle (2) $20/ pair
Door locking mechanism (2) $20 pair

$230.00 takes everything

I forgot to add, that I have a set of brand new chrome trim for the fenders $30.00

Dan in Berthoud
01-16-2011, 02:16 PM
Join Date: Jun 2004
Location: near Daytona
Posts: 660
99 - 04 Super Duty or Excursion Grill (oem)
---
01-17-2011, 01:38 PM
Join Date: Jun 2010
Location: Colorado
Posts: 244
35" to 33" tires, trade
---
I want to lower my truck a little, I would like to maybe go with 33" on my truck, my 35" tires and wheels are pretty new, anyone interested in a trade possibly?
01-20-2011, 04:19 AM
Im looking to find a bed for my 78 f250. anyone have one close to the grand junction area? willing to trade my c6 for it if you are willing.
01-28-2011, 12:04 PM
Join Date: Nov 2006
Location: Divide , Colorado
Posts: 210
WTB 64 F250 fenders, tailgate, air cleaner
---
WTB 2 front fenders with inner aprons , tailgate and factory oil bath air cleaner for my 64 F 250 2wd lwb CC . Its a 292 with a 4 sped manual. If you have any of these items or know where to get them please email me at
[email protected]
. The body parts I am looking for are OEM good condition I am not much of a body man yet. But I am sure with this project I will get plenty of practice. Thanks Patrick
01-28-2011, 12:14 PM
Hey pat have you tried looking into LMC Truck Parts? They have alot of stuff for old fords, and usually reasonable on the price to. All of their parts are usually OEM also
01-28-2011, 04:10 PM
Join Date: Nov 2006
Location: Divide , Colorado
Posts: 210
Mike
What I have been told is that the fenders and body parts are all import.If I am not mistaken even at DC, LMC,NPD, Concourse etc. Not saying import is all that bad but I was told they do not fit that good and are of thinner metal. I was hoping on finding some good used fenders , aprons and a tailgate in Colorado or someplace close I could drive too and back in a day or two. Even at that I would save enough in shipping to cover most of my costs if I get the parts at a reasonable price plus I think a better product. And I was hoping on finding a oil bath air cleaner that someone removed and installed a aftermarket one at a decent price because I have not found one in the usual online stores. I was planning a trip next week to Denver area to check out the salvage yards there , I went to Upull and save 2 months ago and they had a couple fenders that I might have been able to fix but I am hoping to find better. I have done the CL search also but the couple I have found the people wont send pics and it was a cruise for me to get there. Gotta love people that say they need the money but would not put the effort into making it. Thanks for your input though. How is your project coming along? Did you ever find a bed? Weren't you looking for one?
01-28-2011, 04:30 PM
Join Date: Jun 2010
Location: Colorado
Posts: 244
Parts
---
Patmedic,
Try Andersons Salvage in Greely, I know they have several dentsides there. Upull it