Attn Lifted Trucks
05-27-2008, 10:58 AM
The rubbing on the brake lines is the result of 12.5" wide tires on 8" wide wheels with 6" backspacing. This combination bulges the tire sidewalls more and also allows for more sidewall flex while cornering. Wider or more offset wheels would solve this issue but short of that you could simply bend the brake line supporting bracket inward a bit to move the lines away from the tires at full lock.
05-27-2008, 11:38 AM
The rubber missing from the rubber also allows for the lines to flex more under pressure, allows expanding making for a spongy feel. SS lines will not do this...and you can get longer ones and route them as you need.
05-27-2008, 07:31 PM
The good news is that you guys are probably right. The bad news is that the tires are not exactly 12.5" because they are not in inches. They are metric -- 285/65/20 which I believe are 11.5" wide and they do not bulge. However, I'm sure however much wider they are over stock is to blame for the rubbing that is happening.

Where can I get steel braided lines and how much am I expecting to pay?
05-27-2008, 11:36 PM
Join Date: Oct 2006
Location: Buffalo NY
Posts: 380
Go on ebay and get them cheap.

I'm going to end up upgrading to SSBC brakes all around. They are 2 minutes down the road from me so I'm going to pull some strings with the guys I know working there.

Those lines do look rough though... be careful.
05-27-2008, 11:50 PM
Thanks.

I'll peel my eyes on ebay for them...

I'm honestly really worried about these hoses.

I will be going on a 700 mile round trip towing the 5th weel next week.

I'm going to work on resolving the issue by moving them further away from the tire.
05-28-2008, 02:50 AM
Your local 4x4 shop should carry them as an option when installing lift kits they sell. Check with them. Otherwise check your local Napa store or other parts store. Just make sure to get the length you need...add a couple of inches for suspension travel and re-routing.
05-28-2008, 08:26 PM
You beat me to to it, Patrick.

I picked up some heavy duty zip ties today to hold them back by tying to the frame somehow in the meantime while I get some steel lines.

Thanks to all for the great help. It is highly appreciated.
05-29-2008, 12:50 AM
I went ahead and moved them as close as I could to the sway bar end links and tied them with a zip tie. Here are some pictures.
FRONT DRIVER: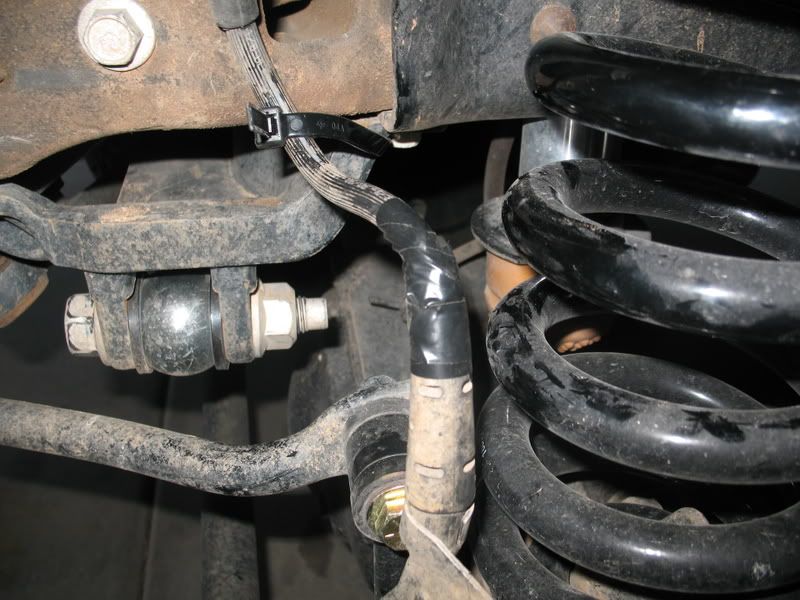 FRONT PASSENGER: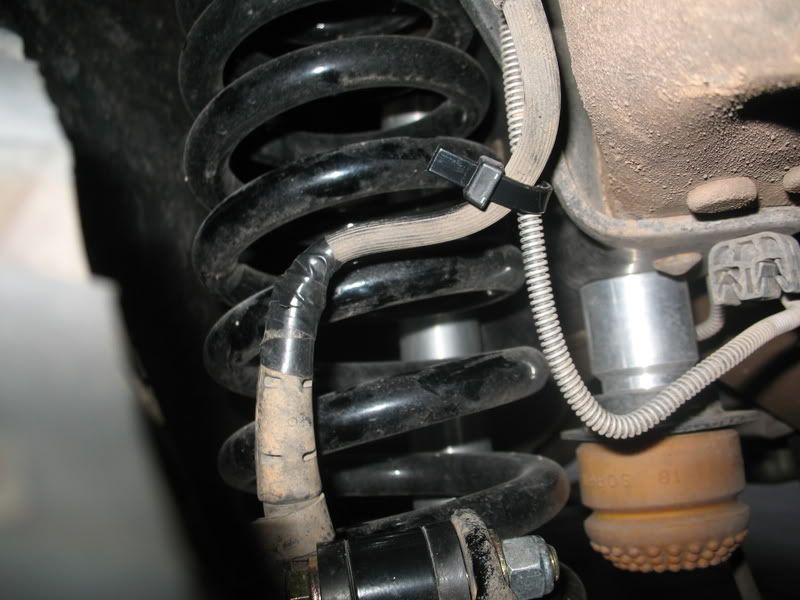 As you can see, I went ahead and added some electrical tape as a tool to tell me whether they will be damanged or not. I could not find chalk so I used what I had.
I'm really hoping this will do the trick for the meantime.
05-29-2008, 06:56 PM
Superlift has extended brake lines that are steel braided
Thread
Thread Starter
Forum
Replies
Last Post
Pre-Power Stroke Diesel (7.3L IDI & 6.9L)
1973 - 1979 F-100 & Larger F-Series Trucks
1987 - 1996 F150 & Larger F-Series Trucks