Show Off Your Pre-97 Trucks
07-07-2018, 01:10 AM
Dang man. Are these on your truck? If yes, brand, model and size please?
Originally Posted by
sandymane
Personally I like them out. Either way you do it, make sure they put your balance weights on the inside. If your wheels need any help from rust, 4 ought steel wool with light pressure will remove it. You can also get an oil based medium width white sharpie pen and do the raised white letters. It stays on very good and is easy to do with those tires. The RADIAL has not been done yet on this pic to show the difference. Sandy
07-07-2018, 11:12 AM
Hey Glenn
Bought from B&B Wheels
Vision LEGEND 5 141 Wheel 15X8 5x5.5 (5x139.7) Chrome 0mm Offset-FREE LUGS
ADD: FREE LUG NUTS!!:
FREE LUG NUTS (Valid on 4+ Wheels - Chrome / Zinc Lugs Based Upon Application)
$169.00 USD$676.00 USD
4141H5885C0
07-07-2018, 01:42 PM
96 f350 XL 4x4. 351 and c6 (soon to be zf5). Was a municipal snow plow truck for KC MO for about 80,000 miles. Little rusty, but looks good from 20 feet. Factory suspension. 33" tires.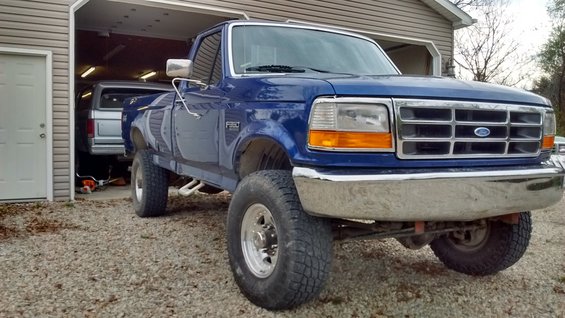 07-07-2018, 10:31 PM
Those look great. Your truck looks even better. Didn't think that was possible.


09-22-2018, 01:43 PM
Here's my '93 7.3 IDI which my grandpa bought brand new and has been in our family since. It was his baby and since his passing I've wanted to get it back in good shape as a rolling tribute of sorts. It's been a war horse and I'm proud to now have her. It's been sitting in a field for 2 years so I'm in the process of bringing her back to life. Just did the glow plugs, glow plug relay, new starter, new batteries, break job and a complete detail in and out. Still working on finding a matching set of rims but she runs strong and I have lots of plans for her!
10-02-2018, 09:49 PM
02-26-2019, 02:11 PM
Blake - just now put 2 and 2 together.....
Big fan of the YT vids!