vote for my design in the HAMB art challenge #3
12-07-2007, 01:07 PM
vote for my design in the HAMB art challenge #3
---
shameless petition follows:
task this time was to design a transporter and transportee. I already know my design; I just had to pen it, again, new for the contest. Go check out the designs at:
http://www.jalopyjournal.com/forum/s...1165&showall=1
and if you're registered, vote for your favorite. And I'm totally okay with it if mine happens to be the one you like. Mine's just a few up from the very bottom.
Enjoy!
JML
12-07-2007, 01:12 PM
12-09-2007, 01:24 AM
alright! we Jon's gotta back each other.

that site is pretty awesome. some 30k members.
that's a lot of opinions to filter through.

thanks for the votes, guys. and I have to say, Sander's is a great piece too. it was one, as I scrolled through, I said,
"ooh, nice."
I really dig the grille transplant he did.

I was flippin thru the Classic Trucks mag from Nov? as I was on the porcelain thinking chair earlier, and saw a candy green truck w/ a chromed '54 grille. me thinks I want one of those on my COE. diggin those chromey fangs! wonder if I could graft the nose and V8 emblem from one of my '56s into the middle of a '54 fanged grille and chrome it out? too much?
12-09-2007, 02:03 AM
Ah, you bring a valid query. I've considered it for many moons and for years just thought I wanted to build a ramp bed or roll back '56 COE like that beaut you posted. Then I drove a few long wheel base vehicles and realized if I wanted to enjoy a hauler, I'd want to shorten the wheel base a LOT and be able to shuck the trailer portion. Can't do that with a built on ramp or roll back bed. With those you have to live with the loooooong wheel base. Now that's the only intelligent way to go with a 100% dedicated vehicle like for Mann Auto Body or Joe Bleaux's Tow Service. But for Jon M. Leeth, private transporter, not for hire, goin' to the supernats, or Lowe's, or US Post office, or cruise night and want to pull thru Taco Bell at 4:17 am for a muchaco, I neeeed that short wheel base. I'm tryin' to kill as many birds with a single stone - cold gorgeous truck. I'm so sold on my design, I'm gonna spend a lot of time, sweat, and money to build it. Unless someone else can re-convince me of the merits of a service truck dedicated entirely to transporting, virtually exclusively, piggy backed autos.
JML
12-09-2007, 02:19 AM
Well that makes sense.
This would be a nightmare to drive, unless you consider it a motor home. It has a CAT diesel engine, the front half is a motor home, and the rear is a car hauler (enclosed box) with the tools and whatever it in.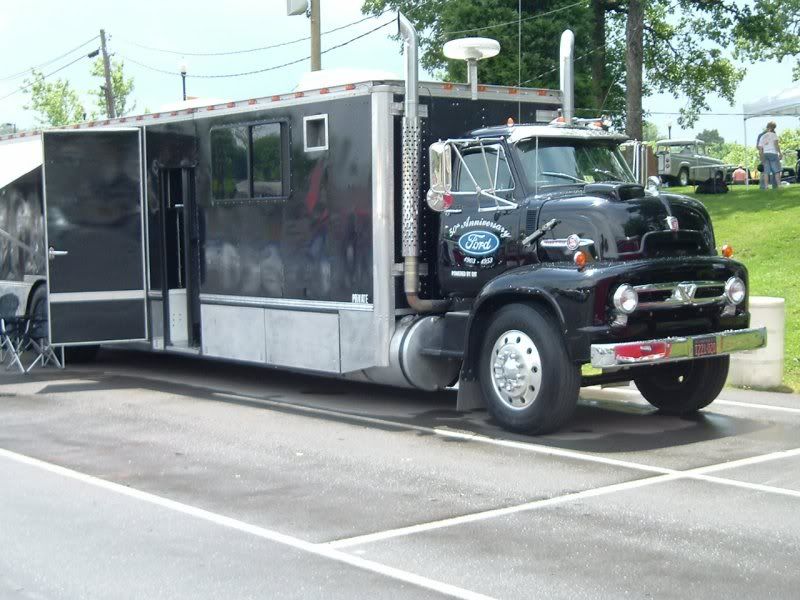 On a side note: You should come to the "Ozarks Run" in branson in July. There were 90 entries last year, plus the club trucks.
---
Last edited by Brian_B; 12-09-2007 at

02:22 AM

.
12-09-2007, 11:59 AM
Originally Posted by vintage56
heya Brian, does the Show Me club have an e-mailing list?

Thanks Wiz

JML
Try this again....
Click the link in my signature. There is an E-mail address for the club there. Go ahead and sign the guestbook and ask them anything you want to know.
The website has all the information about next years run, including the hotel. New year looks to be a lot more fun. Even a drive in movie (at the show) for those with their trucks there. it will be in "AREA 57". Same location, just behind the hotel and 57 heaven this year.
I am a member, but they have associate memberships for people who live farther away too. They send all of us a monthly newsletter.