2.0 and 2.3 heads
03-02-2007, 08:15 PM
03-03-2007, 01:14 AM
Yes, they were the same. Bolt patterns and such for the manifolds were the same, there are just several different port designs on the 2.3 that you need to watch for.

There was also an earlier ('71-'74) 2.0 that was entirely different. Very similar in design but smaller. Easy to tell at a glance with the cam covers off as the early 2.0 had three cam towers while the 2.3 and later 2.0 had four.
03-03-2007, 09:14 AM
ok more help needed?
fac.
the 2.0 i have is a 71-74 in a 72 pinto.
I got a 2.3 as a extra when i bought the car don't know what year(has carb no air pump think it is a 74-76)

the old man i bought the pinto from also gave me a new duel port intake, carb and hooker header.
he told me the engines where both the same (2.3 or 2.0) so im not shur wicth engine. he bought the parts for.

the intake does fit the 2.0! put it one last night.
but the header is a lot of work to find out if it don't work
03-03-2007, 10:26 AM
Well, he's wrong about that. The early Pinto 2.0 is different from the 2.3, as far as I know there's nothing that will interchange between the two. Sounds like the parts he bought were for the 2.0 if that intake fit your engine.
Take a look at the exhaust ports on this 2.0 head (note the 3 cam towers as I mentioned earlier) and you can see that they're square, as opposed to the typically round or D-shaped ports of the 2.3: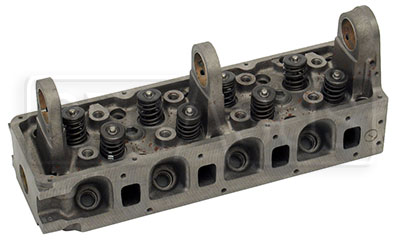 I can't seem to find a decent pic of the 2.3 head that's comparable to the pic of the 2.0 head above, but here's a pic of a 2.3 exhaust gasket. You can clearly see the differences, not only in port shape and size but in the angle of the bolt pattern. The 2.3 is simply larger as well, though that doesn't show up in the pics:
03-03-2007, 12:11 PM
Join Date: Feb 2006
Posts: 68
The 71-74 pinto 2.0L engine is a completly different engine. None of its parts will interchange with the later Lima 2.0 -2.3-2.5 engine series. The flywheel bolt pattern and the bell housing bolt pattern are the same with the exception of the two dowl pins. The early 2.0 has smaller dowel pins than the later Lima.

If the intake bolts up and the ports match then it is also an early manifold and will not fit the Lima series. That manifold with modification will work for the Ranger round port head of the early eighties.

The exhaust is completely different and does not even come close. Even the bolts are different.
03-03-2007, 07:55 PM
03-04-2007, 12:04 AM
I thought it might be, since the intake was. Wouldn't have made a whole lot of sense for him to get the intake for the 2.0 and the header for the 2.3...
That 2.0 is a great little motor. I ran one when I raced mini-stocks and would eat up the bigger 2.3s with it. Now if you could just lay hands on a Cosworth twin-cam head for it...
03-04-2007, 09:12 AM
03-04-2007, 11:19 AM
Cosworth of England built a twin cam 4-valve head to fit these engines, as well as beefier internals to go along with it (crank, rods and pistons) to put out somewhere in the neighborhood of 250 hp. Due to the 4-valve head's hemispherical combustion chamber, I believe you would need to install the special 4-valve-relief pistons along with the head at a minimum, provided you could even find an affordable head and the pistons over here.
When I was racing ministocks (around 1990) I found a company called BAT that carried high performance parts for the 2.0 and in their catalog they had the Cosworth kits. As I recall, the heads were $2K with about another $2k for the forged crank and other internals. I can't find them online, I don't know if they're not around any longer or just don't have a website...
Here's what the head looks like:


These are from an Ebay ad from England:
http://cgi.ebay.co.uk/2WD-Cosworth-H...QQcmdZViewItem
Price didn't seem bad at all, but of course you'd have shipping etc. to deal with. Could be a fun upgrade for the Pinto if you could get your hands on one over here. They're much more common in England.
03-04-2007, 04:10 PM
03-19-2007, 01:13 AM
03-19-2007, 06:47 AM
03-19-2007, 08:23 AM
Pintoches: No, they're just different enough not to interchange.
Jim: Cosworth built heads for a lot of different engines. The Cosworth Vega was probably the best known conversion package on these shores, but there were many others offered in England. I don't think the Pinto was ever offered with a Cosworth head as original equipment like the Vega but the 1.6 Kent engine that was the original 4-cylinder powerpalnt in the Pinto was very commonly fitted with a Cosworth twin-cam head for other applications, and known as the Cosworth BDA. Here's an interesting read on the subject:
http://en.wikipedia.org/wiki/Cosworth
03-20-2007, 12:09 AM
03-27-2007, 01:38 PM
If interested there is a BAT company still around selling Ford Euro parts. They are baised out of Florida and get a lot of parts from Germany(i think).
British American Transfer (or somthing like that)
www.batinc.net
I've delt with them before for Euro Focus parts and they are great.