I had posted the below over in the Aerostar forum last week, but got little response.
For the 4.0l OHV in the '97, this is the line drawing that the Ford manual shows.
Click HERE for larger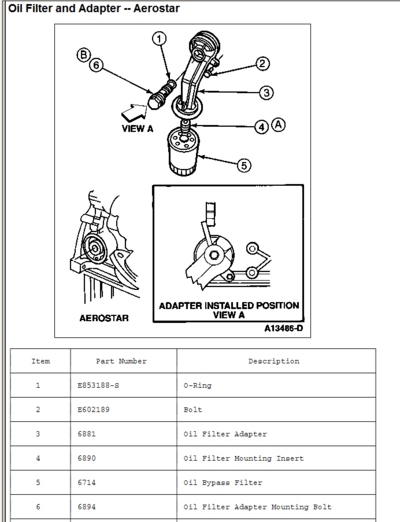 Notice that it shows only two o-rings: the big one that seals the adapter to the block, and the small one that is an intermediate on the adapter bolt.
The following pic is from an eBay seller, purportedly for a 4.0l OHV.
Click HERE for larger

Lastly, this is for a SOHC. Notice
three
o-rings in this drawing?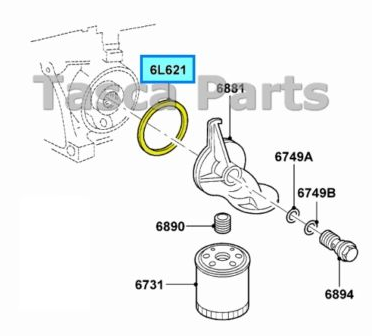 At first, the dealer couldn't find a listing for that under-the-bolt-head o-ring, but when I showed the SOHC drawing, he used that group number to find it. This was sufficiently difficult to figure out, that I'm posting it for future Googlers.
Adapter Filter Adapter Mounting Bolt o-ring:
E9TZ-6749-A
---- 26.5mm
Internal seal o-ring:
E3TZ-6749-A
---- 17mm (or Victor Reinz 72115)
Oil filter adatper-to-block:
Fel-Pro 72884
Inside Diameter (In): 2.482 Inch
Width (In): 0.141 Inch
So, now that I kind of know what I'm fighting (I have the too-typical oil weep at those o-rings above), I have a question for those of you who may have already been down this road.
I am installing a dual-filter remote (one full-flow, one bypass) in the usual location (for Aerostars) of outside the right frame rail. I assume that I can remove the OEM oil filter adapter entirely and bolt my filter adapter directly to the block, but that I'll need the double-ended threaded insert that screws in the block, and to which an oil filter would normally thread. Something similar to this: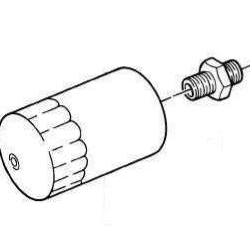 Does anybody know either the 4.0l OHV's thread size/pitch, or a part number for that adapter?