F250 Dash light bulb replacement
09-16-2013, 12:33 AM
Join Date: Jan 2011
Location: SF Bay, CA
Posts: 362
(SES) Service Engine Soon light bulb replacement
---
Finally did this partially helped by this thread. Unfortunately there were a few gaps in this thread that turned this 30 minute job to a 1:30 minute job plus a few gallons of wasted fuel making trips to the auto parts store... Posting what I learned to help future members out. This isn't going to be a detailed how to as it's not that hard but a partial how to with the gotchas highlighted.
Start by pulling the radio. Someone had mentioned allen head wrenches. Yeah, that didn't work so well. Er, I mean at all. Get the removal tool from your local auto parts store. They look like this: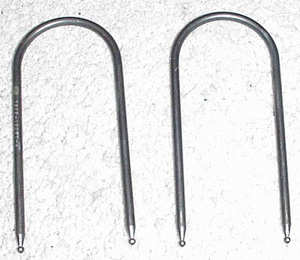 Insert them into the 2 holes on each side and push them in. It needs a little effort to push them through. Once they are in push them outward to squeeze the radio between them and pull outward. Should pop right out when you get it right.
Once the radio is out, you'll need to remove the 2 bolts located above the radio that hold the dash cover in place. Note that I said bolts. Not screws. In my 2000 F250 they were 7mm bolt heads. A crescent wrench won't work. You'll need a 7mm hex socket. I didn't have one but I do now. A long 6"+ extension is also required.
Once those 2 bolts are out, the dash cover just pulls out. Don't really need a screw driver to pry it off. I started out by pulling lightly from the radio hole and then slowly worked my way around.
I found it helpful to move the transmission selector to low and adjust the steering wheel all the way down to have clearance to pull out the dash cover.
Next up, you need to pull the harnesses off the headlight switch so you can remove the dash cover enough to get to the instrument panel. The headlight switch are the only ones you really *need* to remove in order to get access. They were a biatch to remove since they have a "lock" on them that I've never seen before. The red part in this pic is the lock:
Close up look:
You can use a flat screw driver to pry them to the left and right at which point the connector squeezes out.
With the driver side of the dash cover loose, you can just rotate it toward you and hang the opening over the steering wheel giving you fairly clear access to the instrument cluster.
Remove the instrument cluster by unbolting the 4 7mm bolts at each corner:
At that point the instrument cluster can be pulled toward you a bit. There is something connected to the bottom that I couldn't reach so I just pulled from the right/pass side so I could see behind it. There are 2 connectors up top that easily pull out and allow you more room to rotate the instrument cluster and reach the bulbs on the rear.
This is what the rear of the instrument cluster looks like. Those whitish things protruding from the back are what hold the bulbs. I couldn't remove them by hand so I got a small set of pliers and twisted to loosen and remove the bulb holders.
This is what the bulb and holder look like once removed:
Just pull the bulb out with your fingers:
Time for the next surprise. Remember those 194 bulbs people were talking about above? Yeah, they don't fit.
The correct bulb for that set of bulbs is a 74. Much smaller.
Slip the bulb in the holder and put them back into the rear of the instrument cluster. Twist the bulb to secure them.
Re-install everything. I wound up taking a few extra minutes to wipe out 10 years of dust and grunge from the air ducts and clean all the crap out of the meeting points between the dash cover and dash using some wet paper towels. It was nasty under there..
As usual, no good deed goes unpunished so of course the stupid SES light turned on and stayed on after the 2nd time I started the truck right as I was about to leave to get smogged. FML...
Have fun.
09-16-2013, 01:09 AM
Nice right up. And I was tired of trying to make sense of part numbers and poor autoparts websites, so I took the bulbs in with me. I didn't know the radio was a such a pain to remove! I have an aftermarket one.
03-06-2014, 09:38 AM
Join Date: Sep 2009
Location: Lower Mainland BC
Posts: 225
How many Bulbs needed?
---
It would be very helpful to know how may of the 194 and 74 bulbs are needed? Thanks.
03-06-2014, 09:50 AM
Join Date: Mar 2012
Posts: 609
6 194's and (I think)12 74's. The number of 74's will vary based on what you actually have lit in your dash. Many holes are not used for all trucks (4x4, 4Hi and 4Lo come to mind). And you may have unused holes with lights that never light up.
05-15-2015, 12:13 AM
Join Date: Dec 2014
Location: Central Arkansas
Posts: 66
I used this thread today to swap a bulb in my Excursion. I'll add that the 194LL bulbs can be easily identified as they are seated in the black bulb holders; the 74 sized bulbs are your indicator bulbs, they're smaller, and they are in the white bulb holders.
07-10-2015, 05:38 PM
Join Date: Jun 2015
Posts: 2
Not 194 for mine
---
I went and bought led bulbs for my 2002 f250 only to find out that my instrument panel doesn't have any bulbs in it that were 194 bulbs. I wanted to replace them all at once but can't find the right part numbers for the warning light's. But all of the illumination lights are 74 or pc74 bulbs. The warning light's are almost the same just a hair smaller. Any ideas? has anyone else has had this issue?
07-11-2015, 08:37 AM
Join Date: Mar 2015
Posts: 652
This project is also in my future
11-08-2015, 08:34 AM
Well all the pics are for a 2004 Mustang (mine) but the bulbs should be the same I think the one in hand is a 74 size
The turn signal lights are led (I stuck to factory colours) and the high beam indicator is a stock bulb to show the difference