Forensics of my 2003 Ford Motorcraft Remanufactured Motor
02-15-2019, 10:31 PM
For YourTube, it was a long video. All of mine are starting to be. Some of the sites about making YT vids talk about keeping the vids to about 15 minutes or you loose retention. You probably fell asleep, or your mind started to wander to how much you enjoy the ownership of your 7.3L.

While you weren't in full attentive nature, which is quite surprising to me unless you were also counting up all the errors in my narrative, I concluded that the intake filter thump was probably due to lifter oil drain down and the shortness of the 6.4L pushrods due to the reduced cam base circle. I believe that may have also influenced what I was hearing after 2-3 hour drives when the oil was at the lowest viscosity with slightly under the design oil pressure due to 2 damaged bearing issues, 7 if you want to consider the 5 camshaft bearings were at their maximum clearance. Considering that the problematic noise for me also grew louder with mileage, there is a possibility it was the excessive clearance of the rod bearing or in collaboration with the valve. It's hard for me to make that determination. With all the issues, it's hard to see the tree. Maybe, in the end, too big of a forest? It's past my bedtime.......
02-15-2019, 11:14 PM
Originally Posted by
diesel_dan
Would it be premature to ask when the next in the series of Jumpin JACK Flash "how-to" instructional videos: Jack shows:
how to "properly" rebuild your Torqshift
will come out??! Those autos are just a magic box to me - I just about have to send Mark a PM on how to use the shift lever...
I'd take the high blood pressure any day, at this point... :-/
Scott
Maybe Pete, not me.
02-15-2019, 11:29 PM
I have a short attention span. If something doesn't interest me I have a hard time listening. Hard to hide it too when some folks ramble on about BS. I watched the whole show in one setting. Thanks for posting it TMT! Very intriguing.
02-16-2019, 07:40 AM
Thanks. I really wish there was only enough for a 5 minute video. I just hope if that someone who is considering buying one of these searches and finds the work, its why the title is such on YT and here. People should see the potential of their expensive purchase. You can tell someone there are issues, but today going to the tape makes a better impact. I was blinded by my past collaboration with Ford in both as an OE and Motorcraft aftermarket supplier. I experienced the feet to the fire on parts quality that retail under $100 in both venues. The last line, ....this goes beyond disappointment and regret. I had more narrative to say after that, I couldn't say the words.

I really am trying to not make this into a soap opera. Y2K has known me since the early years of this century on a different forum. I've not been a Ford brasher, I've defended subjects where a lack of understanding gets overlooked in the wave of public sentiment.
02-16-2019, 11:53 AM
Diesel prices (a beneficiary of today's dramatically reduced diesel consumption across the US (largely economic slowdown related) and the glut of middle distillates from the tight oil drillers / frackers, will start to take off beginning of 2019 and later as IMO 2020 regulations kick in and the current oil surplus dissipates. Electric vehicles will "clean up" under the hood --- not quite as simple as the pre-emissions vehicles, but very close:
https://www.rivian.com/technology
02-19-2019, 07:32 AM
As much as I deviate threads into another dimension, not as issue.
As little as I needed a mini-band saw, yes that's an HF unit. I wanted a Milwaukee, but couldn't justify the price differential for the usage. I've also had good luck with one of their angle grinders, secondary at the farm since I would keep forgetting to put my home one in the car.
While it's primary use was to be cutting raw stock I thought having it table mounted would help with little things, and now I find I use it way more than I ever thought I would have expected. You can buy tables to adapt like from SWAG, but again I'd rather think my way out in a less expensive model. There are a lot of people who have gone creative with these portable saws. Grabbing an aluminum sheet from McMaster I just set it up in the same manner as my router table, in fact, used a router to cut the particle board lip. The difference to my router table is with the weight of the bandsaw motor the front of the plate has to be screwed down to hold it in place. The aluminum plate replaces the saw's small plate, attached at the saw's existing two screw holes.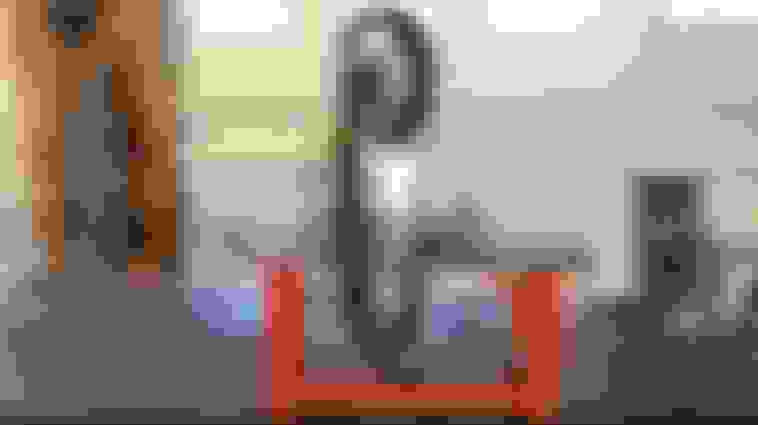 02-19-2019, 01:03 PM
Join Date: Apr 2014
Location: Shreveport, LA
Posts: 769
Thanks Jack. That sounds like the same position I'm in. I don't think I would use it a whole lot but when I would need it, it would be nice to have. I've never heard of SWAG and I see what you mean, they're expensive. I'll try to find some plans online for different approaches. Thanks again.
02-23-2019, 10:00 PM
I had a good discussion with a talented engine machinist today about the crankshaft. He specializes more today with foreign car restoration but also has built NHRA race motors in his past.

He dials in cranks way better than this rebuilt one but would not expect any detrimental effects, has seen worse. It's not perfect, it could be better, and would be dialed in if it was reground with a CNC crank grinder or a person who cared about what he was doing. His belief was with the rpm these motors run the amount of offset would not impact rotational balance (these motors are not that sensitive). We also talked about my piston protrusion with my idea of averaging it out and also felt the gram removal would not impact balance, which is good since I already did it. I didn't expect it would. He balances rotating assemblies in-house.

So after being on hold for two weeks, I guess I'm continuing on.
02-23-2019, 10:31 PM
That's good news. Get going!