Blown Head Gasket....OH Goodie...
01-10-2019, 12:13 PM
This story takes me back. I had the ol' oil-in-coolant issue and it was a PITA.
A few years ago, I had the similar oily goo in my radiator. Everyone told me it was the oil cooler rings, so
I changed them
. But t
he oil returned in the coolant
.
Then I replaced the oil cooler, because I thought it might have a pin hole leak. There was no company in Los Angeles that would pressure test it for me, so
I made my own
.
But the oil returned.
Then i replaced the oil cooler headers, because I figured it has a hairline crack somewhere that wasn't sealing up.
But the oil returned....
Then I resealed my waterpump, because maybe the four bolts that connected to the front plate might have not been properly sealed. Here's a video of why:
But the oil returned.
Then
I replaced the heads and HG's on my IDI
. It was a PITA in a van. Even after all that,
the oil returned.
After all that, I said "F this," and
swapped out the engine with my spare 6.9
. After all that, I finally solved my oil-in-coolant problem. I think I had a tiny crack somewhere in the block, which allowed the oil to seep into the coolant circuit under high pressure and temp, but not the inverse. I tore down that block and used the parts for
my 7.3 rebuild last year
. So what started as a huge mess and pain in my butt, ended up being a great opportunity to get off my *** and build something.
Back to your situation:
I HIGHLY recommend you order a few bottles of
L-11 Emulsifier
which is this liquid that makes oil into thin milky liquid that is easy to drain from your coolant circuit.
The OTC coolant flushes didn't do anything on these huge IDI coolant systems. You might also want to pull the radiator and flush it because it's really hard to get all the goop out.
When you do the Oil Cooler, make sure to do it right and not pinch the rings.
01-10-2019, 12:17 PM
Also, you should make sure your oil is crankcase oil and not tranny fluid. Your tranny lines might connect to the heat exchanger in the bottom of the radiator. I checked my goop by putting a smudge of it on a clean paper towel, and left it in the sun for a day. If the oil dried grey/black, it was engine oil. If it dried reddish, then it was tranny fluid.
01-11-2019, 12:37 PM
@ genscripter, I have watched many of your video`s in the past and the pressing together the oil cooler several times
before my Oil Cooler leak raised up it`s ugly head.
I was wondering if one end could be pressed on at a time instead of trying to do both at the same time?
I saw this video of a guy doing it that way, but is a Power Stroke cooler but looks the same as our IDI`s.
Advance it to about 4 minutes is where he is pushing it together, goes through 10min.
https://www.youtube.com/watch?v=buBJV64vJew

I
feel for you an the chasing the oil in the coolant problem you had, Probably 90% of the "O" Ring replacements on
these old IDI`s they go together w/o any problems. It is the 10% of them with the age and years could cause a problem.
So a new replacement is wise, would not want to go through this a second time.
I came across this thread from another forum where the guy was chasing oil in the coolant similar to your`s.
7.3 oil in the coolant, o-rings, now what? - Sportsmobile Forum
I made an appointment on Monday (7th) drove down there to talk to them eye ball to eye ball since the guy would not
return my call on Friday. The guy is way cool, and seems to want to work on the newer junk and not really want to deal
with our old IDI`s. One of his mechanics did say he would take on the project. Made an appointment , but for next
Thursday the (16th).
The weather warmed up for 3days this week, be in the almost 50`s, so decided to dive in and do it my self.
I did a bunch of searching, Googling, You Tube etc... There is a ton of the Dorman Coolers out there on E-Bay with
a wide range of prices, whodathunk that? Did see one Ford dealer but wanted about $449.
Parts Geek and Rock Auto had the Motor Craft for about the same as Dorman or cheaper.
Rock Auto Cooler $303.79, Paper gaskets $3.49 and have to pay shipping. Total $350.82
Parts Geek Cooler $332.43, Paper gaskets $6.18 and free shipping, Total $344.00 But do have to pay shipping for
the gaskets which come from a different wearhouse. I did order 2 sets of gaskets in case I screwed up on one.
So I now have the old girl on the patio behind the house, removed the L/F wheel, Battery, Inner fender, unbolted
the Power Steering bracket with pump and set aside. Removed the steering Shaft.
Drained the Radiator, I just slit the lower hose so I didn`t get a bath of it splashing all over.
I used one of these pans from Home Depot, really work well and contains it all.
https://www.homedepot.com/p/Plasgad-Black-Large-Concrete-Mixing-Tub-887102C/205451585?MERCH=REC-_-homepagehorizontal1_rr-_-NA-_-205451585-_-N

I
need to run over to the dump and dispose of what I drained out into their coolant waste tank. I have
2, 2 1/2 containers for the waste, so I`ll be making a few trips. Dump is only about 5 miles from here.
I know it is not tranny fluid as I have a 4-spd manual gear box.
I`ll look for that L-11 emulsifier, maybe one of the local auto parts have it.
A Mercedes Forum Iam on, guys there use Dawn to make sure the system is clean of oil, maybe I`ll
do that at the end and several flushes of Distilled water to get her squeaky clean.
Charlie
01-13-2019, 12:23 AM
I worked a couple hours this afternoon on the old girl. Thought I might flush out some of the oil etc... out of the Radiator.
The Dollar store has a product called La`s Totally Awesome, great cleaning product. really cuts through stuff. Use it when
Iam scrubbing my wheels and tires to get rid of the brake dust etc... Om my Mercedes 240D and 300D I keep the engines
pretty clean, when I get some oil leakage, spray on the Awesome, hose it off and all clean.

So I thought why not flush it down the Radiator. I mixed it 1 part Awesome and 5 parts hot water. Then poured it into the radiator
and some really nasty stuff crap drained out of the bottom. Might try it one more time before I put things back together and do
the real flush, no since having more going through the system than has to.

Drained the Oil Pan, then removed the Oil Filter. and finally got the bolts out of the Cooler.
Had to use a pry bar to break the seal and the coolant really gushed out. This is where that large pan I mentioned above really
came into play. Place it long ways with the engine under the Cooler and it will catch 99% of everything. I comes out like a Cow
pissin on a flat rock. I should have had it about 6" further back as some got on the concrete. Be sure to have plenty of Oil Soak
to throw on to soak it up along with other oil spills. Iam not talking about Cat Litter, that doesn`t really work. There is a product
that is used to soak up petroleum spills. NAPA might carry it, it`s a real fine stuff. I need to buy some more, we`ll see if they have it.

So now the cooler is hanging at an angle draining the oil out of it. Tomorrow looks like I`ll have to jack up the engine a few inches
so it clears the Manifold and frame. There is a metal piece bolted to the frame that the Brake line junctions are bolted to. If it wasn`t
there, looks like I could slide it to the rear and down.
By having the inner fender removed, you really have access to the front bolts of the Cooler.
The rear bolts can be removed from underneath.
1/2" Socket for the rears and 9/16" for the front bolts. Think I uses a Swivel (universal) and couple different length extensions.

My new cooler was suppose to be here today around 5pm, but FedEx didn`t haul it over the hill from Calif. it is sitting in their Tracy
facility. Now won`t be here till Tues. probably 5PM.

Charlie
01-14-2019, 02:56 AM
Had a couple hours this afternoon after Church to work. Removed the 2 nuts under the drivers side
engine mount, placed a 2x4 up against the Oil Pan flange at the block, and jacked up the engine a few
inches, and pulled the cooler down and out from below. Then placed a small block of wood between the
engine mount and where it sits on the frame.
I forgot, you will need to remove the 4 screws to loosen the Fan shroud when jacking up the engine.

Another storm coming in late Monday so this week will be screwed up for getting it back together.
This will give me a chance to degrease, derust some of the parts and get them painted with POR.

Charlie

01-16-2019, 12:41 AM
The Motor Craft Oil Cooler arrived this afternoon from Parts Geek. The picture they showed on their site showed
4 "O" Rings. None came in the box and it says on the box "Remanufactured". Nothing on their listing mentioned it.
Cooler did come from Ford, has their stickers on the box. Thought I was buying a new Cooler.
I sent Parts Geek a message asking them what`s up? So have to wait 24 to 48 hrs for a response.

Can`t work on the truck for a few days, we just got 4.5 inches of snow this afternoon and the rest of the week doesn`t
look too good.

Charlie

01-30-2019, 11:25 PM
I have been going to up date this as to my progress. I hate it when a thread just ends w/o an end.
I contacted Parts geek as to why the "O" Rings did not come with the new Cooler:
If the Images are stock images, and the image shows the "O" Rings, theyshould come with the order or state "O" Rings do not come with item andhave to be ordered separatelyI did order the paper gaskets because they did not come with the item.Had I known at the time, I would have ordered the "O" Rings.Too bad there isn`t good customer service where I could call some one with a quick question, instead of this back and forth typing dialog.Now I have to go locally and explain what I need from the pimple face kidat the parts store with the bad attitude, bad hair and tattoos. They have thecomputer and still can`t find what I need...what a bunch of BS.
Here is their reply:
Thank you for your inquiry.
If any parts were to come with gaskets or seals, O rings etc, it would state it in the description.
All images are stock images.
The part does not come with the O rings, and would need to either get them locally or purchase them online.
Customer Service
Parts Geek LLC
Then get this a few days ago.
Tell Us What You Think, Submit A Product Review
1986 Ford F250 Motorcraft Oil Cooler
Motorcraft OC1RM
There it is, clearly shows the "O" Rings.
Did a bunch of Google searching for "O" Rings, amazing the price range from way off the scale to some reasonable
Found them from U.S. Diesel for $7.05 per package, but shipping was $15. Came from Gomers Wear House in
Missoula, MT. I ordered 4 packages.
Popped off the Cooler end caps, cleaned them up with 1000 grit wet/dry sand paper to polish them up and debur etc...
Filed off the rough casting edges to smooth them up.
Takes a bit to get the caps off, pry against the metal tab, it will bend, but slide back some. Then used a dead blow
hammer to knock them off.
Since the cooler body is bare steel, cleaned up and gave it two coats of POR top coat from a spray can. It keeps the
regular POR from turning chalky from the ultra violet rays.
Then gave it two coats of John Deere yellow.
Finally got to use my new HF 20 ton Hyd press.
Most of the videos and pictures most guys press on both ends at the same time. I decided to do one end at a time.
I used a piece of hard wood to set the end on. Then pressed on the end the oil filter screws onto.
Then flipped it over and got the other end on. It pressed right on nice and smooth. I used Syl Glide to slip the rings on.
This stuff might work on the "O" Rings for the return lines, Hmmm have to try it.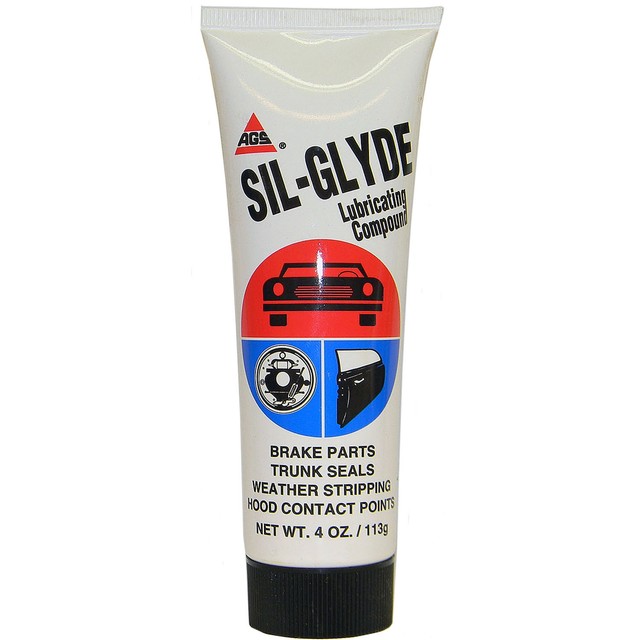 I covered the body with some dense foam wrapping, it`s about 3/16th thick. Just to keep the paint from getting scratched up.
Used Permatex form a gasket, the brown goopy stuff in a tube, smeared it on the end caps then placed the paper gaskets on.
Placed them with the red rubber (rtv?) towards the block.
With the engine raised up about 2 inches on the drivers side, slide the cooler in from under the truck. Let it sit on the cross frame.
Got my Wife to help me, I put the bolts into the holes with blue lock tight. We lifted it together, and told her to just get one started.
Once we got on on ea end, I finished it off. Only problem the forward gasket moved a little bit, but was able to slide her back into
position. Hope I didn`t screw it up.
Charlie

01-30-2019, 11:58 PM
I still haven`t started the engine yet, filled the Crank Case and new FL1995 with oil.
Bolted the engine mount on the drivers side.
Bolted the Steering res/pump back on. I just removed the long bolt and adjuster bolt and set the assembly to the side.
Installed the Steering Shaft between the Steering Box and Firewall.
New Gates Radiator hoses.
New Gates Heater hoses.
I notice the Block Heater looked oily all around the hole, so decided I should put in my new one.
Now I did some Googling to search on the beat way to remove it, do I remove the Starter or not.
Quite a few said to loosen the bolt, and wiggle it out with some pliers. NO mention to remove the Starter.
But I do seem to remember it mentioned on one thread to remove the starter.
So I loosen the damed thing, but it hard to reach in to remove it one handed behind the starter. So I tighten
it back up.
Fill the Radiator with warm water out of the tap and add 1 1/2 cups of Cascade dish washing soap. Was recommended
by a heavy equipment mechanic that runs a truck shop. Doesn`t foam up etc...
after 6 gallons I hear water dripping...guess who? Big leak from the BH.
Drained the Radiator, then the Block drain on that side.
....I knew better.
I broke my Mirror on a stick so I can see that damed top bolt on the Starter. So off to Wallyworld I go, but of course they
don`t carry one, but did buy one of those bright lights that strap to your head, 250 Lomin. then over to Autozoo for the Mirror.
Too late by the time I got back. So in the morning we`ll dive back into it.
I have tomorrow and Friday, then rain/snow for the next several days, maybe more messing around than anything serious.
We`ll see. But a couple weeks back we were to get an inch, but 5 inches dropped on us.
Charlie
01-31-2019, 09:17 AM
Join Date: May 2018
Posts: 199
Glad you got one of those headlamps. I bought one about a year ago, really handy, I use it all the time for all kinds of jobs. If you DO need to pull the starter, the top bolt's not difficult if you use a wobble socket and an extension that's long enough so your ratchet is between the forward end of the starter but behind the crossmember if I remember right.
01-31-2019, 12:40 PM
I have three of these Head Lamps, and do you think I could find one yesterday?
The things are great compared to trying to get a Flash Light in the right place
w/o moving, falling over etc... Kind of gives me that third arm so to speak.
And that Mirror on a stick will show where the bolt is, is a big help.

When we replaced the Starter a year ago last October, some idiot used 10mm
12 point Bolts. That top bolt was a bear to find let alone line up the Socket with
the years of grime built up. Those three bolts took flight out into the Sage Brush.
Replaced them with 6pt Bolts.

Now is another one of those times I wish I had a Lift out in the shop.

Charlie
01-31-2019, 02:07 PM
Join Date: May 2018
Posts: 199
Now is another one of those times I wish I had a Lift out in the shop.
I always thought those lifts were permanently mounted and anchored in concrete. I happened to see one the other day on a show and each of the 4 vertical uprights were mounted on small rollers with a wide base so they could be moved anywhere around the shop or according to the vehicle to be lifted, pretty clever idea.
01-31-2019, 05:01 PM
Those 2 legged posts with the two arms on ea side are bolted to the concrete floor that you see in the majority
of Dealer Ships, independent shops etc...
When I worked for the State, they had a new shop, or lube room as they called it. That was back in 68.
The rear part of the Hyd hoist was down in the floor, the front part could be slid back a forth in a trench with
metal plates to cover it.
With this set up they could service Cars, Pick Ups, Dump Trucks, Street sweepers etc....
They use it till some where in the middle 90`s, and ripped it out. With environmental concerns, and you know
how the government is.

They got a new system, might be what you mentioned. It was two up right columns that could be rolled into
position (could have been 4 too many yrs ago) and lifted a truck for the sides. I saw that thing, and no way was
I going under it. It was not bolted to the concrete, just did not look save. But if the Government says it`s safe...
I have a slightly used Block Heater never driven over 25mph by a little old lady from Pasadena for sale...LOL

Charlie
01-31-2019, 05:07 PM
Yeah, the Starter has been R&R`d and Block Heater installed .
Something like 3 hrs?
Filling up the cooling system and see if we can get it cleaned up and out.
Turned the engine over with a breaker bar just to see it will turn and not hydro locked....
can`t be too careful.
That old BH sure is a thick black goopy oily mess. yuck
Hope the Cascade cuts the grease.
Charlie
01-31-2019, 10:43 PM
Filled the Radiator and Block with hot tap water and the Cascade, connected the battery and wires to the Relays.
Pulled the Air filter Lid and element, and shoved a HF Heat Gun in the housing and ran it for about 5 minutes.
Double checked to see if I didn`t leave some tools in places they shouldn`t be. If you do, there will be some nasty
noises coming from under the Hood.
I turned the engine over a couple times with a Breaker Bar at the Crank bolt just to make sure it wasn`t hydro-locked.
Think I mentioned it above? Oh well can`t hurt to mention it again. I was going to remove the GP`s and crank her over,
but too much time for that.
Turned the key......and nothing? Every thing is connected???? well it helps if the ground cable is connected back to the battery....
DUH.
After that she fired right up. Let her run 30 - 40 minutes to warm up while I put stuff away and cleaned up my messes.
One leak at the lower radiator Hose at the engine, tightened the clamp a turn.
Took her for a run 2 miles to the mail boxes and back. Drained the block on both sides and the Radiator while is was hot.
That damed plastic drain on the drivers side snapped off, so had to use the pipe plug on the other side.
In the morning I`ll do another fill with Cascade and take her for another run if I have time.
I have a Military Funeral at 12 noon so that takes the center part of the day.
Iam in the American Legion and on the Color/Honor Guard. This is our 4th this month.
After the Funeral Iam running up to PNP to grab some parts off a 83 6.9.
I was up there a week ago to check it out. Damn someone got the IP. Then looking around, there it was in the bed
of the truck behind it. Still connected to the gear cover and gear. Had a paper towel in my pocket, grabbed the oil
fill pipe and off we went....than you very much. It was last day of the 40% off.
Probably some one stashed it to get later...IDK.
Charlie