Project build
08-13-2018, 02:08 AM
Join Date: Aug 2018
Posts: 1
Project build
---
Hello this is my first ever post here also my first build project I'm trying to learn more about building and restoring my 1970 f100 camper special my dad gave me he told me I should put a mustang 5.0 but all I've found was coyote 5.0 but he saids that's the newer engine and he was referring to paxton supercharger 5.0 (1986ish) um sorry If this all sounds stupid I'm still learning so what is the pros and cons between the two and are the just drop in and fit or do I have to think about special mounts because I know you have to for something like a Cummins but a diesel and completely different any help will be greatly appreciated thank you.
08-14-2018, 06:21 AM
First , Welcome to the Forum, Pat. Second I would suggest that you read:
Read First:
Technical Info Hyperlink Compilation
(
1
2
)byHIO Silver. It will cover a boat load of your questions. And third, when you need any info on your truck let us know what engine, tranny it has. Have you decoded the VIN on the warranty plate (located on the driver's side door)? If you post that number we can tell you what it has-or at least what it came with originally. You will find a vast amount of knowledge on here. I guess the older 5.0/302 with a supercharger would put out some serious HP. Do you have one yet? And no it will not just drop in and every fit together. You'll have to change a few small things. But sure it can be done. Some of the guys will chime in soon and give their thoughts.
08-16-2018, 09:07 PM
2X. Welcome young Man.
1st me motor. The Coyote is a far superior engine but more difficult to install. Unless you are going to do the Crown Vic swap. Which entails doing the rear suspension swap. also.
The 1986 302 H.O was all by itself. Say away from it. 1987 to 1993 H.O.s had better internals factory. Depending on how much boost you want that Paxton to give the motor would dictate if you have to rebuild it with lower compression pistons. 5 of 6 pounds of boost you can stick with factory compression. These 5.0s can be switched back to carburetion super easy. If sticking with EFI, 89/93 49 STATE Mustang Mass Air is a real good system. Real forgiving when adding heads, cam, etc. But it is set up for 19# injectors. Which is barely enough for the factory 225 H.P. rated 302 H/O. So bigger injectors and a aftermarket Mass air meter body that fools the PCM in to thinking there is still 19# injectors in there is necessary when building horsepower past factory. But with a Paxton you would have to get a programmer for the PCM anyways.
The best set up is if you get lucky enough to find a wrecked 1993 Mustang Cobra. It had bigger 1.7 ratio roller rockers, special cam, 24# injectors, bigger Thunderbird Super Coupe Mass air body designed for 30# injectors, and a unique PCM that blended it all together. Factory stock from Ford.
I am assuming your truck has a 360 or 390 in it now. You will need a transmission with a SBF bolt pattern for the older 5.0L. And different frame motor mount towers.
Comparison Photos of Engine Perches

NOTE: The engine stands/perches shown on this page are 2WD versions only (unless specified). The 4WD versions are completely different and the two styles will not interchange.

- FE/I6 - Same perch, but mounted in different frame holes
- Small-block - Available in mid-'69
- 429/460

FE/I6 engine stands vs. 302 stands

The four photos here compare the FE/I6 engine stands with the 302 small-block stands. In these photos, the black powdercoated FE/I6 stands are bolted to the frame and the rusty 302 stands are simply set next to them for comparison purposes.

Conversely, bolting up a 302 using the FE/I6 stands will cause your engine to sit 1" higher and I've been told this could also cause problems with U-joint bind due to improper driveshaft angles.

Shown below is a comparison shot of the two styles installed: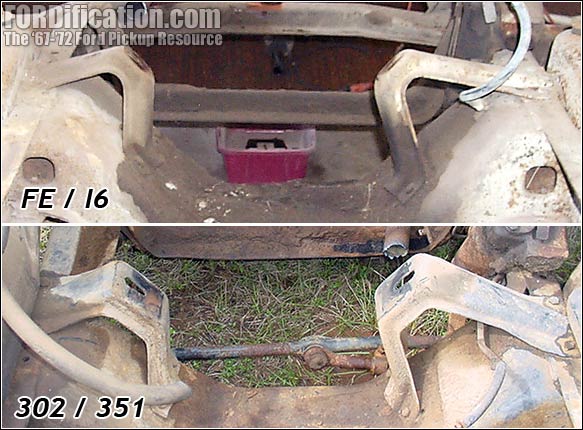 Fig. 5The small-block stands were also used in the '73-'79 trucks with 351M/400 engines and will work just fine for swapping a small-block into an earlier truck. In case you're going to start hitting NOS dealers or high-end salvage operations, the new part numbers for the small-block stands are:
DOTZ-6028-A - right stand

DOTZ-6029-A - left stand

Note: When installing small-block stands into a '67, '68 or early '69 truck, the front crossmember won't be drilled for the lower attachment points on the engine perches, since the small-block wasn't a factory offering until 'mid-'69. You'll have to bolt up the perches up using the top holes and then drill the lower holes, using the perch as a template.IMPORTANT: There's a rumor floating around that Ford redesigned the front crossmember for the '77˝ through '79 2WD trucks, which also meant the engine perches had to be redesigned, so these trucks couldn't be used as engine perch donors for earlier trucks. However, while there were redesigns on stands in '77˝, it wasn't due to a change in the crossmember. (In fact, '79 6-cylinder trucks use a D4TZ (left) and a C5TZ (right) stand. That means one stand never changed from inception!) The '79 trucks use a D6TZ-5019-B frame front crossmember which is also the replacement for '73-'78 and fits all F100/F150/F250 and F350 2WD with Twin I-beams.

REVISIONS:
- The FE stands were revised in '74 and have D4TZ numbers
- The 351M/400/small-block stands were revised in '77 (D7TZ numbers) but are used as the replacement for all 73-79 Twin I-beam trucks
- The right-hand 6-cylinder stand for '74 was a D4TZ but was replaced in '75 by the C6TZ right-hand, and then in '78 both 6-cylinder stands were redesigned and had D8TZ numbers.

Ford discontinued the 390 V8 in the F-100 in 1975 and both the 360 and 390 in all light-duty trucks by 1976....except in CA, where you couldn't get a 390 in an F100 after '73. Therefore, to install an FE into a '76-'79 truck you simply use the I6 stands (Fig. 6) when doing this swap.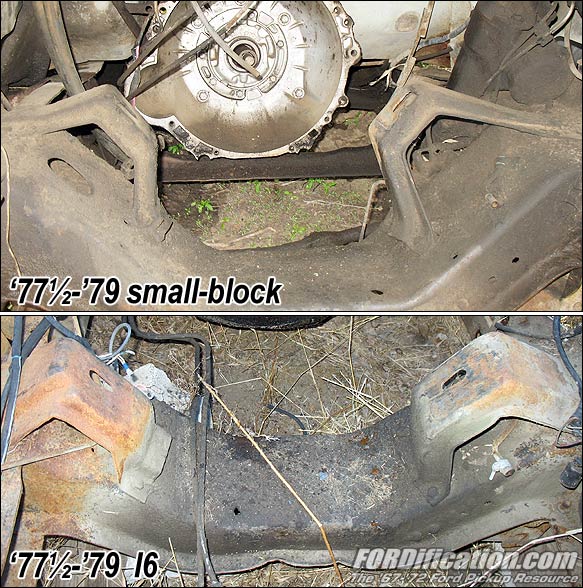 Fig. 7