Pitted steering wheel chrome question
07-12-2018, 07:34 AM
Join Date: May 2016
Location: West Tennessee
Posts: 200
Pitted steering wheel chrome question
---
I hesitate to even put the post up because I have looked at all the youtube stuff on how to get rid of the pitting. However, I really think there is more expertise on this forum about how to actually fix or improve truck parts. Should I just start with 200 mesh and graduate to 800 mesh sand paper or is there a better method. I really don't like (plus it's expensive) not keeping a lot of the original pieces parts.
thanks
rsh1966
07-12-2018, 09:50 AM
Chromium hexavalent is a rust preventative treatment. The rust you see is not in the chrome surface itself, which is a VERY THIN layer (often less than 2 mils) and doesn't rust, but is the look of chrome that is reacting to a failure in the base metal. The rust you are seeing is in the base pot metal that the horn ring is made out of. To eliminate the rust you would have to have any chrome and copper plating beneath it removed (stripped chemically), sandblast the actual metal surface to remove the rust, and then have it re-plated.
Look through this gallery here and read the information that is written and you'll get a feel for how the pros do it.
If you look close you will see how the base metal is polished to a mirror finish BEFORE the chrome is even applied. Once the chrome is applied, since it is so thin, there is not a lot to polish out imperfections at that point in the game.
Image Gallery pg. 1
Your choices if you want that to look great are
1. Get yours re-chromed
2. Find a nicer original that doesn't need rechroming
3. Buy an aftermarket replacement.
Chad
07-12-2018, 03:06 PM
RSH, #0000 steel wool and phosphoric acid, rub gently. You can use Coca-Cola if you don't have any acid it works just as well. But you will never get those pits out without ruining it. Any sanding on it will just scratch it up. It looks like you have a crack in that spoke anyway. I may have one out back that I will souvenir you, it may not be any less pitted but it doesn't have any cracks in it. I'll PM you in the morning if it looks like it is a usable part.
07-12-2018, 03:50 PM
I bought a horn ring off of ebay for 2 main reasons- I'm cheap, and I like original parts. OK, mostly 'cause I'm cheap. If you're patient, there are good deals to be had. I think I grabbed mine for $30
Here's an example
https://www.ebay.com/itm/Vintage-For...8AAOSw7P5bN7n4
07-12-2018, 05:35 PM
I bought a real nice one on eBay for $65 that has the same casting numbers on the back side as my original (C4OA-13A800-A) and then sent it off to the chrome shop.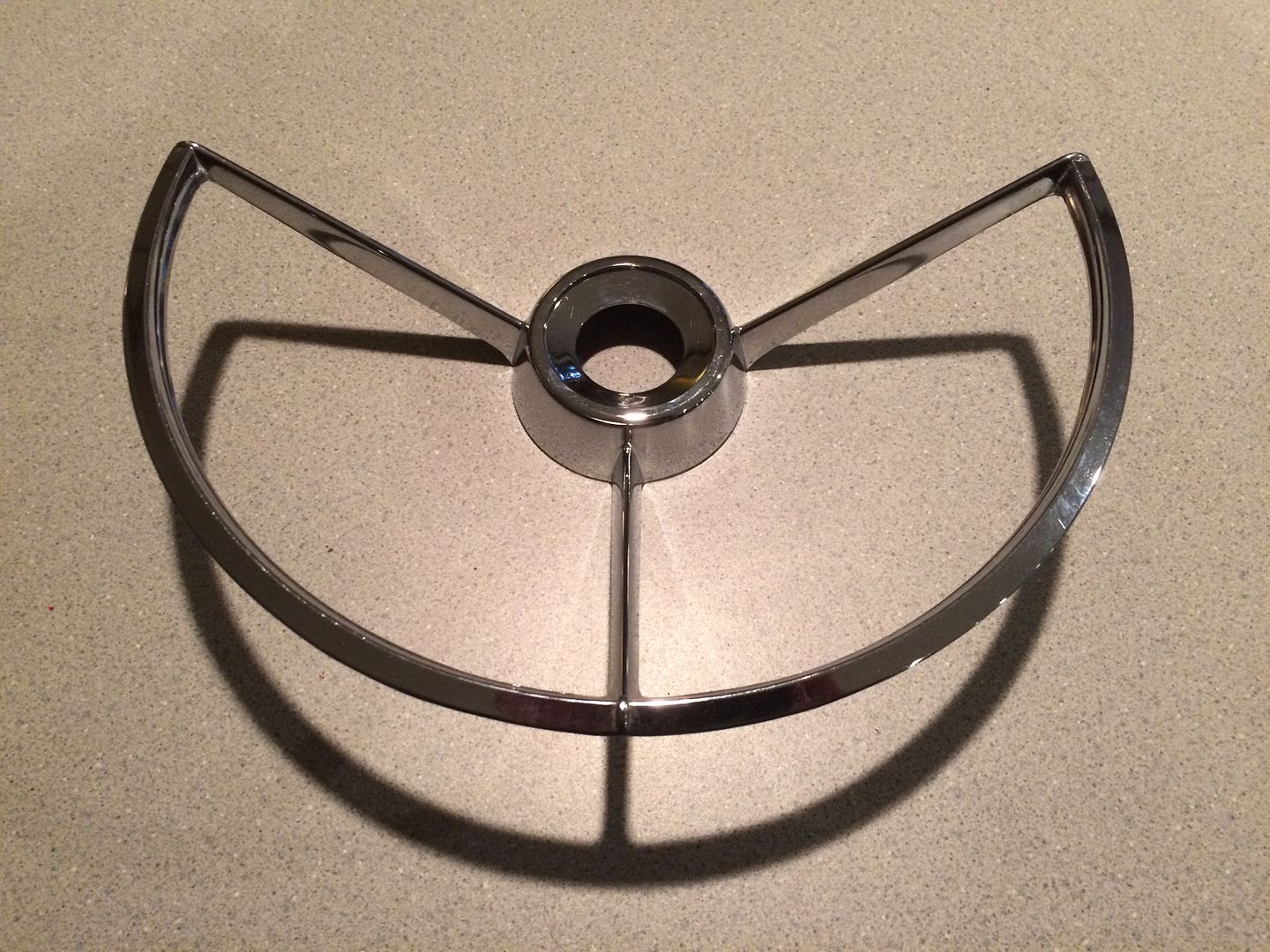 My original looks about like the one that AZ posted a link to eBay for one.
Chad
07-12-2018, 05:47 PM
Join Date: May 2016
Location: West Tennessee
Posts: 200
As always four excellent comments and all useful.
Chad I am a retired Goodyear technical guy with a Chemistry degree (rubber Chemist).I am not a metallurgist even though I did have a have a couple of wire plants at one time. Your explanation makes perfect sense.
I think I will follow the groups advice and keep an eye open on eBay and Craigs\'s List for a used one.

Thanks to all for the comments. There is no miracle fix for this old horn ring.
rsh1966
07-13-2018, 08:05 AM
Join Date: May 2016
Location: West Tennessee
Posts: 200
Crop Duster I sent you a private message with new address.
thanks
rsh1966
Thread
Thread Starter
Forum
Replies
Last Post
1948 - 1956 F1, F100 & Larger F-Series Trucks
1948 - 1956 F1, F100 & Larger F-Series Trucks