Which coolant for my 2003 E 350 / my 1998 F 150 is green
06-13-2018, 02:48 PM
Join Date: May 2018
Posts: 33
Which coolant for my 2003 E 350 / my 1998 F 150 is green
---
My 1998 F 150 5.4 has green coolant .
My E 350 van 5.4 has orange coolant . I called my dealership and they said the 2003 5.4 van uses orange stuff .
This makes me think why ? they are the same generation 5.4 motor .a
Any thoughts appreciated
ford guys .
06-13-2018, 05:50 PM
Green is the original antifreeze that has been used for 50 years.
Yellow is the "extended life" antifreeze that was common in 1990s- 2010 . That is what is in MOST of the F150s like my 2002.

ORANGE is the NEW spec that is similar to GM DEXCOOL.... I didn't think FORD started using much of that till about 2010- 2012 time frame. My daughters 2012 Taurus has the ORANGE... The ORANGE has a different chemical mix and should not be combined with the YELLOW or GREEN.. You can mix YELLOW and GREEN.

I would be surprised if your 2003 had the ORANGE in it. Is it a dirty yellow, or really ORANGE ? You need to reinstall what is in it now... DONT MIX.
06-13-2018, 05:58 PM
ORANGE was not used in the E150 trucks prior to at least 2012... VERIFY that you actually have YELLOW... if it is orange, it must have been flushed REPEATEDLY and then refilled.
06-13-2018, 10:44 PM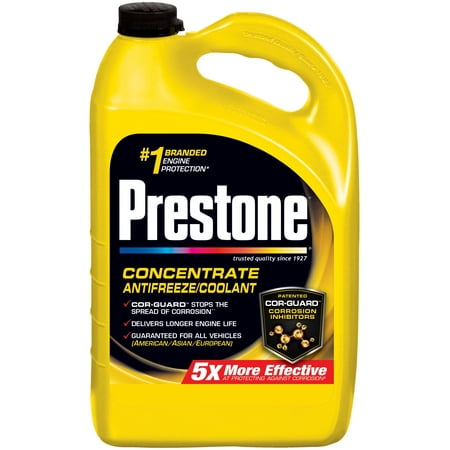 Prestone Extended Life Antifreeze/Coolant, 1 Gallon
Keep your vehicle running efficiently with a bottle of Prestone Extended Life Antifreeze Coolant. This concentrated formula is the ideal solution to help your engine last longer. It is fortified with the new patented Cor-Guard improved extended life technology. This concentrate antifreeze coolant works to prevent corrosion and helps keep your cooling system running more efficiently. It is suitable for use on a variety of automobile types and can be used in American-, Asian- and European-made vehicles. Use this engine antifreeze to keep your entire cooling system, including your radiator and water pump, free from the damaging effects of worn-out coolant.
Prestone Extended Life Antifreeze Coolant is available in a convenient 1-gallon jug and is specifically designed for the sophisticated
engines in today's cars and light-duty trucks.
Prestone Extended Life Antifreeze Coolant with Cor-Guard:
For any car or light-duty truck
Works with any color antifreeze coolant
Concentrate antifreeze coolant will not void a warranty
Features patented Cor-Guard corrosion inhibitors to stop the spread of corrosion
Keeps the engine running efficiently, reducing the risk of breakdowns
Delivers a longer engine life
Guaranteed for all vehicle types
Thread
Thread Starter
Forum
Replies
Last Post
1994.5 - 1997 7.3L Power Stroke Diesel
1948 - 1956 F1, F100 & Larger F-Series Trucks