I got a free van! '91 E150 camper conversion project
10-28-2017, 11:10 PM
Join Date: Oct 2017
Posts: 2
I got a free van! '91 E150 camper conversion project
---
I was given this van a few weeks ago. I'm a real estate broker and my client wanted it out before wslisted her property for sale.
Deal!
Here she is...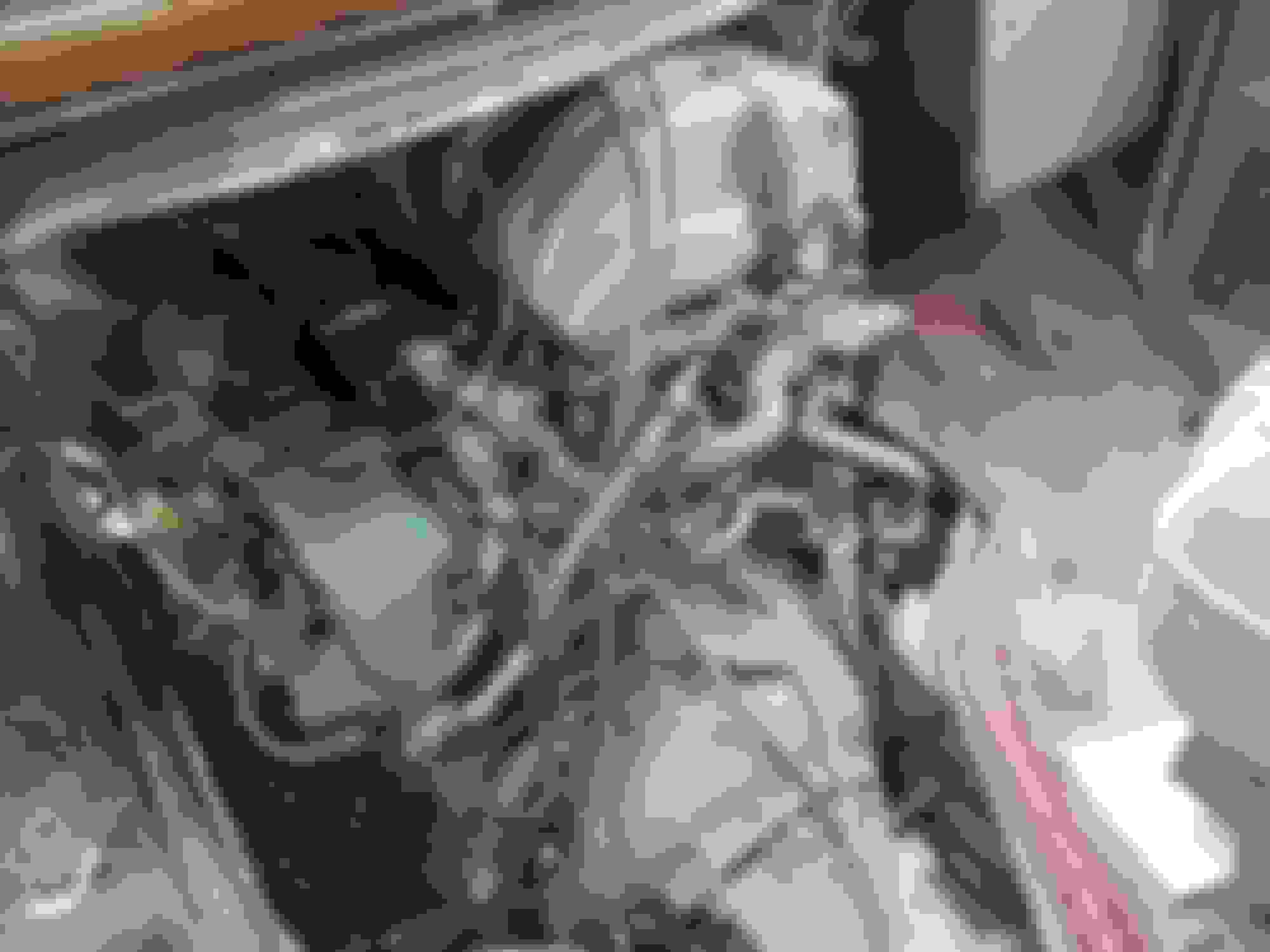 The van had not run in ten+ years. All four tires were flat and the front passenger was completely off the wheel after rolling the van back so we could work on it. The roof liner is mint but the front seats and carpet are in pretty bad shape. I'll likely be removing most of the interior.
My buddy and I grabbed some tools, an air compressor, and battery from his 302.
The first thing we did was break the compressor. Next it took us an hour to get the hood open only to find out the battery we brought was dead.
Day one ended up being pretty disheartening but we'd be back.
The next weekend we had a new battery. We decided to bleed the fuel lines and I think it's a good thing we did. The gas coming out was yellow.
After we topped off the radiator I hopped in and gave the key a turn. It sputtered a bit, I gave it some gas and it fired right up! I couldn't believe it.
We had a smooth idling van but no tires. We loaded up the tires and filled them at the gas station. Once they were on we came back after a few hours and all four including the spare to replace the mangled tire held air.
It was time for a test drive. I'm sure there was a dozen things we should have checked but we were excited and decided to try around the block and see if there was any issues. Sure enough after backing out of the drive way and putting it in drive the transmission was slipping pretty bad.
I was not sure we'd make it back to the drive way but it was down hill and my buddy basically rolled in with enough speed to get us in and up the driveway.
Turns out out we had next to no transmission fluid.
HE
So that's where I'm at with the van now. I know basically nothing about wrenching on vehicles and have already learned a ton. Looking forward to this project!
Question time.
How much damage if any do you think was done to the transmission driving a few hundred feet practically dry? My friend said something about the tourque converter getting a few years off its life.
Is this the 'Club Wagon' trim? We're 90% sure the engine is the 302.
What should I limit the camper conversion weight to? I just want a bed, some storage, and an 'all in one' kitchenette that will be behind the left barn door. I don't want to overload the van.
I'm sure there will be many more questions to come.
Thanks for reading!
10-30-2017, 09:07 PM
Join Date: Dec 2000
Location: South central, Minnesota
Posts: 4,782
This is my bucket of a E350 Club Wagon.
You should be able to confirm the engine by the decal under the hood.
5.0L = 302
5.8L = 351W
or decoding the Vin# will also tell you which engine.
10-30-2017, 10:10 PM
You have scorched the clutches in the transmission, you should have checked the fluid but it was most likely parked due to transmission issues, you best be figuring on replacing it because I'm guessing it's gone.
11-12-2017, 01:16 AM
Boy I would love to have that rear AC unit, an HVAC guy said those are the best due to being mounted high, the oil runs back down to the compressor.
Thread
Thread Starter
Forum
Replies
Last Post