1978 Bronco Custom T/S
05-02-2018, 11:09 AM
Alright,
this
you have to keep me posted on.
I'm currently in the process of a Sniper EFI project on mine. Just got the intake I need, so the EFI is next.
I think it's going to make for an amazing daily driver.
05-03-2018, 10:50 AM
I went to lunch with my wife yesterday and we came home around 1pm to a package sitting at my door. My wifeís ignition cylinder in her accord had been acting up again, so I decided to lube it for her. It was at that moment that it decided to break completely, so I spent the rest of my day fixing that rather than inspecting this box on my porch. I wish her ignition was as easy to work with as mine are. Anyway, Iíll be going through this box today.
05-04-2018, 10:52 PM
Well, I still haven't gotten around to inspecting the contents of the box. It's been non-stop keeping my wife happy with a lot of drama with the kids and home life.
SO! Back to this Bronco stuff. I hit the JY for some more items I deem necessary. I wanted some unnecessary items, but their rusty grasp I could not overcome.
My muffler had holes in it when I got the Bronco and would make those telltale hiss, pop, and rattle noises as the exhaust exited from everywhere. I rented a pipe cutter from a parts store, which works well surprisingly, and cut off the glasspacks that were on my old '75 F-150 parts truck. I had a muffler shop put one on for me with my request that they check everything else out for leaks. They told me my exhaust was still leaking from the head pipes, the exhaust where it bolts to the manifolds. Everything else was good. I said I'll deal with that later as I had plans in my mind down the road that I'd put headers on and need a new exhaust made for that area anyway.
Here we are now down the road. This EFI kit requires that you install an O2 sensor bung into the exhaust. My exhaust still leaks a bit, and I need the bung installed, so now is the time for the headers since I think it'd be a waste to do work on my exhaust twice, once now with manifolds and then again later after getting headers. The '78 Bronco I found in the JY had a set of headers on it, which I remembered as I was thinking this all out. I went back and got them! I now have a set of oily, dirty, and a little rusty in spots, Hedman Hedders that I know for sure will fit since they were mounted up on a stock Bronco block already and I got to see for myself how they were routed. I've heard mixed reviews on Hedman. I have a set of their nicer ceramic coated elite ones on my old 460 and I liked them, granted these are not their nicer headers. We'll see how it turns out once they're on. I stopped by a muffler shop to get an idea of how much some exhaust work will cost me. Depending on what I want and whether or not I supply any parts, I'm looking from $200-600. That's anywhere from a complete single y-piped exhaust with my own muffler all the way to a true dual exhaust with some flowmasters. Oh decisions... mostly governed by the wallet.
I also stopped by the glass shop I went to a while ago and had them order the window spacers and rivets needed to put my window channels onto my rear window. I'm pretty sure I have everything I need to fix it all and know where and how they go on, so it's time to get it together. I think while I'm waiting for them to get the parts that I'll go ahead and get the regulator wired up and solder all my connections and see if all the wiring in the Bronco is still good. Please be good! Nothing would make me happier in that department than to just wire it up, flip the switch on the dash, and have everything just WORK. Here's hopin'.
No pics of anything, because I'm a lazy *******. Sorry. However, here's an old video of my '75 before I blew it up a few years ago. This was taken probably a few months after I had the engine built and before I dropped first gear in the stock, un-rebuilt, then 30 year old tranny. lol. Kids. Yes, my Bronco has one of the mufflers that's on that truck in the vid. No, my Bronco doesn't sound anything like that truck. Dang.
PS. If I did it all over again, which I'm actually working on it, I'd skip the gear drive. Noisy as eff.
05-04-2018, 11:32 PM
I almost forgot. I'm also thinking about what ignition setup to use. Right now the Bronco has the stock Duraspark ignition system. I have an HEI distributor that came off my 460 I bought last year that I hung onto just in case. I could use that and ditch the Duraspark. I also have the MSD setup from my '75 F-150 from that vid. It's a 6A box and a pro-billet distributor
without
a vacuum advance. All three setups will work with the EFI kit of course, however, I'm still investigating whether or not I can lockout the MSD or the HEI and use one of them with the Holley ECU to have my timing computer controlled. THAT would be interesting.
EDIT: That didn't take long. Googled my MSD distributor (MSD 8577) and came up with this pdf from jegs.com.
https://www.jegs.com/InstallationIns...1/121-8577.pdf
I guess I can lock out the mechanical advance! Wooh! MSD ignition it is for some sweet computer controlled ignition timing.
I keep forgetting things. I also went on the hunt for a roof rack while I was at that JY. To meet the specs that I want, it appears I have to source one from a fullsize SUV. All of the smaller SUVs I looked at (Explorer, Expedition, Blazer, Aviator, various Jeeps, etc.) had too narrow of racks. I saw a couple Tahoes that had racks I think would work. They're too long, but look like they could be cut down very easily. There was one rack on an '88 Cherokee Pioneer that is a little narrower than the Tahoe rack, but it looks way more period correct if that really matters. I thought it looked cool, appears to be made of stainless, but all the points you need to loosen in order to move the bars of the rack are frozen solid. I had no more time or desire to hang out in the sun, so I left without pulling a rack. I'll return with the proper tools (stupid torx) and some penetrating oil and see if I can get one of those racks. Ok, that's all... I'm pretty sure.
05-16-2018, 12:55 AM
Looooong post of nothing you'll be interested in. Just sayin'.

I'm not sure if I'll ever get around to that damn EFI kit. It's like a never ending snowball of bs in my life and of course it usually costs time and money. My wife got rear ended in her Accord the other day. Sitting at a red light a few cars back. Light turns green and the dude behind her goes without waiting for the cars in front of him to actually move and he crushed the whole rear, broke all the tail lights, can't even open the trunk. I'm expecting a total loss since it's an 03, regardless of it's condition. It's so stupid, because the value of the car is more than what it's worth monetarily. It's too bad insurance doesn't see it that way. Of course this is just after I fixed the issue it was having with the ignition switch. I just changed the oil too! lol Next time you plan on rear ending someone, please tell them not to do any maintenance beforehand. Thanks.

So in between caring for my dogs after getting fixed, dealing with insurance companies, all those things that keep comin', I've managed to get the instruction manuals for the master kit out of the box so I can read them during my alone time on the throne. They're more or less just quick-start guides for the two setups, the actual EFI and the fuel system. Once you read them it actually sounds a bit more complicated than everyone makes it out to be. Maybe not more complicated, but it gets far more specific on what you can and can't use/do with the setup. I'm sure they're doing it in an attempt to reduce the amount of people who are going to cut corners and/or use less than ideal methods and reduce the effectiveness of the kit. For now I'm just mapping out where I want to tap into things and finding the right wires on the Bronco before I get around to actually getting dirty. There's a lot of wiring I won't be using for my setup, but it's cool that they allow you to have the ability to control various accessories/sensors etc etc with the ECU.

My factory coolant temp sender is currently mounted on the front of the block by the alternator. The Edelbrock intake that was on the engine when I got the Bronco has a plugged port where I plan on putting the coolant temp sensor for the EFI. This way I'll be able to keep my factory gauge working and still make the ECU happy. It specifically says not to put it in the thermostat housing since it won't read an accurate temp there as the sender won't get hot until the stat opens up.

I plan on using the hot wire for the electric choke on my carb as the trigger wire for the EFI. I'm still going to verify that it stays hot during cranking but going under the hood with a test light by myself I confirmed it's hot in the RUN position and not hot in the ACC position like Holley wants. I'll have to show one of my girls how to crank the engine without breaking anything, so I can finish that little bit. lol

I'm still thinking over the exhaust. I want to pull the stock manifolds and verify the fitment of the headers I got before I actually get them cleaned up and painted/coated. I know they fit on the Bronco I pulled them off of, but it did have an automatic and looking at my driver's side with all that clutch linkage I'm second guessing myself. I figure making 100% sure is a matter of just getting the bitch on there and running the linkage through it's paces. Once I get that sorted I can decide whether or not to just buy some new reducers and get one with an O2 bung in it already or to have the bung welded in a little further down from the collector. The EFI instructions specify a range of anywhere from 1-10" from the collector, which seems like quite the range to me. Then it says to have at least 18" of pipe after the O2 sensor to insure proper function. I don't think that last part will be an issue. I'm leaning towards doing a Y pipe into a single 3" exhaust and keeping the pipe routing as close to factory as possible with maybe a slight change at the exit angle where it comes out behind the rear tire. I'm trying to visualize it in my head, but if the merge in the pipe was close enough to the passenger side header collector I'm thinking that the O2 bung right after the Y would allow for a reading of all 8 cylinders rather than just a bank of 4. The instructions say you only need the one bank, but I'm wondering if having it read all 8 would provide any significant benefit overall. But, then again, it'll be reading the driver's side from further than 10" past its' collector. Just my thoughts!

Surprisingly, the instructions for the fuel system don't mention anything about how to wire it up. I thought that was nice, being that I haven't done anything like this before and figured they'd try to be as thorough as possible to reduce the number of customer calls for support. However, I'm pretty sure I'll figure it out and do plenty of research on each step before actually doing the job. The EFI harness has TWO wires for the fuel pump. One is only to be used as a trigger wire if you plan on using your own relay setup. The second wire is a heavier gauge wire and actually goes to a bosch style relay that you can use for the fuel pump. This is not noted in plain sight in the instructions if you decide to read them online before purchasing the kit, but through some searching in the Holley forums, the quick guide, and actually taking a quick glance at the harness itself, you'll notice all of this. SO, that was a relief, because after watching a video on setting up the EFI kit, the guy in the video kept mentioning the removal and installation of the fuel relay to prevent the fuel pump from running while going through the EFI installation steps which require you to do some engine cranking at points and there I was thinking I'd have to create my own relay setup or buy one from Holley.

I considered using an old evap line as a return line, if this Bronco even has one. The instructions specifically state to not do this, so I was glad Holley told me directly that that was a crap idea. lol. I've also considered using the stock fuel supply line as a return line and then finding a location to tap into (filler neck or tank). Only other option, for me, is to run the EFI hose supplied with the kit and run it from the throttle body all the way to the tank or filler neck. I'm leaning towards just tapping the tank and doing it per the instructions with the EFI hose, not a huge deal for me imo. I did look into having a returnless system and YES, there is a way to do that, but it involves essentially replacing the fuel kit that comes with the Holley Sniper Master Kit, so that'd be a bit of a waste and, honestly, should have been looked into further by myself before pulling the trigger on the master kit instead of just the EFI kit if it was something that I really really insisted on having, which it isn't.

I'm going to use my MSD 6a ignition box and distributor along with the EFI. The EFI instructions specifically state not to use the computer controlled ignition timing feature when you first install the system. I'm assuming they're trying to minimize sources of potential problems when you install and that getting the EFI system up and running on it's own first and then going back and setting up the computer controlled ignition is the best way to minimize conflict. I'd hate to have issues with the EFI system only to find out it was the way I set up the distributor! So what I'm going to do, and what I had actually already planned on doing, is to install the MSD ignition box and distributor before hand and get the engine running with it now and all dialed in, so as to have one less thing to worry about before the EFI install. Once I get the EFI running I'll go back and lockout the distributor and go through that install process, which there is a good video of online, and then reset the ECU and have it learn again with the computer controlled stuff... if I decide I even want that at that point.

I've heard that there are potential issues with running a dual plane manifold. I don't know if there is any validity to that point, since it comes from sources other than Holley. I do plan on taking off the TWO spacers I have on my parts truck's 460. I have one four hole spacer and one open spacer that I can use to simulate a single plane/high rise if need be. Heck, they added horses on that 460 on the dyno, that's why they're on it. If I recall correctly, between the two spacers I got another 10-15 hp on the dyno at the flywheel. Maybe I'll get 1 or 2 with this 351m. lol I'm also considering pulling the intake and having it blasted because it looks pretty nasty. I'm hesitant on doing that though, because it's working fine right now, so maybe after I get things running properly I can go back and pull it and get it lookin' sharp and then reinstall it. I want fewer headaches up front. I can handle them a little at a time along the journey. I'll eventually get under the hood and the chassis and decide where to place the electric fuel pump and route the lines and all that stuff. Takin' it slow... as if life allows me anything else at the moment.
05-21-2018, 06:46 AM
A couple weeks ago I changed all the oil in the Bronco, minus the differentials. I'll get around to those later, but they will get done. The trans oil didn't look too bad, I'm assuming it's been changed at least once in it's lifetime. The t-case was pretty black, so I'm glad I got around to it. The engine oil was typical for these older trucks, black. I'm hoping I can at least treat this thing better than the last guy. I went around looking for GL-4 rated gear oil for the np205 and the np435, but no one seems to carry anything that specifically says GL-4 AND for a syncroed trans. I ended up putting some 80w90 store brand gear oil from O'reilly's. On the back it said it met GL-2 through GL-5 standards. I'll probably run it for a little bit and then drain it again to help flush stuff out some more and order something online that's better and specifies it's beuno for these older t-cases and trans. I read a lot and people seem to use a few different weights of oils, so we'll see what happens.
I took the t-case skid plate off the Bronco and cleaned it up. It was pretty nasty. I sprayed some black paint on it after wire wheeling it. I'm so glad I finally got a power tool! I'm an official adult! Durr. I've made the most of this one, no so cheap, tool. I got a 1/2" drive impact wrench. I bought a 1/4" hex adapter for it which has been amazing. With the adapter I can use driver bits that are hex, drill bits that are hex, WIRE WHEELS that are hex, etc etc. It made cleaning that skid plate super easy, not to mention taking off the bolts. It's gonna get a lot of use!
Here are some before and afters of the plate. I also have a few pics of the headers I pulled from the JY. They're not pretty and they're pretty oily. I'm wondering if the oil coating has saved them from rusting out completely. I have no idea how old they are, but I got the part number for them off the header flange. Hedman Hedders 89210. What's weird is that on summit they show them with ball and socket collector flanges, but these are the traditional 3 bolt flanges. If you go to the Hedman website they show them with flanges like mine have, but the specs list them as having the ball and socket flanges. Either way, I'm gonna take them to a shop here that does coatings and see what they have to offer. At the very least I'd like to get them blasted, so I can hit them with some high temp paint. Will it be the best? Probably not, but they'll be clean for when I install them and hopefully seal up well!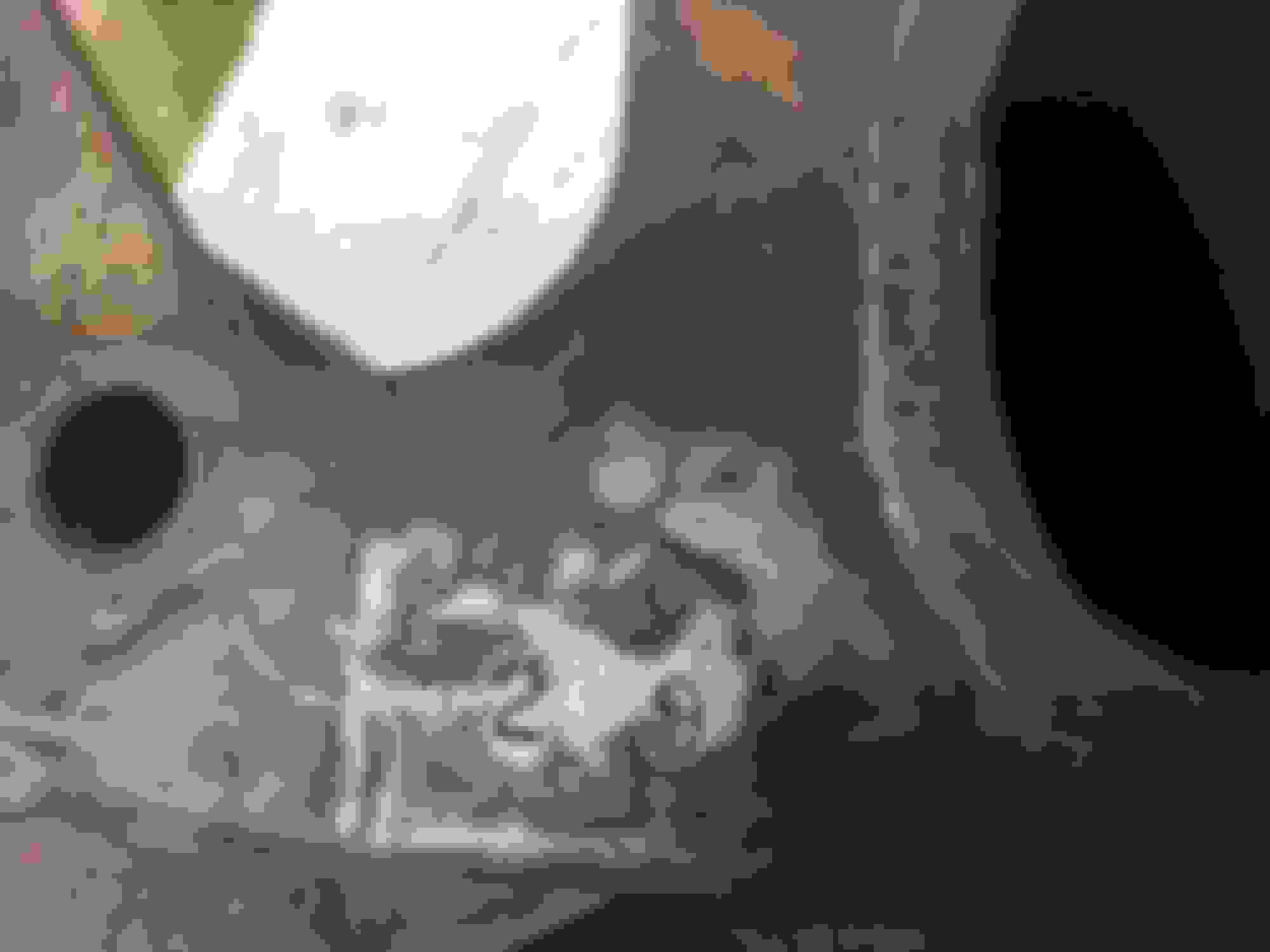 I've been holding back from buying more items for this Bronco. I need to take everything I have for it at the moment and get it on. The starter recently took a crap. I think the bendix isn't kicking out. The starter spins up, but it just hums and never engages the flywheel. I'm gonna see if it's a legit OEM starter when I take it off. If it is, I'm going to take it to a local shop that rebuilds items like that and see what they can do for me. I'll probably take my 3g alternator for my F-100 and have them replace the bearings on that and get it ready for use as well. I have a lot of stuff to put on the F-100 that has just been sitting around. I've been slacking on my "hobby".
Oh! I also found out I can't put a coolant temp sender in my intake since my 351M has no coolant flowing through it! This is my first 335 engine, so I'm learning. Guess I'll have to get more creative if I want to keep my factory gauge with the EFI. I have a few ideas with what I'm sure would be various degrees of effectiveness. Tee off the factory location on the front of the block and put both senders there. Put one in the top of the water pump if mine has the spot for it, I haven't looked at mine, but others have done this. Put an aftermarket tee fitting in one of the coolant hoses and put it there. The only problem is I won't get an accurate reading from all of these locations. The factory location would be the best, so if I use a method other than teeing off it, then I'll put the EFI sender in the factory location to make sure it runs properly. I plan on having the ECU mounted on the dash, so I'll at least be able to check the temp on there if the factory gauge doesn't want to read right.
05-21-2018, 06:56 AM
My "stable", minus my parts truck. I need a proper place to work on these things. No off street parking. Lame. I've had to roll the Bronco back and forth a few times since the starter died. It's not light, but it's doable by myself. 35's don't make it easy to rock it into motion.
05-21-2018, 03:50 PM
Thanks. Itís definitely a slow process for me. I lose interest in things quickly. Working graves really saps your energy when it comes to doing things when itís light out, even on days off.
I went on a bit of a wild goose chase today looking for someone capable and willing to sandblast my headers. I found someone to do it and theyíre going to powder coat them with a high temp powder coat for me as well. The price sounded doable, but the time frame sucks. I was told 2 weeks to ďbe safeĒ. Iím not in a big hurry, but I was hoping for sometime this week.
I got under the Bronco and took a look at the starter. It looks like the top starter bolt had backed out enough to let the starter hang from just the bottom bolt. No wonder it wasnít catching the flywheel. Bad news is it ate up the teeth on the starter, so I dropped it off to be rebuilt. Iím a couple days out for that. I could get a ďnewĒ one at a parts store today, but this way I know itís done right.
06-15-2018, 10:44 PM
I got the starter back and installed. Works great, though it was quite spendy compared to buying one from a parts store. Only thing I can say is that all the parts that are visible to me have "Made in USA" stamped on them, so that's gotta be good right?
Got my headers back today. The guy quoted me two weeks out so I wouldn't be disappointed when it took longer than a week or some bs like that. Three weeks later... lol. At least they're done. God. I got excuses from him, which I didn't care about. I wasn't in a hurry, which is what I told him. Only thing that bothered me is that I checked in about 1 1/2 weeks after I dropped them off and spoke directly with the guy who was to do the prep work and the powder coating and he said they'd be done by the end of that week (2 weeks like I was told) and that they would call me when they were done. I never got a call. I just went in today before going to work to see what was up and low and behold they were sitting on a shelf wrapped in foam. Some people's kids. They do look amazingly better than when I dropped them off. The guy I spoke to had like 3-4 high temp colors for me to choose from that he recommended for headers. Black, Grey, Granite, and what they call a 60/40 mix. I'm assuming the 60/40 is the black and grey mixed together, because that's what it looks like and that's what I got. It's a darker grey. So, with buying the headers from the JY and having them powder coated I'm into them $150. Not too shabby. Here's a poor attempt at some before and after shots. I snapped a few before going to work just basing them off my memory of what I took pictures of before. Close enough. You'll notice they didn't coat the mounting flanges or the inside of the headers themselves. The only thing they coated that may or may not be a problem are the collector flanges. They'll probably be much less of a problem than if it were the flanges on the heads as far as heat being a problem.
Needless to say, I'm excited to get them on! I have a couple other things I'd like to tackle before that happens. One of those things is my passenger side valve cover. I wanna make sure I get that sealing up properly before putting these on. Last thing I want is an oil leak onto my newly coated headers.