Full circle - 97 V8 AWD restoration
01-25-2018, 08:41 PM
Join Date: Jan 2018
Posts: 3
01-25-2018, 09:03 PM
Join Date: Jan 2018
Posts: 3
01-26-2018, 12:10 PM
Join Date: Jan 2018
Posts: 3
02-06-2018, 08:47 PM
Ok I got the truck back $2,400 later she is driving under her own power! Full rebuild with all the good updates for the 4RW70, meaning it should be good to go for a LONG time.
It was great on the very short drive I was able to take, I need to get exhaust on it and fix the headlights to get some miles on it. After 100 miles I need to bring it back to the shop to have the warranty validated on the transmission.
This was a huge step though for sure.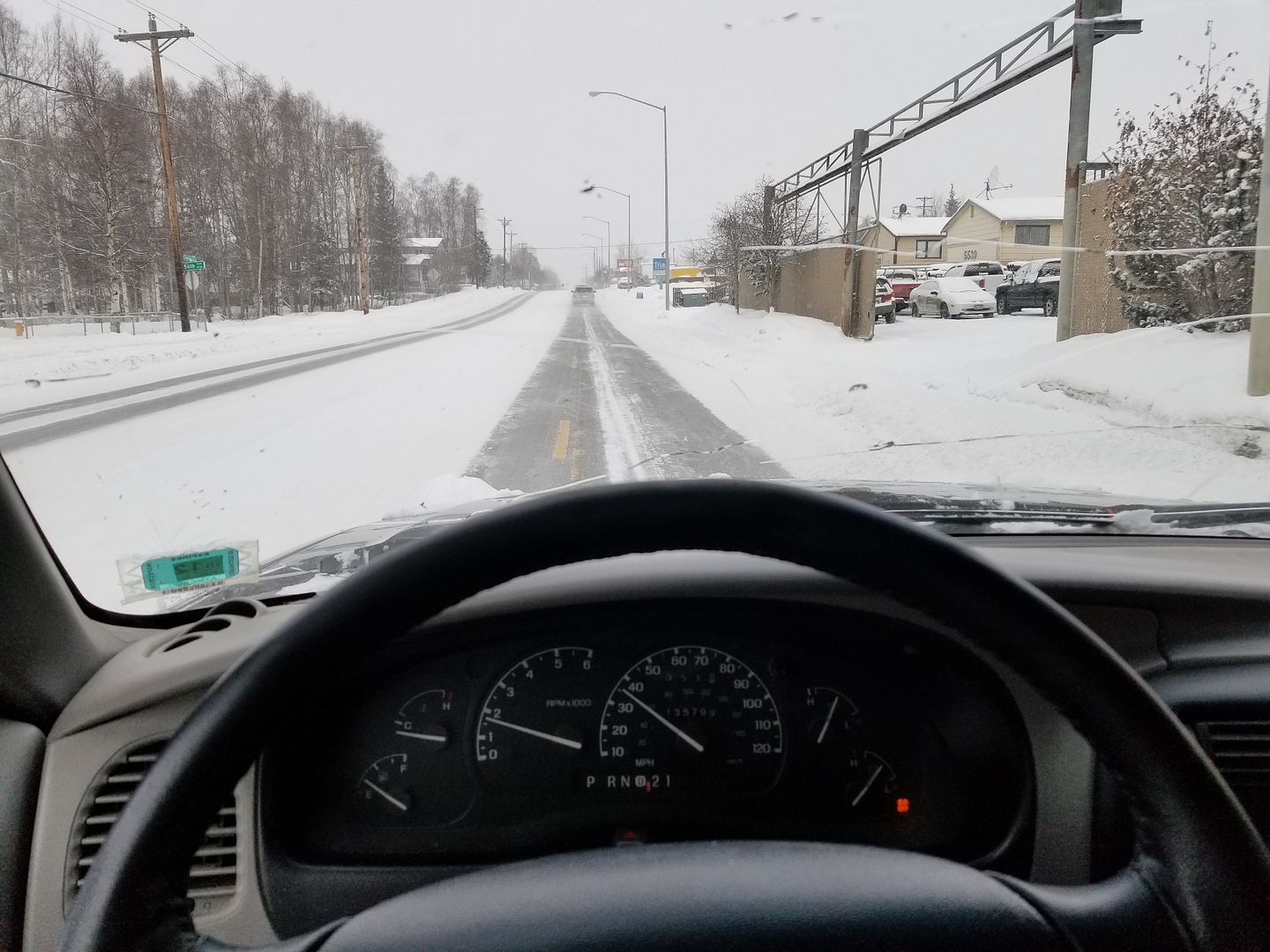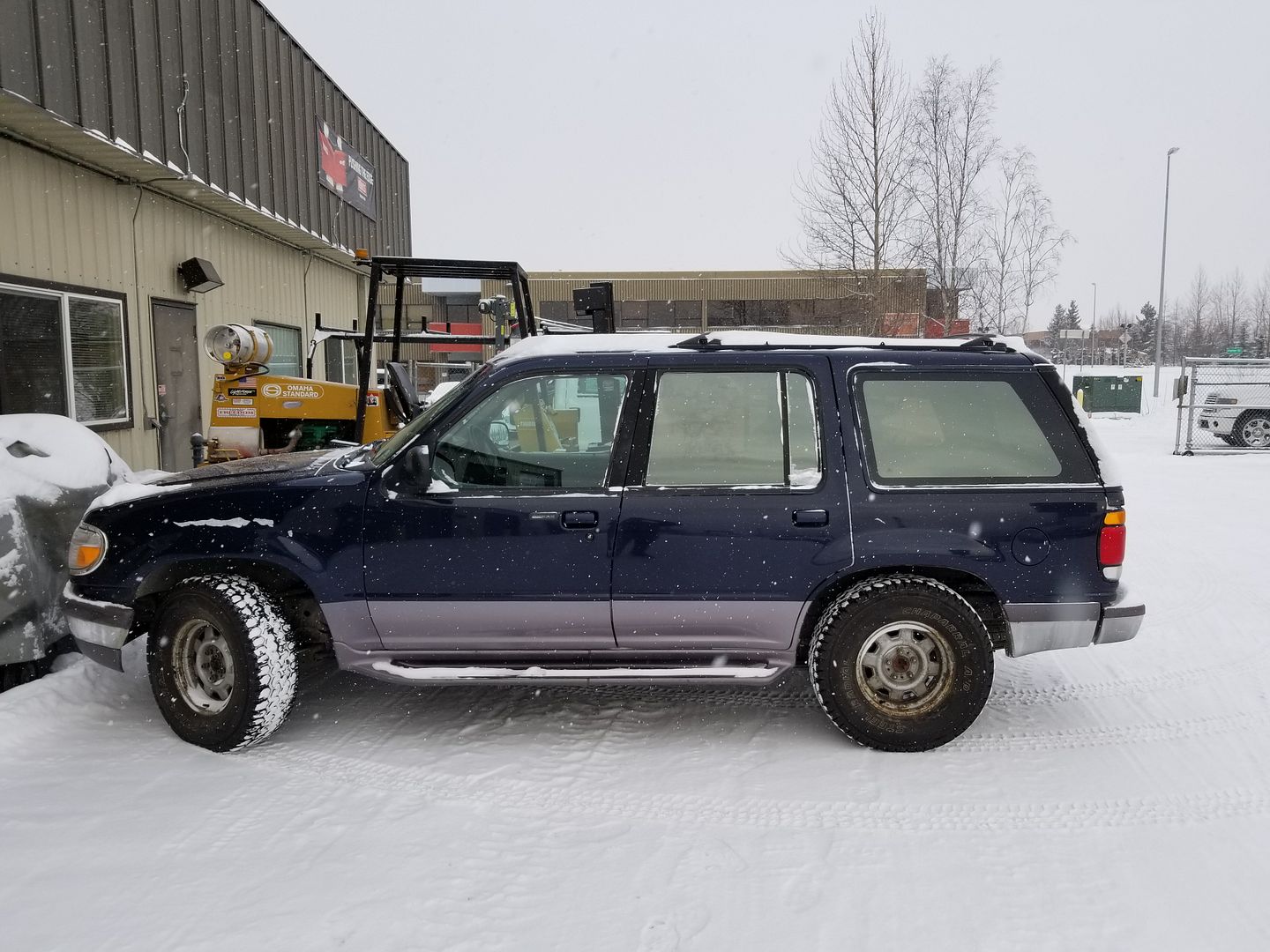 02-10-2018, 01:53 AM
Alrighty, I got the truck home I put 10 gallons of fresh gas in it on the way. Fixed the headlight switch so we have light now! Installed the new license plates and put the new registration in it. I've put 30 miles on it so far and it's so amazing. Tonight my dad went with me for 15 miles of it. We were talking about the many hours we spent together in it when I got my drivers permit and I was learning to drive. I can't put into words the joy it brought me to be behind the wheel again.
I damaged the bumper when I pulled it out of the parking spot I had it, luckily I have another bumper so I'm hoping to change that out this weekend.
I need to sell a truck I bought to flip, that is bankrolling the transmission and other stuff going on this truck.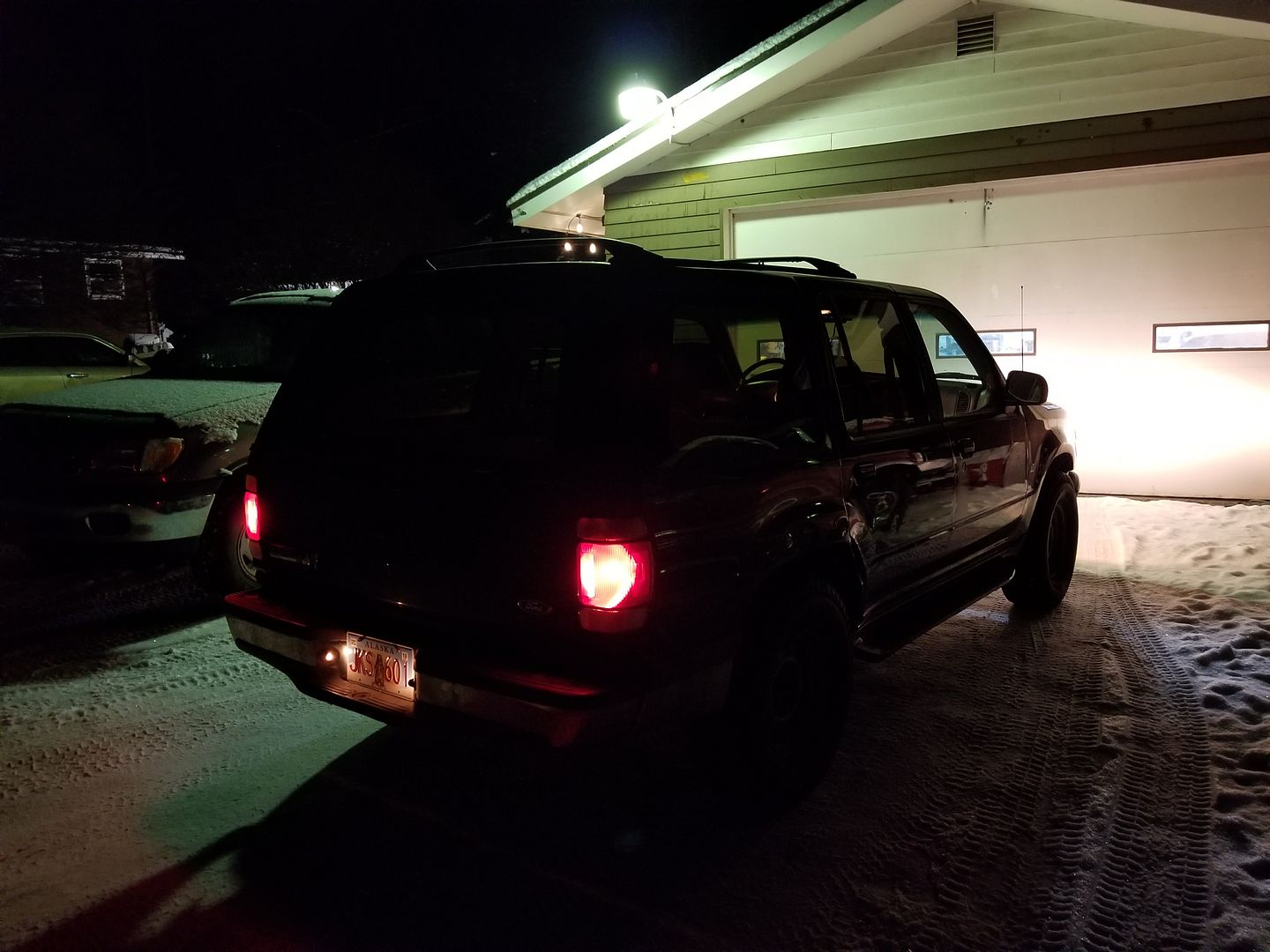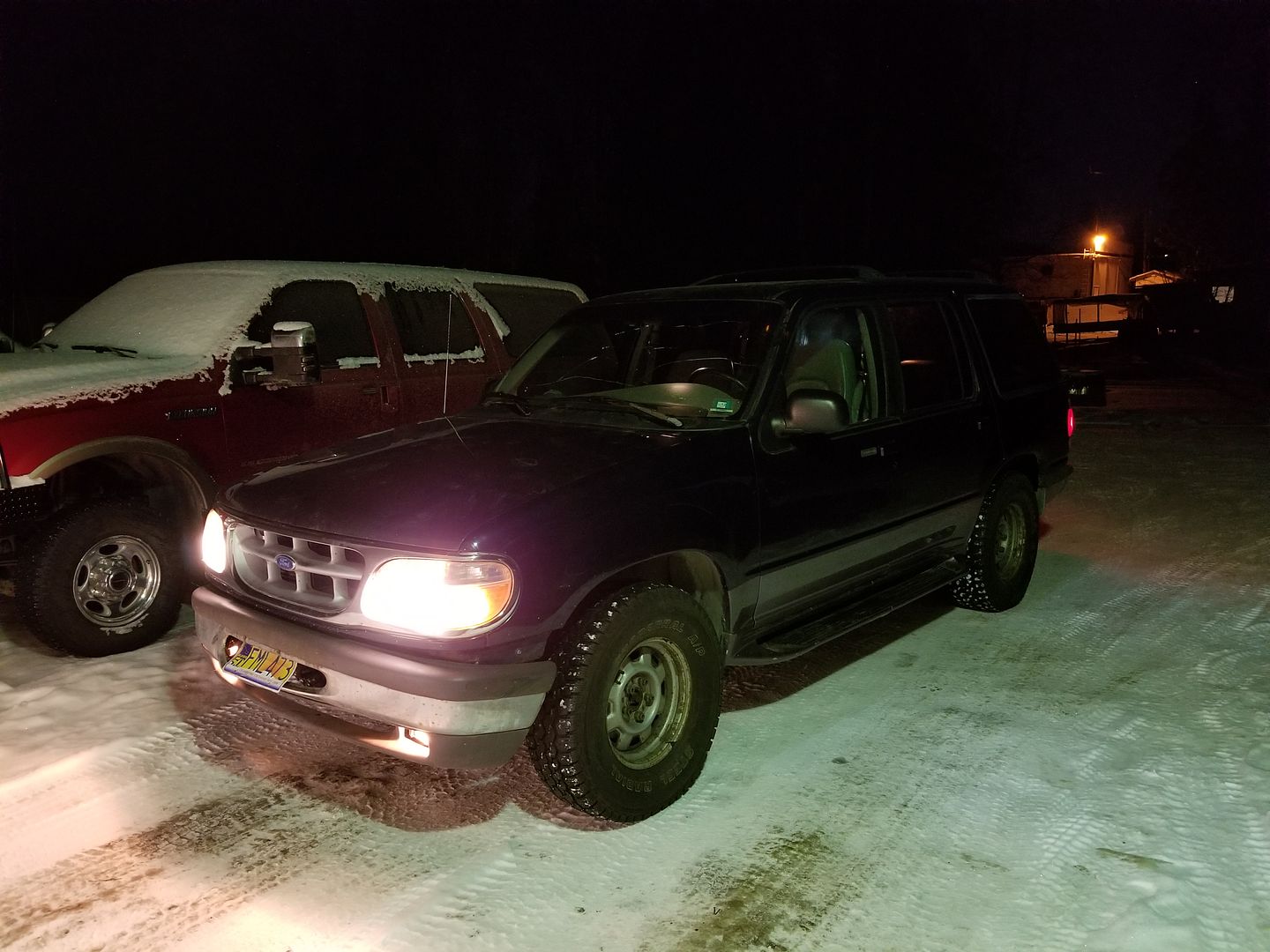 02-10-2018, 12:30 PM
That's always a rewarding feeling Russ, to get an old truck moving back under its own power again! Congrats!
Also I couldn't help but notice you Exploder's front bumper sags like many of them used to on the Rangers and Explorers. The front bumper on my '95 Ranger started doing that too after about 9 or 10 years old too. Ford must not have put an adequate mounting bracket behind that thing or something because every mid-90's era Ranger and Explorer I see has the same problem. Although it looks like yours might've been hit at some point in its life too, which certainly doesn't help.
02-10-2018, 02:32 PM
The bumper was all me, I hooked a tow strap to it when we were getting it ready to have it towed. It had a flat tire and was froze to the ground so I had to yank pretty hard... luckily I have another bumper on the parts truck I picked up for $46 lol I do plan to replace it with a 95-98 Limited bumper later on though.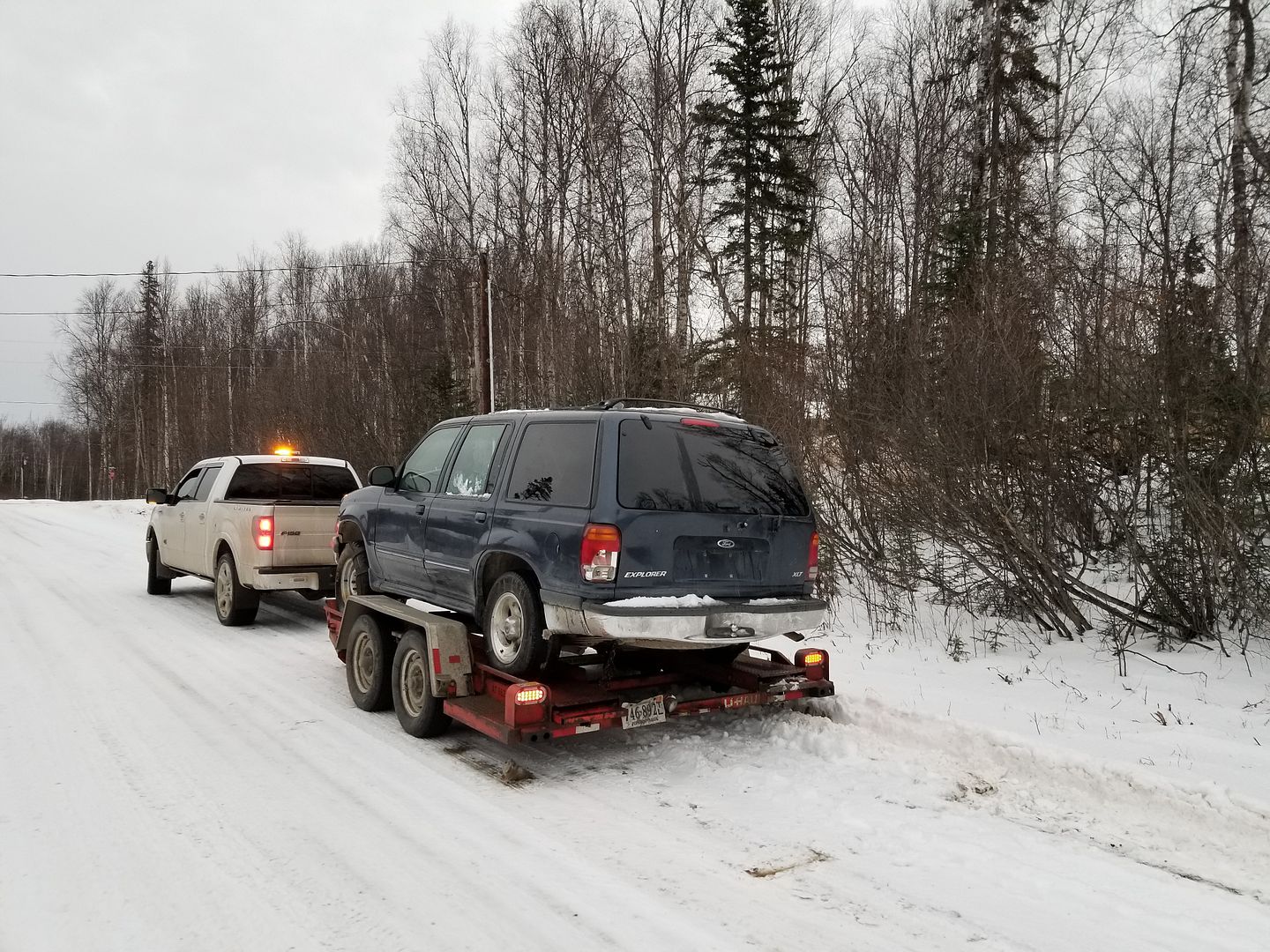 02-17-2018, 09:50 PM
Baby steps but we're moving forward! Put the parts truck bumper on it today, even found an old dealer plate frame from the selling dealer who is no longer in business in AK. Next up is to get the exhaust finished going out the back and put a new windshield on it. Then I plan to pull the studs out of these tires and have them put on the factory teardrop aluminum wheels. I need to get more miles on it to take it back to the transmission shop and get the warranty validated and started.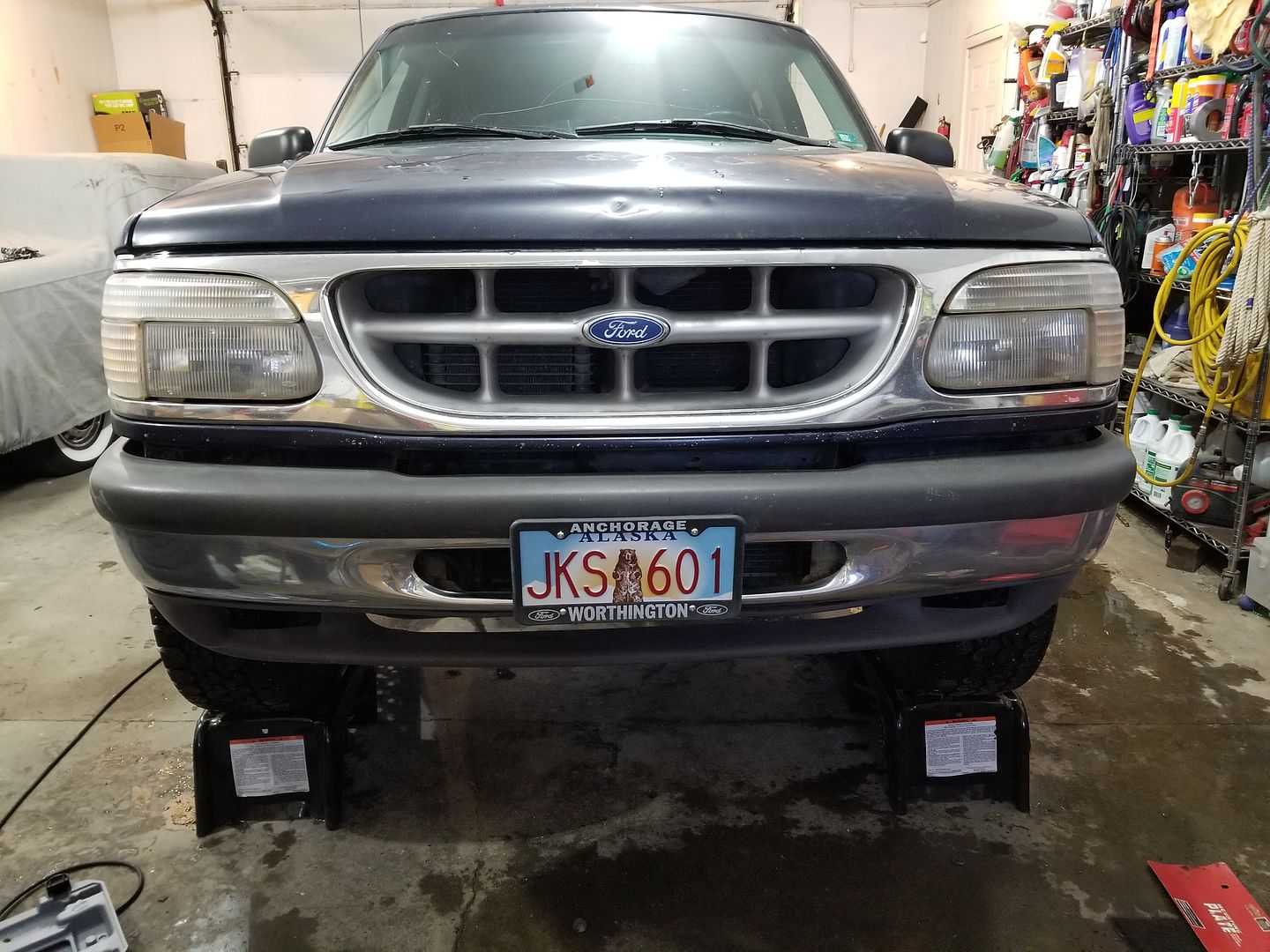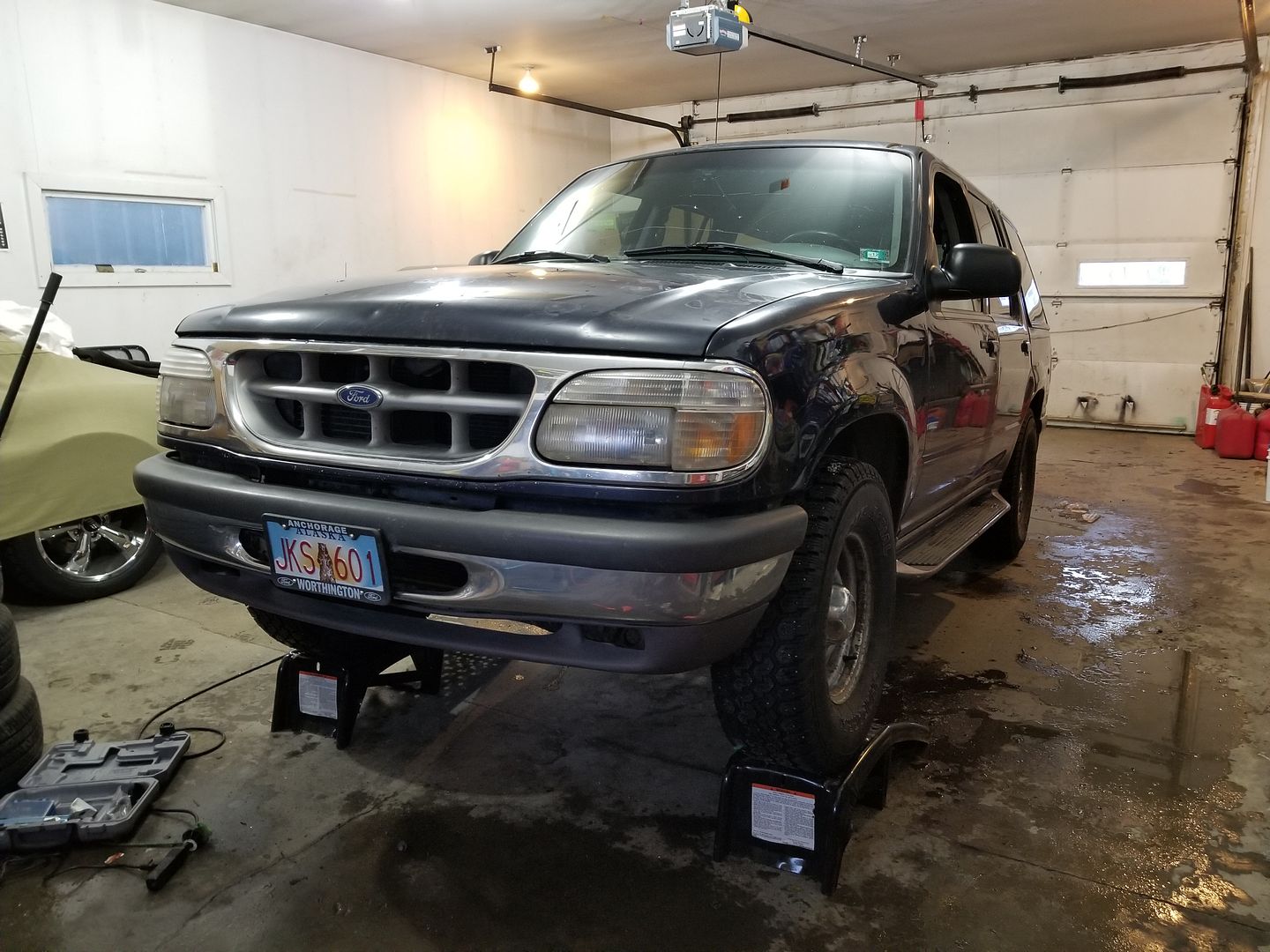 This body damage will need to be addressed as it's a real eye sore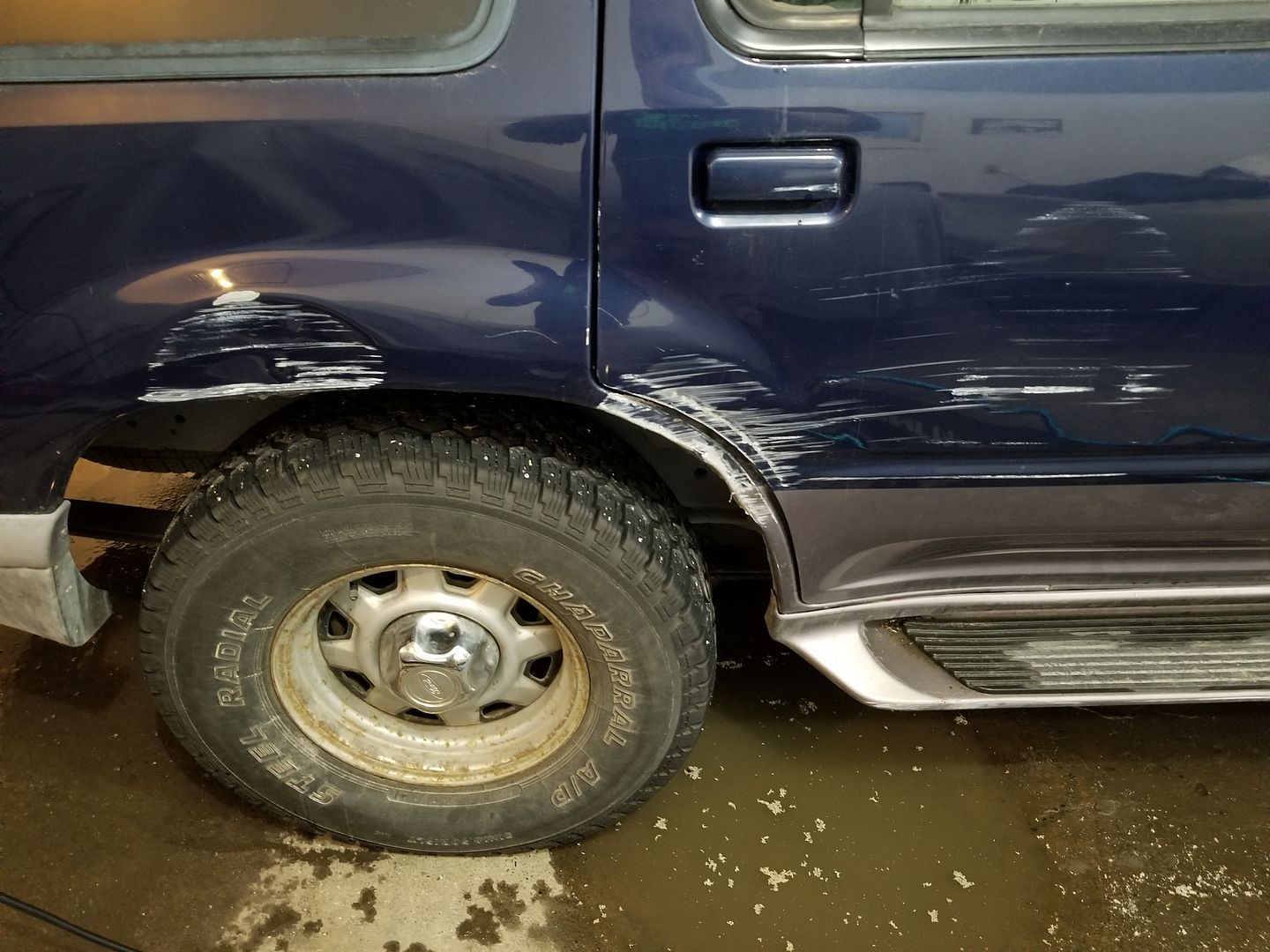 The exhaust, no idea why they cut it off?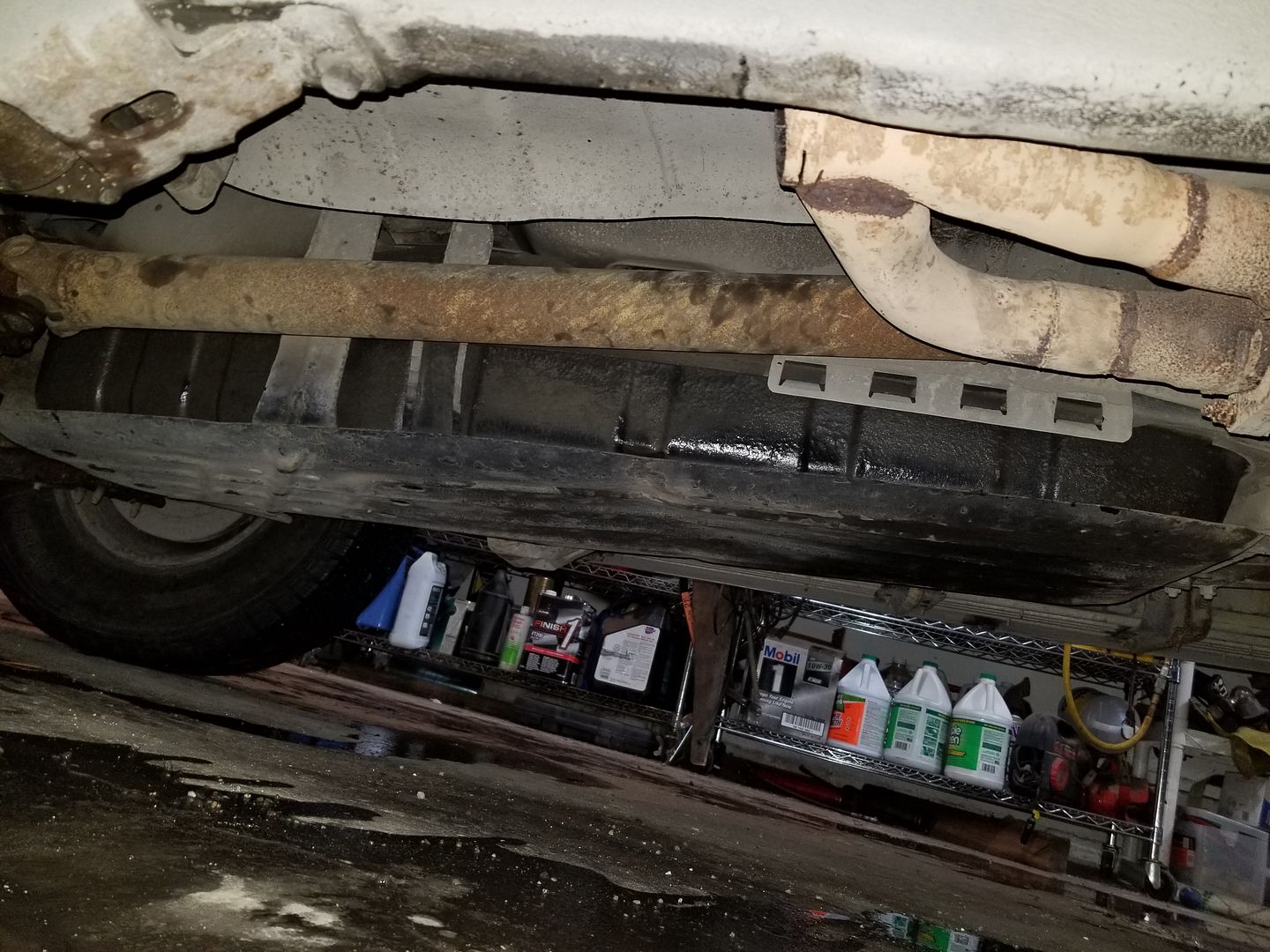 My dads current 99 V8 AWD with 45k miles next to his old truck. These trucks never met before I brought the 97 home last fall. We had sold the 97 about a week before we picked up the 99 which only had 17k miles on it in 2008.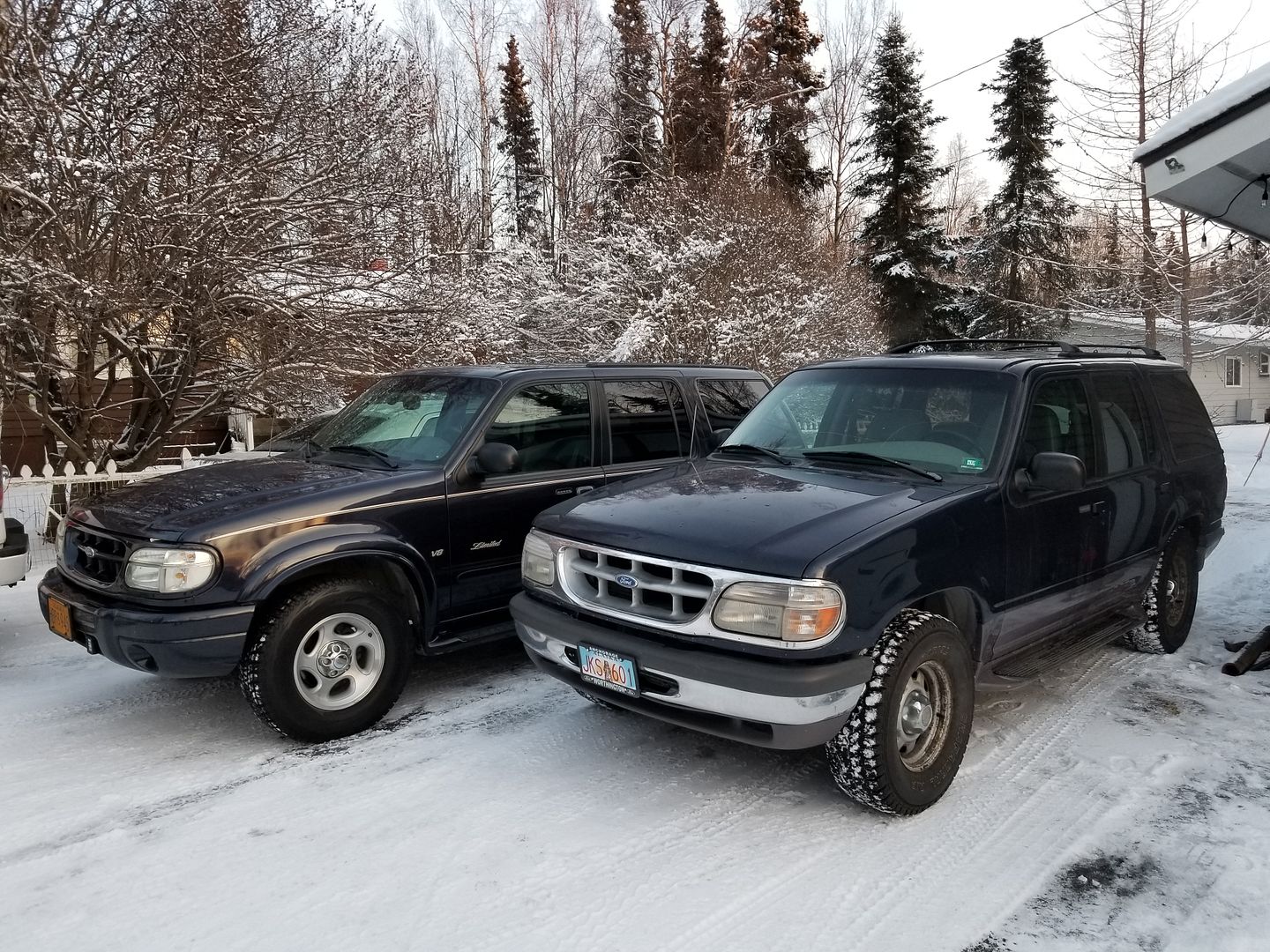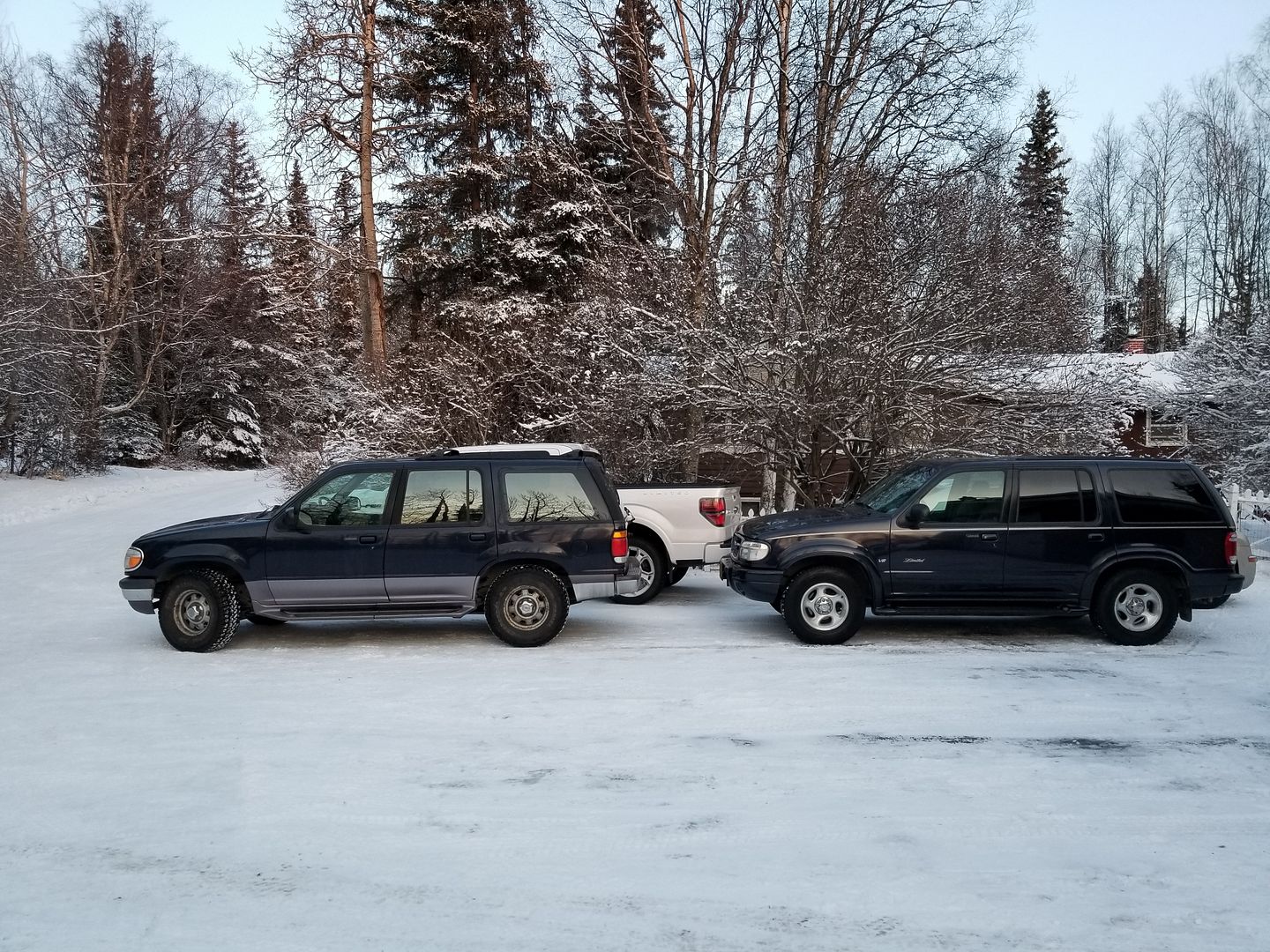 02-19-2018, 10:38 AM
02-20-2018, 11:38 PM
They really are awesome little trucks. The XLT bumper has fog lights also but the Limited bumper is full urethane plastic and painted.

I had a muffler put on today with a stock tailpipe going out the rear I can actually hear myself think on the highway now! Now she's insured and all legal so I'm going to try and rack some miles on and make sure everything is good, so far so good put 75 miles on it.

Tonight I was putting my most recent paperwork in the glovebox. I decided to go through more of the paperwork, this was all the stuff the lady who bought it from us in 08 kept. She had the oil changed with full synthetic every 4K miles. At 118k miles she had new calipers, rotors and pads installed. Differentials and transfer case fluid changed at the same time. Plugs, wires and fuel filter at 122k. I was very happy to see the detailed paperwork, so that means I have almost every repair and maintenance record since it was brand new!

It will be a long road to make it look the way I want but I can daily drive it now if I so choose.
03-04-2018, 01:30 PM
I'm letting a family friend borrow the Explorer for a week or so, the tires I have right now are not very good on snow and ice as they are old, hard and 75% worn. Luckily my dad let me borrow his summer tires and wheels for his 99 Limited which are almost brand new Cooper AT3's that get decent traction so I swapped them on last night.
Oh and I did get a muffler and tailpipe on it, so it's safe and not annoying to drive!
03-18-2018, 02:25 PM
I got the Explorer back on Friday. I have a laundry list of things I wanted to work on/fix. I took it all over town running around. It was going awesome until my last stop a mile from home, came out and it wouldn't start. Thought it was the starter it turned out to be a damaged wire going to the starter which was removed when the transmission was replaced.
3rd brake light ballest replaced
all dash lights replaced with LED's
wiring fixed on the front marker lights
rear view mirror reinstalled
starter wire fixed
03-19-2018, 07:42 AM
03-19-2018, 12:53 PM
Thread
Thread Starter
Forum
Replies
Last Post
Explorer, Sport Trac, Mountaineer & Aviator
Posting Rules
You may not post new threads
You may not post replies
You may not post attachments
You may not edit your posts
---
HTML code is Off
---