How to Install Torklift Tie Downs
11-03-2016, 03:43 PM
How to Install Torklift Tie Downs
---
If you've ever been interested in truck camping or already have a truck camper, you know that tie downs are the way to go when it comes to securing your camper to your truck. Frame-mounted are especially important because they install to the strongest part of your truck, the frame. These tie downs are also important because they prevent any kind of bed damage that could occur which is common with bed-mounted tie downs.
To see how easy the Torklift frame-mounted tie downs are to install, especially on a Ford F150 XLT, watch the videos below.
Rear Tie Down Installation:
Front Tie Down Installation:
TRUE Frame-Mounted Tie Down Features:
Dramatic improvement with vehicle handling and stability and is the safest way to haul a truck camper (Prevents vehicle sway and camper movement in all directions)
Avoid bed and bumper damage by attaching to the strongest part of the truck: the frame
Maintain the value of your truck and prevent rust and bed damage by avoiding drilling into your truck bed or bumper
Provides safety, security and stability while on the road
The only truck camper tie down that mounts using independent tie down points that bolt directly to the truck frame
Fast, no-drill installations securing your truck camper to your truck (100% no-drill for all trucks after 2001- Check your application here)
No loss of ground clearance
Hidden design when not in use
Vehicle manufacturer recommends that all full-height slide-in camper bodies be directly attached to the vehicle frame structure
It is required that no addition holes be drilled through the vehicle frame side rail horizontal flanges » Details
It is suggested that outrigger-type "L" brackets be attached to the frame's vertical web to which the camper body can be conveniently attached » Details
Lockable with Tie Down Locks
Only truck camper tie down system with a Legendary Lifetime Warranty
Proudly made in the USA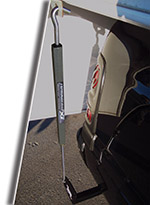 If you're interested in upgrading your current tie downs, are looking to buy a new set for your new camper or would like more information, visit
here
or give us a call at 800-246-8132. Our tech support is more than happy to answer your questions!
__________________
Torklift International – Towing, Suspension, Tie Downs, Steps
Call me direct: 1-800-246-8132
Visit our Blog: http://www.torklift.com/blog
Thread
Thread Starter
Forum
Replies
Last Post
Vendor Specials, Discounts, Product Announcements & Group Buys
Vendor Specials, Discounts, Product Announcements & Group Buys
Vendor Specials, Discounts, Product Announcements & Group Buys
Vendor Specials, Discounts, Product Announcements & Group Buys
Vendor Specials, Discounts, Product Announcements & Group Buys