What did you do to your Super Duty today?
01-29-2018, 06:40 PM
Join Date: Oct 2017
Posts: 106
01-29-2018, 06:42 PM
Originally Posted by Sdowdle541
Iíve followed your truck for awhile so you may of had some persuasion. Got lucky on this truck and the driveshaft doesnít interfere with the exhaust at all.
Glad I could help you spend your money! Good deal on the drive shaft.
01-29-2018, 11:22 PM
I highly suggest X-code (plow prep) springs from ATS or if you can find some on a truck being parted out. I've run them on two Excursions and loved them.
I signed the papers on my new to me 04. This is gonna be a quick flip. Picking up a tailgate, going to refinish or replace the running boards. New windshield, detail it up real good and send her on to the new owner. Selling the camper by itself.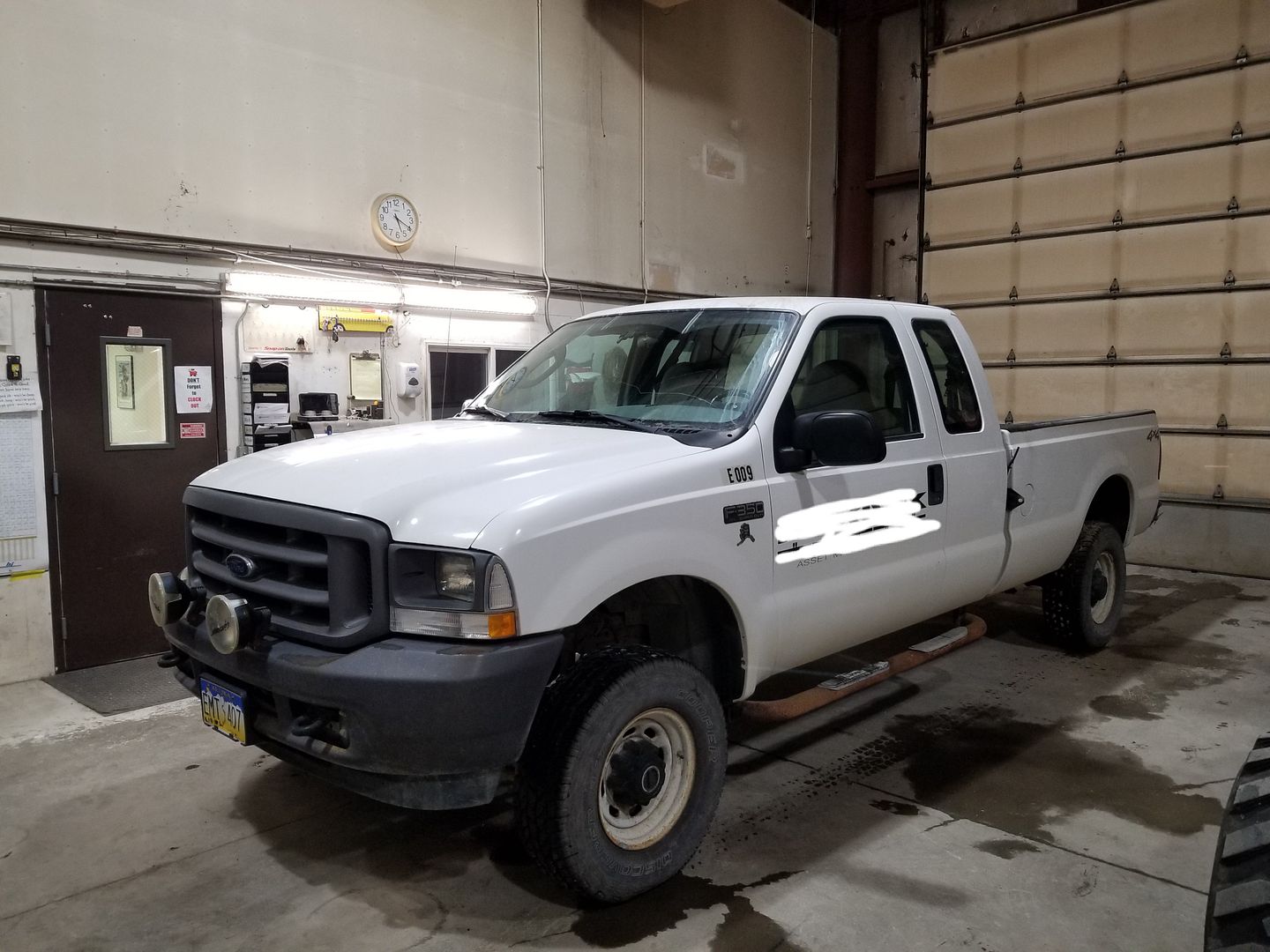 01-30-2018, 01:11 AM
Russ,

Yes, am talking to Junior already.
I want some lift as well to ensure hitch mount stops hitting things from being too low.


Order with Junior placed, can't wait to get the full kit.
Will start a thread once the box arrives...
(My excursion is getting pi$$ed at me, got to move it in to the barn this weekend)
01-30-2018, 09:27 PM
Join Date: Dec 2015
Posts: 526
Replaced my idler pulleys, belt tensioner assembly and serpentine belt today at 116K miles on my 6.7 diesel.
Had a belt squeal develop about 2 weeks ago when it was cold. Got the parts today and replaced them. A couple of lessons learned;
1. There are 2 idlers plus the tensioner. Dual alternator trucks have grooved pulleys for the idlers and single alternator trucks have grooveless. All of the diesels use the sane tensioner and it has a grooveless pulley.
2.
They fail to say in many of the instructions that you must remove the bolt for the fan clutch mount and disconnect the wire. If you don't d this you can't remove the old belt or install the new one.
3.
There is also limited space to get into the bolts for the pulleys but the top of the fan shroud can be removed as it is held by 5 bolts and this gives a tremendous amount of access through the fan
Took about 2 hours to get it apart as I had to go back and pull the shroud off, but reassembly only took about an hour and that included pulling tools back out.
01-31-2018, 10:57 PM
Finally got the ids hooked up to my truck and disabled the hyper flash I was getting because of the LED bulbs.

I also got around to fixing my left rear door. I put aftermarket keyless entry on almost 2 years ago, and a few months back that door quit working. Then the lock got jammed unlocked. Turns out a set screw loosened up that connects the actuator rod to the lock rod and a wire had broke at a butt connector.
02-01-2018, 03:11 PM
ram air hood
---
ordered the ram air hood
will be painted and clear coat to match truck
shop is local so I will pick up
takes air in the front and vents it over the turbos and near the cabin intake.
didnt want the one that vents to the air box.
should be ready in 5 weeks.
02-01-2018, 07:16 PM
---
02-03-2018, 08:55 PM
pulled the transmission last night after work. Finished installing a Transgo Tugger kit as well as Transgo lock up valve, Sonnax line pressure modulator and O/D clutches. Transmission shifts great now. Also gave the thing a much needed bath.
02-05-2018, 11:30 AM
Brought it home
---
The F250 has been stored down in town for the last 8-10 months waiting for room to work on it.
Saturday we towed it up to our place, still waiting to clear a few things (my tools from FL) out of the way in the barn to pull BOTH the F250 and Excursion inside to start the suspension swap.
Ot got dirty being towed up in the mud
The 2 meet for the first time, the Excursion getting a 4wd transplant thanks to the F250. I plan to spend some time tinkering on the non-running 6L in the F250 to get some experience without risking the 6L in the Ex.
02-05-2018, 10:04 PM
Join Date: Oct 2004
Location: Southern KS
Posts: 944
Went ahead and had the dealer do a cooling system flush. I've been putting it off and it's too cold here to mess with it. While at the dealer I had the power steering fluid flushed too.

Prior to the trip to the dealer I gave it a good detailing.

Kinda funny but they gave me a 2018 F150 STX for a loaner. I took it back after work and when driving my truck home I realized I wouldn't trade them straight across for the new one.