It's (Vin) Diesel Time
02-16-2016, 01:36 AM
It's (Vin) Diesel Time
---
Okay, so I figured I'd start a new build thread despite me not actually starting the build yet.

I'm hoping I'll get this going soon, but my tracks may be stopped if my parents get upset with me bringing home this F250 with a blown transmission. It's currently parked by the entrance to the ranch community I live at, so I'll have to take my Bronco and tow it about a mile back to our property when I get a chance. You know, sometimes it's better to ask for forgiveness than permission! I got a running 1995 power-stroke for 1250. It needs glow-plugs and is leaking oil, but seems to run well and rev well when idling. I figure that's the best price I'm going to get for this setup. I'll have all the wiring I need, and transmission setup (clutch and ZF5 mount.) Pretty much the complete swap besides axles, which I will save for a later time, stiffer front springs, and drive-shaft modification.

Anyways, I've been wanting to do this for years, and some of you have seen me mention this especially recently, but I'm finally at the point where I'm actually close to starting. Like I said, I have the running truck, and I also purchased a 4x4 diesel ZF5.

My buddy and I messed with the truck tonight trying to get the transmission unstuck from 5th gear. We aligned the shift forks in neutral, but the truck still acted like it was in gear. It also made a disgusting grinding noise when letting off the clutch. I figure a fork or something is broken off and it's stuck in gear for good. I'm just going to have to take out the drive-shaft in order to tow it back to my place a mile.

If all goes well at home (my parents don't make me scrap it immediately) I'll post some pictures up of what I have and what needs to be done.

I posted a thread in the diesel section asking for advice on compatible parts, but if anyone here knows anything also that would be great! That way I know which parts I can keep in my Bronco (such as fuel pump) and what I'll need to snag from the F250.
02-16-2016, 12:19 PM
Thanks bigzirb. I am just cleaning around the house today before I have to head to campus. I have a lab report on fluid velocity profiles I have to work on with my group so I'll have to leave early.... Luckily we got a nice break and only have to do 5 minute powerpoint slide presentation for this report instead of the typical 10-20 page reports.

I want to get things really clean out in our "driveway" (it's a big open area with mostly gravel and a semi large concrete section since we have a lot of land) so that I can stay organized while working, but also so that I can stay cleaner while working. I'm going to have to do a lot of disassembling, and I want it to be as clean as possible so I don't make out house look like a mess!

Another thing I forgot to note is that the powerstroke I got has only about 180k on it. That seems quite low for most powerstrokes I've been looking at. It does need new glow plugs and oil seal changed, but that shouldn't be too hard. Especially when I pull the motor out. I'm glad I got this truck too, since it wasn't in perfect condition, so I don't feel too bad tearing it apart.

My next big purchase is going to have to be a transmission jack though. I want to take the ZF5 down, but I'm a little scared try to do that without a jack.... I've gotten too spoiled with T5s and the M5OD.
02-16-2016, 05:25 PM
Are you sure the clutch plate isn't broken, or the input shaft?

Is the donor truck 4X4, if so you would have everything you need to make it a leaf sprung bronco, pretty sure all the holes are in the frame already.
02-16-2016, 05:38 PM
Join Date: Feb 2015
Location: NW WA
Posts: 1,130
Subscribed because I wanna watch
02-16-2016, 06:34 PM
The donor truck is a 2wd so its got coils up front. Im not too sure about the tranny. The forks initially seemd all in neutral, but the truck wanted to move forward too, but lugged super bad if I did try moving. It also made a bad rattling noise if I let off the clutch in apparent nuetral. It did the same trying to move forwars in any gear I thought it shifted into, but lugged worse. Eventually I heard a clunk and saw all the forks seemed misaligned now. When I get back from classes, ill try to take a better look.
02-16-2016, 11:24 PM
Man I'll say that F250 is pretty heavy! At first I wanted to see if my buddy and I could push it out of the gravel it was on. We immediately gave up with that idea. I've towed with my Bronco before, but this thing didn't seem to want to budge at first. It didn't help that I had to start in gravel though and I didn't want to kick up too much rocks and such. I ended up putting my Bronco in 4 low to start pulling with the hubs unlocked so that I wouldn't have to be worried about making sharp turns on pavement.
I got it back to the house though so it's sitting outside now!
I haven't decided yet. At first I was planning on keeping it, but I've been thinking about selling some. I suppose I'll see when I pull it and if I have a place to store it. If I don't have room, I may have no choice but to get rid of some if it's going to be staying at my parents place.
I've put a bit of effort into the engine I have so I'd be sad to let it go, but I suppose I wouldn't have a use for it until way later down the road when I get another project car. You can see all the mods it has in my sig, Bassani headers etc.
I know I'll have an extra T-Case I'll probably be selling. Maybe the M5OD too... I don't know much about shipping heavy freight items though if I do get rid of stuff.
Edit:
So I told my mom about pulling the 250 into our driveway. She said "Oh no... you're telling me casually you have a piece of **** out in the driveway? What's it for?" And I said it's a parts truck for my Bronco. She then said, "There's something wrong with you." But then kinda laughed it off. So I think I'm okay, I'll just have to be super sure to stay extra clean while working. I can't have parts laying all over the place! I could store all my parts in the bed of the 250 and my Bronco until I'm ready to swap it into the Bronco. I'll probably get a car cover or something in the meantime. Maybe I'll be lucky and can pull everything I need off the truck in a few weekends. I can't wait to get this swap started! Now that I have everything at home, I'll post some pictures of the beauty up after my morning class.
---
Last edited by Bubba Jones; 02-17-2016 at

12:19 AM

. Reason: Didn't need to bump the thread again for this little nugget of info.
02-17-2016, 02:54 PM
Okay, so here's my truck as it stands currently: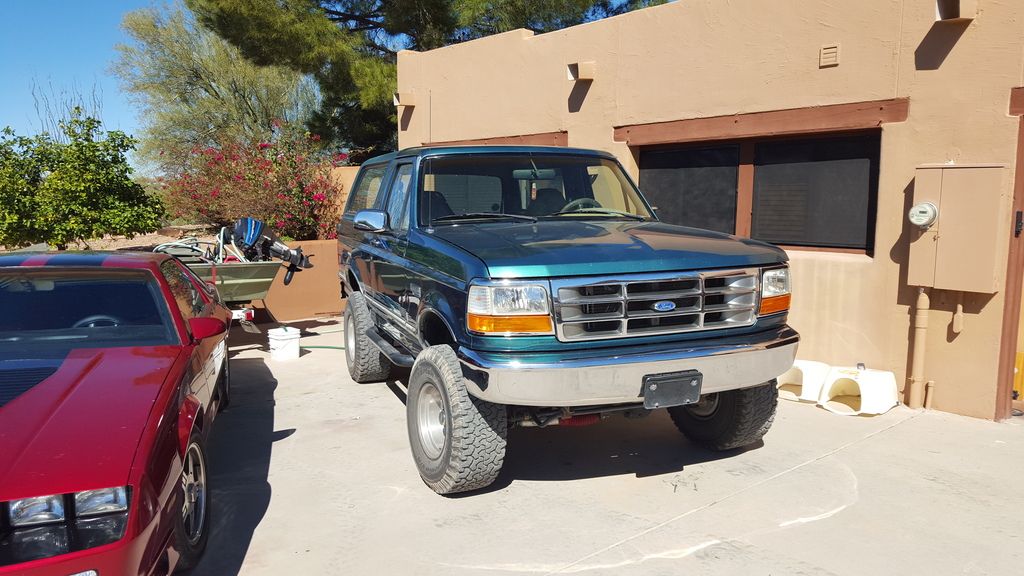 And here's what is getting replaced: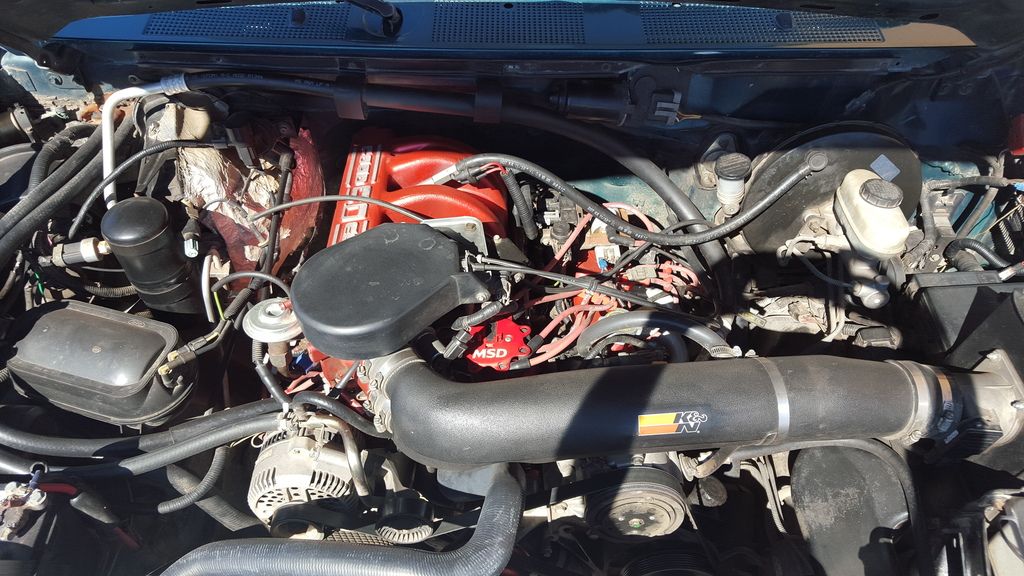 Here's the donor: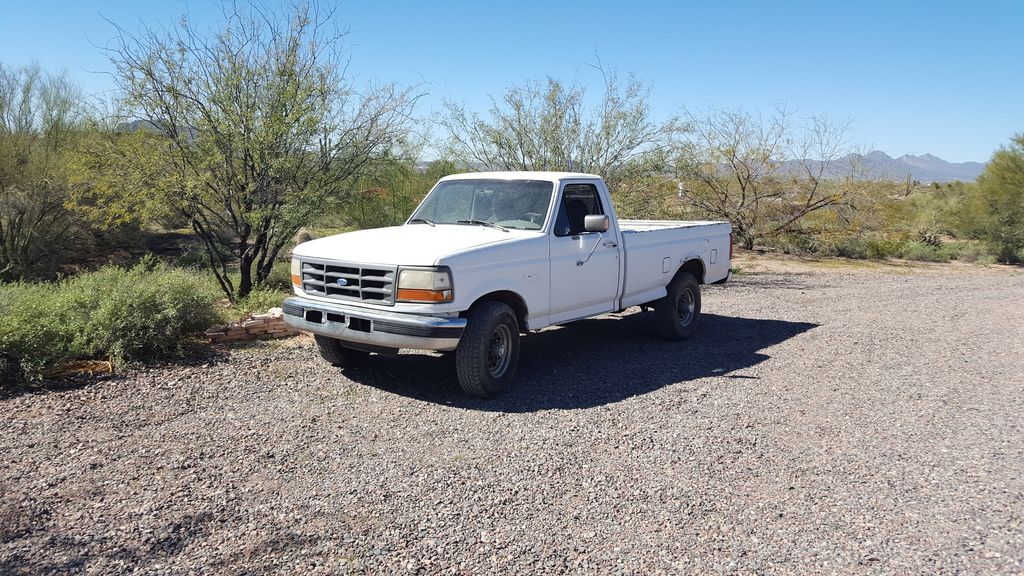 And the meat and potatoes under the hood: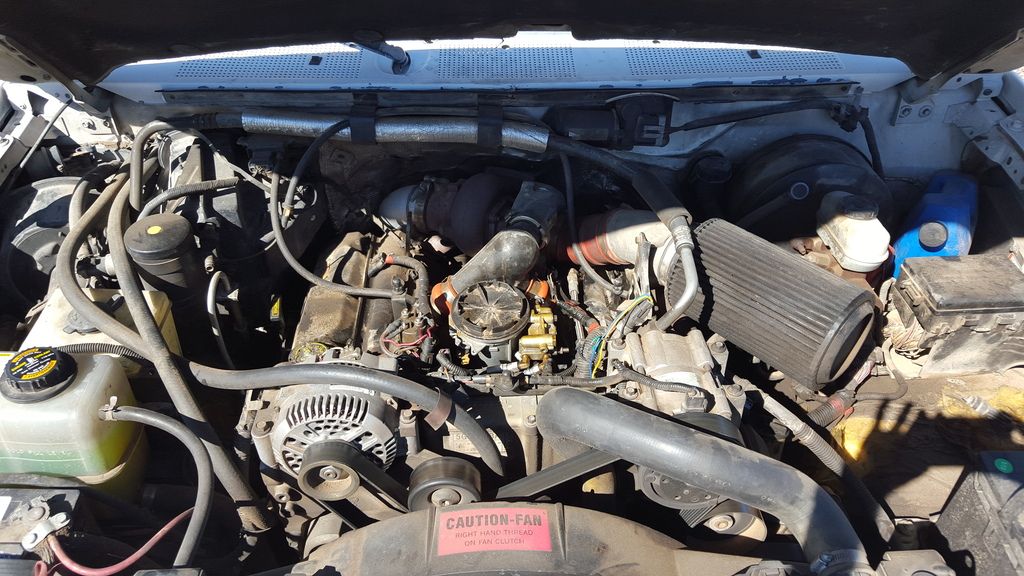 It's missing the top cover thingy so I'll have to order that on ebay or something eventually. It's too bad the bumpers on this truck are messed up too. I badly want (and maybe need for better cooling purposes) the style front bumper this truck has, as well as the chrome rear bumper. I bent my broncos bumper by bottoming it out once so I need a new one eventually.
I better get to work removing parts now though. I want to hear the truck run before tearing it apart too much though but the glow plugs are fighting me! I might start on getting the junk transmission down, but I don't have a jack so I'll have to figure out a special trick for dropping it down.
02-17-2016, 02:57 PM
When I was young and lived at home I used to drag the parts vehicles in the back yard before telling mom. At least then they were out of sight. Glad you can start working on your swap.
02-17-2016, 04:26 PM
With having that truck complete for a donor you are going to want the radiator support also, it'll have everything in the correct place. You may also want the outer heater control box (maybe even both halves) and the fender wells (they have all necessary components for the diesel)

Should make for a nice swap when it's all done. almost plug and play for that vintage truck.
02-17-2016, 04:32 PM
Yeah I was thinking something like that. I don't know if I have anything currently that would work well like that though. Right now, I'm about to get at all the bolts on the bellhousing. It looks like the top two bolts, especially passenger side, are going to be disgusting to get off. The exhaust is in the way and it's welded in. I don't want to cut it up too much either because its 4" so I could reuse those pipes in my Bronco. Also cutting exhaust pipes is not fun. I had to do that several times while fitting the 3" exhaust on my bronco years ago with a hacksaw..... that wasn't something I'd be fond of doing again.

I have the cross-member bolts, hydraulics, and driveshaft out so its just those bellhousing ones left. I may try and pull the transmission back while resting on the crossmember. If it falls and tips over, I'm okay with it because it's locked up and probably no good. As long as it doesn't bend the crossmember or something.
02-17-2016, 05:29 PM
I might be able to. It may be hard with the transmission in the way though to get the bends out of the way. I had to have been done somehow though. I ended up finding out the hardest bolt was missing, so whoever took this transmission down before was too lazy to put that bolt back in. I guess that works for me because I'm not putting it back up, but I'm going to have to buy another bolt. One of the bellhousing bolts won't slide out all the way either because the exhaust is in the way again... I think I have enough room get it out though when I slide the tranny back. I found a wimpy ratcheting strap that I put around the frame, I'm hoping that will hold the front end weight of the transmission! If not... then I guess I'll be out a strap.
I didn't realize I might need the heater control boxes either. I'll have to take a look at that and see how difficult they are to remove and swap. If I could rig my current system to work on the Bronco, that would be cool. Otherwise, I'm already going to be taking almost everything out so it won't be too big of a deal.
When I started the truck today, it was vibrating a whole bunch. I'm hoping that's just because of bad glow plugs, old oil, and or bad motor mounts. I don't remember it vibrating that much when I started it before but maybe I'm just not used to a diesel engine. The motor sounded good though.
Alright, I'll get back to pulling this tranny. Hopefully it will come out nice and easy!