It's (Vin) Diesel Time
02-17-2016, 06:21 PM
That sounds good. With the dash wiring, do you know what that wiring entails? Is it part of the wiring for the tail lights and dome light etc? I was planning on grabbing it because I know I'll need it for the tachometer and computer.
If I could keep the Bronco chassis wiring in place, that would be awesome. That way I can plug in my power door locks/windows and also keep the brake lights/headlight wiring in place.
If not, I'll grab that off this truck too. I know the turn signals/brake lights and reverse lights were not working on the donor truck. The tail lights and headlights work though.
Almost have the old transmission down. I kinda rigged my setup... two jacks and a cheap strap. Once I unbolted the exhaust from the turbo, it gave me tons more room! The exhaust pipe didn't move, but the whole engine did.
02-17-2016, 09:35 PM
Join Date: Feb 2015
Location: NW WA
Posts: 1,130
I had to pull out ny dash and replace the entire wiring harness in it. The wiring that was already in my cab for the dome lights and doors i kept. I also had to replace the entire harness that was on the frame going to the rear end. It was a plug and play. I would pull all that stuff from your donor truck. Also drop a tank on the donor and see if you'll need to swap the pump. I had to switch out mine along wth the fuel lines (and the fuel spout since it is wider than the gas one ).
02-18-2016, 03:05 PM
Ah okay well that won't be too much extra work for that wiring. I know the reverse lights and turn signals weren't working though so hopefully it's an easy fix. I know the reverse lights weren't working because the plug wasn't in the transmission, but the turns signals are a different story. It may just be the switch. Do you know if the turn signal switch/steering column can be kept in my Bronco? That would be pretty nice if so since my steering wheel is in much better shape.
I did a little more fiddling around with the truck today. I managed to pick up the tranny and throw it in the bed of the truck! Man... that tranny is a little bit heavier than my Bronco's that's for sure. I almost dropped it on my foot since it was pinching my hand when I first picked it up, so I decided to grab some gloves. I did set it down on my toe kinda hard but it was in the gravel, so there was some cushion as compared to concrete.
Here's when I was dropping it:
Pretty professional setup I got there wouldn't you say?
Here's it in the bed!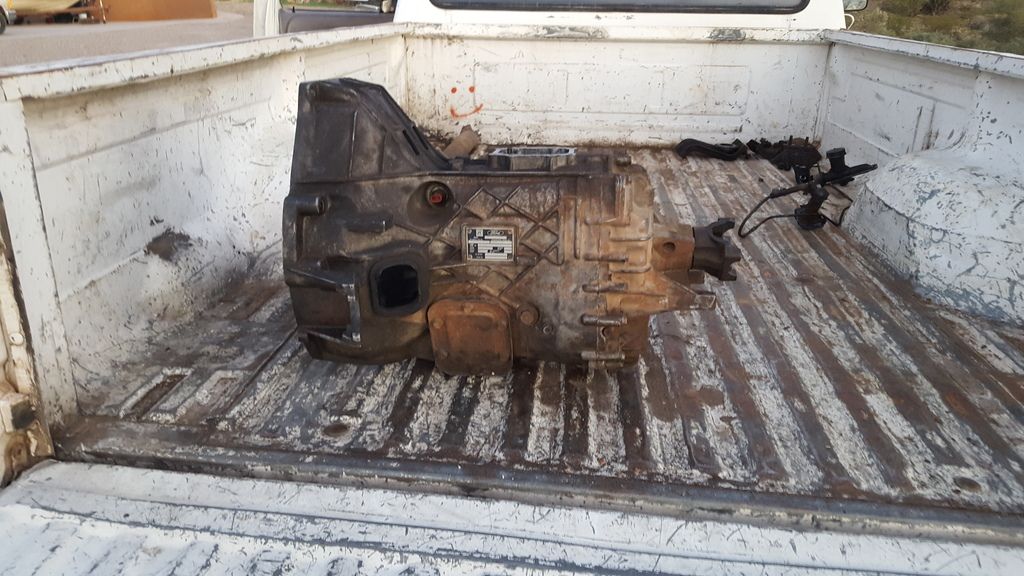 Too bad it's locked up. The forks all all misaligned so I'll try and align them again if I can to see if it won't be locked up anymore. Otherwise I'm debating on practicing rebuilding on it, or trying to sell it as a core on craigslist or something.
I also went ahead and checked the glow plug harness connectors. The drivers side seemed okay, with a little browning on some of the pins. Both passenger side connectors were pretty toasted up. They were missing a pin each, with two of the other pins being very dark. I suppose that explains the starting issues and vibrations I have.
These don't look too good anymore:
The other side looked just as bad but was filled with oil too. I pretty much ran dry on funds to get parts for this now until some money my grandma left us when she passed away last year comes through. It was sad to have her go, but it was a fairly quick and painless way which made things better. It was a nice surprise to here she left all her grandkids some money. Of course it would have been nicer if she didn't go, but her and grandpa can now be smiling on us from heaven. I bet they'll love to watch over me with the progress on this diesel swap!
On a side note, does anyone have any recommendations for photo uploading websites that are free? I've always used photobucket, but it's been going soooo slow the past few months and it's really inconvenient to deal with.
02-18-2016, 04:08 PM
Always wanted to do what you are doing, so I'll be following this thread with interest. I've done two gas-to-diesel conversions on the newer style pickups, but am really interested in this.
02-19-2016, 08:09 PM
Well I got around to changing the valve cover harness and glow plug relay. I ohmed the glow plugs and they didn't seem to be bad, but my multimeter isn't that good and I didn't know exactly what I was looking for.

After changing everything, the truck did start up a little easier, but still not easy. It also was sahking at idle very roughly and had almost no throttle response.

I'm not sure If I wired in the harness incorrectly, or if the issues is stemming from elsewhere. I'll have some more time Saturday afternoon to take a look at it, but I won't have money for a while! I really hope this isn't a compression issue....
02-20-2016, 01:44 PM
Okay awesome. I wasn't sure how much of the dash harness includes the accessories and how much is just the base wiring. I'll hopefully get around to pulling the dash and wiring from the donor this weekend. I want to get the engine up and running normally before pulling too much.
I ended up finding out that removing the rear driver side fuel injector/glow plug harness almost does nothing for the vehicle. So it seems likes its running on 6 or 7 cylinders. I'll have to try and figure out if it's just a bad injector or if I didn't plug the wiring in correctly! I hope it's something simple. Changing one or two injectors shouldn't be too big of an issue.
02-21-2016, 01:02 AM
So I tried running the truck again today and for some reason, it ran much better. There engine ran much smoother and started much better. It still slightly struggled to start, but was fairly easy to turn over.
Because of this, I started to work on getting the engine removed. I had some friends over today so that helped the removal process a whole bunch.
Here are some picture of when I did the new valve cover gasket and connectors: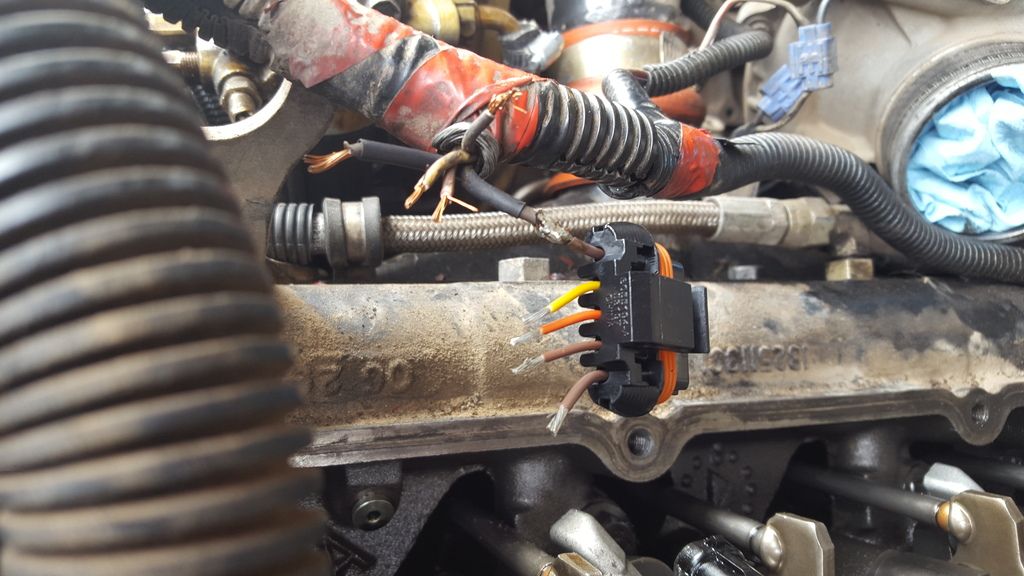 Wiring that up and soldering it was terrible... I'll make sure to leave myself some more wiring room next time I solder something like that. Here is both of them done:
I did a little better on the rear harness connector. I hope these last a while. They are all soldered well, but I couldn't get heat shrink tubing around a lot of the front connectors due to me not leaving enough room on the wires. I wrapped the wires in teflon tape and then electrical tap so I hope that staves off any corrosion for some time.
Anyways, here's the progress my friends and I made: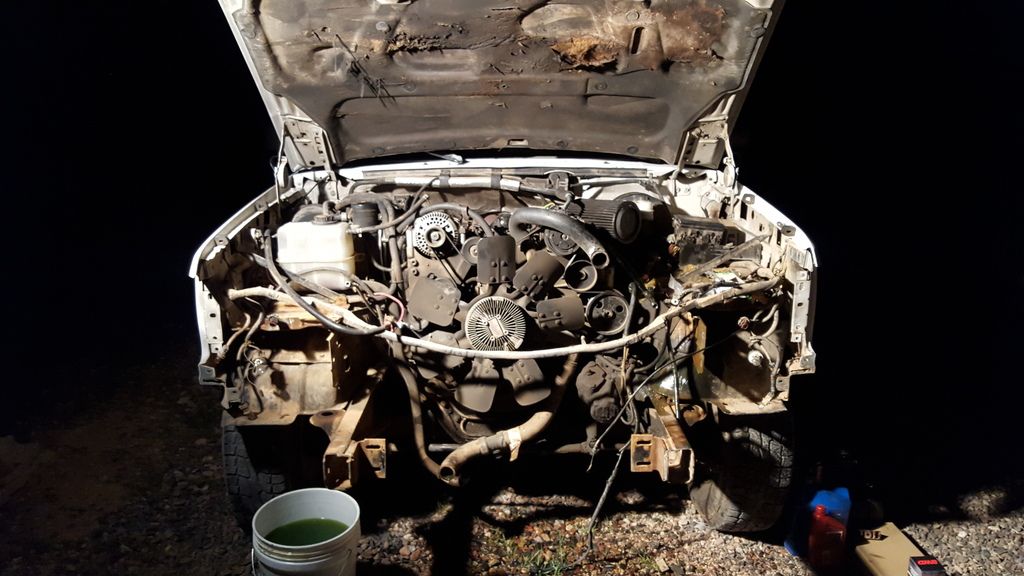 I'll just need to undo the wiring, turbo exhaust, motor mounts, and power steering stuff and it will be ready to pull out. I'll have to figure out what wiring I'll need and what wiring can stay. It looks as if the fuse box panels are the same for the inside and outside of both vehicles. I suppose once I pull the engine out, I'll be able to see what wiring is connected to the engine harness a little better. I'm hoping that taking out the dash harness isn't too bad. I started taking out the dash, but quickly stopped at the instrument cluster because it was getting too dark.
02-21-2016, 01:23 AM
Join Date: Feb 2015
Location: NW WA
Posts: 1,130
Is your mom okay with the mess?
02-21-2016, 12:17 PM
Those are some useful pictures! Apart from taking the dash off, it doesn't seem too bad to swap the wiring then.

I hope it doesn't take me a super long time to get the F250 dash off. I'll have to find a walkthrough or something online so I know what special bolts to look for and whatnot. I was surprised how much of the front end I was able to get of the F250 last night too. Doing that on the Bronco won't be super bad.

The only thing is, the more parts I take off the F250, the more I realize how much cleaning this engine is going to need. It's completely caked in oil and dirt. I have a lot of painting and powder coating I'll want to get done. I just don't have to money for that stuff yet! Taking off the dash and wiring doesn't require me having money though so I can continue to do that in the meantime.

Edit: Oh and no, my parents aren't really upset with the truck which is really nice. I told them I think I'll only have it here for a few weeks more. So I'm hoping I can get everything I need from it within these few weeks.
02-21-2016, 10:26 PM
I do plan on resealing basically everything while the engine is out. I'm not exactly sure all the seals I'll need, but I'll probably figure that out when it's off. I'm guessing the engine has the same spots oil can leak from compared to a gas engine, like the oil pan, valve covers, and timing cover.

I'm going to get a lot of parts powder-coated too. I'm wanting to make this engine look really nice. I do want to refresh things while they are off, but don't want to get into anything super expensive like head work (because I don't know if I could afford that.)I do believe I'll want to refresh the turbo at least though because the blades are looking a little chipped. The more I compare engine bays, the "easier" the swap seems. It looks like the engine wiring harness will be very easy to unplug, and also the headlight harness shouldn't be too bad. It appears I can reuse the engine fuse panel already in my Bronco. There is a side fuse panel though on the Bronco that's not on the F250 so I'll have to look into what those power. I also don't know if I'll be able to get the ABS working in the Bronco because it looks like the F250 didn't have that and I don't know how much of that is tied into the truck's computer.

As for gas tanks... that's a bummer to hear. I know I've read things about diesel eating through some gas tanks based on the coatings or something, but I thought the mid 90s tanks would work. I'll have to do more research to see which tanks will work and which ones don't. I heave heard of people swapping in Bronco tanks into their diesel trucks, so I'll have to find what year range they are using to make sure the tank is compatible. I would hate to have my tank be eaten away and get stuck!

I wasn't able to get too much work done today because I helped my brother work on his car. I did start to take some of the dash off on the F250 again, but got stumped on the side bolts to the dash. I can see the bolts that hold the dash in, but it appears that the doorjamb is in the way of reaching it. I don't want to rip this dash off either because I'll have to do the same thing to my Bronco's dash. Looks like I'll be searching for dash removal walkthroughs tonight!