75 F100 4x4 slow build/ daily driver
11-29-2015, 03:30 AM
75 F100 4x4 slow build/ daily driver
---
I finally stopped procrastinating and tried to start a build thread. I ran into issues loading pictures with Internet Explorer 11 and procrastinated some more.
I finally got it to work with Firefox today. So for all my fellow Ford addicts/ voyeurs, here is some more Internet crack for ya'. It's only fair, I have been drooling on several other member's threads so here's mine.
I am starting with a pretty clean 1975 F100 Ranger with a 360, C6 auto, and factory air (mostly missing except the plenum). It has absolutley no visible body damage other than minor dings and is a 99% rust free truck. It just didn't start per PO and has electrical issues. But for $700 I couldn't pass it up. It came with an Edelbrock carb and intake, headers, and fairly new looking dual exhaust.
I had it towed across town and jumped right into getting it running. My current commute is 100 miles round trip, but I am working on a new job closer to home. If that happens, this will be my daily driver as I do a semi-restoration and full mechanical rebuild. That will slow things down a bit, but I like the idea of ditching a car payment which will help pay for all of this faster.
The first problem I found was pretty easy to figure out. It had no battery and some cheesy, broken aftermarket plastic junk which was allegedly a battery box. A trip to the Pick n Pull, some paint, and undercoating fixed that.
I picked up a new Interstate and quickly got a lesson in arc welding trying to hook it up. Turns out the starter solenoid was stuck closed. Luckily there was only minor damage to the terminal. Once the solenoid was in, it cranked right over but refused to start. Checked spark and it was good, so popped the fuel line at the carb. It sputtered some orangish, clearly bad fuel and then nothing.
Before checking the fuel pump, I tired to siphon the tank dry to put in some good fuel, but it turns out that is why it stopped spitting so quickly- bone dry except what was left in the lines. Threw five gallons of fresh fuel and some cleaner, cranked for a while and she roared to life loudly enough that everyone in the house came out to see what I was up to.
So now she's running but I wanted to check the lights out before a road test and it's a good thing I did. I found out that the electrical issues were pretty much true. A lot of it was simply putting the fuses back in.
That and a few bulbs later, I had all lights working except reverse lights. While testing those I also noticed some issues with the shifter. I found a wire broken off the NSS and fixed that, but still no reverse lights.
In the meanwhile the turn signals stopped working. Got as far as finding that they are not getting full voltage and gave up to work on the shifter because my new steering wheel had arrived and I would be half way into the steering column already.
Once I opened everything up, I found this little gem.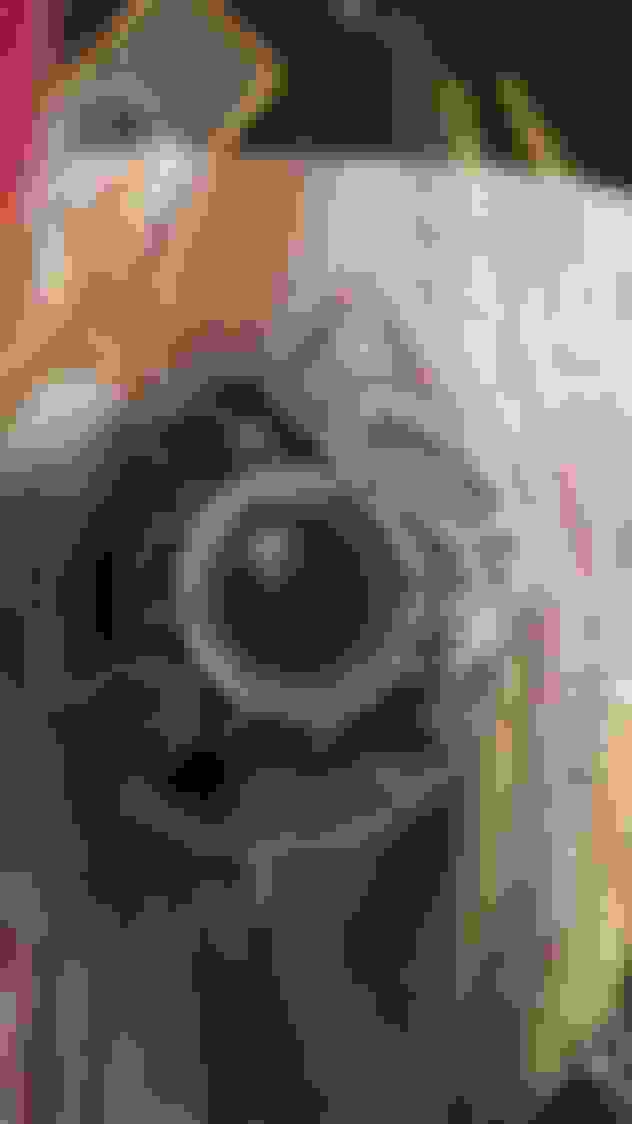 While fixing the column flange, I also replaced the shift collar, broken shift indicator, upper column bearing, and replace the missing spring. It all looked great and shifted right after all that, but the horn is not working and the turn signals are still no better, but I did verify the turn signal switch is not the issue. I'm still working on getting to the bottom of these issues. Chasing and cleaning grounds, but no joy thus far.
While ordering other parts, I picked up some new front marker lights to replace the ones that literally had moss growing IN them.
For now that's all there is. Hopefully I can exorcise the rest of these electrical demons soon so I can actually take it for a test drive to see how much else needs to be done. In my spare time I keep cruising Craigslist and the local wrecking yards for more future additions. I already have three up on deck. Buying parts is quicker than the wrench time required....
New seat to install
$25 wheel upgrades
Picked up 3G for future project
11-29-2015, 09:53 AM
Looking good, stay with it. Here is some reverse light 101.
When the trucks came with a manual trans, there was a dummy plug used to bypass the NSS switch. I've never been able to come up with a part number for the dummy plug. To bypass the automatic set up: Unplug the switch and discard or ignore. There are four wires in the harness plug, two each, red w/ blue trace and black w/red trace. Run a jumper between the red/blue and red/blue, do the same for the black/red. That completely bypasses the NSS switch. (not a safe idea though) Your truck will now start and the back-up lights will be permanently on.

Now onto the backup lights. In the engine compartment is a little U shaped jumper wire. It'll be located on the drivers side splash pan, just in front of the firewall where the wiring harness comes through. Unplug the little jumper, this will shut off the back up lights. There should be a back up light switch on the trans cover or the steering column. Run two wires from the switch to the two wires that were jumped. This will get your back up lights working again.

Justa note, you could make a jumper plug out of the NSS. Cut the switch off the harness and splice the two pairs of wires. I just hate to cut these switches up. New, they're getting pricey.
EDIT: If you don't care about the back up lights, just jumper the red w/blue trace wires. This will by pass the NSS but the back up lightswon't work.
11-29-2015, 07:10 PM
Yes there should be and it should look like this. 1st pic is a NSS for a C-6 auto, down on the side of the trans for a 77.5-79. 2nd and 3rd pic is a 73-77 NSS on the underside of the steering column. And for the record the last pic is NOT the way to bypass it.
12-01-2015, 10:15 PM
Project backlog #4- new to me complete used 390 crankshaft and rods. Pistons are no good with pretty heavy wear on the skirts, but I plan to use new ones when I get this deep anyways. Total cost for all this? $0 and a hearty handshake. Random Craigslist guy just trying to clean out his shop. It looks good, but even if it mics out bad, it still saves me the core charge on a new one.
12-05-2015, 10:36 PM
The wheels are the 15" variety from the a 92-96, so they will fit. I saw two sets on a 93 and 95 in the JY on my last trip and have seen them on another dent build thread recently. There are some from the 97+ that look very similar.


The seats came out of a 93 or 95 F150 Eddie Bauer- don't remember which year. It's won't be a direct bolt in like the regular bench, but it doesn't look to be too much work. I decided it would be worth it for the console storage and better placement of the cup holders. The three seat sections are all mounted on a fairly flat metal pan. They two outer seat portions slide independently on tracks on top of the pan. There are supports welded on the bottom where the tracks normally go, but that year will 99% certain not match the holes in the floor. I will either drill new holes in the floor if the supports match the contour of the floor well enough or cut the supports off and bolt the old tracks in their place.
02-07-2016, 11:34 PM
I told ya'll I would be slow. While the rest of the world watched the Super Bowl, I was replacing the rear sliding window. PO had what I am guessing is a window for a 67-72. It fit pretty well except the top was straight, not arced like it is supposed to. They had fabbed a piece of plastic to try and fill the gap and hold the seal up against the top. Needless to say, it leaked like a sieve. I found one out of an 88 at the local JY for $20 and it is tinted and I prefer the black frame look anyways.
Before (notice the gap between the seal and the top frame of the slider):
After:
Gave it a good wash finally and finished off the evening getting it to idle below 2,000 RPM. Still need to figure out the turn signal issue and build a jumper wire for the steering column so the horn will work. I am dying to go for a ride.
02-08-2016, 09:33 AM
I pretty much went with what was readily available and inexpensive for the seats. I have set a goal of around $5K total for this truck. Don't tell the Mrs., but I think that is probably going to go out the window after checking machine shop prices...

The seats are probably next up as I need to get them out of the garage. That was my ulterior motivation for getting the back window done. I lost my prime parking spot in the garage while I put up drywall and doing some structural repairs discovered while prepping for said drywall. If life would just get out of the way, I would have a lot more time and money for getting this truck done!