The Cowboy Cadillac's Build Thread
06-12-2015, 04:46 PM
The Cowboy Cadillac's Build Thread
---
After getting the 6.9s on the farm all fixed up, I finally had time to start a build thread for my 7.3. Bought her back in March and managed to hold my PMS back until last month when I began some simple modifications to the girl. It all started one day when this pretty tape-covered box showed up on my doorstep...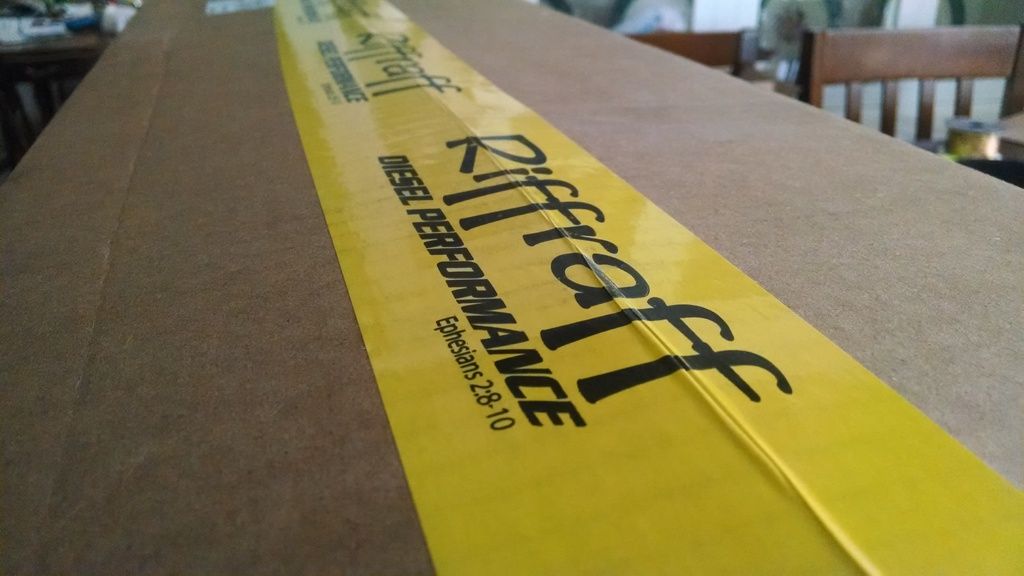 Busted her open and got to installing all the goodies. A new EBPV sensor/tube was installed. The new sensor looked a little too shiny to be in the engine bay...
After some finagling, I got this beauty installed along with a muffler delete pipe. The old girl can breathe again (Sounds real good as well)!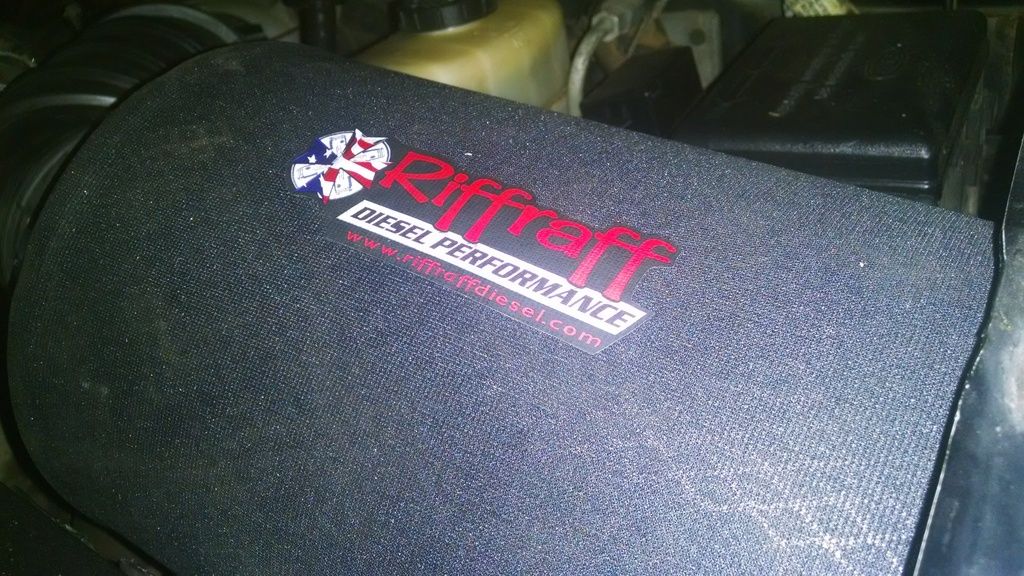 After installing these doo-dads, I managed to jump up to 17.2MPG from my previous 15MPG (Hand Calculated). The filter and muffler were pretty dern stopped up when I looked at them after I installed the filter/delete pipe.
Thanks to you all, my mod list continues to grow. One day I plan to have her putting out roughly 400-450 HP at the rear wheels.
06-12-2015, 04:48 PM
Now that I have the past month's activities up to date, I can post what I have done today. I decided to tackle my problem of the clutch not disengaging completely. I went to Advance Auto and picked up a pre-bled master/slave cylinder kit and set out on my way. After removing my old slave, I measured from my clutch fork to the bell-housing just to see if my fork was bent. Well... Take a look for yourself...
If I remember correctly, it should be about 2.5" whereas mine is 2.75". I attempted to take a picture inside the housing to see if the fork was bent, and couldn't quite tell. Best one I was able to get was this one: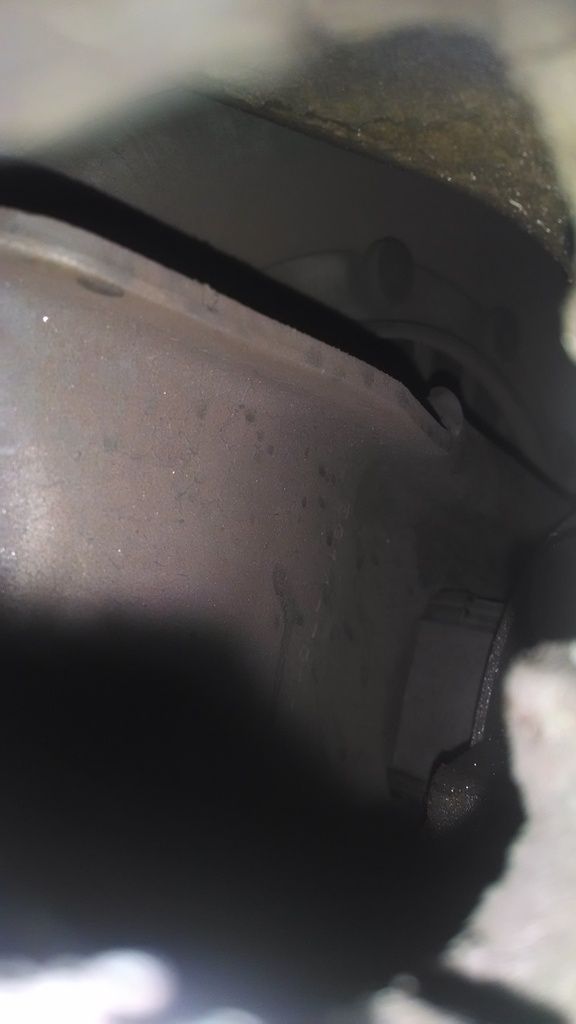 Want to say that I now have to pull my transmission to fix that fork. If I do have to replace the fork, I figure on installing a Southbend 1944-6OFEK (475 HP, 900 FtL-bs Torque w/solid mass flywheel). Would also install the new fork while I was in there and throw in the new hydraulics then.
I am really hoping that my hydraulics are just worn out and I do not need to replace the clutch fork. Actually, I do know the hydraulics are worn out as yesterday morning when I went out to the truck to head to work, I saw a nice little spot where some fluid leaked out onto my floor mat. Guess I should go ahead and change the assembly anyway despite the lingering fact my clutch fork may be bent.
06-17-2015, 02:54 PM
They are, ordered one from my local dealer on Monday and had it in my hands at 0900 yesterday. Aint she just purty?
I also went ahead and ordered the Infinity from DP-Tuner. Big thanks to Justin for answering all the questions I had, and Jody for helping me fix my payment screw-up. Great customer service like they have is hard to find these days. Will be happy to give them another paycheck in the future when I get another toy that I need them to work their magic on. Granted they may need to fight Clay at Riffraff for it
If all goes well, the clutch fork will be put in this Saturday. I pray that I won't have to run out and grab a clutch to throw in, but if the thing is worn may as well go ahead and put it in. Had enough fun pulling a ZF5, so this ZF6 is gonna be interesting. Anybody got some pointers they'd like to share?
06-17-2015, 07:42 PM
Here's mine from a few years ago.
Be sure to snap some good photos of the damage to the old one and a comparison shot of the old vs. new side by side. Seems like many of the old pics we used to have are gone now.
06-19-2015, 08:56 PM
Will be sure to grab plenty of comparison pictures. Was hoping to get it in this weekend, but as of right now that isn't going to happen as I don't have a large enough transmission jack available.
In other news, I received my Infinity/F6 today but, unfortunately, cannot install the chip until at least next week as I wasn't sent the cable to connect the F6 to the CEI-Hub. I did receive a FEPS cable though. Now the dern chip is just sitting there and taunting me on my workbench.
Oh well, what can you do?
06-26-2015, 10:14 PM
Finally got another update for everybody. Got the F6 in last night and all I can say is holy crap, this thing is a completely different truck! Jody really knows how to liven these old Powerstrokes up. The truck is extremely more responsive and seems to run a bit better. I didn't notice the truck being louder like many people have reported, but that could be due to the fact that I have had it straight-piped for awhile. The tunes I have on the F6 are as follows:

0 - No start
1 - Stock
2 - 1200 Hi Idle
3 - 60 Tow
4 - 80 Daily
5 - 100 Performance
6 - 120 Race

The 80 Daily really seems like a nice middle-ground for the truck. I am running to Durbin West Virginia for work tomorrow and will see how it does in the mountains. I am also trying to figure out the best PIDs to monitor on the Infinity. TFT reads straight 30 (presume this is due to my truck being a six speed and not having this sensor), and TCCDC reads 0 all the time. I played around with different PIDs earlier today and found a decent amount read straight 30. Guess that is the default value my PCM likes to put out. Any ideas?
09-19-2015, 11:24 PM
Finally have another update for everybody. First up is the old 7.3 still tows fairly well. 91 failed inspection due to a hole in the tailpipe roughly six inches from the outlet, and the inspector pulling the reverse switch plug claiming the reverse lights don't work at all. Needless to say they weren't happy when I said I do all my work myself, and to drop it so I could throw it on my trailer and take it to the shop. Not going back there again. On a happy note, here is a picture of the beautiful couple:
After all towing was finished, naturally, I scored a pair of tow mirrors for the old girl locally from a guy that did the 08+ swap on his 6.0. They are power mirror, marker/signal, and heated. Picked this pair up for $125, with only a couple blemishes.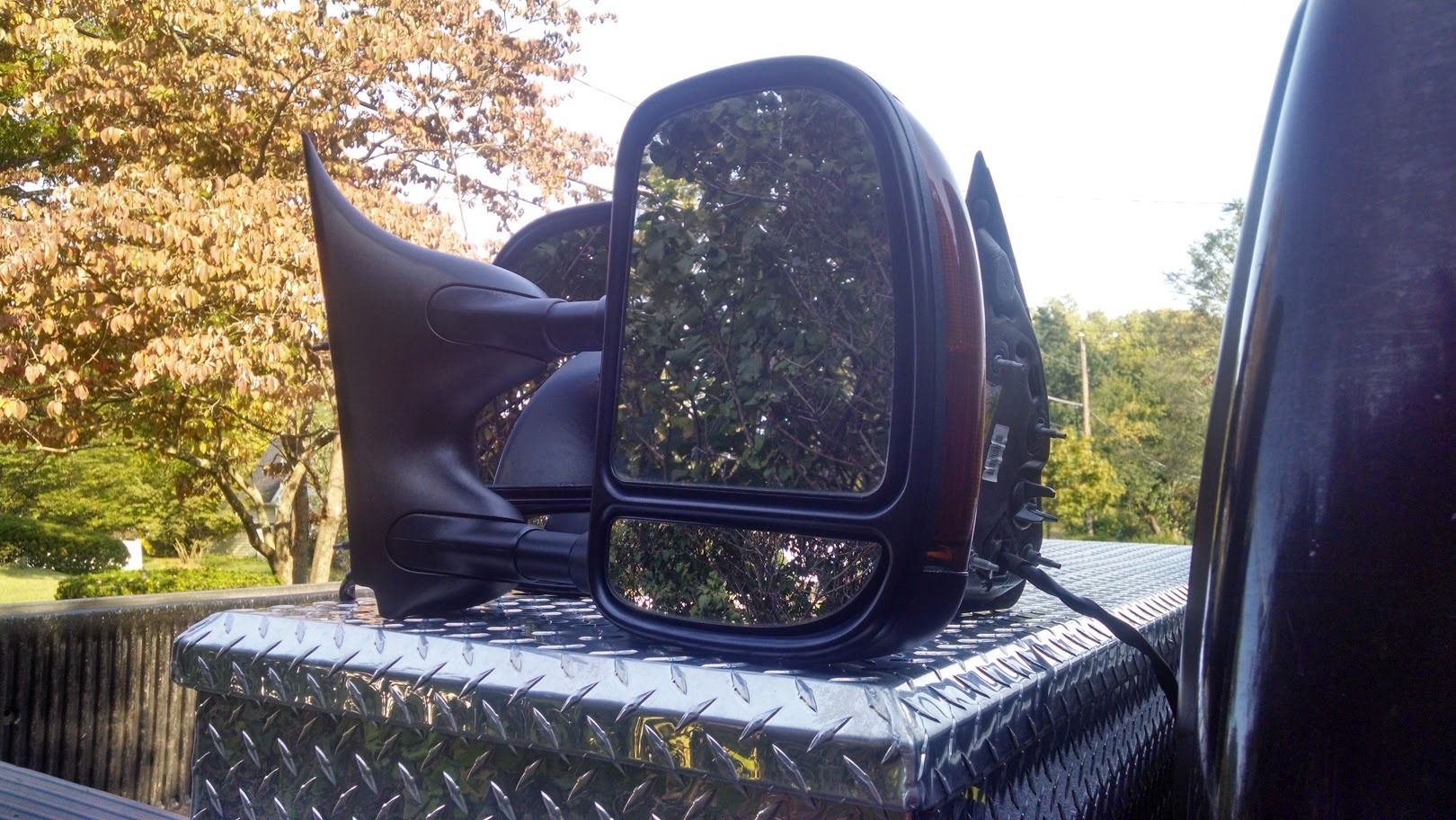 Install went fairly quickly with few photos being taken, as I was just too dern excited. Managed to grab a picture while I was watching my friend's dogs on Friday.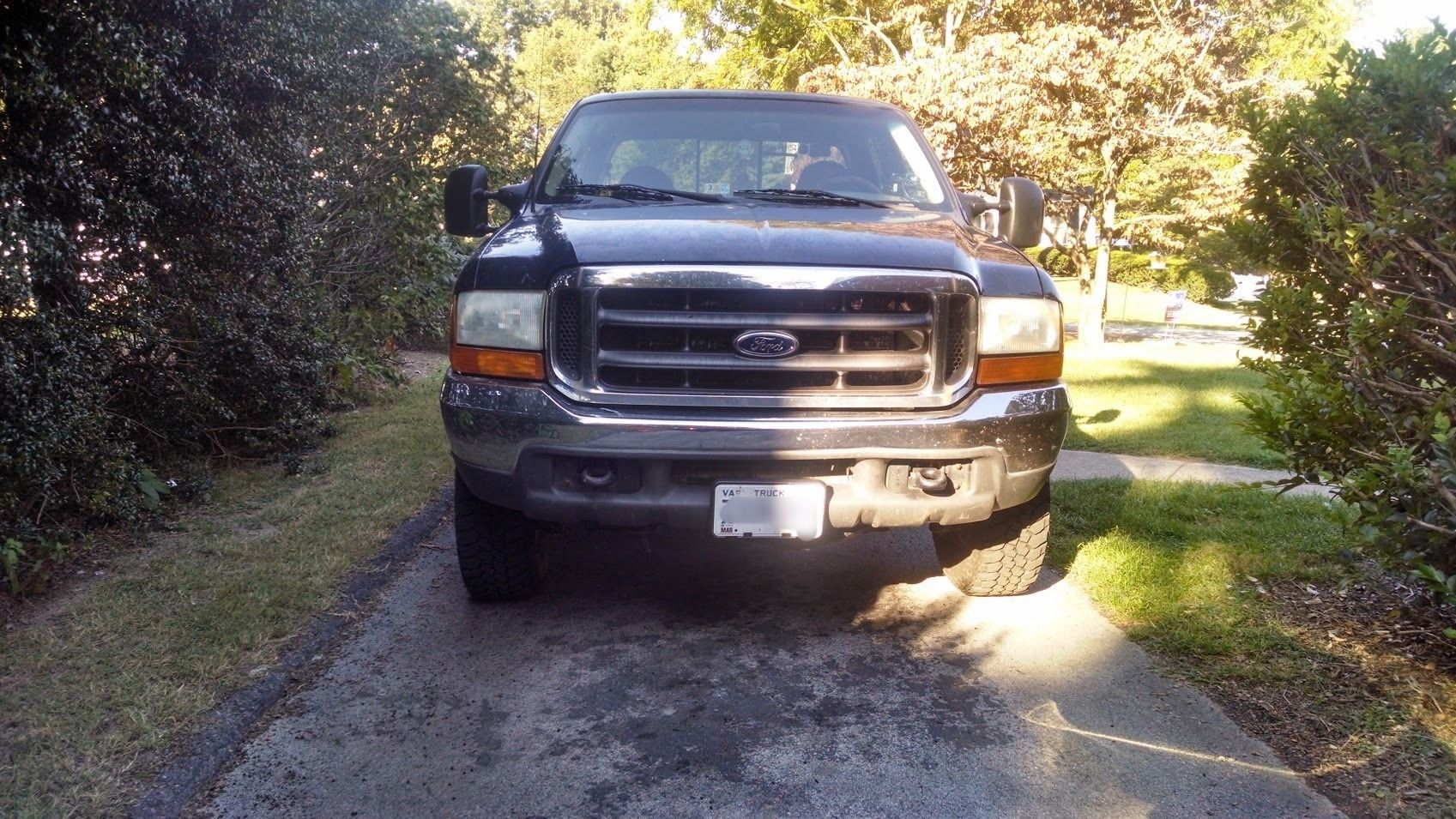 My question for my fellow FTE brothers is if anybody has the part number for the square connector/pin inserts itself, or a part number for the connector with pre-installed wires. I am wanting to replace the round plug completely with the 10-pin square one for a factory look to it, while keeping less clutter out of the panel. Only thing I have found is an adapter for the round to square.
03-26-2016, 11:44 PM
Well everybody, I finally have some time to sit down and do a write-up on my turbo rebuild. I've gotten some miles under my belt with it and will be doing a review in the wheel thread here soon.
Anywho, I'm not the best at stopping to take pictures while I am working, but took a fair amount while doing this rebuild. Unfortunately the only camera I could use was my phone, so I pick and chose the decent ones for you all.
Wrestled the old turbo out and set out to get everything somewhat clean before reinstall.
Judging by the spyder, other than exhaust work the turbo hadn't been touched at all.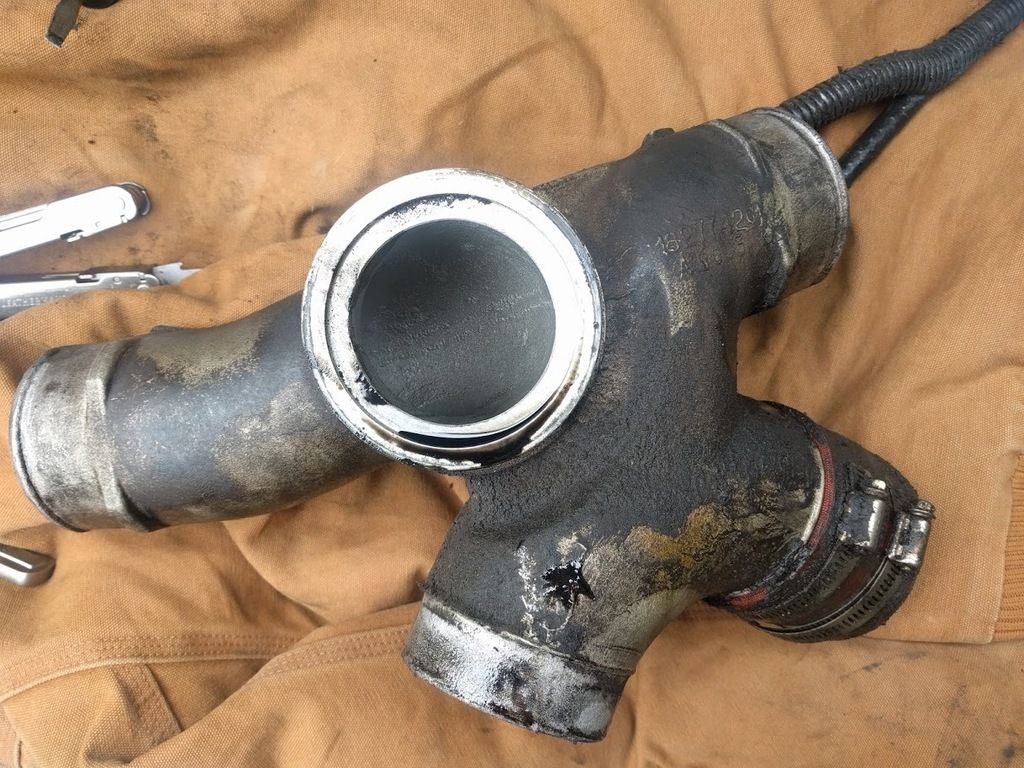 Compressor housing removed: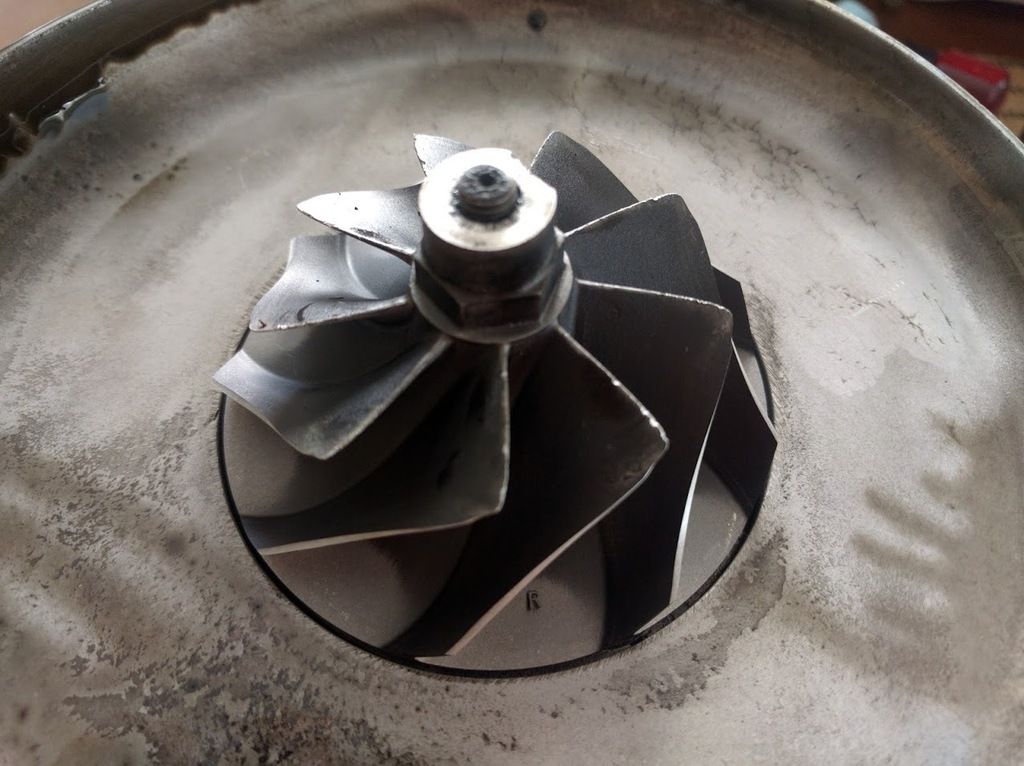 I do believe there was a tad bit of a leak in there...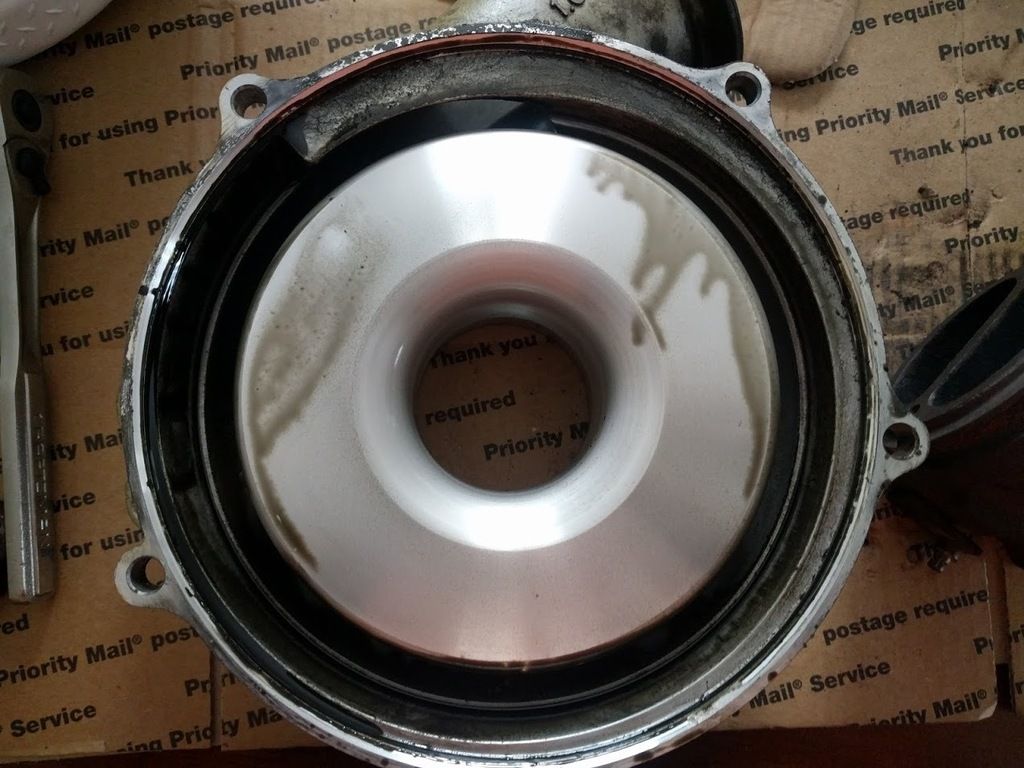 Yep, seals were definitely leaking...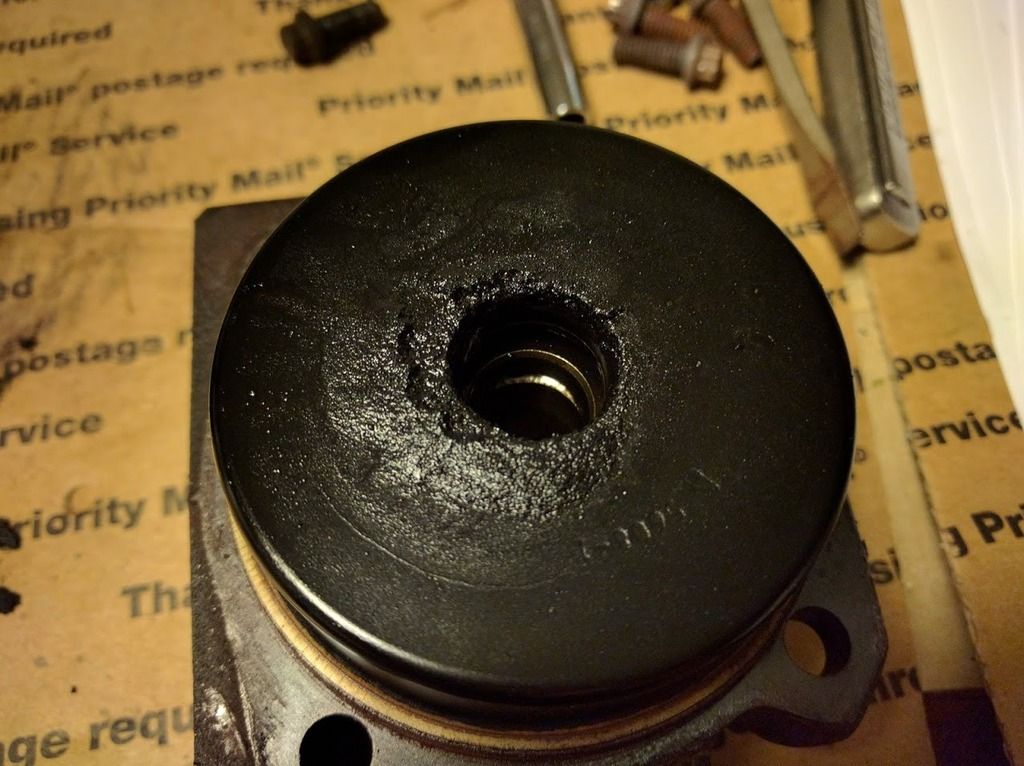 Finally got the heat shield to let go, and boy am I glad I got it to come off. Cleaning was desperately needed!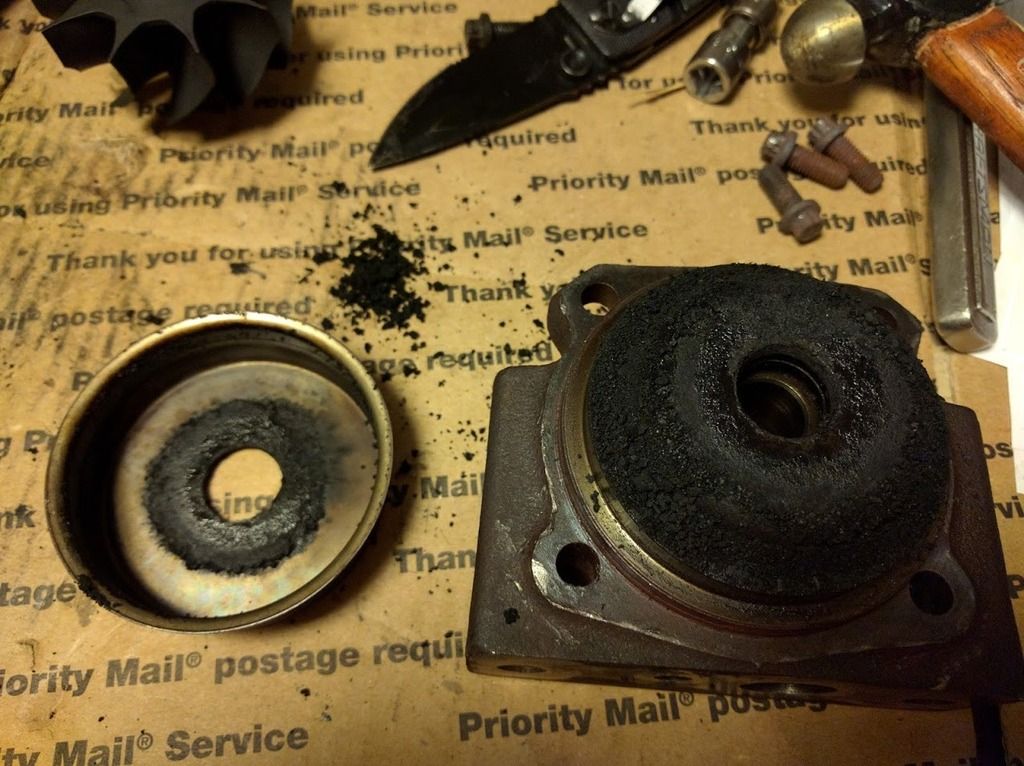 All cleaned up and looking heaps better: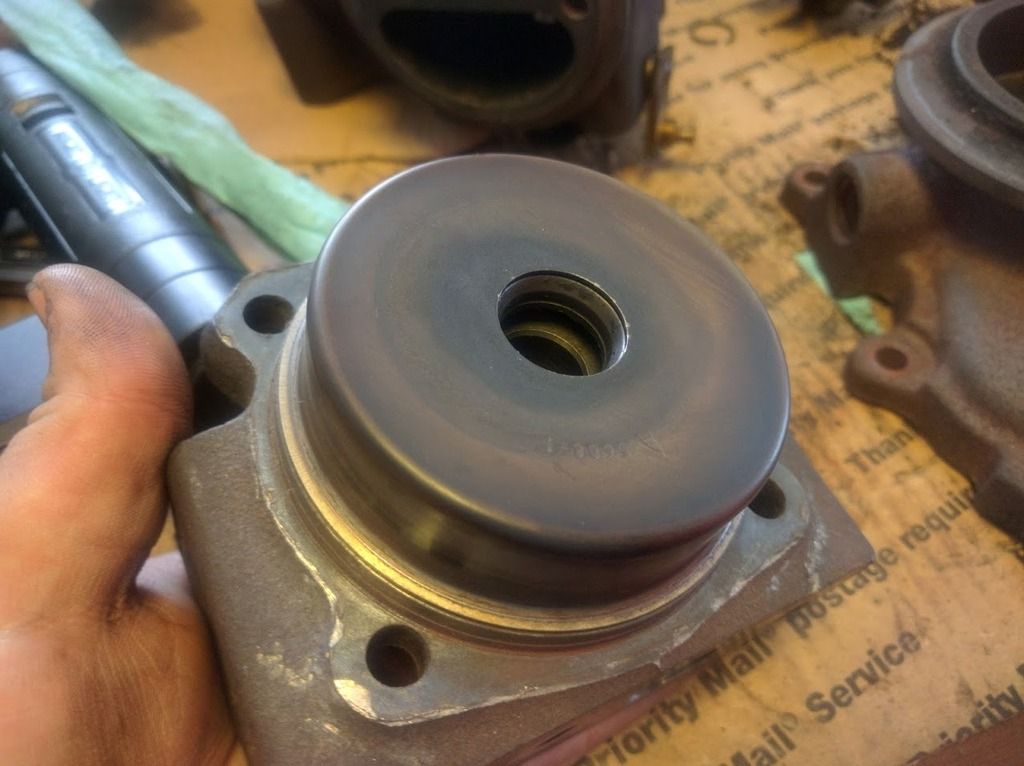 Got everything cleaned up and slowly re-installing everything. Looking good as new!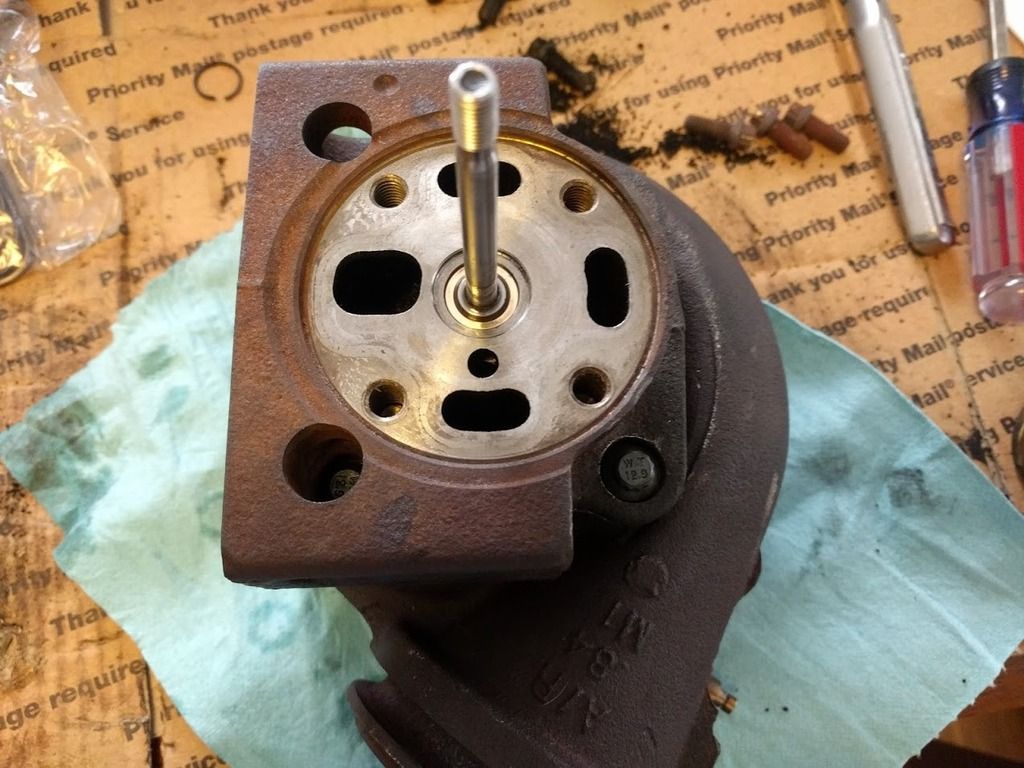 Compressor housing on and torqued down:
New wheel installed and torqued. This wheel is prettier than most of the people I know!
The new wheel is a bit intimidating when looked at through the inlet...
Also, a bit of a surprise and last-minute decision. Ended up deleting my EBPV. Was going to wire it up for manual actuation, but decided against it.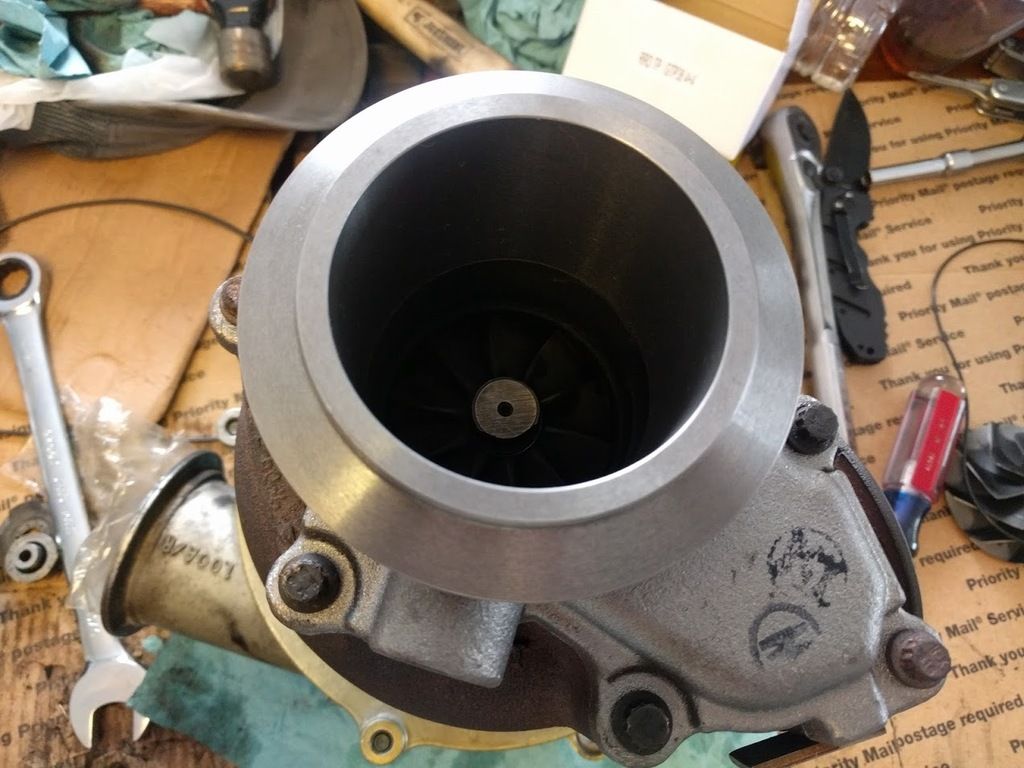 Also, think I found where all the oil in my driveway came from!
Got my plenum inserts installed.
New pedestal and the freshly rebuilt turbo now installed.
03-26-2016, 11:55 PM
While I had the truck down for servicing I decided to tackle some other tasks that have been waiting until I had time to do - Wiring up the tow mirrors, a new Infinity mount, and making it so I can actually see at night.
Wiring my mirrors and making it so I could see at night really went hand-in-hand, as it is one of those I would rather do all wiring at once vs spread out and in short bursts. Anyway, got everything wired up and the 05-07 lights installed: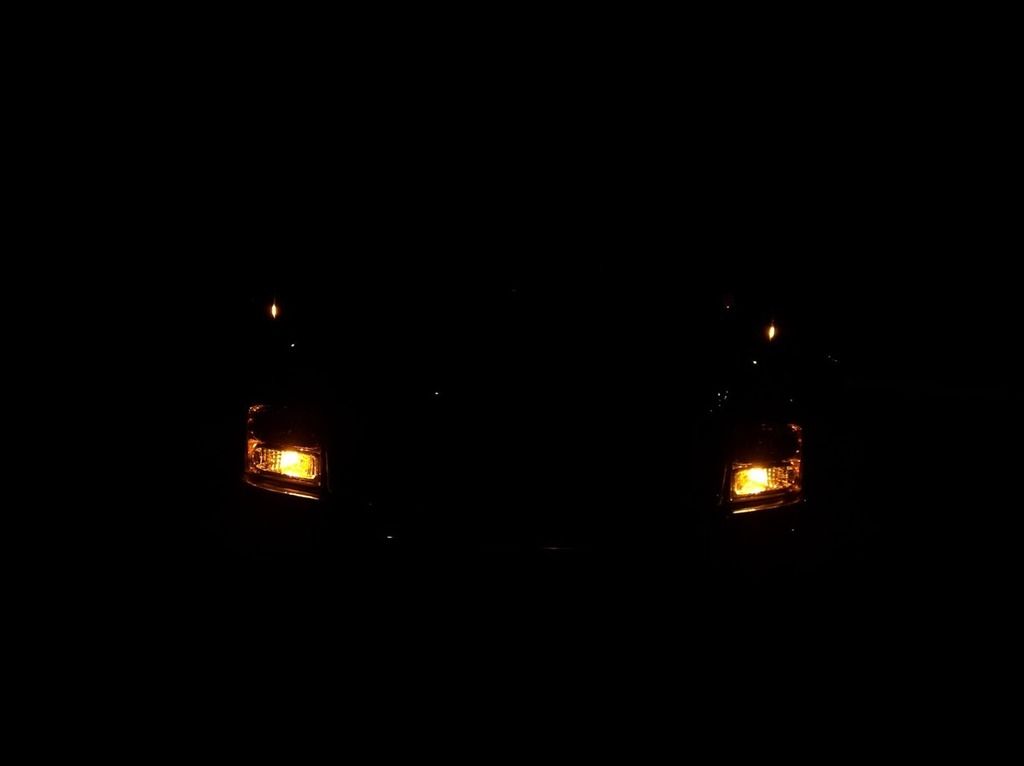 I actually found my header panel was a bit bent after I installed the assemblies, but was able to shim it straight again. Next task was to make sure all is adjusted so I don't blind others. They lined up almost perfectly (drivers was a tad low after shimming).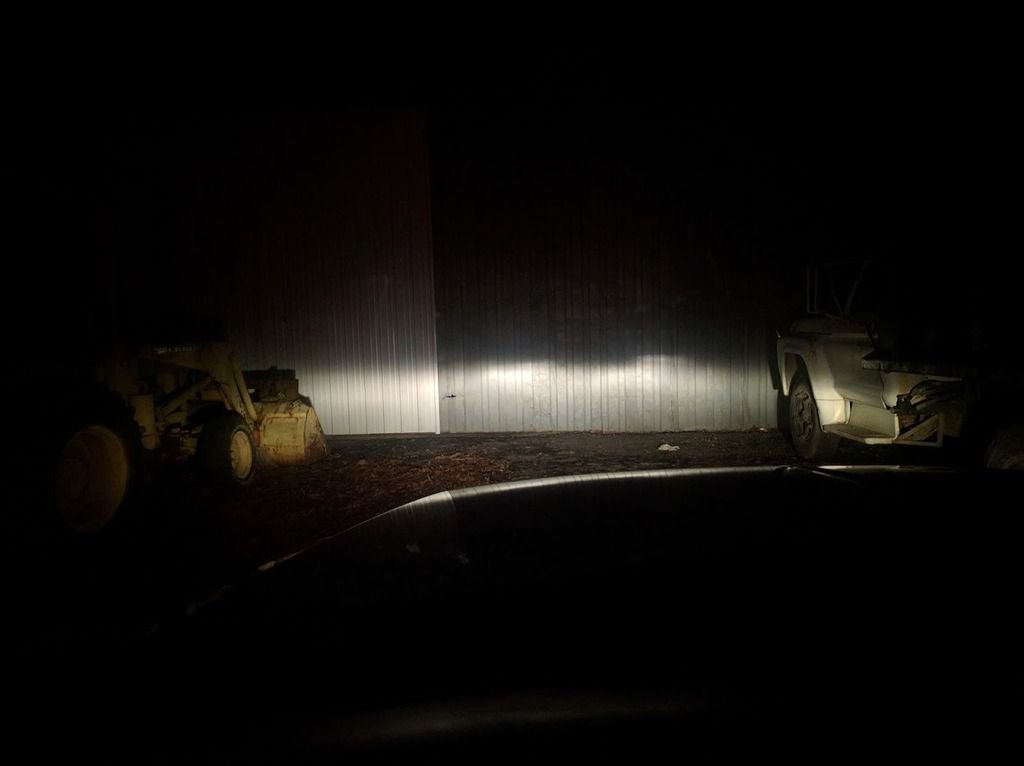 I then went and modeled up a makeshift windshield mount for my Infinity and printed it out. Not too bad for about twenty minutes of designing and twenty-five to print. For less than an hour of work to get a new mount, I'm not complaining.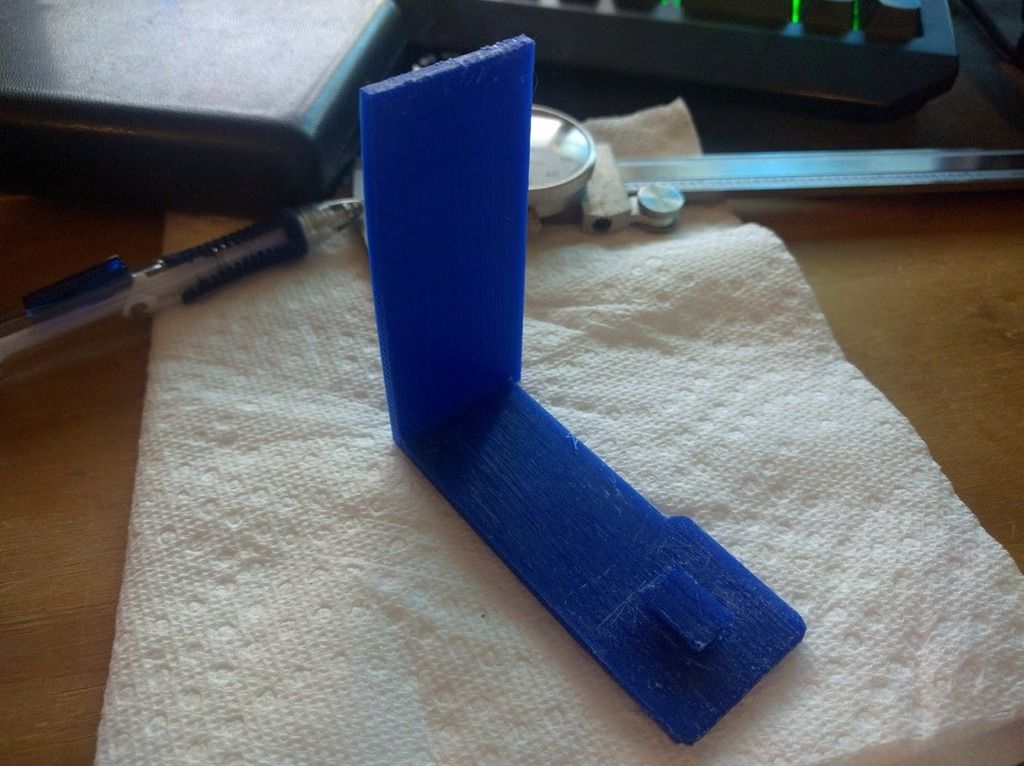 Slipped right on in as if it was always suppose to be there: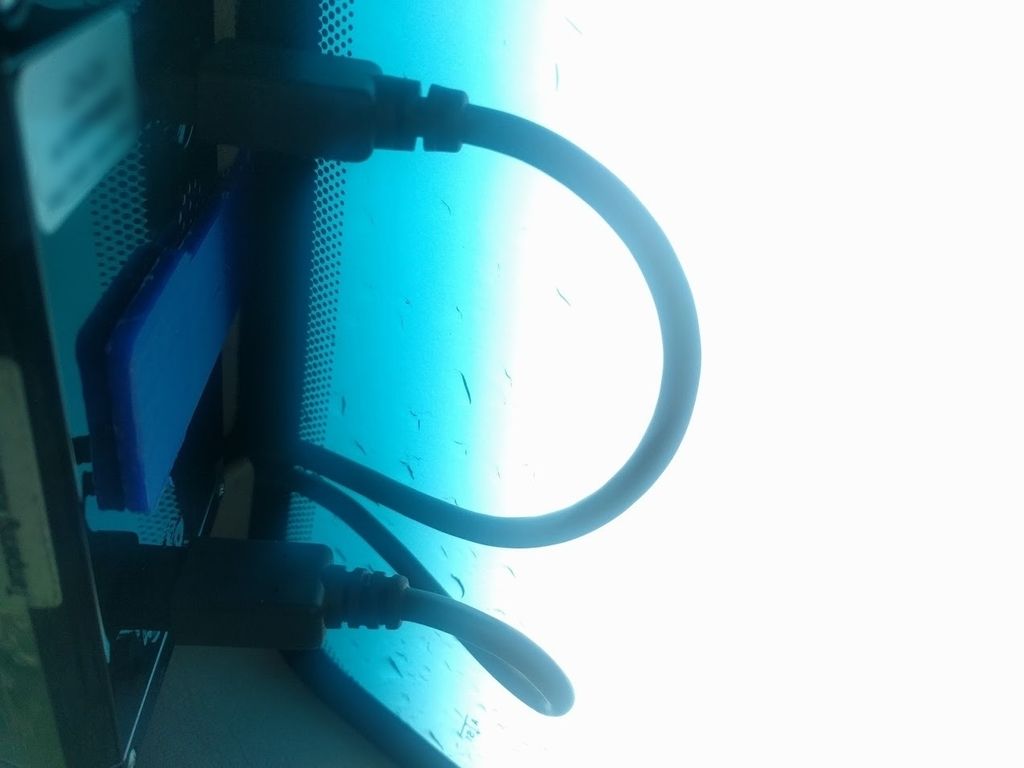 Not too sure if I am going to keep it there, as it feels as if it is blocking some of my view. I may end up modeling something similar to the edge mount for where the A-pillar meets the dash. Not 100% sure yet, but will eventually decide.
Also, ran into a bit of an issue with my mirrors. During the testing phase of my mirrors, I found that my passenger side mirror adjusts in all four directions as it should, but my driver's side will only go up/right or down/left (When pushing up/right or down/left respectively). I moved the mirror without the switch in and it still did it (ruling out the switch). Both mirrors ground to the same exact point, and the previous mirror worked fine. Double checked my colors and all match up correctly. Been searching for a couple weeks to no avail - seems those that had a similar problem found their switch had gone bad. Should I look into getting a new driver's side mirror or are there more points of testing I should tackle?
03-27-2016, 01:13 AM
I have the same issue going on with my 07 mirrors and also did it with the 99 mirrors. I replaced the switch and didn't fix it. I have been trying for a while but if you find something out please let me know. Truck is looking good!
06-11-2016, 12:09 AM
Thanks for the kind words guys! I know I haven't really had much to say about the truck here lately, but in my defense I have mainly just been clocking miles on her. I should hopefully have a review on the RR wheel coming out soon, wanted to make sure I got a good amount of time in the seat with it to give a good review. I did manage to throw an over-boost code with a modified MAP table with it though.
Anyway, as some of you know I recently did some work on the old girl. First up was to put in new U-Joints and a carrier bearing. Once I had the driveshaft out, I found that the carrier bearing that was installed was actually in decent shape so I passed on replacing it. So I threw these guys on. No more rumble strip at 55 or loud clunks when taking off!
Took the shaft down to the shop to bang out the u-joints (literally) so while I had it out I figured I might as well do the hutch and harpoon mod. No driveshaft made it a whole lot easier to get the tank out. While I had it out I went ahead and cleaned the tank and the fuel filler neck up. Both don't look half bad after all the dirt was removed!
Got the mods all finished and fixed my float issue, which I did a write up for and can be found
HERE
.
Found out my truck was number 4100 to somebody. Was written on the bumper as seen here and on my fuel tank shield. Whoever it was decided to get a little artsy while they were at it...
Of course I got that all fixed and now I am looking at having to replace even more items. However this time is more of a peace-of-mind and better ride ordeal. The tires I have on my truck are very choppy, which I believe has been caused by bad shocks. I have been thinking about going ahead and replacing the shocks, but have been weary of doing so in fear that the choppy tires may just wear them down prematurely. My other option is to get a new set of tires. I have found a couple sets for sale locally that are in decent shape, with a couple sets that are decently priced. One is a set of 2012 Super duty rims with Nitto Terra Grapplers and ~75% tread for $500, but they are 295/70R18 vs 265/75r16 my truck calls for. I know to run these I would need 2" spacers, and am a little weary of running those. Another set I found is for $400, but are 33x12.50x16.5 BFGoodrich All terrains on 16.5x10 Mickey Thompson classic II rims and look to be a bit more worn down (not sure if I would need spacers to run those). There is also a set of 265/75r16 on tacoma wheels for sale for $400, but are basically an on-road tread. I plan on doing some looking around and doing some more research in the morning, getting a bit late to keep looking at numbers and not get them all mixed up.
Would be picking up one of these sets of tires and replacing my shocks now be my best option as far as correcting my bouncy house riding at 45mph, or would attempting to wait it out until my current tires are worn down more be a bit more practical (Current tires have about 20K miles on them)?
Thanks for any insight guys!
09-25-2016, 09:47 PM
Alright everybody, time for another installment of fixing my truck as it doesn't like seeing my wallet have a little bit of padding to it!
On this episode, we tune in to Charlie driving back from visiting his mother in the hospital. As he pulls up to a stoplight about twenty miles from home, he notices his clutch is dragging. After pumping the pedal, his clutch came back and he went on his merry way for the next 100 feet until he had to shift. It was them that he found he was unable to disengage his clutch! He managed to limp to the nearest parking lot (Ironically it was a Ford dealer and he ended up parking next to a 2017 F250). After inspecting for any obvious hydraulic or mechanical issues, he drove on home without a clutch and hit the hay in order to tackle the issue head-on the next day.
The next day looking at the clutch with an inspection camera revealed nothing, meaning Charlie's only choice now was to drop the transmission and find out what was going on. After pulling the monstrous beast that the ZF6 is, he pulled the pressure plate off and was greeted with the following gruesome images:
In all seriousness, replacing this clutch was really a bear of a job. I threw a Southbend in it, and man does it look better than the old clutch that was in it!
Also, turns out my fork finally decided to kick the bucket as well. Here we can see the old and new designs side-by-side. Hopefully the old fork isn't whispering dirty secrets of how to fail prematurely to the new fork.
As if needing to replace the clutch wasn't bad enough, when I took the starter off I was greeted by this picture:
Turns out my starter is a three bolt! Ever since one bolt backed out and it dislodged itself, I assumed it was a two-bolt. Some time back the third ear broke off. Threw a new starter at it and man, this thing cranks over FAST! Cut my start time almost in half (roughly 2.5 seconds to about 1, 1.5 seconds) and I couldn't be happier. Probably the best $150 I have ever spent!
On a good note, I have been driving the truck a bit lately and have really just gotten to enjoy it. I do have another round of Buck$zooka blasts that will be thrown at it soon, which includes X-Code springs, a new bed, lots of rust-fixing, maybe a move to the 08+ mirrors, some interior mods, and possibly a new paint job.
Oh, I also somehow got my power mirrors fixed. I took the glass off to see what exactly was going on, and the adjustments worked fine until I plugged the heated glass pad back in. A little more messing around later (read: prodding and poking wires) they magically starter working again. I have no idea how or why they suddenly decided to work, but they did and I wasn't about to ask questions. Best thing I can surmise is that one of the motors had a loose or chafed wire that ended up sending signals to the other motor at the same time. Guess we will never know!
I hope I will get better at taking pictures while I work. First step may be to get some gloves to work on the truck with so I can handle my phone or camera without getting crap all over it!
09-26-2016, 08:32 AM
Join Date: Mar 2015
Location: Blairsville, Pennsylvania
Posts: 5,276
I enjoyed this week's installment of "Charlie and his Smoker" TV
Looks like they redesigned that fork with a little more reinforcement past the fail point. Must be a common problem?
I remember one of the first major things I did on our tractor was help split it and then it was my job to remove each plate holding the friction plates by drilling out the hammered rivets and then we moved them to the new center piece to build a "new" pressure plate.
The plate had hit and bent the little spring holders. The carnage looked just like yours!
I think that was in the early 70's though...
"parking next to a 2017 F250" LOL!