New Powerstroke Owner in Denver
08-16-2015, 08:05 AM
Another shot of the X tank installed. The blue hose is my TIH lines and purge hose wrapped with insulation and placed inside collapsible vinyl hose. This makes a thermally efficient and durable hose bundle.
08-16-2015, 09:47 AM
Here's the veggie pump, FPR, filter, check valve, purge valve, fuel press sending unit, coolant pump, coolant wrap on filter... You can also see the Veggie Garage PTFE SS braided hose leaving the manifold block on right side and headed up to the tee on pass-side head.
Here's the Racor pre-filter and the other end of TIH.
10-21-2015, 06:10 PM
Join Date: Feb 2015
Posts: 103
Update!! I just wanted to update this thread. I havent had a chance to work on it in a while. I have all the plumbing parts together and sent a template off to the fabricator to make a bracket. I will post pics when i have it all together.
11-05-2015, 10:43 PM
Join Date: Feb 2015
Posts: 103
Tank
Closeup of Plumbing
Tank in Truck Bed, Plywood is going away before I mount it.
Here are some pics of the tank set up. I will be painting the bracket this weekend and mounting the filter, pump, etc.. next week. Got a good idea on how I want to wire it. Picked up 40 gallons of grease today. Just might make it to MI on grease for Xmas.
11-08-2015, 08:11 PM
Join Date: Feb 2015
Posts: 103
Filter System
---
Here is the filter system, for the most part. There will be a aux coolant pump from a w123 Mercedes (it has 5/8 hose barbs) and there is some plumbing missing on the back of the filter.
11-10-2015, 09:56 AM
That looks GREAT Bill!!!!!!
Couple of questions...
Why so many primary filters and how are they plumbed?
What purge valve are you using?
My biggest concern for the filters is keeping the oil warm enough to flow through them in cooooold weather.
I don't see a port for fuel pressure sender. I suggest adding another tee in front of CV/ next to purge valve for fuel pressure. This way you are monitoring pressure on both fuels.
As far as wiring goes, I use 3 switches (D2 pump, VO pump and PURGE). I put 4 relays under the hood (D2 pump VO pump, purge and coolant pump). I use the stock power feed to the D2 pump to power my switches and VO gauges (fuel pressure/fuel level). This means the fuel pump(s) will only run when PCM tells it to (shuts off if engine doesn't start, inertia switch works, etc). I just wire coolant pump relay to be energized by the OE fuel pump feed - along with switches and gauges.
My wire harness (includes fuel pressure and fuel level wires) goes from VO pump, etc up over the trans/t-case and along the inside of the frame (passing by OE fuel pump, so a 10ga wire feeds pump from relay and a smaller wire 16ga? carries OE pump feed up to the switches, etc)
Here's the F650 dash I use for switches and gauges. (I have these switches made for my conversions) Purge is a momentary switch and the purge relay is a delay-on timer relay.
Keep up the great work! Can't wait to see this thing greasin' and you grinnin'!!!!
11-10-2015, 10:35 AM
I don't remember if we talked about this, but I just came across this pic... I tee into the heater core hoses with brass tee's (3/4" PEX tee's are the right size). For my southern customers, I also add a valve to stop coolant from entering heater core in summer (for cooolder A/C!!!).
You can also see the black Hytrel-covered SS braided hose that goes from tee to heads to the VO system outlet under truck. I think this adds another $50 to the veggiegarage.com engine plumbing kit I STRONGLY recommend.
11-11-2015, 01:49 AM
Join Date: Feb 2015
Posts: 103
Thanks for all the support.
The filter housing has a coolant passage running through it. The filters will flow like crazy. Here is a link that has a schematic. I am using the three filter housing. I have run the two filter housing in my benz for a long time.
FH-2 Double Filter Housing | Krane Filters
It is hard to see what is going on with the bracket installed. The coolant enters through the shut off valve, tees down through a street elbow into the filter and through the hose barb pointed to the back of the filter housing. There will be a coolant hose to connect the two hose barbs. The coolant flows through the filter and tees back in just before the elbow at the rear of the housing. The elbow will soon connect to my TIH.
I wrapped all the TIH tonight. Going to install the tank, lines, and filter assembly this weekend.
The purge valve is a 3/8 inch one from Duda Diesel.
I was able to pick up a lot of plumbing parts pretty cheap online. So most of the fuel parts are stainless and coolant parts are brass.
I am going to put the pressure gauge in the FPR for now. I will add a tee to pick up both sides later. That is a good idea. I don't want to buy two Autometer fuel pressure gauges.
You can see a port in the middle of the filter housing for a temp gauge.
We are on the same page about the coolant tee with a shut off I have a similar contraption sitting on the work bench as we speak.

I will post more pics the the complete filter housing and install this weekend.

Thanks again for all the help. I wouldn't be where I am at without it.

Bill
11-11-2015, 09:02 AM
Join Date: Feb 2015
Posts: 103
I could have plumbed the coolant straight through the filter to the TIH, but the fittings are only 3/8. I wanted to have 5/8 flow going to the TIH and Tank. I am going to need a grill cover. This thing is a giant heat sink. LOL.
Here is my TIH location for the WVO feed line. The return line will be around there as well. The coolant pump will be on top of the housing somewhere.
I may upgrade the fuel lines at some point. But not right now. You have to stop somewhere. I changed a few of the fittings to swivel in case I need to take the filter housing and tank off of the TIH for repairs or upgrades.
11-22-2015, 06:42 PM
Join Date: Feb 2015
Posts: 103
Filter bracket fully mounted. I got a good start on the electrical today. I have about a half day on the electrical and need to tee in the coolant lines to finish. I ran into a snag with the coolant pump. The fittings on the mercedes pump are metric and smaller than 5/8. I am going to run it without a coolant pump until I find a different one. I will have a spare one for the benz. Hoping to run some diesel through the system next weekend then hook up the coolant for WVO.
11-23-2015, 12:57 PM
The coolant pump negates the concern about the smaller ports in your VO coolant loop. I recommend putting everything in series and the pump will insure good flow through the loop. I use 10-15ft of 3/8" copper tubing for the heated filter wrap you see in above pics and the Vegistroke V3/V4 manifolds also have 3/8" ports - there is no issue with the coolant pump. The path of least resistance will get the most flow if you are in parallel. I'm already in parallel with the heater core, that's why I use the coolant pump on VO loop.
I've been using Bosch 392020039 or 0392020073 pumps. I think they are both for 3/4" hoses. I don't have the part# for the pump with smaller hose barbs...
I also religiously install my VO filters horizontally. Because I can change them without getting my hands dirty!!!! We aren't trying to filter/separate water (there are no water-separating filters that will remove water from WVO anyway) and any of these filters will remove particulates in any position. I'm also afraid of anything that hangs below the frame.
The only thread sealant I will use is Loctite 545 thread
sealant
. I find it seals better than anything else and is far less picky than teflon tape. I'm not real sure how well that yellow tape will work for this application even used correctly. We tend to avoid tape because if a piece of it enters the fuel system downstream of filters, it could be bad. The 545 won't plug anything up.
In no way do my personal opinions take away from the fantastic job you are doing here!!! Keep up the good work!
11-24-2015, 08:10 AM
Join Date: Feb 2015
Posts: 103
I am getting close. I need one more day of nice weather to get this thing rolling. I used to have a heated garage in my back yard but I am back out in the driveway for the next couple years.

All good points. Looks like I will have to rip it off and start over again. LOL.

I like the idea of a coolant pump. When I put it in I will run it with it on and and with it off it on to test its effectiveness.

There were a few seemingly good reasons why the filter manufacturer liked to have three filters on bigger motors. Honestly I can't remember them. It seemed like a good idea to have a huge filter when I bought it.

If you need to use the yellow gas tape in a pinch it will work fine. I have it on my benz and it has been holding for a long time.

I have to put on an enclosure or some kind of plate to protect the system. For now the truck has a fair amount of lift and it is pretty high up and I can isolate the WVO system if there is some sort of catastrophic failure.

I was looking at the system and you can see it pretty easily. I was concerned about someone stealing it when I park it at the 711, someone thinking it was a car bomb, or the police stopping me for running WVO. But people don't really notice that kind of stuff anyway. I have been dumping 5 gallon cubes of grease in the trunk my car for a long time in public and no one has ever even seemed like they noticed.

I have to go to work. The next time I post I will be driving a fully functional grease truck!!!
11-26-2015, 09:14 AM
Nothing like being flagrant about it...
If I wasn't dragging the Toy Hauler, I had (2) 30gal drums on the hitch-mounted cargo rack. And often more WVO inside if I was going further.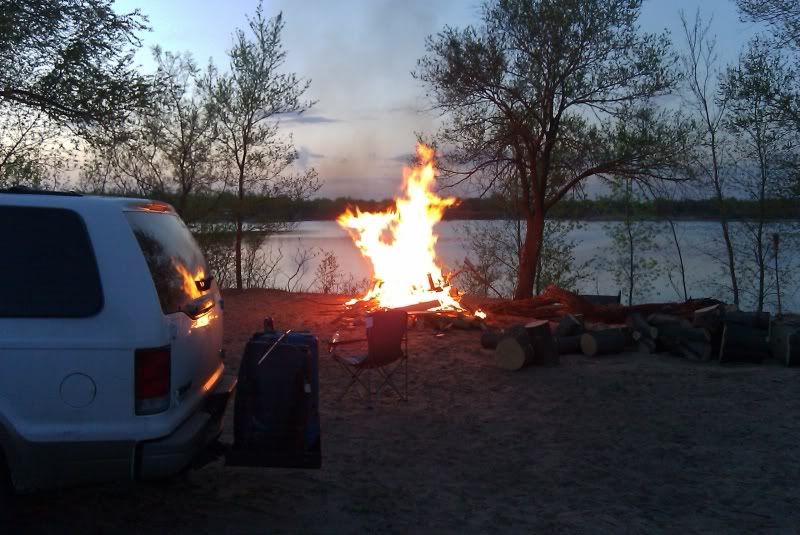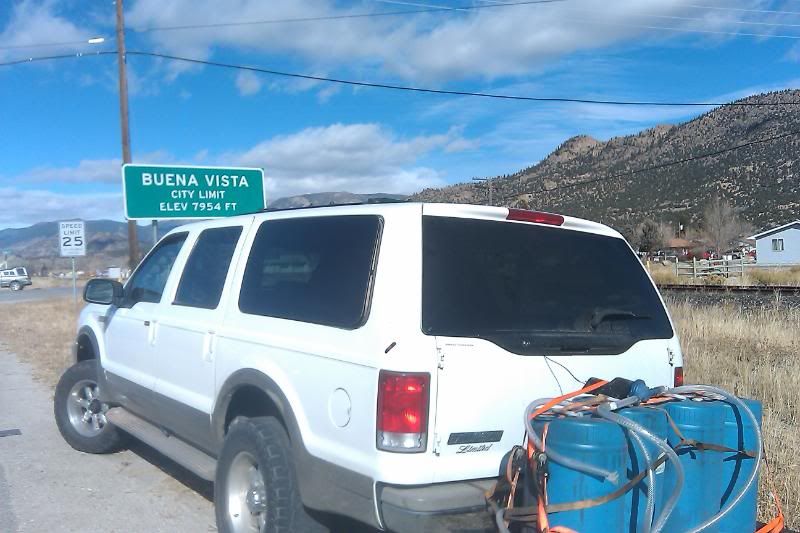 I looked for a pic of me wheeling a 30gal drum out of the Toy Hauler around to the back of the X and filling the tank in a big box store or rest area parking lot... In 120k veggie miles driving the X, I did lots of 'public' fill-ups!!
The 'test' for your cooling system flow is to see how hot the coolant is at the end of the loop. No matter what, the aux coolant pump WILL HELP with faster warm-up and higher overall VO temps. The reason I started using the coolant pumps is back when I measured fuel and coolant temps (waste of time now...
), I found my VO temps fell 50* or more in stop and go traffic in really coooold weather. The anemic flow of the engine water pump at low RPM's combined with lower engine temps was to blame here. The way I plumb systems now, with long loop of TIH, coolant-wrapped filter and aux coolant pump - the temps are no longer an issue. To the point that I stopped measuring them (these gauges were predictable and BORING
)
11-26-2015, 09:32 AM
They sell filters!
Lol.
We get 10-20k miles out of the 'little' WIX 24006 filter I put on my conversions and I'm paying like $8/ea buying them one at a time locally.
I guess if those filters are parallel, as the last one plugs up you'll loose pressure and replace all (3)?? If they are in series, seems like there will be a lot of filters changed over the years that probably didn't need it...
My recommendation is to use the same filter somewhere in your WVO processing. That way, you can 'use them up' pre-filtering your oil after you remove them from the truck. I did this in my original filtering set-up, because back in the day I ALWAYS put on a fresh filter before a long road trip. I figured $5 (back then) was a price I was willing to pay to not have to change the filter on the road!! The filter will continue to catch dirt up until it stops flowing. I used to draw the line when flow was reduced to 1gal/min at 75psi.
Meanwhile, filter changes are dictated by pressure drop after the filter (another reason to move your pressure sender). A fresh filter will deliver whatever you set the FPR at - even at WOT. I set FPR at 75psi - the max rating of the filters I use. As the filter nears the end of its life, the pressure will begin to fall at WOT. When I can no longer maintain 40psi climbing grades, it's time for a filter change!