Adventures in Retirement
04-11-2015, 02:45 AM
So, I sure hate renaming pics, 3+hours, a pot of coffee, cigs and a bag of oatmeal cookies and heres where I'm at. Damn I hope this works.
Back yard body work, even have a shade tree for doing mechanical. Now that I know how to fetch pictures it's time for an addiction fix.
Production line body work, told ya I had a shade tree
Getting tired of retarping the truck every night sure am glad the jambs are primered. <br/>every thing winds up sitting for a day to harden
Feels good to see solid floor boards
Door jambs are turning the right color, according to the preview post button this is working right, time to od on this program.
entrance and exit both done
I just like showing off tape work
I'm putting on a set of band aids and the GT stripe on the lower 6"
Lot of work just to paint a window jam, want the window in before I paint the body
Amazing how that works. Closing the post for a minute and then I'm back to get my posting fix.
04-11-2015, 04:41 AM
My neighbour was up on the roof today fixing the internet problem we've been having. The satelite disc that was on the house when I moved in is getting reused. Nice having a middle eastern ex communications officer living next door who happens to be an installer for Shaw. I dun got good signal strength now
Back to the naked truck pictures, I think this is the Katy gets a face lift episode.
Not trying to be fancy just trying to take care of a cosmetic problem and not have to paint the underside of the hood
ready for window
After nearly 6 years of not being able to maintain a signal, it finally gets fixed and I get a whole post in with no computer screwups. second post in and out of 14 pics to be uploaded only 2 come through. Sorry wrong file or format and when I try as an attachment, Backfetch error. In Calgary your guarenteed of 1 thing, NOTHING works right. The first week I was here I heard the same saying several times and I made the mistake of ignoring it. I've heard this saying at least a 100 times since and thoroughly realize that it is the Calgary motto. " If it's not f****d up, it's not done right, ha ha ha ha ha ha" and the sober people say it just as often as the drunks.
. Tomorrow it will probably work normal or something else will screw up, til then..........
04-11-2015, 11:28 PM
The hood is glad to see parts getting put back on
I'm doing the dent / racetrack area in white, thats why the top of the fender and the lip on the edge of the hood got painted white
It just took over an hour to get these uploaded. It was so good last night to have 4 hours of real world internet and now it's back to the way it was. I used to pay Telus $60 a month on a 3 year deal, if I could get online it would last for up to 10 - 12 minutes and then offline, replaced computer, same thing. I had better service during the AOL dial up days or when I was on the acreage on a stormy day hooked up to a satelite dish. Sonnie is back on the roof sometime this week to see what went wrong as he's hooked in on the same system and has the same problem. house next door is running off the Mcdonalds wifi but they're in the sight line, I have Mark & Sue's house and a garage in the way.
So distracted by this internet thing That I forgot to mention the following. Got the cracked window out of the 78 in 1 piece and no more cracking and did grill painting and of course more washing and cleaning. Tomorrow is install glass, door and fender and loose ends. then it's sanding and final prep for paint.
still looking for a quart of clearcoat that I can use on Tremclad, was sure they made it, may have to go to an actual paint store to find it or something that I can use.
04-14-2015, 04:33 AM
So. you want to put a windshield in your truck huh.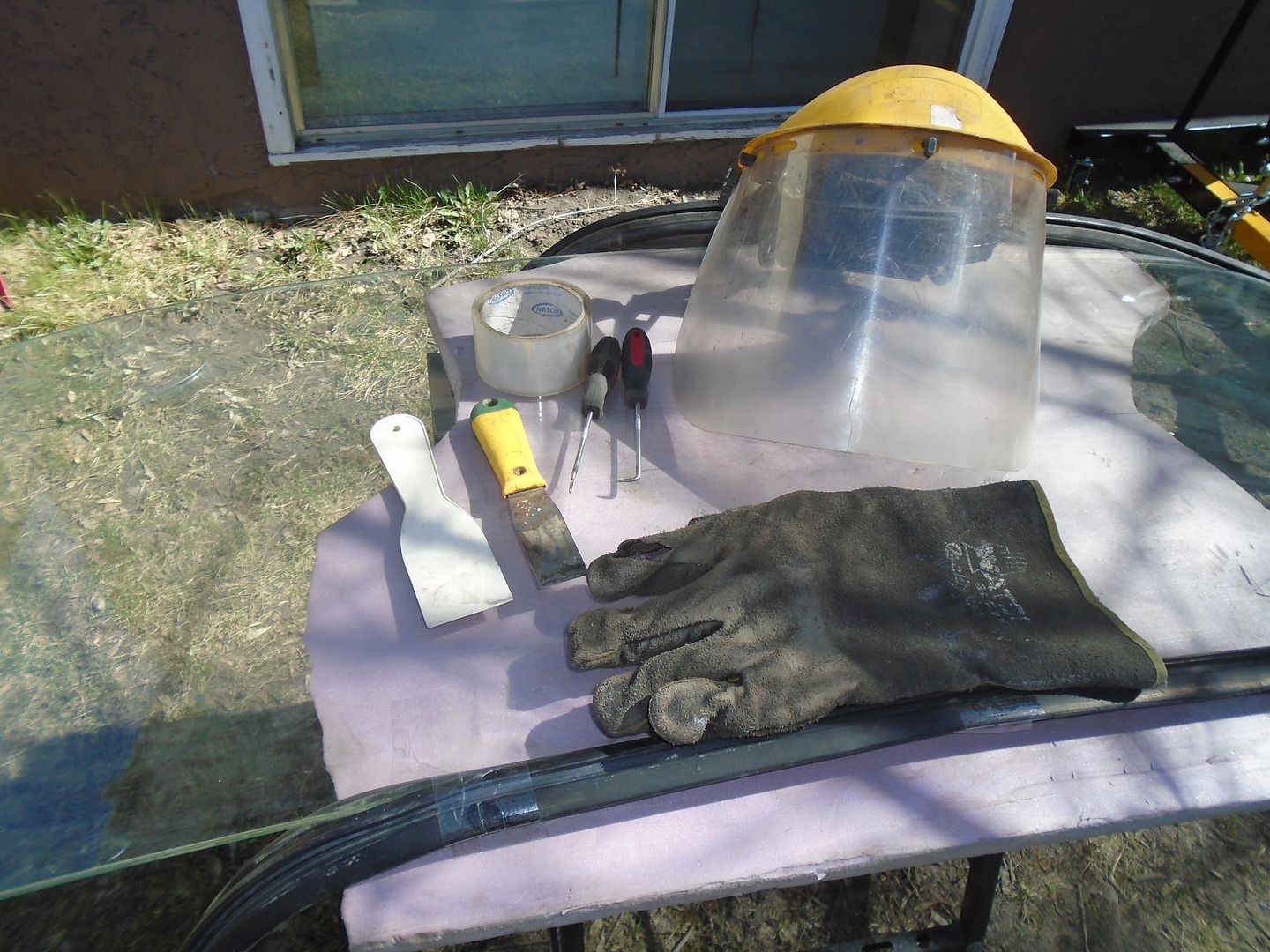 Tools of the trade, lol. Cleaned window of over spray with thinner and a exacto blade then soap and water.
May as well get the tape working right from the start, used packing tape as I know masking tape is a pita when wet and isn't that strong.
Don't try stretching the corners over the glass, theres lots of gasket slack so just pull it onto the corners, hope you've been using the tape. don't be cheap with the tape unless you like getting frustrated.
Got distracted with barking nieghbours dog and didn't get pics of putting in the rubber ring but it's not hard as there is a lip on both edges. hold it in place with one hand and fold the outer edge over the lip and squeeze it a bit and it pops into the groove real easily. Use your 90degree pick to put in the metal corners
To windy to put in window so paint front grill in shop and put in sun to bake then bolt on passenger door and fender. This is one of the ways I redeem myself on Sundays, beats falling asleep in church and out snoring the preacher.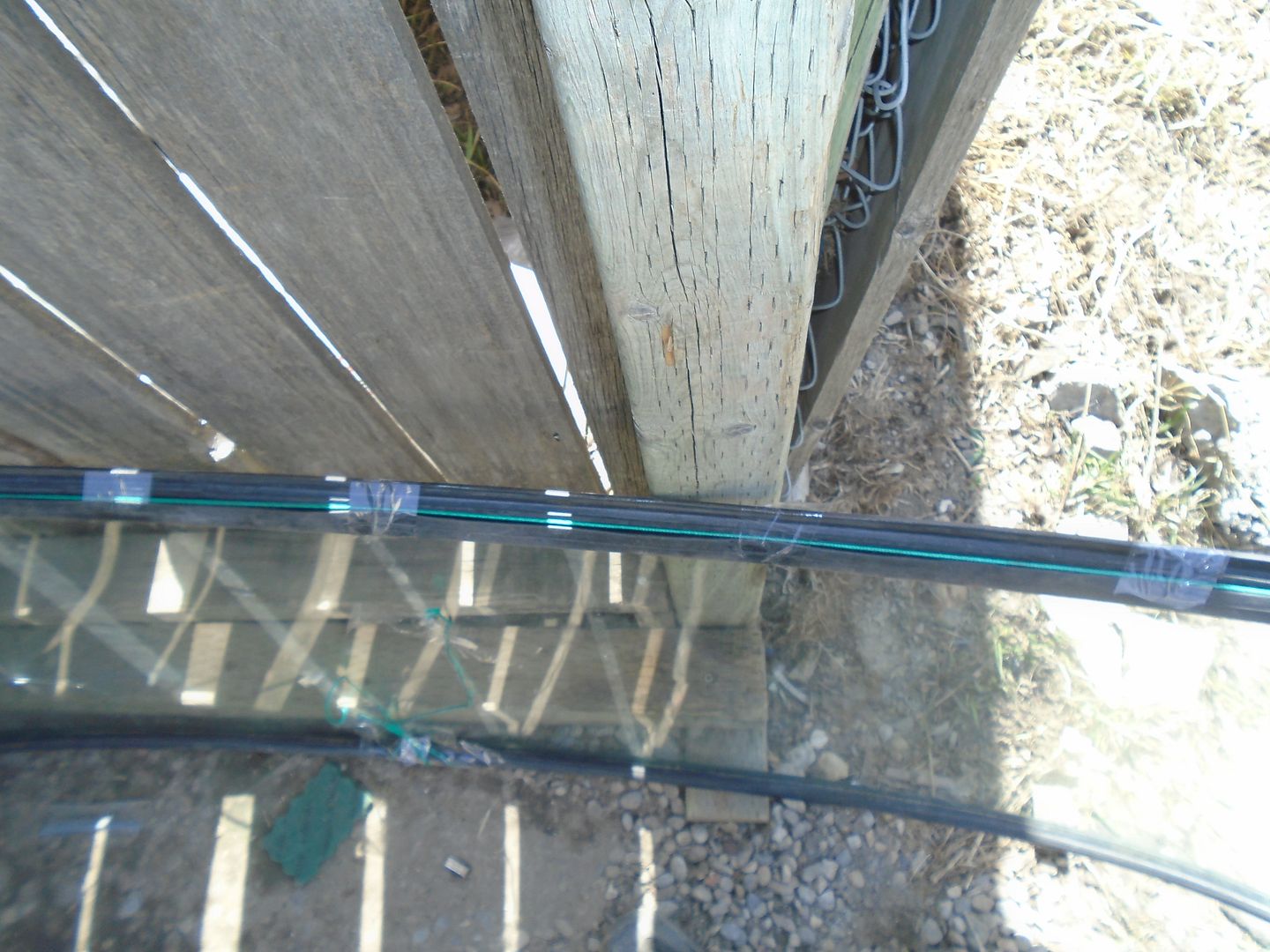 On the top of the window there is no way the cord will stay in place so get out the tape and tape it in. Don't worry about pinching the rubber together and having the tape go from one side of the window to the other unless you use more than 6" of tape. When wet this tape will be easy to pull off.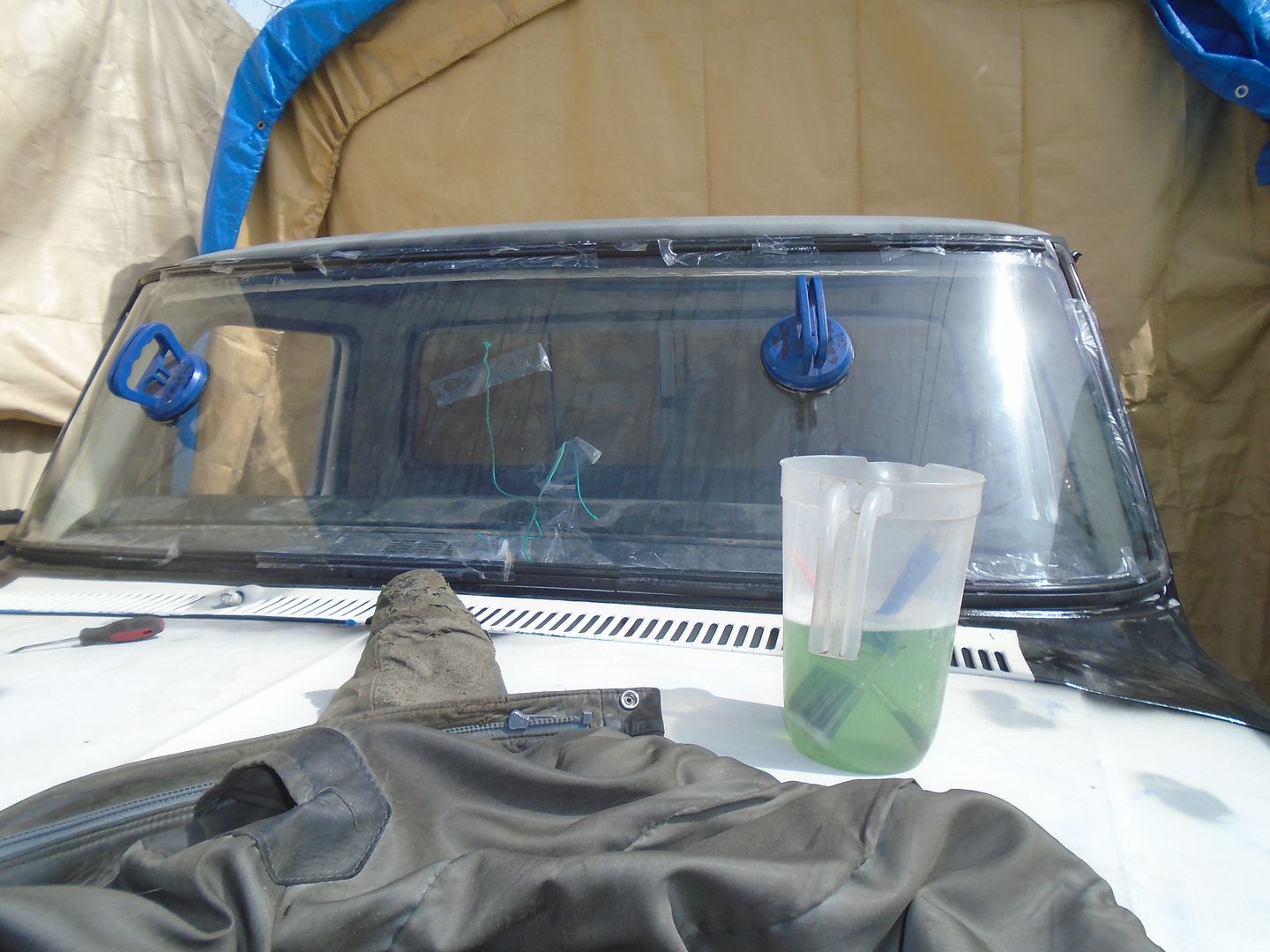 Take the extra minute now to make sure your window is centered. Push down on the window so that the gasket goes onto the metal lip, use your pick carefully to pull the bottom front of the gasket away from the lip, push down on window so that it seat on lip as far as it can.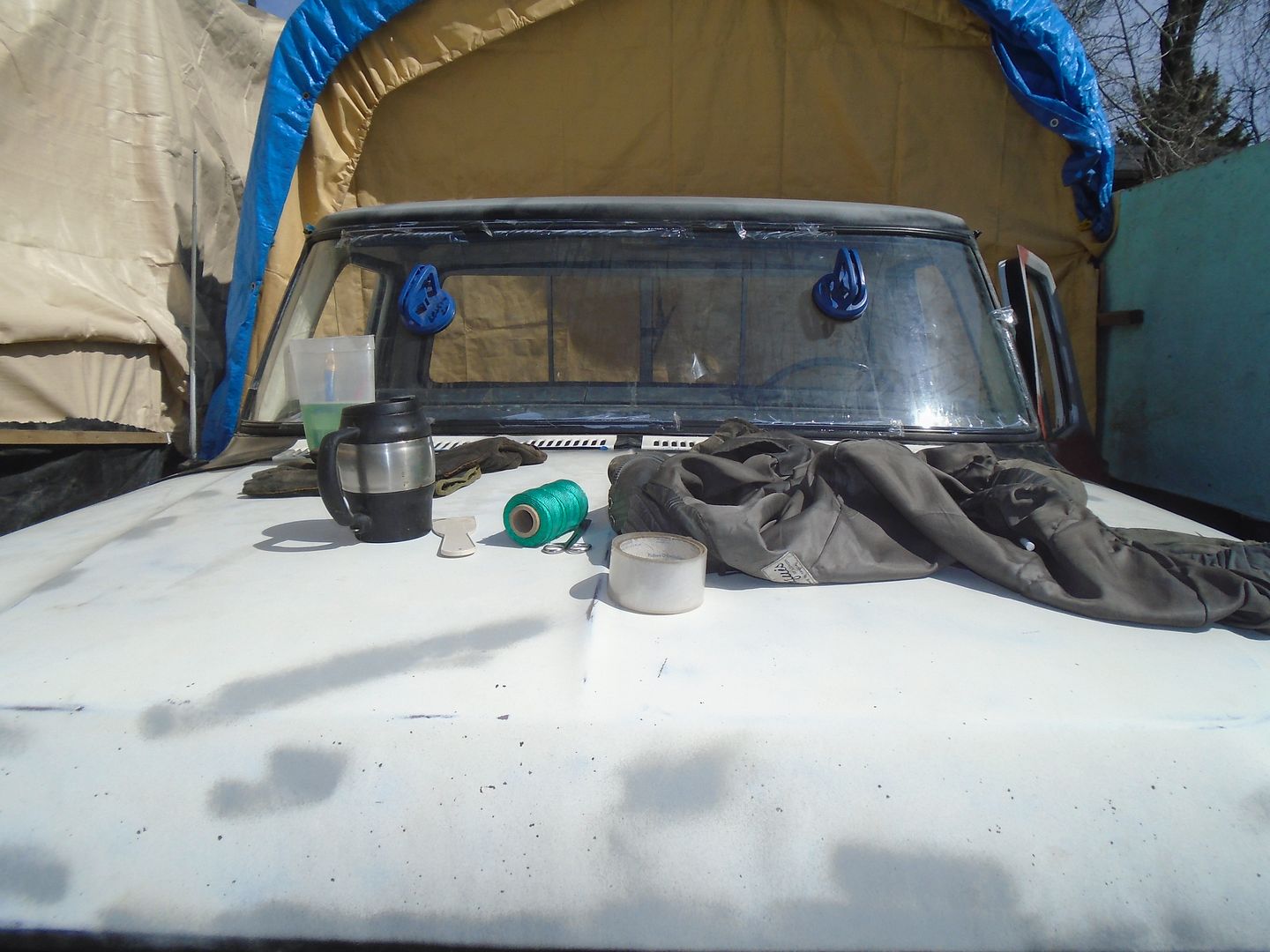 in case I forgot, make sure your cord ends are on the bottom side of the window, give yourself some extra cord at $1.25 for 200' it's pretty cheap. Pull from side to side and keep your pick handy to help pull the gasket over the lip. Keep the gasket wet, push the window down onto the lip on a regular basis, only use the pick to help the cord and push the gasket into place with your fingers once a foot or more is in place. Tie your cord to the steering wheel when you get to the first corner, use a slipknot so that it's easy to retighten. The bottom corners are pretty easy but use the pick gently, it's the top corners that were a pita for me so I dug out a blade screwdriver and used it to help pull the gasket down, let the cord do the work the pick and screw driver were only used to make it easier for the cord.
That horse shoe crack was in the window when I took it out of my F350. Du,uh, why did you put in a cracked windshield instead of the new one that's in the truck that was written off. A. I needed the practice and didn't want to break a new tinted window and B. the new tinted window is for the F350 that donated it's window and gasket to this truck. When this truck get's done it becomes my DD until it gets sold to some cowboy for an over market price $3500- $4000. and he can worry about the window then. And that's all there is to it, oh yeah it took me about 3 hours in total and the suction cups were only used once the window had been set in place to help push the window down, I didn't really want to trust them to carry the window as it's the only spare window I had. I have 3 rear windows coming out, 1 rear and 1 front going back in this summer that I know of. Now I'm ready for final sanding as the last of my mechanical is done and then it's paint. Depending on the weather I may be bolting the box back on next Sunday and then we'll see what I did to the lords prayer.
04-17-2015, 12:29 AM
Yeah it's a pretty little hoist, should work better at lifting front clips than using a cargo strap across the shoulders and leaning backwards. Got the gt and dent stripes painted today, had to stop and run off to pay some bills I forgot to do yesterday, damn!!. Will do the bandaids tomorrow after my brother takes care of my ignition, overcharging problems and sets up my carb. May cost a cnote but it's worth it. If the paints hard enough I'll set up the lower half for the black.
04-18-2015, 01:05 AM
Watch out, I've got guard cats Lol 6 metal casters and the 4 wheels under the ram, swivel, can stand it up in a corner to.
Been masking off for stripes, between wind and painting windows, it's being done in stages. I bought 2 cans of Tremclad white and have 5 cans of clearcoat just in case there wasnt enough room between the truck, fence and shelter. Twas a good thing, actually I had a lack of elbow room so I grabbed my paint gun and gave it a distance test. The nozzle was about 6" away from the door panel, good thing it's only stripes and I can use the rattle cans. Too bad for me that I'm going to have to paint it black yet and the door panels aren't going anywhere soon.
When I painted in the window and door jams I also painted the cowl to see how the rattle can sets up. It's really dry and the black flashes up fast on the cowl and it doesnt take to the clear coat, makes you need to spray on more of it or work real fast. My fast days are slow, so option 3, do it in stages and use the sprayer on the upper half of the truck. I can't get the Clear coat from Tremclad or their other hand Rustoleum in quart sizes so I'm stuck using the rattle can and using 10% thinner in the black. If somebody knows of a $20 or less per qt clear coat that can be used, now would be a good time to think of it as I'm getting horny about getting it finished so that I can do something else.
This whole stripes and bandaids thing is kind of a test platform for the 78 F350 dually in the main shelter. In order to do any work on it I have to process this newly sold to me scrap truck of mine. It's turning into a trailer, Which should be fun. Good thing I'm using the Whole truck for various keeper projects to come, it's brought me a fair amount of luck so far and it's about time. This retirement has been like a reverse pay plan, it costs you a lot more than you bring in.HA HAH!.
Oh yeah, on monday afternoon I look at a 88 F450 with metal framed wood floor 8'x12' deck on pto driven hoist system, 460 on propane, zf42. Cab is rusted all to hell or so it appears. Wants $1000 according to ad, been on kijiji for 10 weeks, wonder what $600 as a starter does to him, this thing is too ugly to sell as the cab is 70% rust. Dont have the room for it for 2 weeks so i'll let him think about it for a few days while I get ready for it.
Chicken in the oven is starting to stink good so I guess it's supper time.
04-19-2015, 08:36 PM
So, my brother was over on friday to fix up this ignition problem I'm having, turns out my + cable was rotted inside the sheathing. Pretty much turned to dust with a few hammer taps, looked nice and hardly used. Overcharging issue appears to be taken care of. My teeth are acting up again so it's an involuntary day off, warm and no wind, ideal for painting, figures. Taking a look at this truck tomorrow
1984 Chevrolet Caprice Classic Coupe and 1988 Ford F450 Other | used cars & trucks | Calgary | Kijiji
yeah I know it starts with a Caprice in a ford column, the other option is this
1973 Ford F-100 Pickup Truck | used cars & trucks | Calgary | Kijiji
Got a spare motor or 2 in the shop, 351w/zf42, 351something/c6 & 400 bellhousing, clutch and have motor mounts and trans xmembers. That should take care of the not running part. Got the money and it gets spent in the next 2 weeks anyway. The ideal f450 for me is the 96 as it has the zf 47 and late in the year the long shaft pinion gear came out. Wont be using that pinion in the long run as it'll be getting a gear change as motor gains power. never had a 4x4 before, don't need one now but it may be a good cash flow flip. I need a bigger yard or a small acreage.
04-24-2015, 02:33 AM
Well, this has been a productive week. Tooth went abscessed, its in my upper jaw so being trypanophobic means a trip to the dentist was out of the pic and the damn thing went into the sinus above the jaw. Looked like I had 2 noses until Tuesday, went to doc for a week of clindamycin and drained most of it Wednesday morning. Finally able to eat something instead of soup, blew a shot at a 73 f100 4x4, didnt need it just wanted it, jonesing for a toy I guess. found a new 3.73 ring & pinion for a 10.5, been looking for it for awhile, fuel economy deal without a big power loss. Looked at this today, 88 F450 the link is above.
mmmmm, hydraulic brakes, 460 on propane 4 bbl manifold, supposed to have the older large port heads
appears to be clean and tight, it's the rusty cab and propane tank thats a DOT heat score runs good started fast for propane
electric hydraulics, would be good for making a brake press. metal shop truck so all the metal work behind the cab is made by owner
planking over plywood, can use the planking
My vampire cat, first time I've been able to get pic of her in sleep mode. sneeze or throw a piece of cutlery in the sink and she leaves a path of destruction in her wake.
Offered him $700, told him I'd be back in about 10 days when I have my yard snit together, has a similar offer but needs to wait a month. Knows its not going back on the road & doesn't have the time or energy to break it down to part out, has a caprice to screw with instead. I can give him 8 if I have to but no more as this will show up again in basically the same configuration. I want it so that I can set up my truck in a 26,000 gvcw configuration even though I'm going to max out at 16k. 8 - 9k is 5th wheel RV trailer the rest is truck. I can lower the rear suspension and set the truck up to handle like a sports car. These duallies can be set up for hot rodding quite easily but the first rule is to make sure the truck stays level when your cornering and you gots to have enough pedal power to bring the rear end around. These things are heavy Ferraries, so you have to be able to maintain momentum. SCCA guys should remember their 1600cc, formula ford days, same idea but 2 liter power, and unlike slicks, you can save these things when they get squirrely.
04-24-2015, 02:47 AM
Oh yeah, got most of Katy painted, part nightmare part pita. Okay big pita, damn wench is almost done and then shes out the door and she can park her azz on the street. Got to razor blade a couple of runs on the passenger side mid door and fender. Found a posistion I cant move to fast in but I can develop cramps and lose my balance pretty easily. No pics until its done, paint, camera, me, together at the same time, that aint happening.
04-24-2015, 03:36 AM
Join Date: Dec 2012
Location: Shelton, Wa
Posts: 1,722
There's a lot of good parts on the F450.

I'm running the ZF-5 with tailshaft parking brake and the Hydroboost unit out of one in my 78.

Propane burns clean so the inside of that motor should be pretty good.

What is the casting number on the heads?

If you bought it, the last time I sold one of those ZF trans I got $1,200 for it so if you didn't want to use it then there's profit to be made.

I'm running ZF-5, 3.73 axle ratio and 35" tires and am at 1,650 rpm at 60 mph. I will be swapping to 3.54 ratio in the future.

Does that truck have I-beams or 2wd Solid front axle?
04-24-2015, 03:39 AM
Join Date: Dec 2012
Location: Shelton, Wa
Posts: 1,722
Check and report all the casting numbers on that engine as 1988 should be EFI and they would have had to swapped to older heads to run the carbureted intake manifold.

Any of the older heads would be an upgrade compared to the heads that it would have had stock.
04-24-2015, 05:52 AM
It was a fuelly originally Odd but they did the head and intake change. Had a new from factory ambulance package 90 cube van with the duel fuel system on a 5.8. It was the GT40 plenum that made the motor work on propane. Knew a 460 propane runner that cursed his system as he never got enough air into it. There is a flat round filter in the propane canister that plugs up with impurities and his used to get blocked due to low flow. That first genration fuel injection on the 460 didnt take to propane to well. I looked for a brake handle sticking up out of the cab floor but saw none yet I dont see cables to the axle. Trany brake would be nice. The trans is a 42, would like a 47 but I have some performance room in the motor before I need to change it out. The 47 started in the 96 model. Theres 2 pinions also, its the late 96 on long pinion that you want. If it wasnt a dually pulling a trailer I would chase down a 3.54 but that ratio and my weight would eat up the trans. Looking for a Mitchell direct/overdrive unit instead, 28%overdrive. Turns the zf's into a 9 speed with occassional flatland 10th. In theory, 36"tall tire, 3.73 gear, 28% + 26% overdrive gears and empty truck = damn close to 200mph. May be looking for parachute ane crash helmet. Lol. Have SCTA applications down loaded, did it well before I had this brainstorm.