Adventures in Retirement
03-14-2015, 10:25 PM
Das accident
---
So, I have an emergency front clip and window change. As some of you know, my truck up front got hit by a drunk driver. Before the insurance claim gets started on it I need to get the good window out of it and pull the front clip and put on the rusted out clip from Katy on it. The buggered window from Katy was easy enough to cut out as the gasket was old and it's getting tossed, just had to keep the broken window in one piece, no pics as it's a straight forward job. The fun part was pulling the front clip on a windy day (30-45 mph) without a hoist or lift of any kind and I knew my helper was not going to show. No beer no helper and if there is beer the helper's need to drink it all first. How do you do it, turn on the laugh track boys.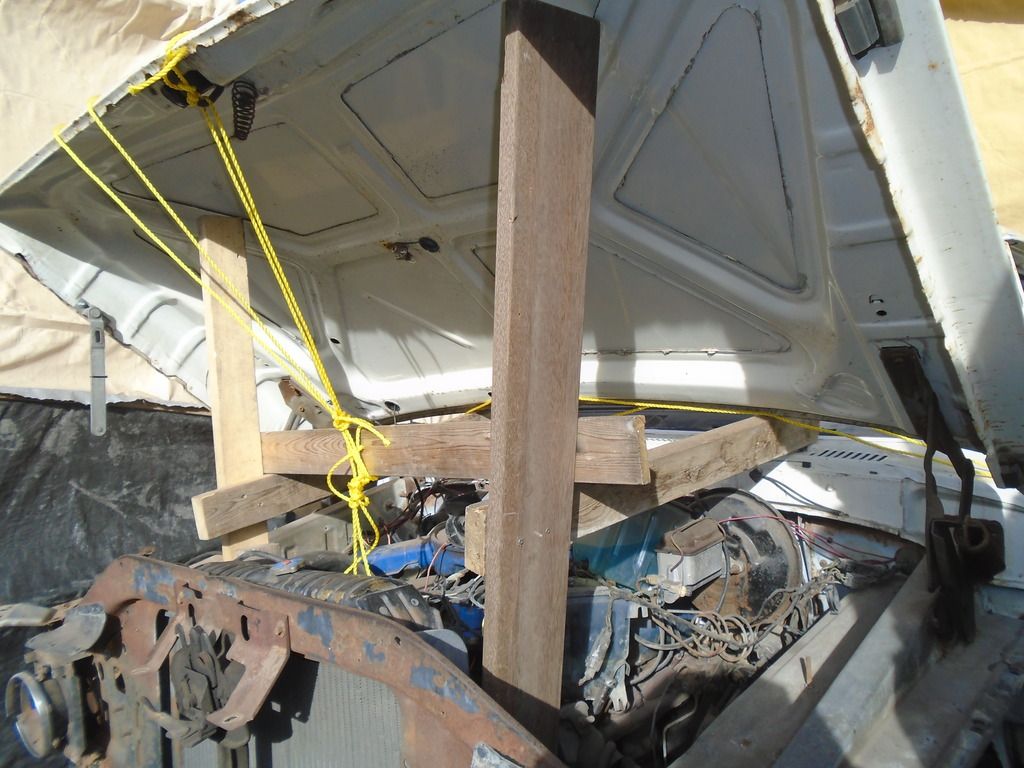 I don't think I just do what has to be done to get the job done. I've built scaffolding and shoring often enough and that part is easy. Felt markered the hinge placement on the hood so that I could get my alignment close. The inner fenders I did this week and the front rad support needs to be modified to accept this rad, but that's next weeks job and rad support was painted when I did the inner fenders, got half a door done to. It sometimes looks like I do nothing for a couple of days but there is always something that needs to be done around this place. Tomorrow I get to tie into the truck in front. the rad support, fenders inner and outer are good and I still want the fuel tank out of it as it has the cross over fuel filler setup and I want it on Katy to make up for pulling the rear tank. Til later
03-19-2015, 11:11 PM
So, I get the front clip off and window out of Katy on a windy day. Up here we get this wild spring wind that changes directions, long story short is it almost drops the main shelter and I wind up spending 2 days fixing and reinforcing it and the 3rd day I made a new end wall for it. Had some stitching to do on a heavy duty truck tarp and hoisted it up. What a pita these truck tarps can be, especially when your working off a ladder with a tarp thats as heavy as I am, but it's up. My mods to the shelters are mostly done and all I need to do is make a walk through and end walls.
As some as you know, there was a drunk that ran into my truck as it was parked up front. All peril insurance apparently means that I have to be in the vehicle with it running or the vehicle has to be inside my lotlines if it is parked in order to be covered by my insurance in case of collision. Luckily the drunk has collision on his truck and his insurance has to pay out. I'm going to write off the truck and buy it back and hopefully it wont even get moved from the spot it's parked in. Cannot reinsure it if I do this so I guess I'm looking for another truck.
It would appear he hit me so hard it knocked the face off of it, good thing I had a spare truck face.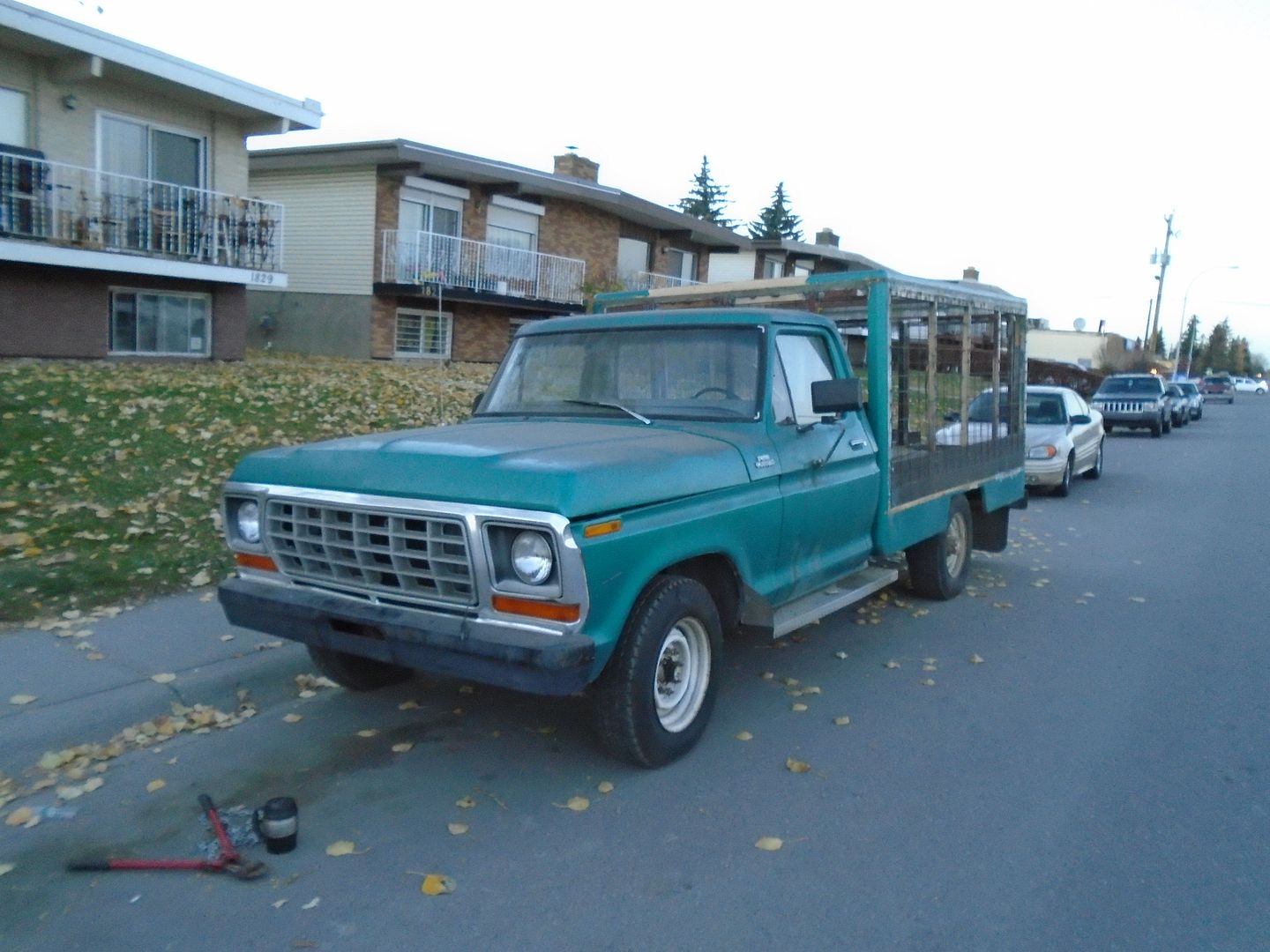 Before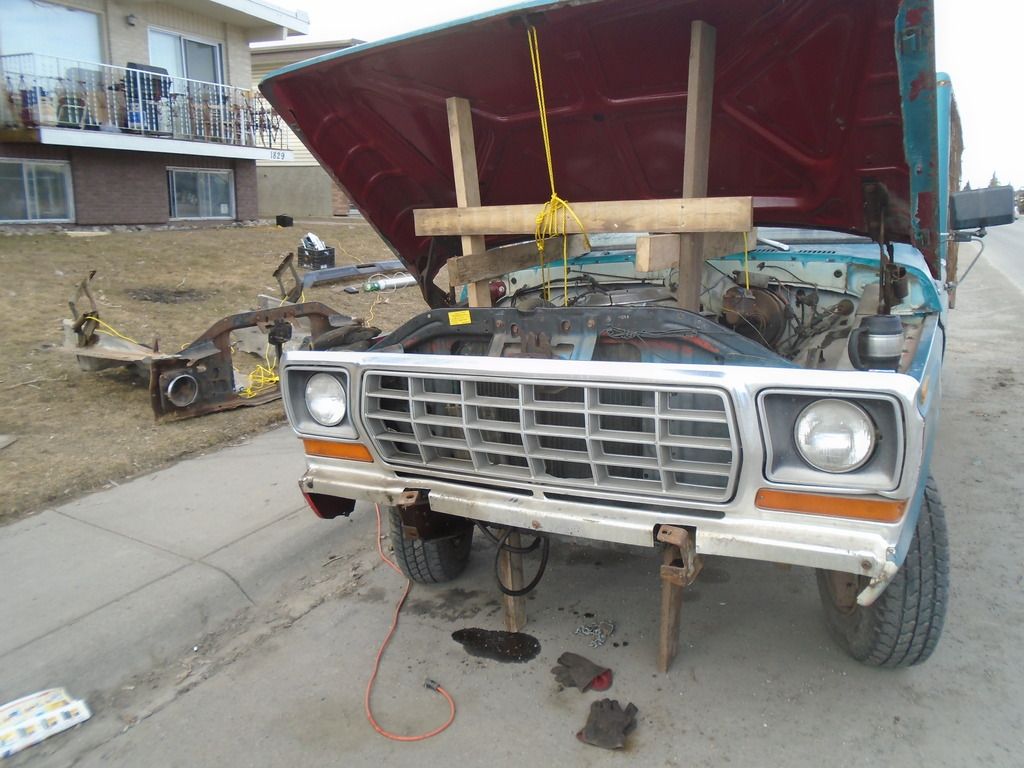 During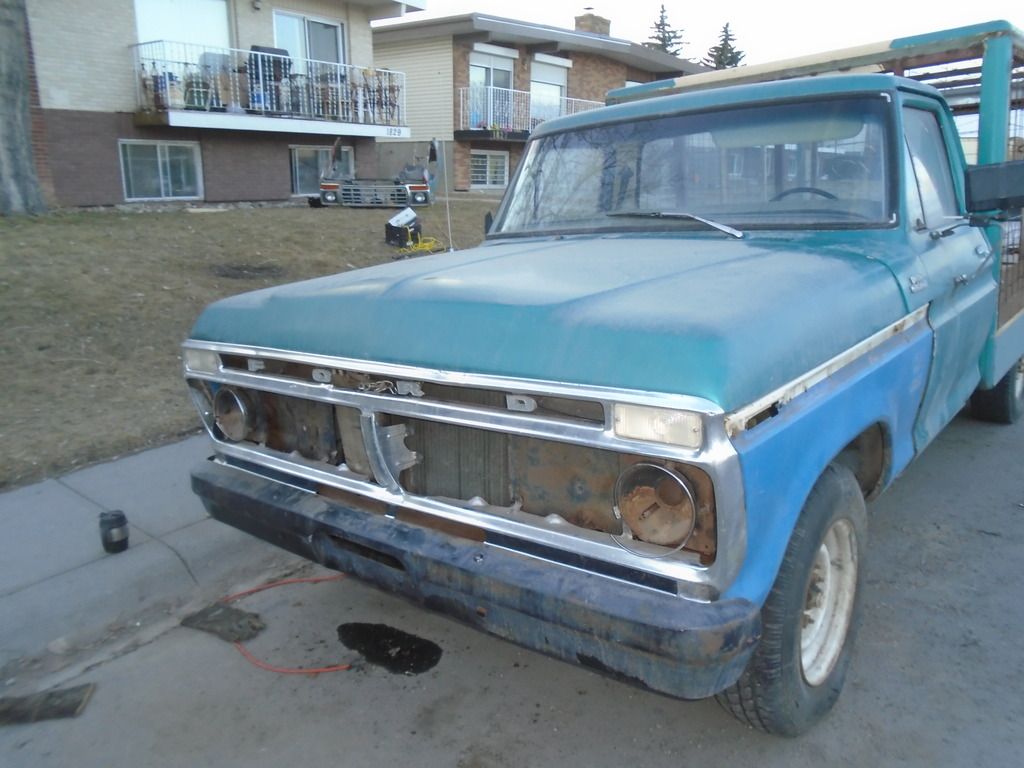 After, I was getting hungry and figured that I would do the lights, grill panels and rewire the fenders tomorrow. I still need to break down the other clip and salvage the fenders plus I changed my mind on the rad support and use this one on Katy. The rad mount is different and I need to weld in the radiator brackets from Katy onto this one. So now all my striped down rusty parts are on the green truck where they were going wind up anyhow, just need to get the brand new tinted window out without breaking it. Good thing I have a cracked window in my 78 to practice on. The adventure continues Remo.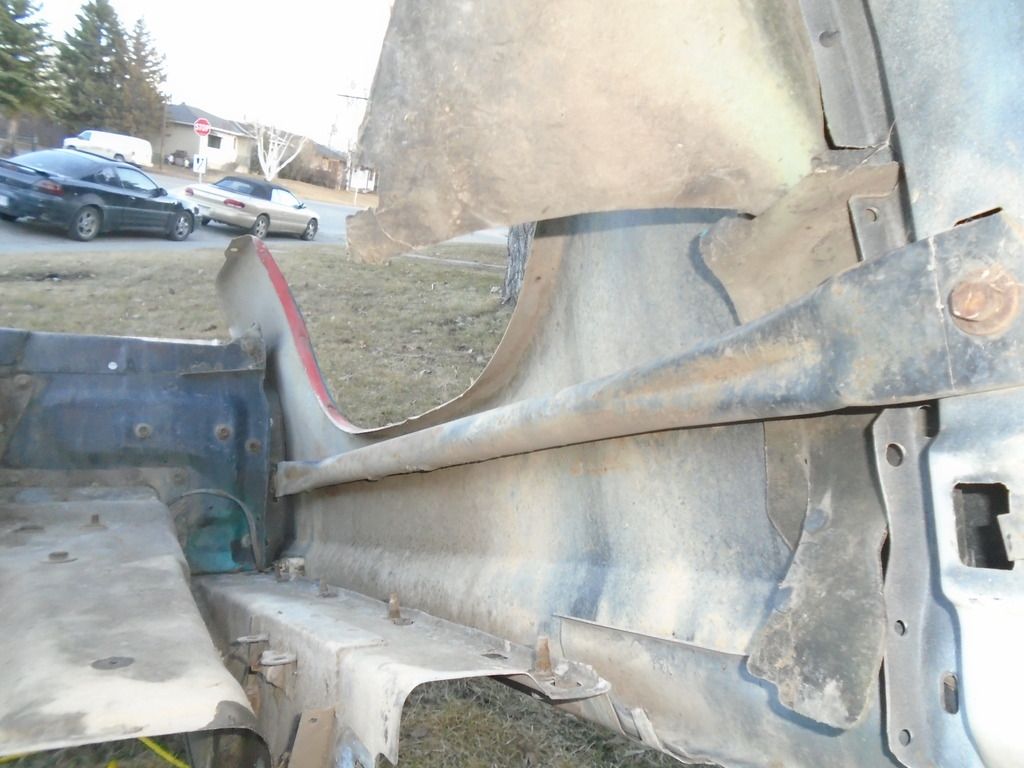 Heres something that might be of interest to the 4x4 crowd or those that bang their fenders up a lot. This support brace was on the driverside fender only, nifty idea.
03-20-2015, 12:44 AM
I hated to hear about that fool hitting your truck.. You have alot of good work going on
03-20-2015, 01:17 AM
I thought the brace was a PO idea as he had a couple of 4x4's, had 3 350 duallies and they had the hinge bar on the hood but no fender brace, makes sense as this is a 350 srw. I'll pop it off if your interested Odd, postal code is T2B-2K1 if you want to find out shipping costs, will trade. I'm a think on my feet capitalist 1995 and I could smell a benefit from this, although when I saw that it was a white gm with a ladder on it I thought it was my drunk nieghbour Ken, sure was p'od for a minute. Got a line on a 93 f150 with a burgandy bucket console combo, would look nice in Katy as it's going black with wide white bandaid strips and white race track. Can't wait to get a full day in doing the body work, I'd be able to see her getting back together again. No doors, fenders, rad support, bumper or box on it or a front window in it. Wait to you see how rusty the roof is yet no rust in window frame or rain gutter. Put a 4" gouge in front of lower leg lifting off clip, couldn't get pick of styrofoam on 2 wheel cart and 7' 2x3 through the hinge braces, its how I moved the clip 40', yes I cheat. LOL
03-21-2015, 01:51 AM
Chatting with the new neighbour and it appears he agrees with you Mr. Eshler, according to him tomorrows sched is about more than he does in a day at work, liking this kid and his family already, whole lot better than what used to live there. Was looking at the kijiji ads tonite and had the slide rule out so that I could scale up wheel bases and came across an 88, 89, 91 ranger with 1 piece windows. The slide rule says they'll fit and experience taught me that an 89 f350 passenger window fits in a 78 f350, pretty sure the side arc is the same on ranger cab as f series cab. Crappy weather coming in as far as humidity is concerned. these foggy wet spring days causes the pollution to stay close to the ground and the hydrocarbons kind of burn the old lungs. Got the 79 front clip dismantled, washed and dents removed and put the details on the accident truck. Had a good laugh, was prepping supper on the freezer and noticed the passenger side of the truck is 2 shades of blue, green, black and has a white spear stripe on it, redneck Lincoln I guess.
03-27-2015, 12:17 AM
So, the clip from the green truck is all apart and my side distractions are wrapped up for now and we got weather thats strong enough for me to do some mid day painting. Time to get something done on Katy and maybe get caught up a bit. Been doing the detail on the front end pieces and those areas you dont really see, the time wasters that have to be done. Tomorrow I get to do some assembly and start on the cab body work ie door jambs and fire wall transistion, with luck I'll get started on my rusty as all hell roof. When I popped out the window I was expecting the jamb to be rusted out but it's the only area thats rust free, blessings in disguise. The pics look like I haven't done squat but as you all know, rebuilding these trucks becomes a production line job at a certain point in time.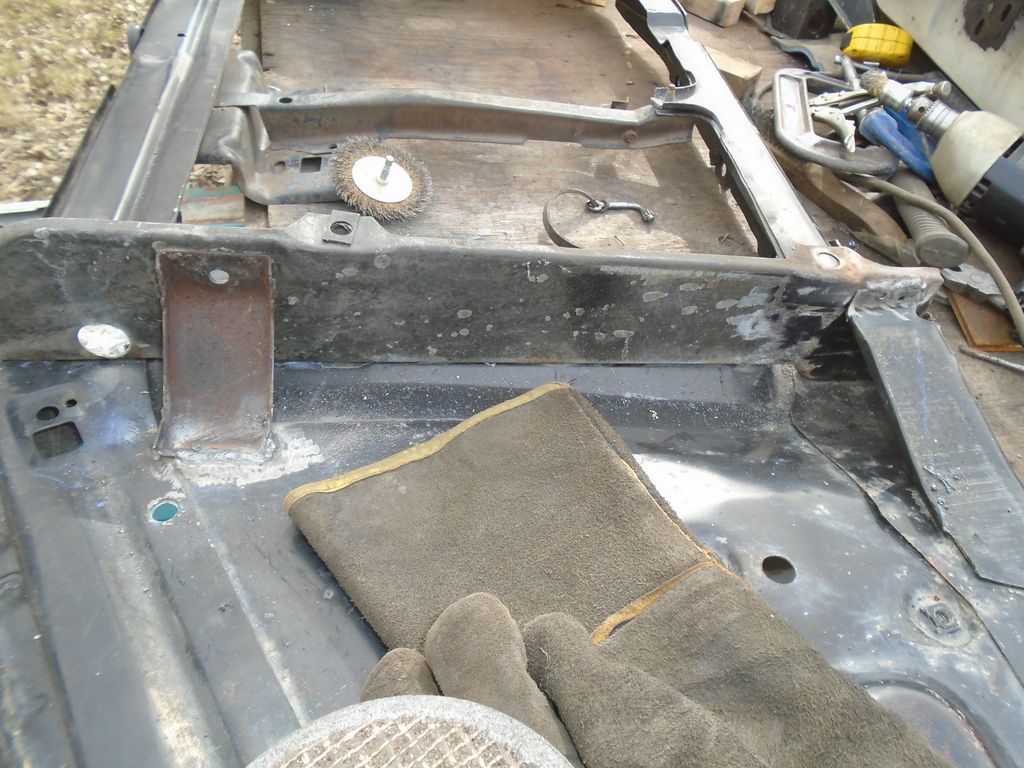 Had to change the rad support brackets over from the 79 support in order to remount the rad. Twas the reason I couldn't use the rad support from the 78.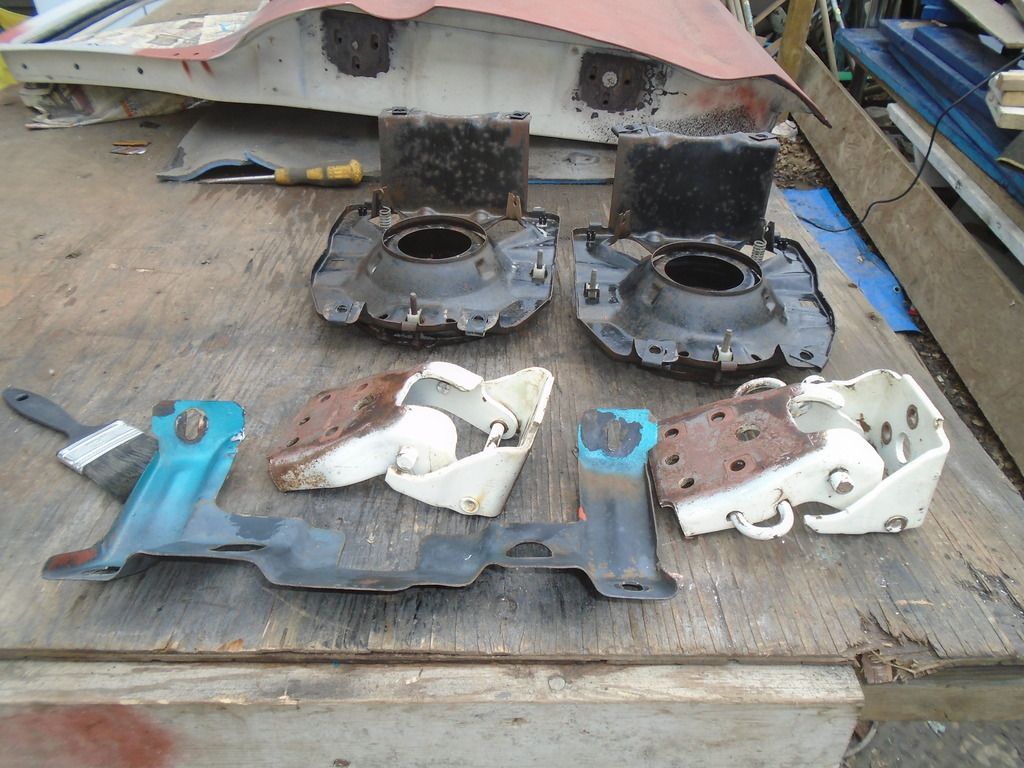 put rust converter on to save me sanding time, use 2 types, brush on when I can and spray on for panels or to save time. This stuff comes in so handy and saves a lot of work if your not doing a full fledged rebuild but want to make it sellable in a years time.
shiny and loose bolted on so that I can star lining everything up tomorrow
Painted the hinges while off so that I could get all the blind areas covered so that when I paint the door jamb tomorrow I'm not chasing white spots. The doors take 4 days to get done when you take in drying time, rocker guard, black, white and clear coat plus the day of body work. I like my body work to sit for a day and harden up before I start coating it. Thats why I stage my jobs into a production line, should start seeing results by the weekend and if the weather holds I might have it in paint by next weekend, guess I should dig out the air compressor, paint gun and maybe buy 2 quarts of black and 1 of white soon and maybe even some clear coat so that the paint don't fall off. Time to start a pool as to how long after each color, and clearcoat, that it takes Sally to walk on the truck and leave a set of paw prints behind. before I forget, the adjuster was down today and it looks like he's going to buy me out and I keep the truck, problem though, the frame rail has a small buckle in the side at the end of the rail and that might take it off the road. It's in the last 2 inches of the frame rail at the point of impact, I may be able to cut off the last 2" and remount a bumper or maybe they'll let it slide, who knows. Won't find out for a week probably. The driver never got charged with drunk driving, nieghbour is shocked as both officers commented on how drunk he was and he reeked of beer, neighbours are from Ontario where you don't get away with that crap like you do here. Here killing a sober family of 5 in a minivan while driving a cement truck drunk gets you 5years out in 21 months. Killing 4 sober members of the front line of the local highschool football team gets you 3 years if you slowed down from 90mph to 75 before you hit them, oh yeah you gotta be drunk for that. Killing your drunk passenger buddy by hitting a parked vehicle while drunk gets you 11 years. your getting the gist, sorry about the rant but friends of mine have been killed by drunk drivers. Drink if you want but find someone sober to drive you home or walk.
03-28-2015, 02:55 AM
So, every so often there's a day that just as you try to start it someone calls and stalls it, if you don't have call display it's usually a scammer or time waster and you get po'd. I have call display. 3 calls from aholes insurance and the end result is me ROFLMskinnyFAO, my truck damage was estimated at $4126.50,
I'm getting bought out. $1800 -$300 for salvage value = $1500 my cut, check is in my paws 7-10 business days.
. This truck just doesn't stop paying, it's like a slot machine on a payout cycle. Oh yeah the truck is now a trailer as I would have to get it repaired and inspected in order to put it back on the road, as a trailer I just have to prove it has working tail lights and a steady stand. Already have the rad, motor and transmission on Kijiji for $600. When Katy is done this thing gets pulled in back and gets trailered and I pick up a f450. The 1 that's available is a rusty 88 with a hydraulic 12' deck, hopefully between now and then a 96 shows up for cheap, the only real difference is the transmission. The differences in the rear axle are nul and void as it's getting regeared from a 4.88 to a 4.10 for fuel economy. I can get away with the gear change as my total gvcw is going to be 16,000lbs.
I did get some work done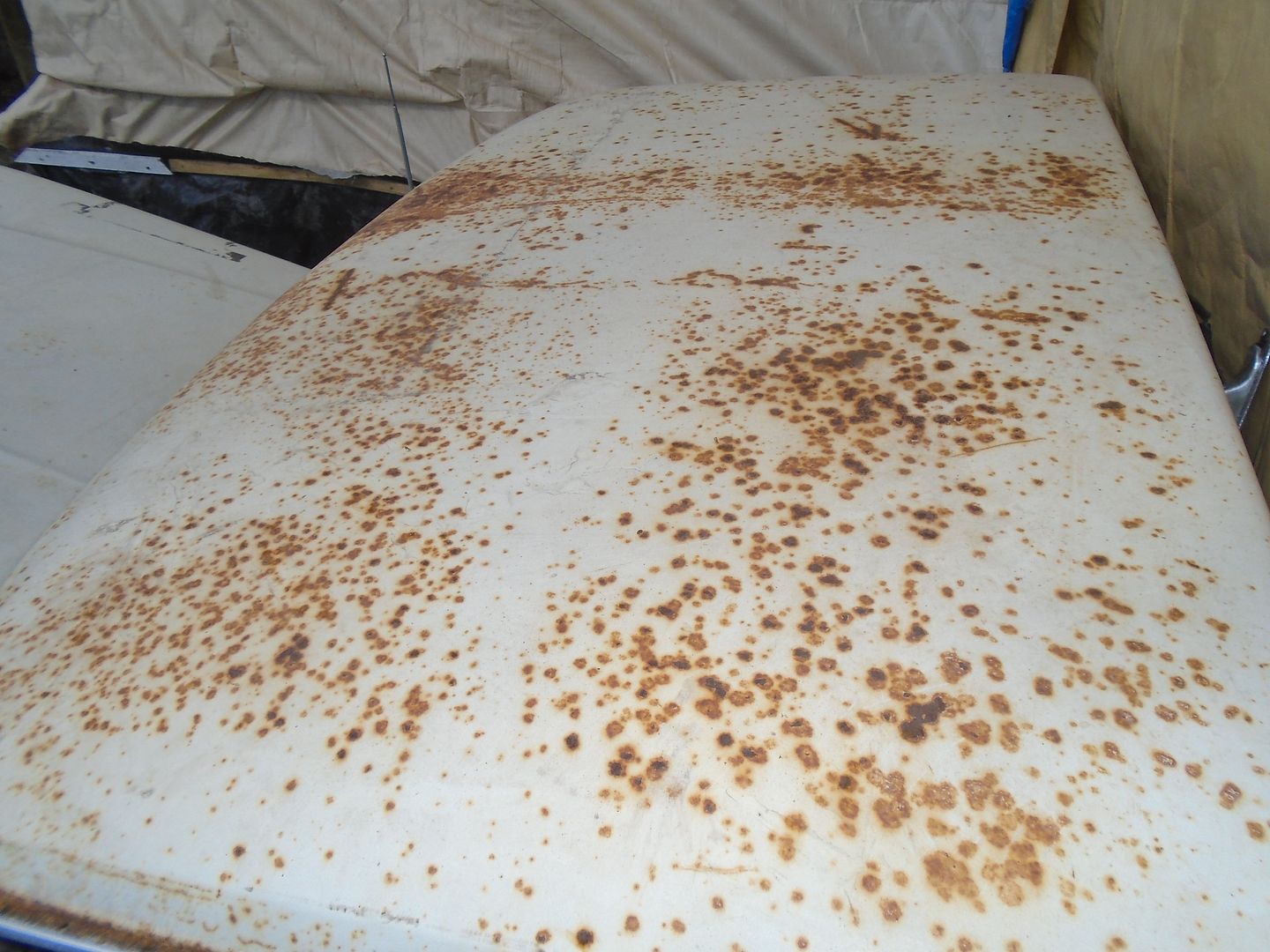 Nice freckles huh, they're gone now and no holes so I put on the rust converter. rain gutters were good and absolutley no rust in the window frame. Mounted the painted parts from yesterday, they're still loose until I get the fenders on.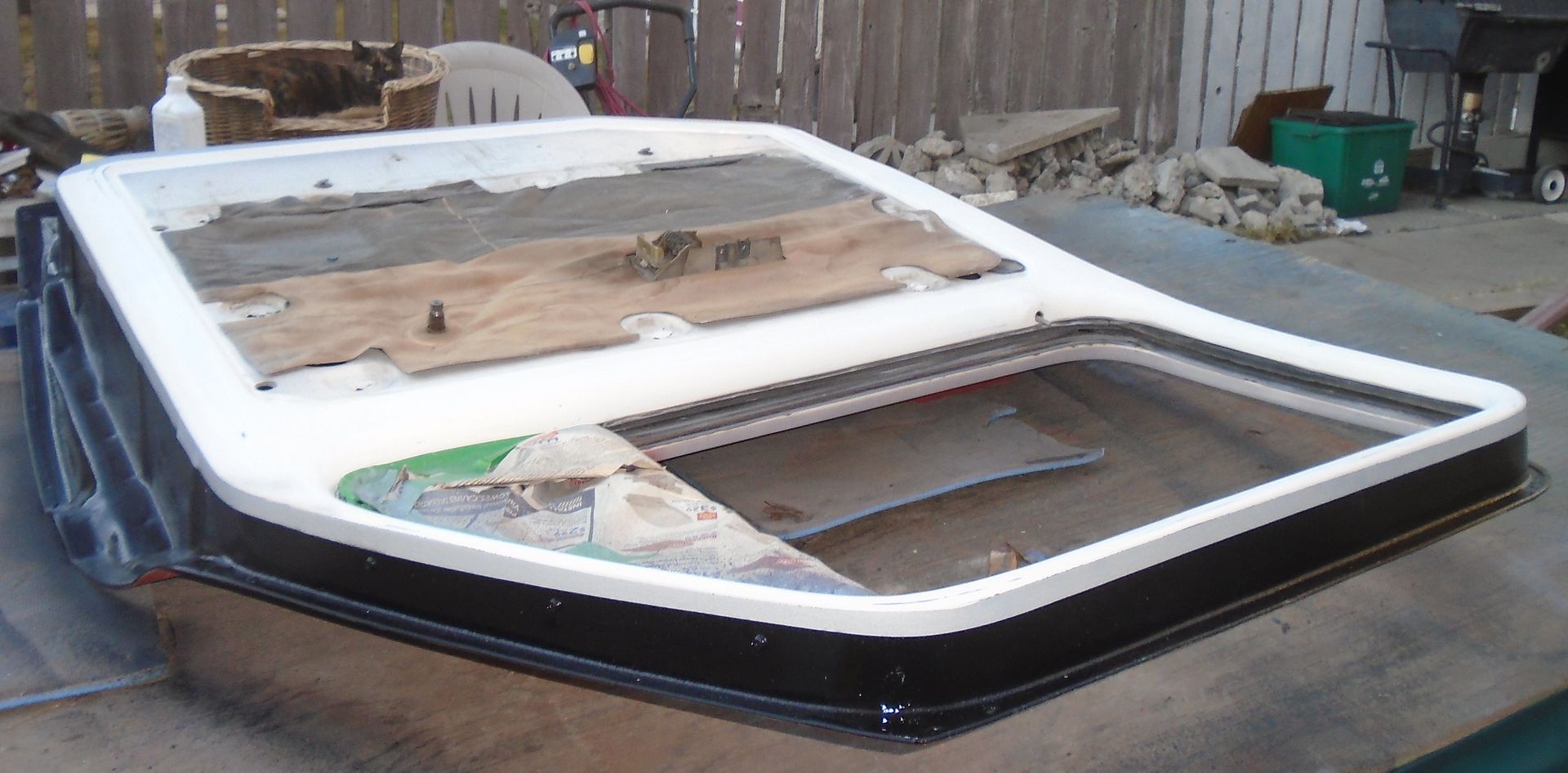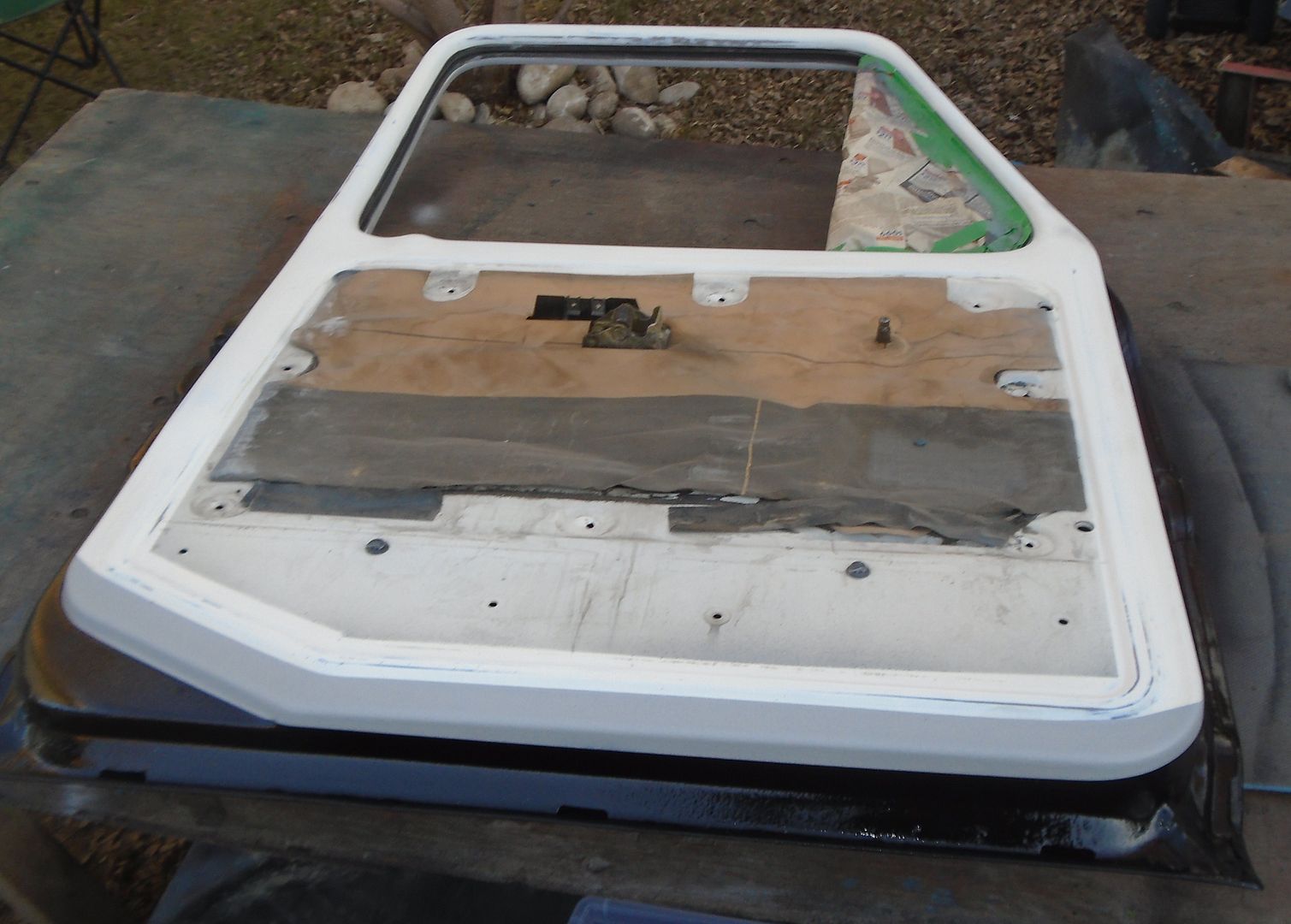 The grey and white gets done in white, notice the guard cat in her chicken nest. Got lots of washing done on the cab so it appears tomorrows main job is door jambs so that I can mount the door on monday, other door gets started on sunday. Can't wait to paint this thing.
Time to lay on my back and shake my arms and legs in the air and freak out the cats, by now
.
03-28-2015, 06:13 PM
Heres the rust converter kit
The spray is for the spots that are a pita for the brush, it'll look like a clearcoat and will take a full 24 hours to dry completely. if you rush the finish over it the converter chemicals will leech through. The brush on works best for me and I use the pie plate to catch spillage as I just pour it on the brush, got it for $3 because the label was buggered. The brush on shows immediate results, still let it cure 24 hours. the stuff in the bottle is a gel rust remover that I'm going to experiment with to see how it works on chrome and aluminum, the molding clips made my aluminum pickup rust that the toothpaste couldn't remove. Haven't brushed rust converter on aluminum as I'm worried it will rot the aluminum or turn it to dust. I'll check it one of these days when I remember to. It's a light rain today so no body work, a day off from getting dirty, cracked finger joints, nicks and bruises. Don't know if I can handle that, think I'll go outside and hit my thumb with a hammer. LOL
PS. it's a 1" brush from dollar store, year or so old.
03-29-2015, 10:10 PM
Instead of beating my thumb up I decided to go online and look for a new toy seeing as I have bonus bucks coming in. Got to the Princess auto catalogue and found this , the cats convinced me to do it.
Total cost was $260 taxes in and that includes the leveler. Around here that's the price of barely used, guess Frankie is going to learn how to pull motors.
04-04-2015, 12:23 AM
So, it just appears that I've been making puppies but I have been busy. Theres been a lot of cleaning, washing, sanding and small repairs to be done. I usually have 4 or 5 sub projects on the go at the same time due to rust chek, primer, rocker guard, more primer and paint needing to dry and harden. the temperature has been border line, the wind has been a pita and we've had some rain/snow, all in all a typical spring. **** time
No more freckles, had to take the whole roof down to bare metal, rust proofed it, followed up with rusty metal primer, then tremclad primer and filler primer. The neighbour across the alley must have thought I was spying on them.
Floor boards all finished to paint, the fiberglass sure made them solid.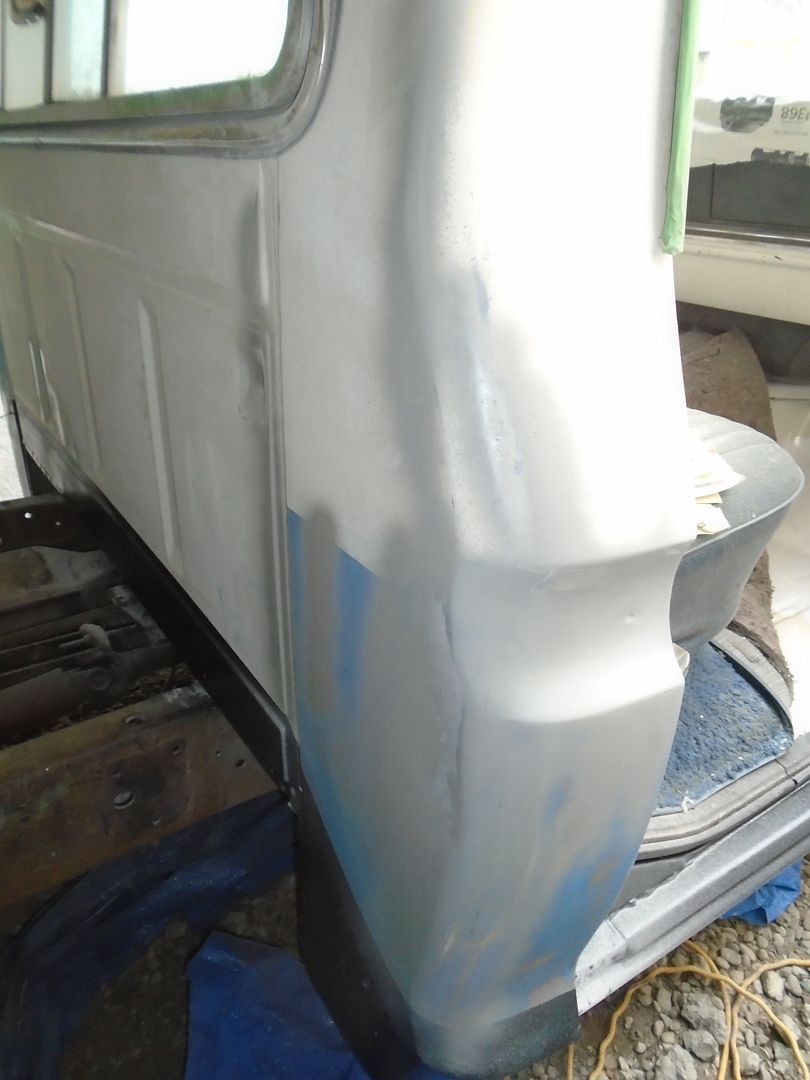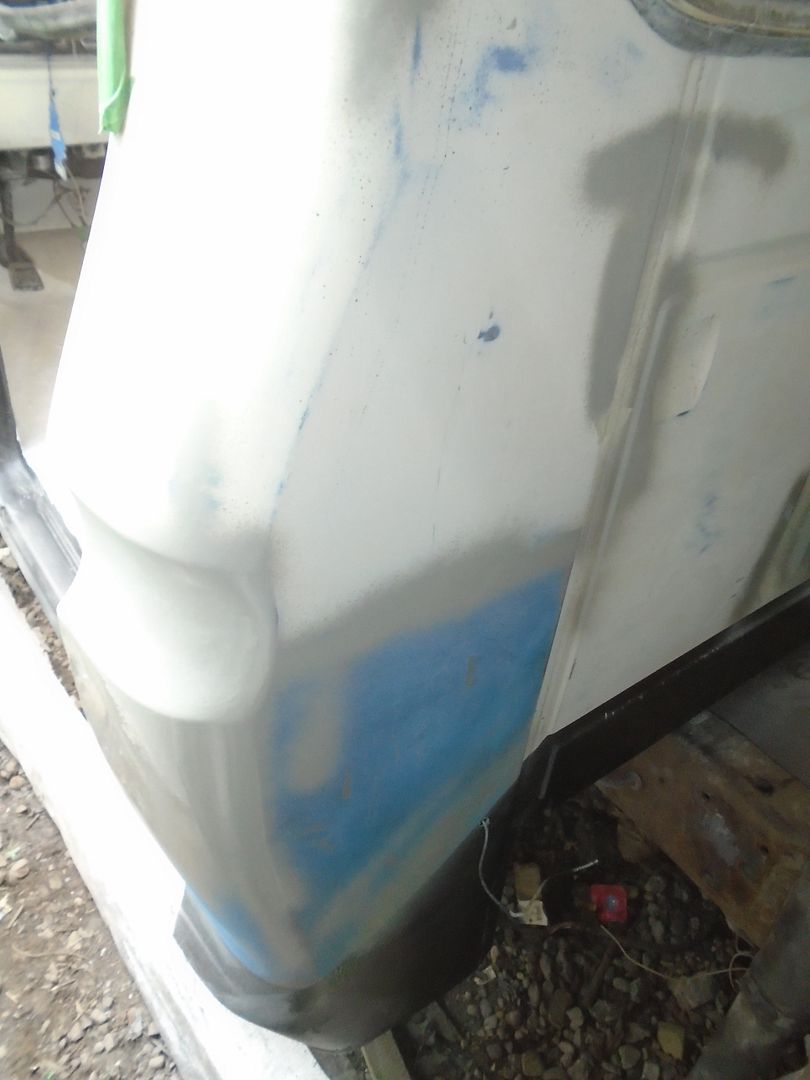 cab corners all done and rocker gaurded, even did that 4" wide belt at the bottom of the cab.
Rocker gaurd goes from firewall inner fender corner all the way to the other firewall inner fender corner. Door jambs are primered. Inside of 1 door is completely done, 1 needs colors. Bodywork is done on fenders and 1 is sanded waiting for rocker guard on inside and the other just needs washing, sanding and rocker guard. Once the door jambs are painted and so is the windshield jamb, I can assemble and do touch up sanding and primer then paint. Now if only the weather would cooperate, getting tired of losing days to light rain or snow, wouldn't mind if it did that at night but not for a half hour at a time during the day. Tuesday should be my next work day but I've got a class on Tuesday nights and the staff prefers it when I show up clean, don't think the students care, they just want the truck done so that we can price out how much a truck can be rebuilt for, from bumper to bumper. It's a basic economics course and I'm supposed to show 22 adults how to budget in order to get ahead, social service day, pc way of saying welfare day, I get to take a couple of crews shopping to teach them how to get deals. This does swallow a fair amount of time on some really good working days. I'm babbling and you got beer to drink so goodbye.
04-10-2015, 01:31 AM
So, I sure like that word, had a secretary in Winnipeg that used to hit me every time I used it. I had a high stress telephone room at the time and dealt with a lot of complaints, so was the best word I knew of to deal with op,s stresses. Any way, became a supporter and now my internet has been acting up to the point that it took me 1hr & 20 minutes to upload 6 pics to photobucket the last time I could get a strong enough signal. Wish I had my old inventory template to rename and catalogue all my pics way it would be easier to load my pics on FTE. The accountant gave me her old office chair so now I have a cushy place to rest my brain.
The truck is coming along pretty good, reassembly starts tomorrow as door and window jambs are clear coated and all my odd ball parts are in clear coated and cab has been cleaned. insurance sent me the check for the ugly green truck and it clears on the 16th so I guess I've got to be done by then as theres a F450 showing up then and I need to free up a set of plates. My new neighbour works in a body shop, handy, the other one works for Shaw so this internet crap is going to come to an end. Lots of pics but can't upload as it seems to be to much for my connection. Had the same problem when I was with telus for 3 years. Should have this fixed by the end of the weekend.