Lost speedo, odometer, stuck in 5th, no power and airbag light...
03-19-2015, 08:09 AM
03-19-2015, 08:38 AM
05-28-2016, 01:32 PM
Join Date: May 2016
Posts: 1
Problem
---
Originally Posted by
Robbgt
Ok guys, last update of the day. Got my truck back this afternoon. Everything seems OK, but this was an intermittend problem to begin with. I will keep this thread updated if anything comes up. There was an updated part number for the molded leadframe, so that's what was installed. Here is a pic of the slip: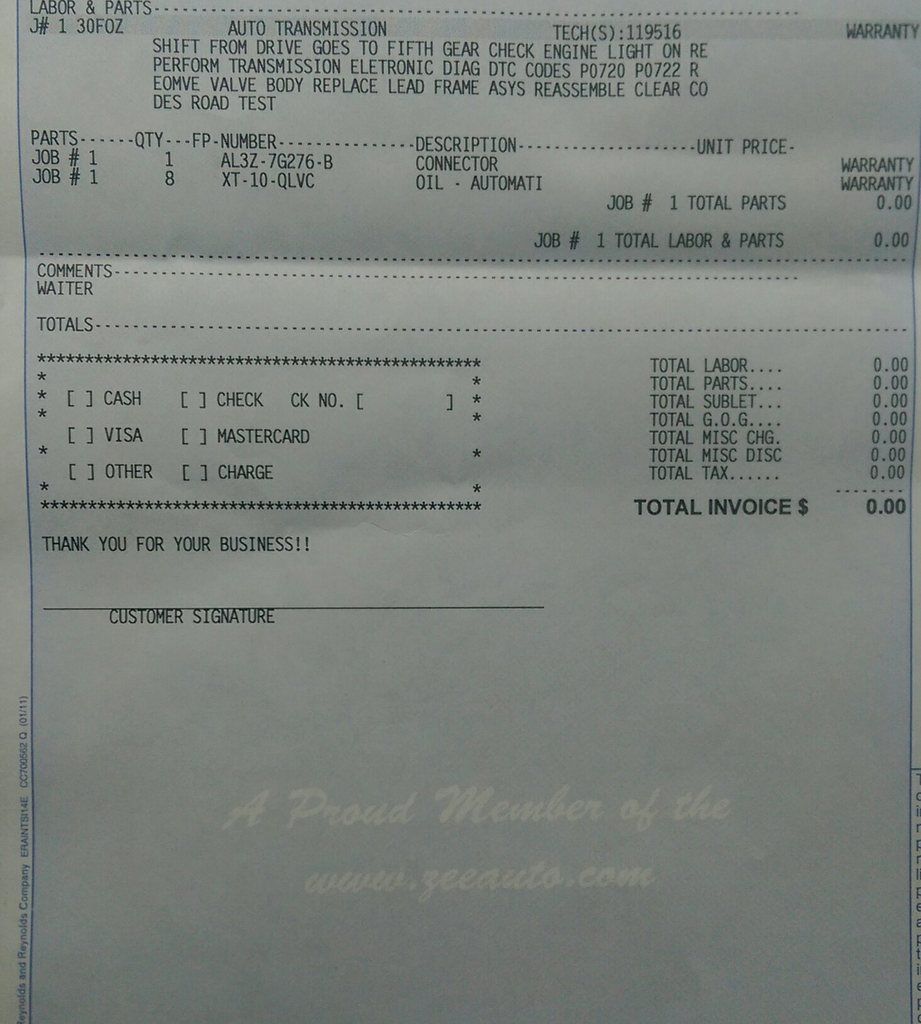 A quick shout out to Branford CT Ford for dealing with a particular PITA customer (I don't like anyone working on my truck), having a loaner available, and turning it around in a day. They were very professional.
I am having the exact same problem (word for word) with my 2012 f150. It has happened 3 times now. Have you had any problems since this?
05-31-2016, 10:36 AM
Hi Michael, I have not had any issues since the TSB work was completed (knock on wood of course). If you are looking to have your dealer repair/replace under warranty, I would recommend printing and bring in the TSB with you, found here:
http://cdn.lrsstatic.com/downloads/t...sb13-06-08.pdf
They tried to tell me that the Check Engine code was for a speed sensor. This TSB explains that it may throw a code for that even though the leadframe needs to be replaced.
Good luck, let me know how it turns out
10-04-2017, 06:06 PM
Join Date: Oct 2017
Posts: 1
10-05-2017, 06:42 AM
I checked my records and this was done while the bumper-bumper warranty was still good. I can't see why this wouldn't be covered by powertrain as it is part of the transmission.
Let us know how it goes and if we can be of any additional help.
06-13-2018, 10:59 PM
Join Date: Jul 2008
Posts: 23
I had the same problem. I had to bring it back 4 times. I made a video and emailed it before my 4th visit. They replaced the part and its now fine.

Now if they can do something about the bubbling paint on my tailgate. That is driving me crazy. I was told at 4.5 years old that there is nothing Ford will do.

Glad ford is looking at this thread, i'm probably going to sell this before the extended warranty expires, and get a Yukon. it looks like this lead frame can go again, and teh paint will probably start flaking off by then.
Thread
Thread Starter
Forum
Replies
Last Post
1967 - 1972 F-100 & Larger F-Series Trucks