Switching to a Holley 1848 465cfm.
01-25-2015, 02:27 PM
Switching to a Holley 1848 465cfm.
---
Hi all,
In my unending quest to find the "perfect carburetor", I recently thought about getting QuickFuel's 580cfm carb (which still definitely interests me).
I was about to pull the trigger when I did a random search on eBay and found a really great price on a Holley 0-1848-1 465cfm carburetor. I rarely, if ever, see them used, and new they're the same price as the QuickFuel (which comes with a great assortment of bells and whistles, like screw in air bleeds, power valve and idle fuel restrictions, etc.)
This one looked to be in great condition, and was only $95. They listed it as a "rebuildable core", and it was from a company called BBJ Automotive Cores, which made me feel better about it. Not some carb that had been sitting on the back shelf in someone's garage.
The carb showed up on Friday. It was in excellent condition, and actually looked like it'd been recently rebuilt. It was also very oily (I'm guessing they either sprayed it or dipped it to keep it from drying out.) It had all fresh new gaskets.
Either way, I still pulled it apart to check it over.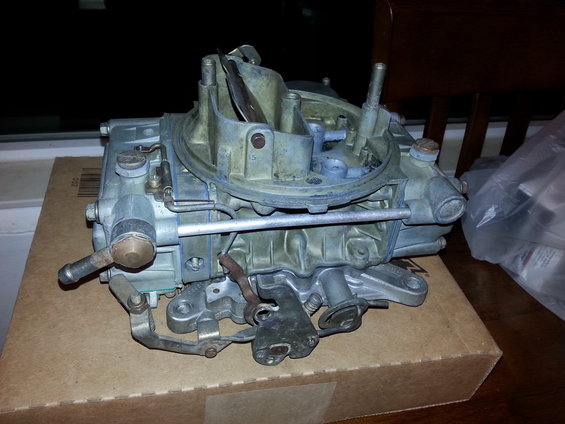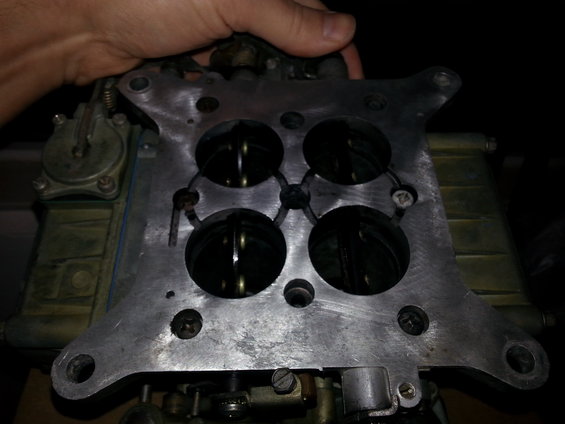 This was my first clue that it had been rebuilt. They only switched to the blue, silicone in recent years to combat the ethanol in fuels, so I knew someone had been through it.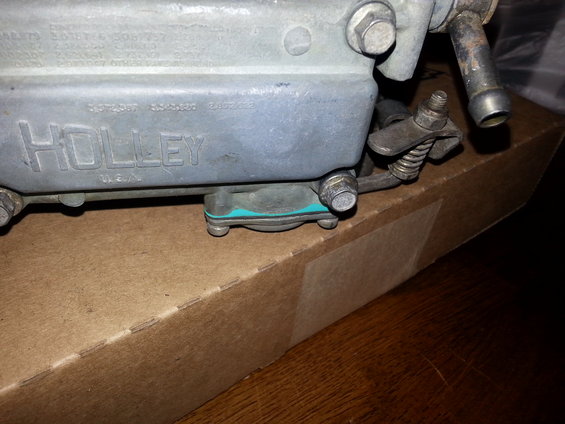 One of the floats had been replaced:
For tuneability, I ordered up a secondary metering block kit. The tech guy at Holley said the original metering plate was equivalent to a size 65 jet, so I put those in to start with.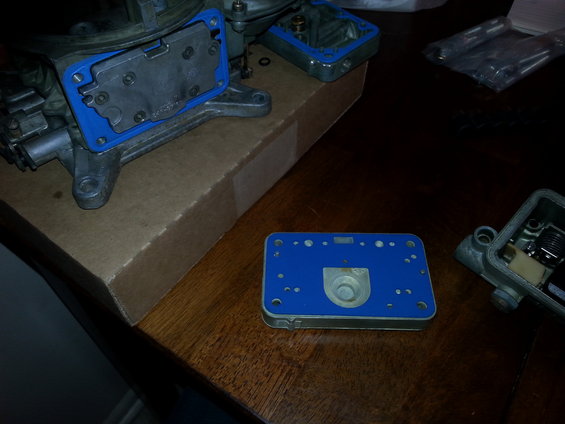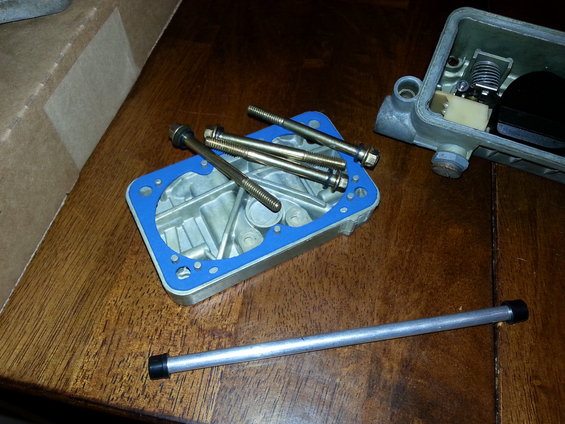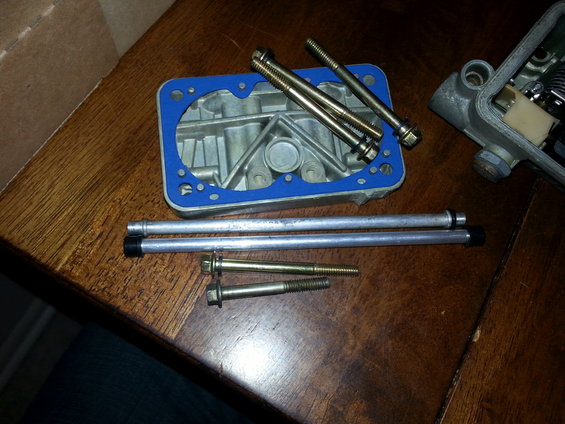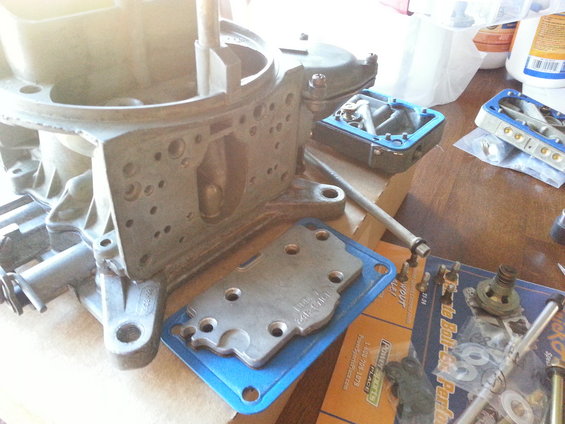 I was also glad because the old style transfer tube uses the o-ring style gasket, which I really don't like. I bought a packet of about 50 and have had these in the garage for my other carburetor. I only have about 5 - 10 left. They generally get pinched and tear every time you remove the transfer tube, or have a habit of popping off and shooting to who knows where.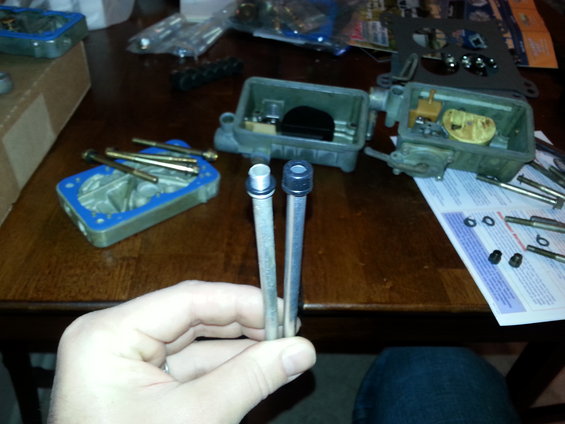 Another thing I don't like is the paper gaskets for the fuel bowls and needle/seats, since they usually rip apart when removed. Plus, they're difficult to scrape off.
So, when I ordered a bunch of tuning stuff last week in anticipation of this carb showing up, I bought a set of the nylon replacements. They're reusable and vastly superior in every way.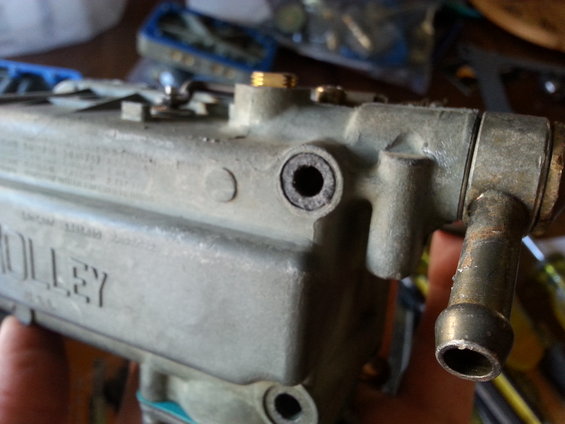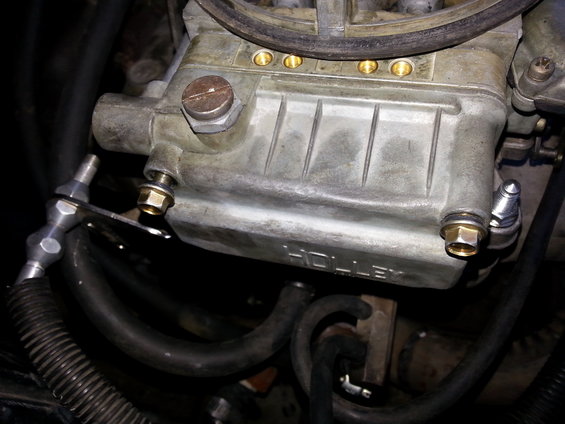 Another oddity I noticed is this little flapper valve. This is the only carburetor I've seen it on. (New ones still include it.) It seems like it opens when you let your foot off the gas and then closes as soon as you start to accelerate. Anyone have any thoughts on why it might be there?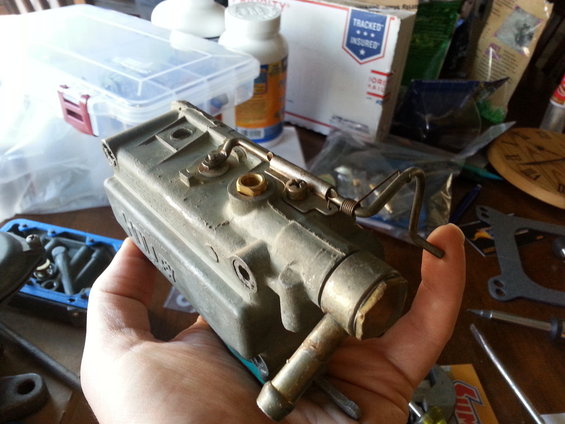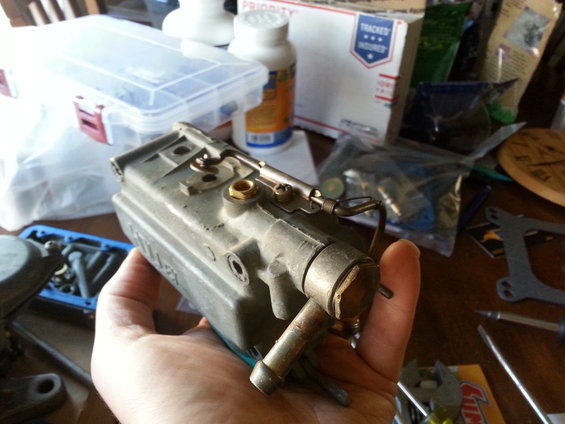 One thing to note for anyone who looks into one of these carbs...
A replacement baseplate for this carburetor is NOT available... anywhere. Holley said they only make them to go on the carb and there isn't even a part number for them because they don't sell them. I just don't get it. It's not like this carb isn't in production anymore. They MAKE the baseplate, but they only make them to afix to the body and sell as a complete unit. No aftermarket company makes one that'll fit it either. It has 1 1/2" bores and everyone makes a 1 11/16" (which is what fits the 600s).
As such, I was extremely grateful that this baseplate was perfectly flat. If it had been warped, I pretty much would have to scrap the whole thing and write it off as a loss. The only way to get a replacement is to just buy another carb new.
The throttle shafts had a little bit of wear, but I took the plate down to a carb guy and he said it wasn't bad enough to need rebushing. He said that since the holes weren't oval and were still round, that those nylon inserts that come in the rebuild kits would be plenty. They were a pain to install, but they seemed to tighten it up really well.
Onward.
I find it interesting that the baseplate also doesn't have ANY vacuum ports on it.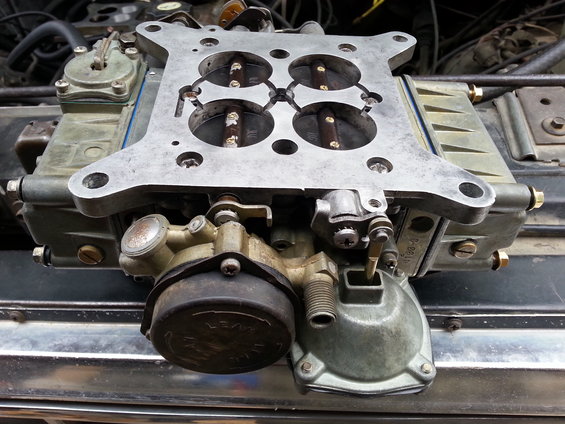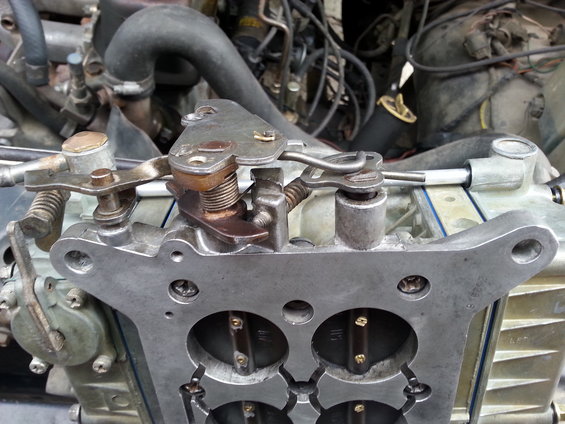 For comparison, here's the underside of my 600cfm carb: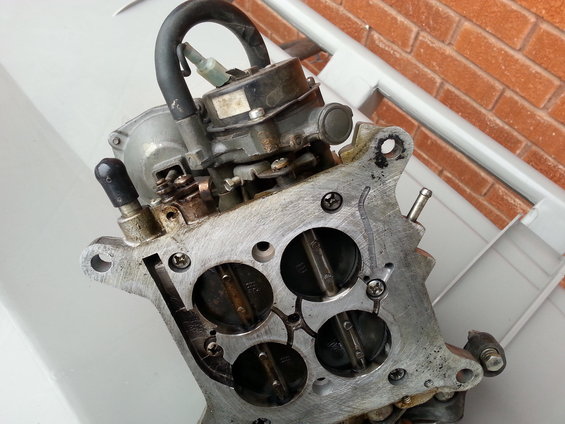 To be sure that I had a perfectly flat surface to bolt the carb to, I purchased a new spacer from Summit. I decided to try the phenolic to see if it helps with heat. For $16 it was a really good deal. The studs were really nice, and I switched mine out for them. The pointed tip on them really makes installing the nuts much easier.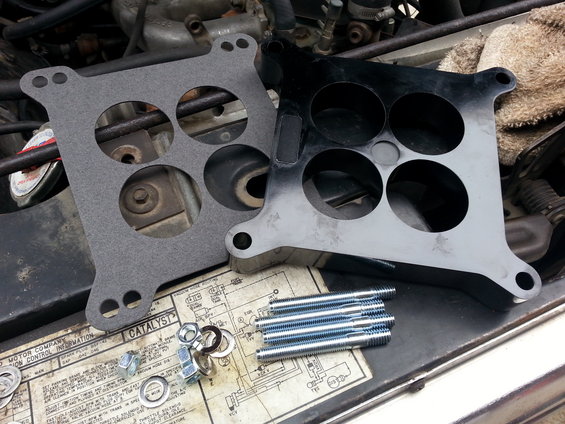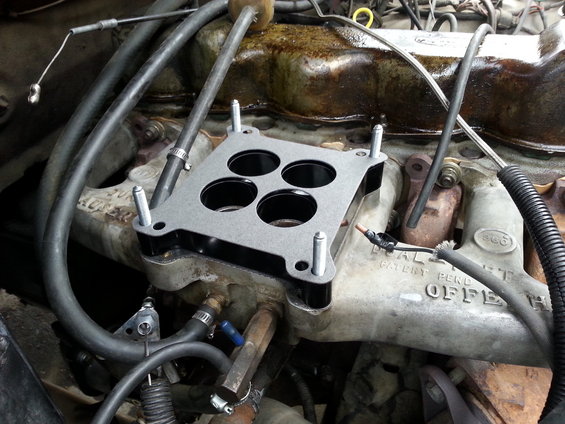 While looking the carb over, I found that it had the wrong secondary diaphragm installed. Whoever rebuilt it just used the one that came in the rebuild kit. It's too long, and doesn't let the secondaries open all the way.
Holley said the proper one is 135-2. I'll have to pick one up.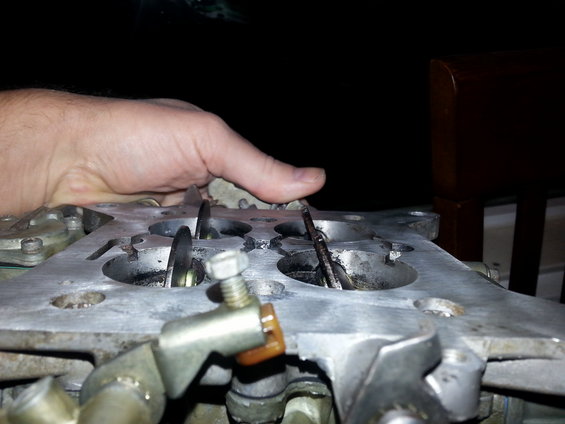 With the carb now on the engine, I went to install the accelerator cable bracket that I bought from Lokar. I immediately discovered that the bracket calls for a square corner on the carb, which this one doesn't have:
Here's the typical corner that most Holleys have: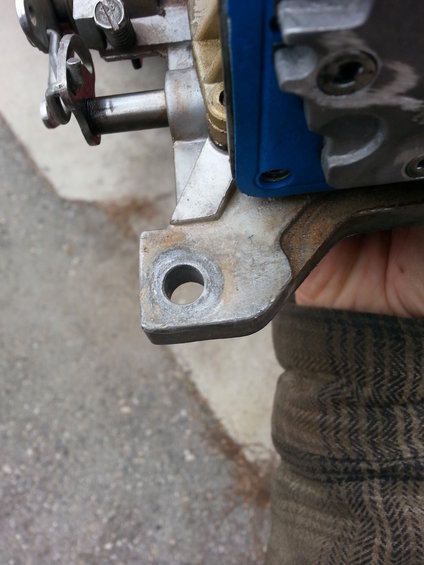 The 465 has round corners: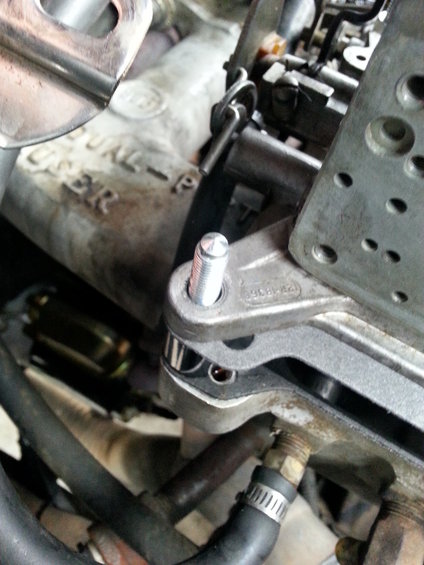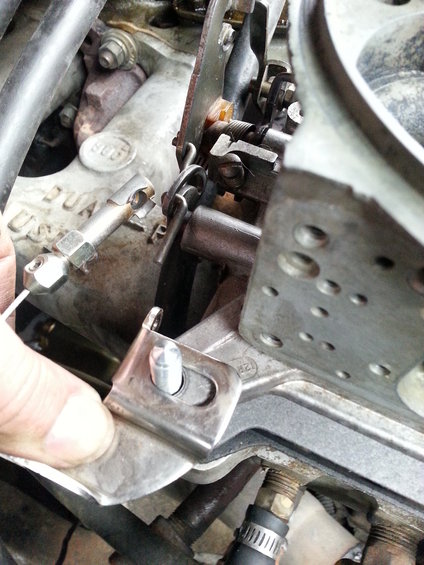 Fortunately it didn't seem to be a problem, since after I tightened it all down, it was still very solid and didn't move.
The next upgrade I did was to switch out the choke. The 1848 normally uses a heated choke, which I didn't have any provisions for, so I swapped the cover to the electric one from my other carb.
(I also found later that the port next to the cover pulls in vacuum, so it needs a cap when not in use.)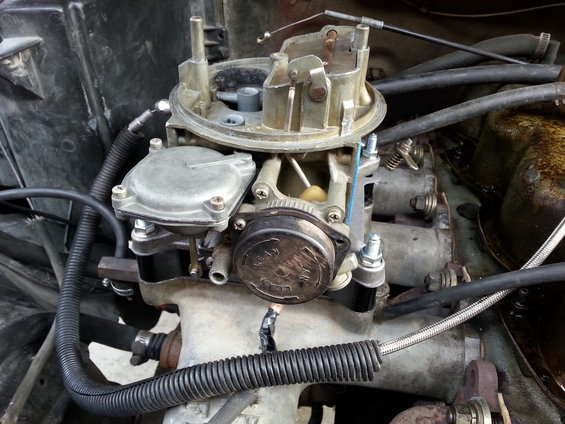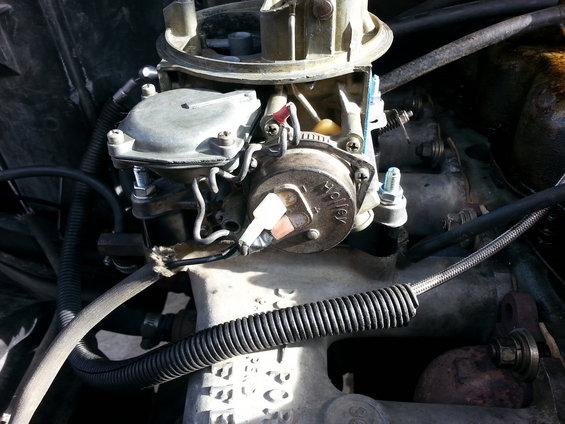 The secondary metering block didn't come with anything for the vacuum port and idle mixture screws, so I installed some that I had in the garage.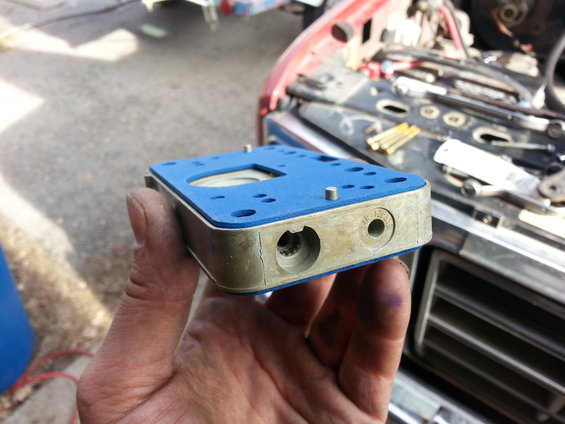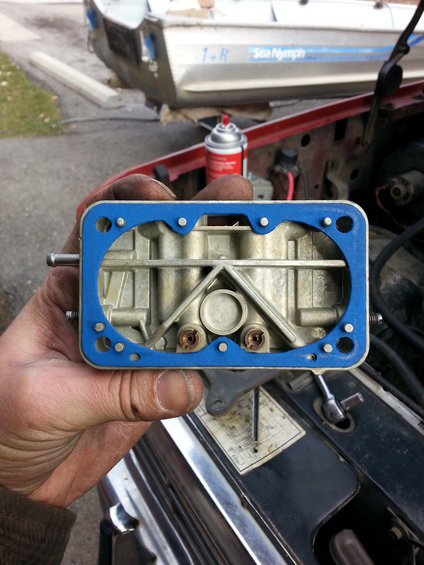 I felt pretty good about my work on it until I discovered these don't actually DO anything, and are just dummy ports. Oh well.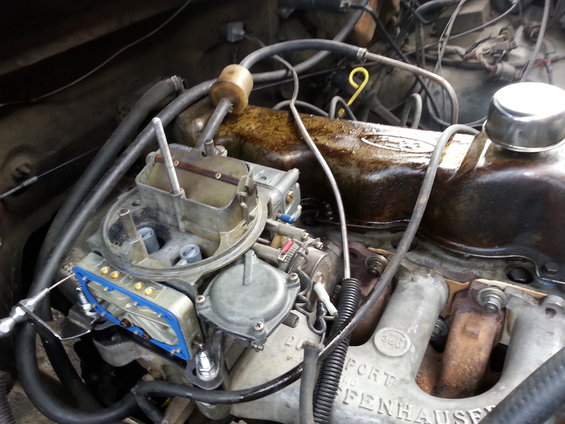 My next big obstacle was hooking up the return spring. To my dismay, the arm on the throttle is absolutely bare bones.
I don't have my own pictures, so here's some stock ones:
vs the typical setup:
There was just simply no where to connect anything. I was about to hang my head dejectedly and pull the whole thing apart to swap the throttle shafts between the carburetors when I remembered the homemade bracket I originally built when I first installed a 4bbl. It let me hook the springs around the throttle cable connection, which worked perfectly (big sigh of relief):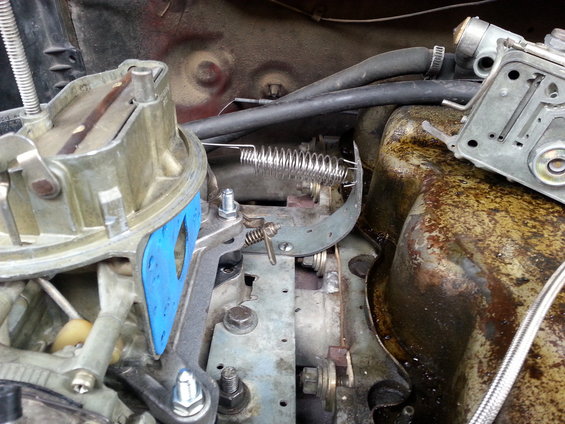 And here it is running!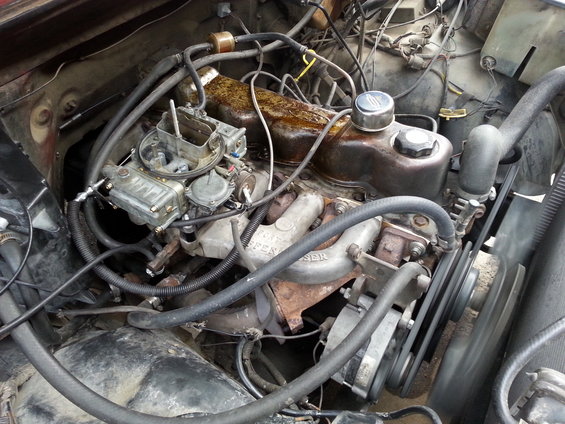 This is getting pretty long, so I'll post more details on how it ran in another post.
01-25-2015, 04:33 PM
Regarding the idle-activated valve on the top: Is that a vacuum valve? Idle bypass air (a controlled vacuum leak), to assist with hot idle quality?

That poor carburetor, AB. You were waiting so long for it I'll bet you jumped all over it when it arrived.

I hope it will be the perfect one for your needs. Btw, you made no mention of t.shaft play, so I assume it is tight? Oh, if it were me I'd submerge both floats and check for bubbles. Good luck.

What do the 65 jets show on the AFR?
01-25-2015, 10:38 PM
No idea on the little flapper. It just opens a hole in the top of the fuel bowl. I may write Holley and ask them.
Heh, and yes, I've been really excited about it arriving all week. The holiday on Monday didn't help it get here any sooner either.
The throttle shafts had a little bit of play, not too bad. Those little nylon inserts that come with the rebuild kits did a fine job of sealing them up tight.
Unfortunately, today was a long, miserable day trying to figure out what was going on. Yesterday, after I got the carburetor installed, it initially ran extremely lean (like 19:1) or so. I found that if I adjusted the secondaries to open up a little bit, it solved the issue. I took it for a drive and it drove so well that I was giddy. It was great!
But then, that evening, we took it for a drive to go out for dinner and it bucked and sputtered. This morning, I tried starting it and it was backfiring and wouldn't even start.
I spent most of the day pulling the carburetor apart, cleaning it, trying it again, with no luck. Finally, after about four hours of fussing with it, I got it to run, albeit terribly. The vacuum was around 10 - 13hg. Flustered and out of ideas, I switched back to the other carburetor, and it ran exactly the same!
I found that the distributor had slipped AGAIN, and the timing was way off. I reset the timing and got it to idle. I then switched back to the 465cfm and was able to get it to idle as well, at around 13.5 AFR and around 18hg on the vacuum.
However, something is still very wrong with the engine. When it's idling, it sounds like a helicopter and the exhaust is sputtering. I took it for a test drive and whether I was cruising or accelerating, it surged constantly. The vacuum behaved like normal, and the AFR was right on the money. It pulled well and drove like normal, but is just surging all the meanwhile.
So.... I'll have to put off dialing this thing in until I can figure out what's going on. I don't know if something happened to a valve or what, but it's awfully coincidental it happened right when I swapped carbs. Kept me looking in the wrong direction all day.
I have no idea what to look into, but I hope it's simple.
01-26-2015, 11:36 AM
Join Date: Dec 2006
Location: Spokane, WA
Posts: 3,580
I think I would focus on the ignition as being a likely source of the problem. A worn out dizzy? Ignition module going out? Until you are certain the ignition is operating properly it will do not much good to tinker with the carb.
01-26-2015, 11:58 AM
I figured out what it was. I sheared a pin on the distributor.
It must've been slowly going out over the weekend and then just fizzled last night.
The timing of it all while swapping to a different carburetor sure made me look in the wrong direction.
I'll replace it this afternoon and see how it does.
01-26-2015, 05:47 PM
Okay, I was worried something was really screwy with the carb and I was going to have to shelve it. What's the chances my distributor would go out as soon as I bolted it on?? Lol
My bike has been down for a while so today was a good reason to fix it. Brought it inside and rebuilt the shifters. Put the distributor in my backpack and did a ten mile round trip to O'Reilly and back. I knew there was a reason I keep in shape, for just such an occasion.
Swapped the distributor in and out drives great. The secondary arm is the wrong one so they don't work at the moment, but overall I'm just thrilled with the carb.
Cruise at 35 is pretty stoich and is around 14.5:1 - 15:1.
45 is a little less at around 13.5 - 14.0:1
Haven't had it out on the interstate yet.
It came with a size 28 squirter and the white cam. It does okay but is a tad lean. I'll try richening it up some.
Other than that, I can't get it to bog when I stomp on the gas, which is a big first! I love it. :-) It just starts accelerating like it should.
About the only issue I've noticed is that the power valve is somewhat lean. When I stomp on it, about the richest I can get it at WOT is 13.5 - 14.0. It works, but I can tell it could use a little bit more. This will take modifying the metering block and making it larger, so I won't get to it right away. Interesting to see the difference between these restrictions and the ones on the 80555. These look like little pin ****** whereas the 80555 looked like they were honestly three to four times the diameter. No wonder it was always around 10.0 whenever it opened.
Maybe I'll toy with just opening the secondaries earlier and using those to richen it up.
I look forward to getting the right diaphragm and getting those working.
Also, with how modest this carb seems with fuel, I'm really looking forward to mpg tests.
01-26-2015, 06:43 PM
Yeah, the stock settings for this particular carb is actually an 8.5, which i thought was interesting. I have a 6.5 in it right now but have an 8.5 in the garage, so I'll throw it in. I don't think that'll make it richer though, just come in sooner. The richness is determined by how much fuel can get through the restriction and into the carb (like the main jets). At least that's my understanding of it.
01-26-2015, 07:12 PM
do you now have working secondaries?
---
Good to see your new carb seems to be a match. While reading it seemed to me you said your secondaries linkage wasn't hooked up yet?..

About the power valve: I myself try to tune a usable cruising jetting to be at the edge of lean with maximum available vacuum, (2 bbl carb) then when "passing" is needed, utilize the lower vacuum to bring in the power valve which depending on the carb specs will allow approx an increase of .10. in other words your 57" main momentarily becomes a 67" or there about. How much you gain in a particular carb would depend on how much of an increase that circuit offered.

Nice that you have a modern AFR gadget I'm sure you're going to have fun figuring it out.
01-26-2015, 09:47 PM
Join Date: Dec 2006
Location: Spokane, WA
Posts: 3,580
"I found that if I adjusted the secondaries to open up a little bit, it solved the issue."

What/where/how exactly is that adjustment?

"I don't think that'll make it richer though, just come in sooner. "

I think that is correct. A high-flow 6.5 might just be the ticket.
01-26-2015, 09:58 PM
Join Date: Dec 2006
Location: Spokane, WA
Posts: 3,580
Thanks for the video. The high-flow single stage PV is PN 125-165. I am curious about the secondary adjustment and the PV as I have always had a hard lean at low cruising speeds and up-sized jets barely made a difference. Also, my AFR runs right on the border Stoich/Rich when under load and heavy throttle indicating it's not quite Rich enough.
01-27-2015, 08:36 AM
I've found that the main jets don't do anything at low RPMs, which I've found frustrating. It's all off the idle circuit at that point. Having the powervalve come in earlier can definitely help. Do you know what size you have in there right now? When I leaned out the 80555, I found that upping to a 10.5 PV even helped since I could cruise on the really lean setting, but then have it richen up immediately when I pushed on the gas.

It just sucked when I was driving for 150 miles against a head wind and the PV was open the whole time...
01-27-2015, 02:48 PM
I know that helped on the last carb I had. Just brings in the fuel flow a tad sooner and covers the lean hole. Only takes about 15 minutes to swap out. Most irritating part is cracking the fuel bowl without spilling gas...