Switching to a Holley 1848 465cfm.
03-04-2015, 03:59 PM
Holley 1848 TIPS!!!
---
This was created and researched by AbandonedBronco:
https://www.holley.com/products/fuel...parts/0-1848-1
They still make them, which is why it surprises me that I was unable to purchase a replacement baseplate for it.
That's one thing that drives me
crazy
about Holley carb date codes. They're a 4 digit number, like 2356. The first 3 numbers are the day of the year it was manufactured and the last number is the year of the decade. But there is absolutely NO WAY to know what decade it was made in. None. So if you have a datecode of 2356, you know it was made August 23rd, but you don't know if it was made in '66, '76, '86, '96, '06.... How difficult was it to make it a 5 digit number!?
Anyway, I digress.
The stock powervalve is an 8.5, which is kinda big but it seems like overall, I've found that this carb is a little leaner in nature than other Holleys I've used, so maybe it was set up that way. 95% of Holleys (a real statistic, mind you), come with a 6.5 and is what will always come in a rebuild kit. So maybe a few different sized power valves to try, and at least an 8.5 to put a fresh one in.
http://allcarbs.com/detail.php?pid=1...&ctgn=39&stt=0
The secondary diaphragm is a 135-2, which, again, is not what a rebuild kit is going to come with. It's going to come with the 135-4, which is what the vast majority use. The 390 also used the 135-2. It's the length of the arm on the diaphram. I think I posted a pic in my writeup about the secondaries not opening all the way because whoever rebuilt it just put the one from the rebuild kit in and didn't pay attention or care.

Allcarbs says they have the 135-2, but don't list it on their webpage, so you have to call them and request that they add it to your order.
Other than that, the rebuild kit should have everything.
As far as tuning extras, the stock jets are 57s. So, pairs of jets from 54 - 60 to have a good range to play with would be good.
http://allcarbs.com/detail.php?pid=1...&ctgn=27&stt=0
The hardest part to tune is usually the accelerator pump, so there's an array of different stuff for that.
First is the squirter. The size of the squirter is how much fuel can pass through (like the main jets).
http://allcarbs.com/detail.php?pid=1...ctgn=42&stt=15
http://allcarbs.com/detail.php?pid=1...ctgn=42&stt=20
You more than likely will never need bigger than 40, so you might just want to pick up the sizes 37 and 40 separately.
http://allcarbs.com/detail.php?pid=1...ctgn=42&stt=20
http://allcarbs.com/detail.php?pid=1...ctgn=42&stt=20
I've also read that if you use a size 40 and above, you'll need a hollow screw setup:
http://allcarbs.com/detail.php?pid=1...ctgn=31&stt=40
It says it's for Demon carbs, but if you notice all over the site that every listing for a Demon carb part has the same part number as the corresponding Holley carb part. They use all the same stuff.
You probably shouldn't need a 40 though. That's really only if you have a really high performance engine that gulps air as soon as you crack the throttle, or if you have really tall gears. My Bronco with the 3.55 uses a size 32 and my other with the 3.00 (with the 1848) usually uses a 35 or 37. (Interestingly though, the spreadbore Holley came with a size 40 stock.)
The cams dictate where during the throttle the fuel from the accelerator pump is delivered. My '81 needs almost ALL of it the second I push on the gas, so it needs a huge burst of fuel as soon as the throttle opens to get it rolling with those 3.00s and 31" tires. Just all depends on your engine's needs. So, it can take quite a few tries with different accelerator pump squirters and cams to find the perfect one your engine needs. But once you get it...
http://allcarbs.com/detail.php?pid=4...ctgn=41&stt=10
For the secondaries, there are two options:
The first is to get the spring kit. The stiffer the spring, the longer they keep the secondaries closed.
http://allcarbs.com/detail.php?pid=1...ctgn=40&stt=30
If you go that route, I HIGHLY suggest the quick change kit. It makes things so much nicer.
http://allcarbs.com/detail.php?pid=8...&ctgn=13&stt=5
Or, you can go with QuickFuel's new secondary housing, which lets you change the secondary opening rate with the turn of a screw. I want one.
http://www.quickfueltechnology.com/m...c-housing.html
Lastly, I'm not sure what gaskets new Holley rebuild kits come with, but I highly suggest swapping them out with nylon ones for the fuel bowls and needle and seats. The paper ones tear and constantly need to be replaced, especially if you're doing jet changes for tuning.
Two of these (one for each fuel bowl)
http://allcarbs.com/detail.php?pid=6...ctgn=79&stt=20
http://allcarbs.com/detail.php?pid=8...ctgn=79&stt=30
Oh, and one little trick I learned. When you install the transfer tube and gaskets that goes between the two fuel bowls, spray the ends with some carb cleaner to lubricate it before installing. That'll save you a lot of heartache and torn gaskets.
Good luck. Hopefully that'll be all you need to get it running top notch.
F250Restorer: I wonder if the screw adjustable secondary dia. housing also has the long arm, as you mentioned earlier, that would prevent the secondaries on the 1848 from opening fully. That tip, as with that about spraying the transfer tube ends, and the nylon (blue) gaskets, are all invaluable and pain saving. Thanks, AB
03-04-2015, 04:03 PM
I asked QuickFuel that same question about the adjustable secondary housing and they said that inside of it is a standard Holley secondary diaphragm. So, you just remove that one and put the one with the shorter arm in its place.
03-04-2015, 04:09 PM
Oh, I should have been clearer. The nylon gaskets I mentioned are for the fuel bowl SCREWS.

I don't even think you can get non-stick gaskets anymore for the other stuff, they're all the regular blue non-stick. But they still supply the paper fuel bowl screw and needle/seat gaskets.
03-11-2015, 05:29 PM
Does having three carbs mean I have a carburetor fetish? 50 Shades of Zinc?
The Holley arrived today. When I read the write up for the 1848, it mentioned some guy named Howard from Washington state who pioneered their use on the Ford 300. Don't know who that was.
So, now I have a problem: which carb to use, the QJ with untold hours and dollars in, or the beautiful Holley?
03-11-2015, 06:40 PM
You
only
have 3?
Don't know who that Howard guy would be, but he should have come on here and been touting those things ages ago.
The last 3 weeks of driving around my Bronco with that carb on there (granted, i'm sure the DUI is helping) is the most I've ever enjoyed driving my Bronco in the 10 years I've owned it. A couple tweaks here and there are left, but gone are the struggles and frustrations of trying to get it to drive normal, and all that's left is getting it drive perfect (which I know I'll never achieve, but it's fun to try.)
From now on, when someone asks for a carb recommendation for the 300, i'm going to say the Holley 1848 465 cfm.
My gas mileage isn't anything to brag about (11 town / 16 highway), but it's perfectly fine with me for how gleeful I get when I drive it every day.
I know I didn't
directly
answer your question.
03-11-2015, 07:15 PM
I'm happy for ya, AB. With the Summit carb I'm getting 7mpg, and that is after dialing it down in jet size! SEVEN. I have to laugh because it is so sad.

I like the 1848. It is compact. I was looking at the metering block for the secondaries, the conv. kit on Allstate, and didn't know if it would be worth it. I don't plan on changing the secondaries since they rarely come in.

Oh, and I do have two other QJ's on the shelf,so, that makes 5 carbs. lol.
03-11-2015, 07:25 PM
One of these days you should try an Edelbrock. I think I may have changed the rods in the 500cfm on the Bronco but otherwise it's out of the box stock and it drives pretty much flawlessly.
I've got a couple of Autolite 2 bbls sitting around (one 2100 and one 2150) I need to rebuild that I want to try too just for fun but the Edelbrock is just so reliable and easy.
03-11-2015, 07:32 PM
The only thought I have on the secondaries are that they are going to come in more on a smaller carb. Granted, that depends on how much you get on it. I'm having fun with mine.
Overall, I've noticed that the 1848 is a leaner carb. It likes to hang out in the 13.0 - 14.0 range, even when you have it full throttle. I upped my secondaries about 2 - 3 sizes to get it into the 12.5 range when they kick in.
It certainly isn't necessary, and it's always something you can just bolt on later without removing the carb if the mood strikes.
The Edelbrock would be fun to try sometime. I still have that 600 Edelbrock from you that I need to get some parts for. My brother and I used it to temporarily get the 454 V8 on his speedboat up and running, which was fun to do. I have it in the garage now. I think I had a vendetta against the Holley and had to get one work. Now that I have, I can just have fun trying other ones out to see what I like.
BTW, how is your Predator carb?
I know I have a box of about half a dozen 1bbl carbs from the "old days" sitting on the shelf somewhere too. I should go buy a 4 - 2 adapter, and a 2 - 1 adapter and go sneak one of those onto my wife's C intake one weekend when she isn't looking...
03-14-2015, 07:37 AM
I think this was the first kit I've had that didn't have an exploded view diagram. There is a small black do-hicky on the primary side that is held in place by the guides, pins, at the top of the bowl. Is that a baffle?

I love how the acc. pump discharge squirters are changeable. My Summit had .035 discharge. My engine seemed to like them. I believe I'll try .033 to begin. This carb, new, has .025.
03-14-2015, 12:12 PM
I'm not sure what part you're referring to. Is it in any of the pictures that I posted up? Or can you post a picture of it?
Is it this little flapper? If so, this is the only carb I've ever seen with one, and I have no idea what it's for. Looks like some kind of vent that opens when you let off the gas, but if it's necessary, why don't other carbs have it? Dunno.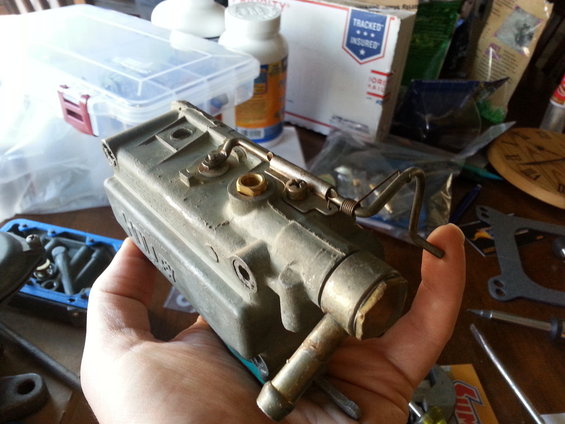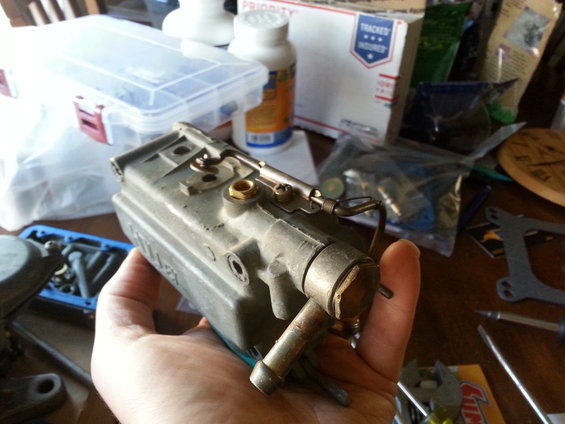 Fortunately, there's tons of diagrams on line if you need them. Or you can post a picture up.
And rest easy knowing there will be about half the kit left over when you're done of parts and pieces you didn't install.
The trickiest part is probably just figuring out which base gasket you need. So, unless it's too late, closely examine the one you remove so that you can match it. Otherwise, it's really just a lot of simple gaskets, and swapping out the needle/seats.
03-14-2015, 12:30 PM
I think 25 is just the standard size that almost all Holleys come with. Unlike jetting, accelerator pump setups are application specific instead of carb specific, so they just put on the smallest one and let you figure it out yourself.

It's based a lot on the weight of the vehicle, automatic/manual, and your gearing. A big, heavy vehicle with a tall gear (like my Bronco and the 3.00 final) need a bigger shot to get it moving. A lighter, more aggressively geared vehicle is going to require less to get it moving and require a smaller shot. Then, you custom tune it with the different colored pump cams for where you want the majority of the shot in the throttle range, like all up front, or spread evenly throughout, etc.


The irritation comes when you need to swap out the pump squirter with the carb on the engine. The choke flap doesn't leave a lot of room to work around, and dropping the screw, or especially, the little gaskets down into the carb can be a real pain. I've done it before, and generally fish them out with a hooked piece of wire. It's a trial in patience.

So, I've gotten down a pretty good technique in swapping those out when I want to try different sizes:
During all steps, move slowly and steadily, so everything stays in place and nothing falls to the side and down into the carb.

To Remove:
1. Get a philips screwdriver (even better if it's magnetic) and reach down in and unscrew the screw. If it's magnetic, you can lift the screw out.
2. Get a set of loooong needle nose pliers and gently reach down and grab the squirter and the top gasket (and screw, if it's still there). Be sure to grab them as one whole unit, and don't progress until you're sure you have a good grip on them. Lift it straight up (especially if the screw is still in it) to avoid knocking the bottom gasket down into the carb. You won't be able to lift it all the way out because the enlarged housing for the bowl vent doesn't allow enough room for the squirter to squeeze through.
3. Once you're clear, you can move to the side and lift it all up out in the open.

To Replace:
1. Get a long, non-magnetic philips screwdriver that will fit inside and slide through the pump squirter.
2. Put the top gasket onto the pump squirter, and then slide the gasket/squirter assembly onto the screwdriver with the top toward the handle.
3. Hold onto the squirter with one hand, and with the other, set the tip of the screwdriver down through the lower gasket and into the hole where the squirter goes. This makes it so that as long as the screwdriver is resting in the hole, none of the gaskets and pump can fall.
4. Drop the squirter down in and correctly position it in place. If it slides in and faces the wrong way, you can use a flat bladed screwdriver to lift and rotate it until it sits correctly. Don't remove the philips from the squirter hole until the squirter is correctly in place.
5. Now, with a steady hand, use the magnetic screwdriver (or the pliers) to slowly set the screw down in place. Make sure not to knock anything to the side.
6. Tighten the screw and you're good to go.



Using that method, I've got it down to about 2 - 3 minutes to swap it out, and never knock the darn gaskets down into the carb. If you ever do, never open the throttle blades until you get it out or it'll fall down into the intake.
03-14-2015, 06:47 PM
AB--haven't had time to read you last post yet, being dragged to a party. Anyway, in your photos you see the metering block. The piece I'm speaking of sits on the two alignment pins above the power valve, at the top of the block. No biggie, it's on!

I put on .031 acc. pump discharge. Haven't tuned any other aspect. All I will say is that for the first time ever I chirped my rear tire shifting into second ... with a C6! Dude. I really like it. It did freak me out when raw fuel was dumping into the intake. Took me a bit to figure out the float adjustment. It's really nice. I'm also pulling 20ish hg vacuum. Another first.
03-14-2015, 07:07 PM
No worries on the last post. That's just some helpful tips for when/if you need to swap out the accelerator pump squirter.
Hrm.. I am really scratching my head trying to figure out what part you're talking about.
Now I'm curious!
Either way, I'm glad you got it together and that it's already got your attention.
I've been having a blast with mine on there. I think it's the perfect size. I'll be interested to hear how it'll treat you.
On setting the floats, the proper way to do it is to remove the fuel bowl and hold it upside down. Loosen the needle/seat hold down screw and then rotate the nut until the float is parallel to the fuel bowl. Retighten the screw. That sets them just right.
You can set them with the site screws, but it's not quite as accurate. The hardest part is getting your carb perfectly level. With the engine running, adjust them until just a trickle of gas comes out the site hole. It works in a pinch, but the first method is much better.
Have fun!
03-15-2015, 12:10 AM
The part in question is #37.
https://www.google.com/search?q=holl...37%3B600%3B445
I thought it some sort of baffle. Now that I think about it, it is on the fuel inlet side, so maybe it's purpose is to prevent sloshing. A baffle.
Sorry for the monster link. I read the post I previously said I hadn't yet. That is a great idea/system for the squirters. Yes, I dropped the little round gasket, lol. Another great way of doing the floats too. I'm sure it would have taken me 5 times before I figured those out.
I agree about it being the perfect size. I could 'feel' it on first drive. I look forward to installing the Quick Fuel adj. secondary, and tuning. It will be fun. Oh, and hooking up the AFR gauge to see where I'm at.