Year: 1994
Make: Ford
Model: F-150
Price: $5500
Mileage: 150000
Color: Orange
Private or Dealer Listing: Private Listing
Location (State): TX
Transmission: Manual
Drivetrain: 4WD & AWD
Color: Orange

Up for sale is my '94 F-150 regular cab, short bed, 4x4, 5 speed manual. The truck is an XL model and has almost 150k miles on the odometer, but none of the drivetrain has more than 1500 miles on it. I am selling because the new engine melted the number 5 piston. I have sold the engine and was preparing to swap to a 351w, but haven't gotten around to it. This truck has been a project of mine for the last 3 1/2 years. In that time I have rebuilt every part of the suspension and drivetrain. All of the work on the truck was done by myself and everything was done correctly. No corners were cut on this thing. I will list below everything that has been done to it.
$5500 OBO is the price I have in mind. I have well over $15000 invested in the roller. I had around $28k invested in it when the engine was still in it. I don't NEED to sell the truck, but it's just sitting right now so if someone came long with enough money, I could let it go. I realize $5500 is high for a truck that doesn't run, but as you will see when you go through this list of new parts and start looking up prices... You can have this truck on the road pretty easily and have way less than half of what I have invested in it. It needs an engine and some fresh fuel and it will be ready to go again.
Truck had a 300-6 from the factory, but I swapped in a 302. So the truck is ready for a 302 to drop in it right now.
Related to the engine, here are the parts the truck still has.
custom 2.5" 304 stainless mandrel bent exhaust system with Random Technology 100 cell race cats, magnaflow X pipe, and Borla S Type mufflers. The exhaust is built for a 302 with Mustang style shorty headers.
Mass air flow and SEFI conversion with mustang A9L computer w/ Tweeter R/T tuned by me and Pro-M ---70mm MAF sensor. This setup can run either a 302 or 351 based engine. Some tuning changes will need to be done on the Tweecer and it'll be good to go.
Brand new alternator, power steering pump, A/C compressor, tensioner, belt, and accessory brackets. Accessory brackets are from a 302 engine, but they may fit a 351 as well. The alternator is a Mean Green 200 amp 3G unit.
Starter is a high torque starter from RJM Injection. It will fit either a 302 or 351
New Ford battery cables
Transmission/transfer case:
Freshly rebuilt M5OD transmission and Borg Warner 1356 transfer case
New clutch hydraulics
New Centerforce dual friction clutch
Stock shifter modified to accept Hurst T grip shifter ****
Stock truck 50 oz imbalance flywheel
The transmission and clutch will bolt up behind a 351 or 302.
Front axle:
Rebuilt Dana 44 TTB
Yukon 4.10 gears
Detroit Truetrac differential
All new bearings and u-joints with spring trick on stub shaft to accept the Truetrac diff
New Warn premium locking hubs with stage 8 locking spindle nuts and all new wheel bearings and spindle bearings
New stock rotors and calipers w/ EBC brake pads
Braided stainless brake lines
Rear axle:
Ford 8.8
Yukon 4.10 gears w/ all new bearings and main studs
Detroit Locker
Chromoly axle shafts
TA Performance girdle diff cover
TSM Rear disc brakes with new rotors, calipers, and Hawk pads
Braided stainless brake line
Suspension:
4" extended radius arm lift from Bronco Graveyard. It uses Superlift drop brackets, extended arms, and springs. This kit has new full lift rear leaf springs and uses stock blocks
New Moog ball joints
New Moog tie rods (converted to tie rods OVER the knuckles)
New poly radius arm and TTB pivot bushings
I have some traction bars for the rear end to prevent axle wrap that I havent installed that can go with the truck
Bumpers:
New black powder coated off road bumpers from Bronco Air. The front is a winch bumper, but I haven't gotten a winch for it yet.
Wheels/tires:
Rock Crawler series 152 steel wheels 15x8
33x12.50R15 BFG KM1 mud tires. These are the older style tires and are good off road and aren't too loud on the highway
Interior:
Mostly stock. Interior color is tan. I have replaced the dash pad, instrument bezel, all gauge light bulbs, and I got rid of the vinyl bench seat for a cloth bench seat
-Added Autometer GS series gauges to the A pillar and a 5" tach w/ shift light on the dash. The A pillar gauges are fuel pressure, oil pressure, water temp, and an Innovate wide band air/fuel ratio gauge.
Also, ALL A/C parts have been replaced. A/C blew 39* out the vents last time I checked it. The fuel tank and fuel pump were replaced, but will need to be pulled and cleaned out now that the truck has been sitting for a year or so.
Here are some pics of it.
These pictures were taken TODAY: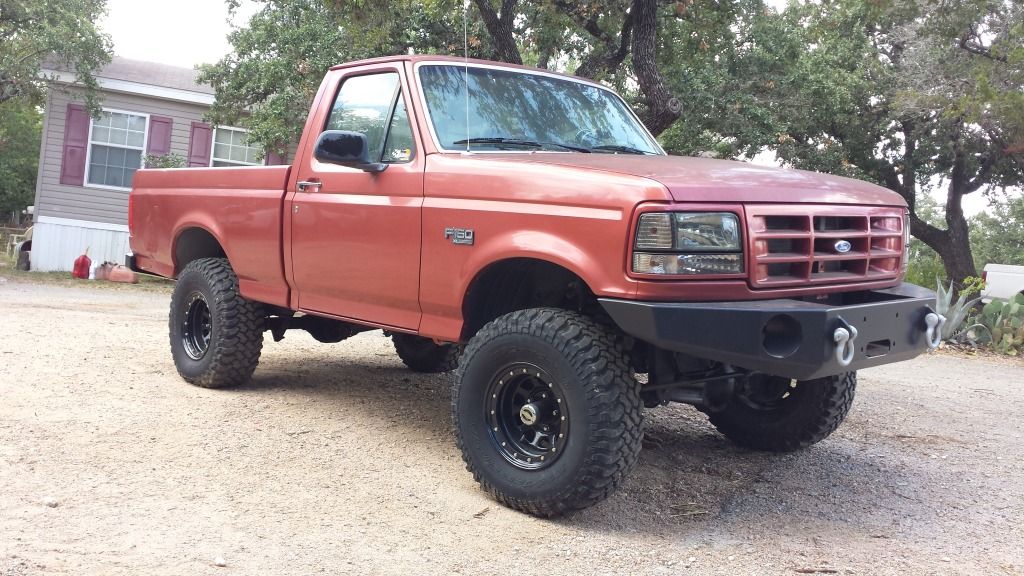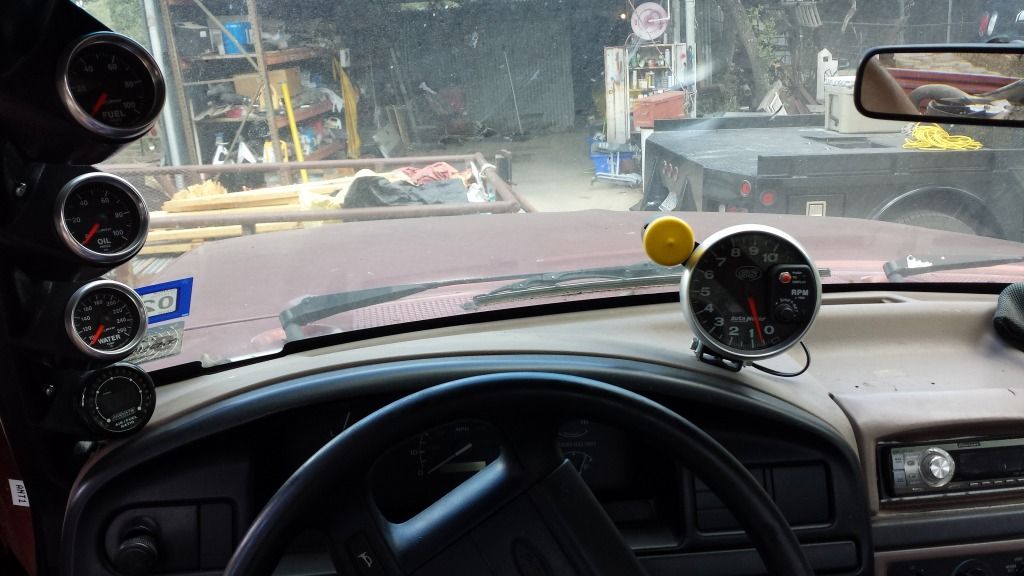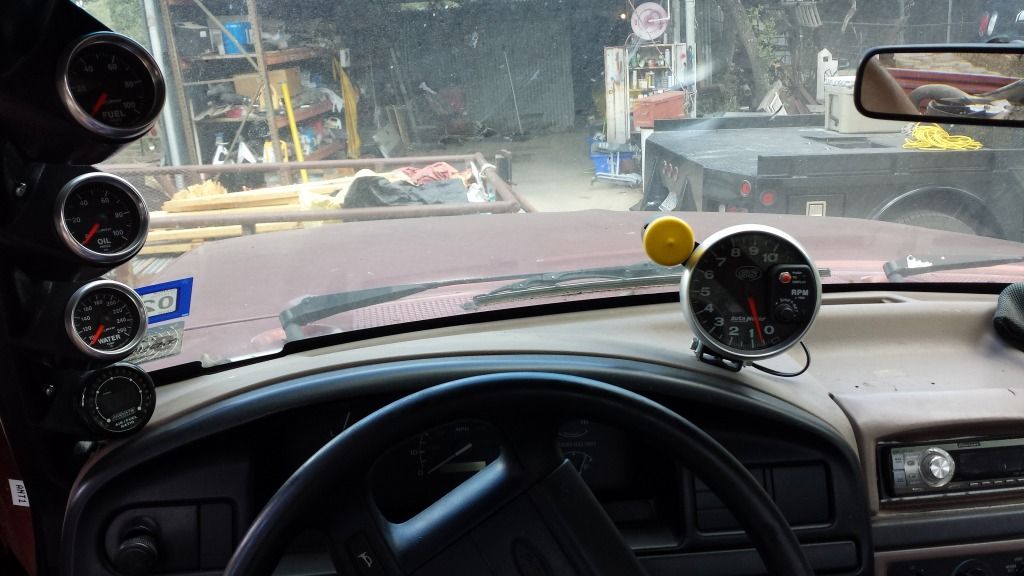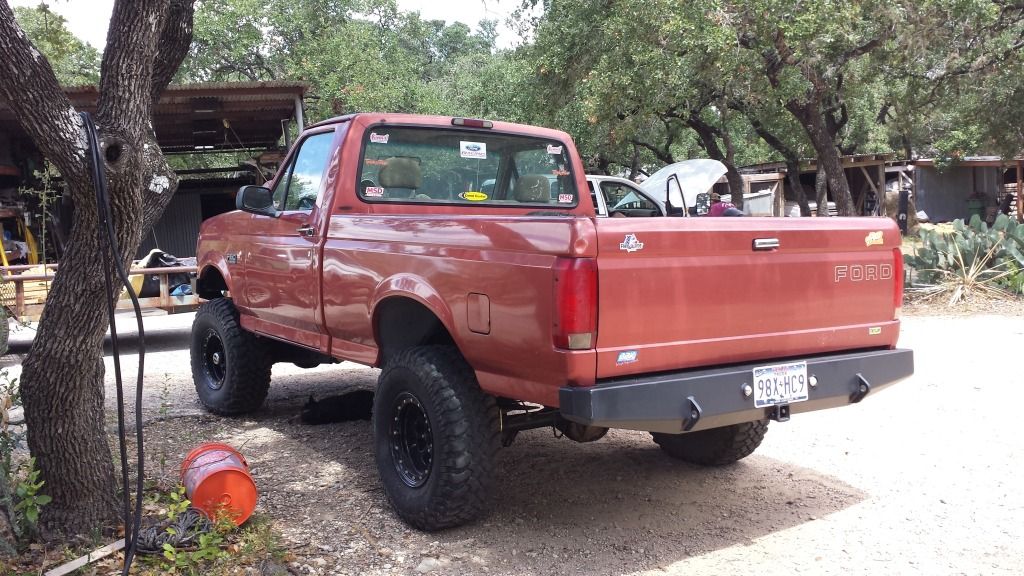 These pictures were taken when it was running: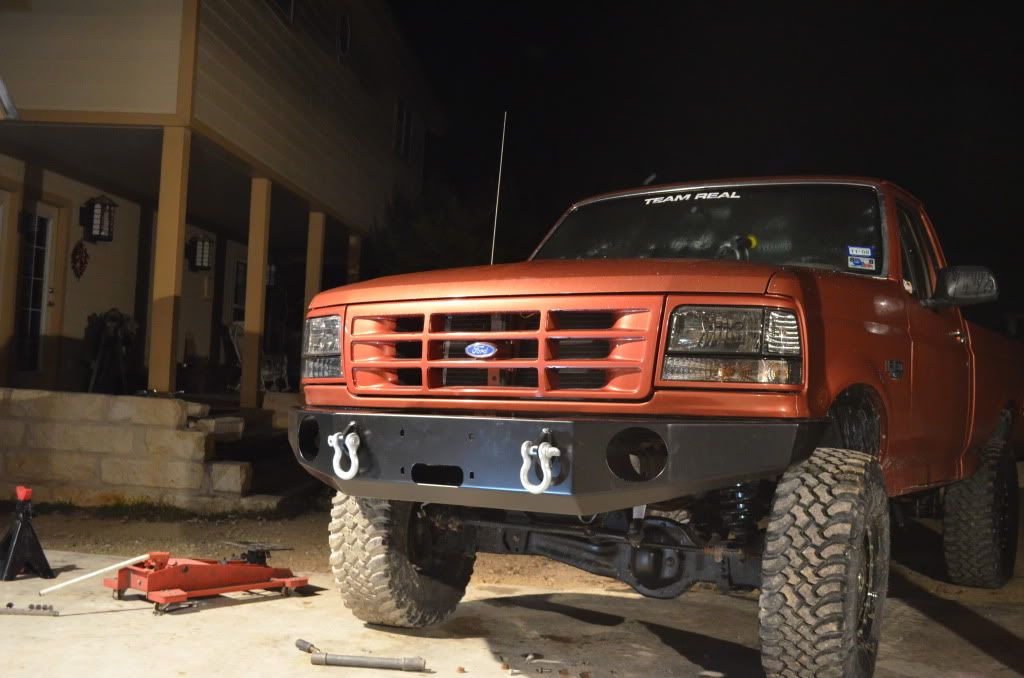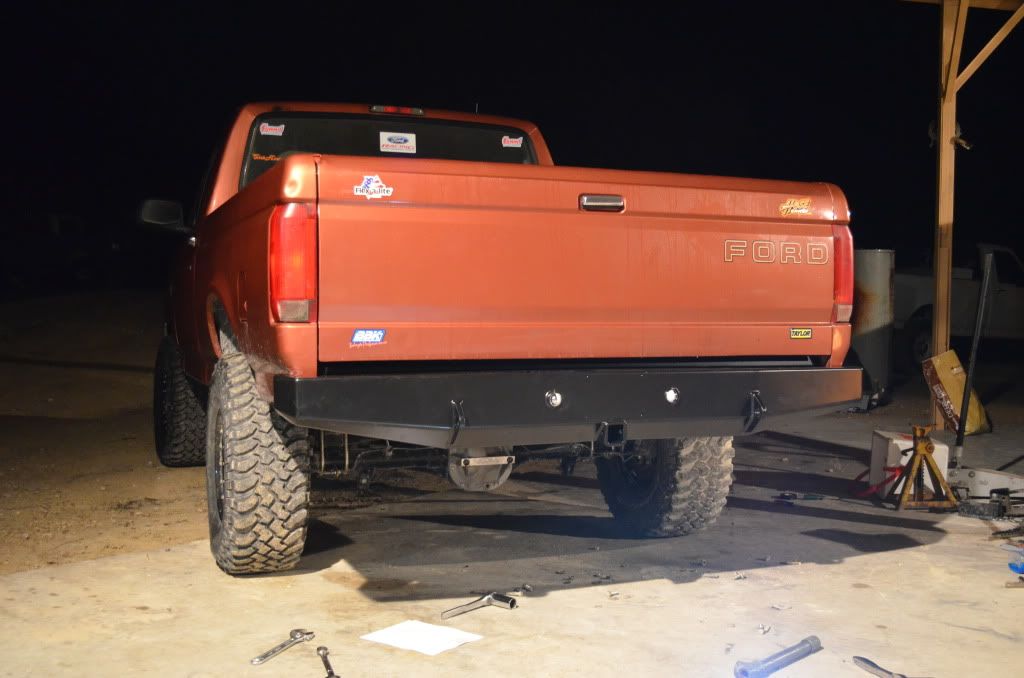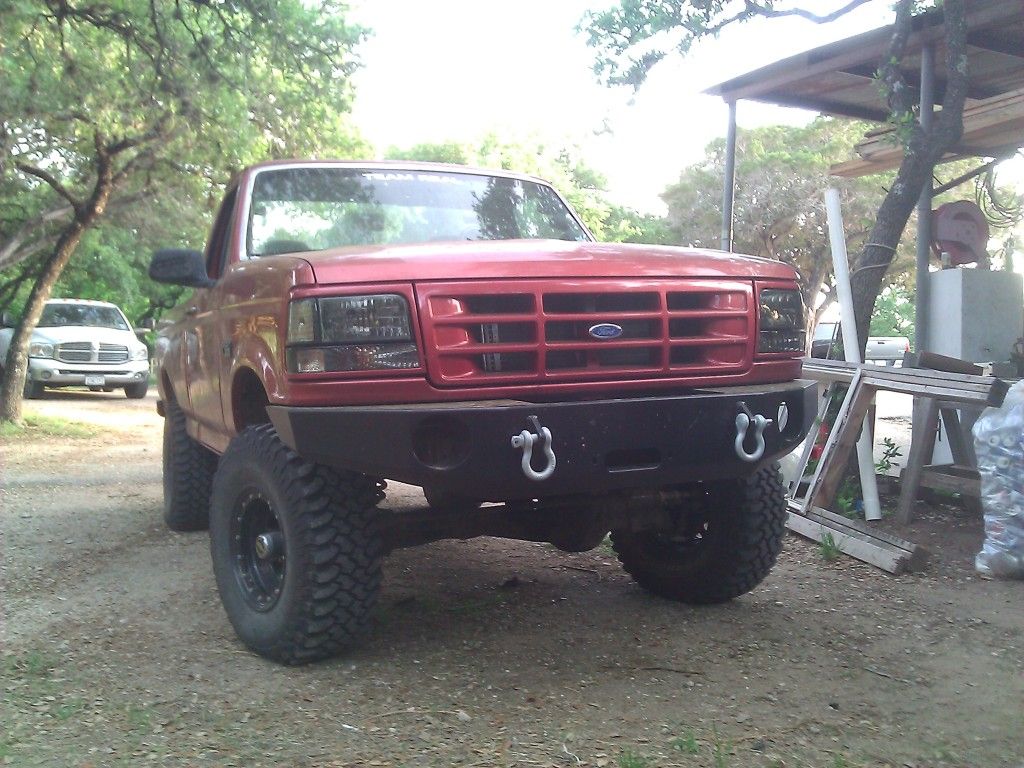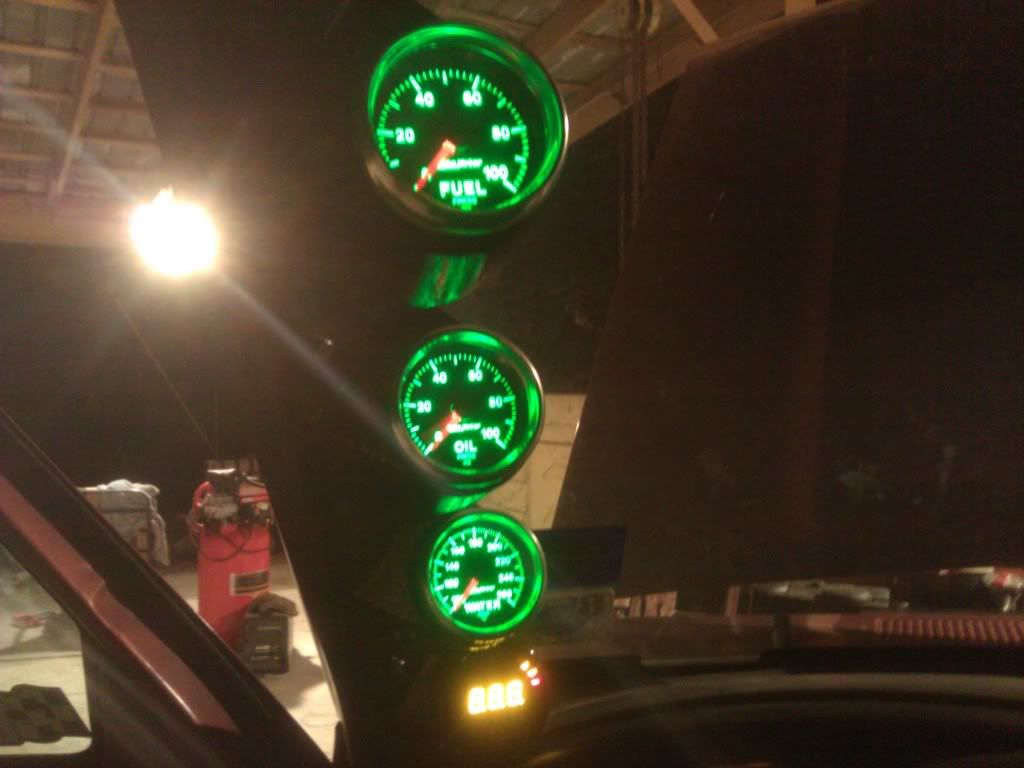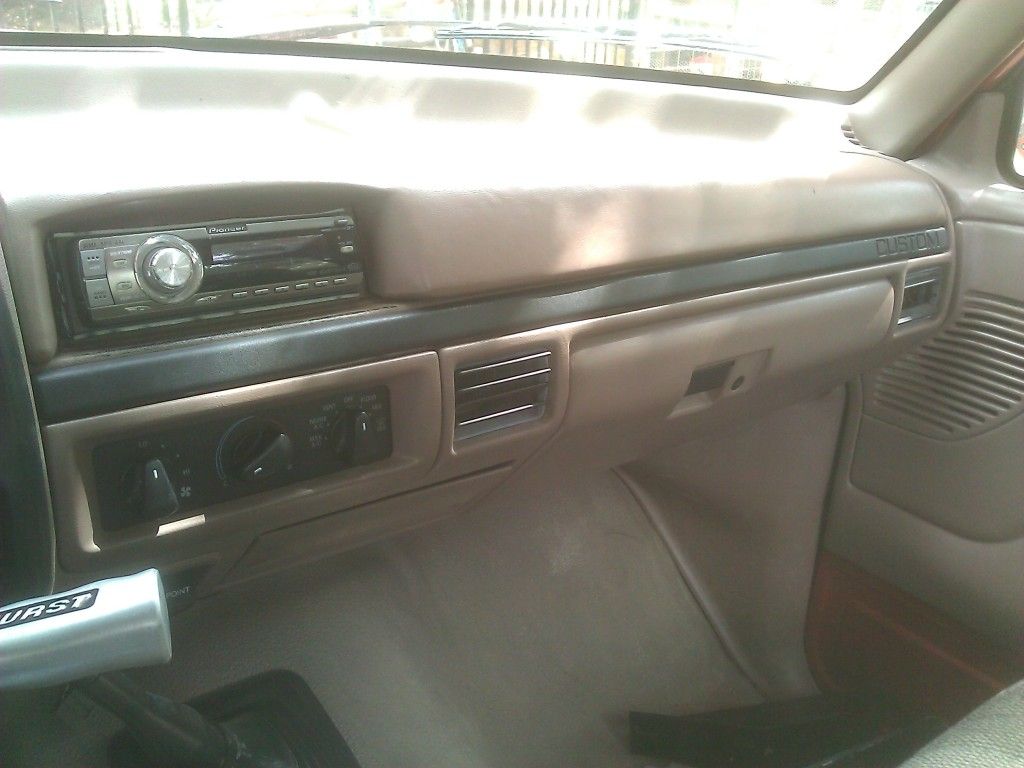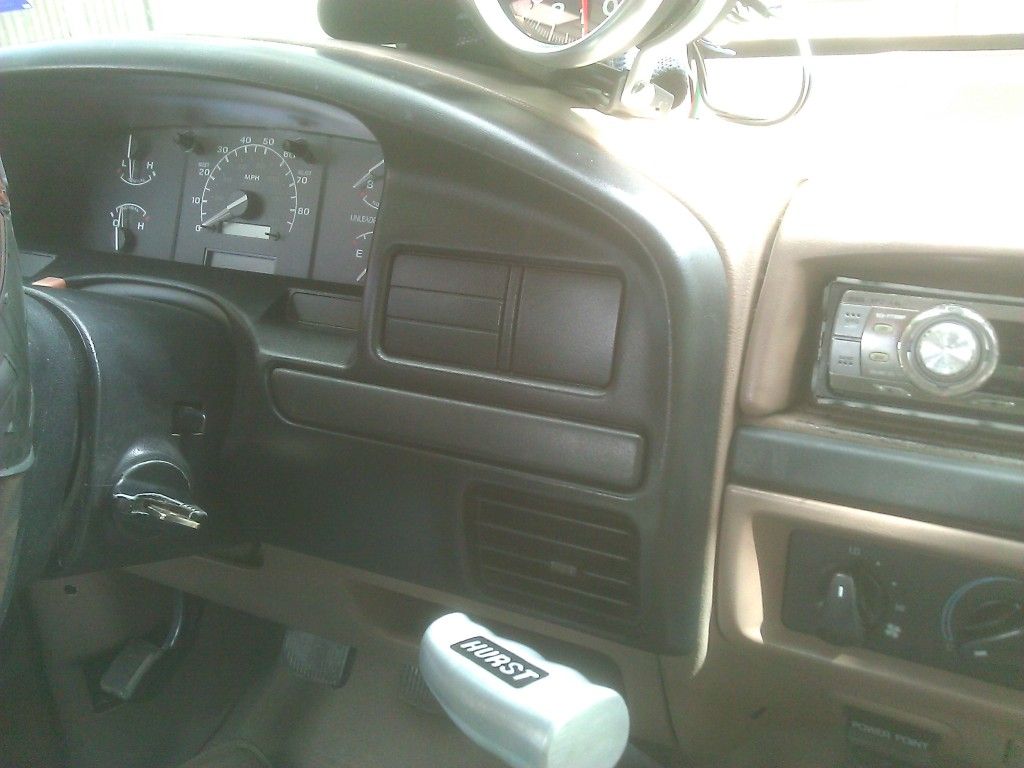 While the engine was still in it.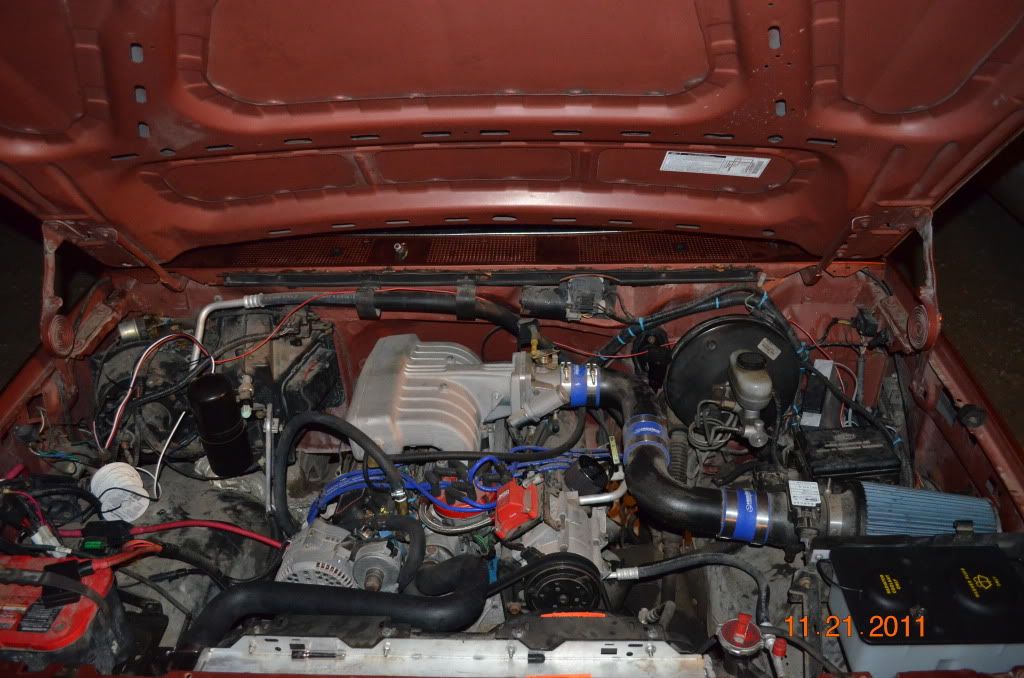 Here's a few pics from when I was building it.