56 f 350 project
09-09-2014, 07:30 PM
Join Date: Feb 2006
Location: Lititz PA
Posts: 618
I got the frame painted and put it back on the trailer. I pulled the camper out, we're going camping this weekend, and put the cab inside. Maybe I'll leave the camper out a couple of weeks and see what I can get done on the cab. Dennis
---
Last edited by pintoplumber; 02-10-2018 at

02:41 PM

. Reason: Photobucket
01-07-2015, 10:05 PM
Join Date: Feb 2006
Location: Lititz PA
Posts: 618
Got some more work done over the holidays.
---
Last edited by pintoplumber; 02-10-2018 at

03:08 PM

. Reason: Photobucket
01-08-2015, 08:08 AM
I was looking through your thread and am impressed with your progress. Looking good. I am wondering how the sandblast pot works for you. I'm wanting to buy one from Northern tools I think. I have to replace the floor in my cab and want to clean things up first.
01-08-2015, 06:52 PM
Sounds good. I have a plan to use a 30 gallon water heater tank for extra volume. I think my 20 gal shop compressor would probably keep up pretty well but don't want to work it to death. I've got another one that I use for my nailguns and such at work that I might pipe in there somehow too. Where did you get yours at? Resonable price?
01-08-2015, 09:22 PM
PLEASE don't do that! There is a huge difference between water under city water pressure splitting a seam, and one filled with air that lets go. Life threatening! Water heaters are rusty to begin with, the stress of pressure cycling could easily open up a crack.
01-08-2015, 09:42 PM
Thank you for your concern Ross. I got this tank from a friend who works at an ethanol plant. It's almost new. Has an epoxy liner inside so I don't think there is any rust. Not exactly sure what it was used for. been in my shop for 3 or 4 years now. No problems yet. But it doesn't get cycled too much. I remember that youtube video of the compressor blowing up. Not good. Looks like I need to find a different bubble to use. Thanks again.
05-03-2015, 06:18 PM
Join Date: Feb 2006
Location: Lititz PA
Posts: 618
Winter is finally over and some yard and garden work is done, so I got the cab out this weekend and gave it another coat of primer. Also got the underside of the cab painted. Boy, nothing like bringing it out in the sunlight to show up your flaws. My wife is having a fit that I'm painting this one blue too. Dennis
---
Last edited by pintoplumber; 02-10-2018 at

03:17 PM

. Reason: Photobucket
05-18-2015, 02:31 PM
Join Date: Feb 2006
Location: Lititz PA
Posts: 618
Well I got the cab painted this weekend. Waterfall blue. I'll probably reshoot the roof, I was having trouble with the gun. Dennis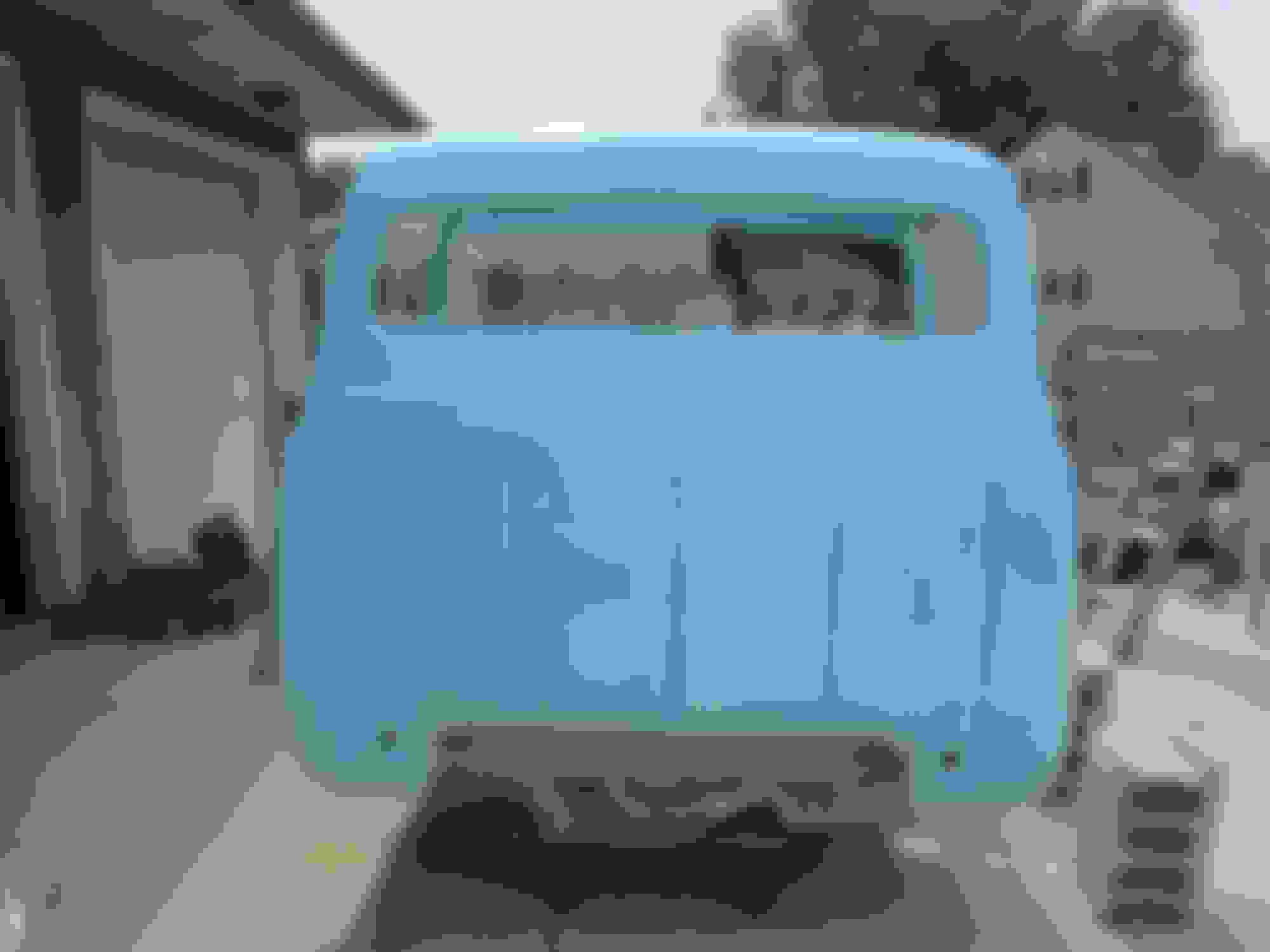 ---
Last edited by pintoplumber; 02-10-2018 at

03:26 PM

. Reason: Photobucket