Lets do it again! 1951 Ford F1 LT1 supercharged, 4L80E, EFI, jag IFS, etc..
08-20-2014, 09:34 PM
This farmer bumper is pretty cool but had to remove it to pull the bed.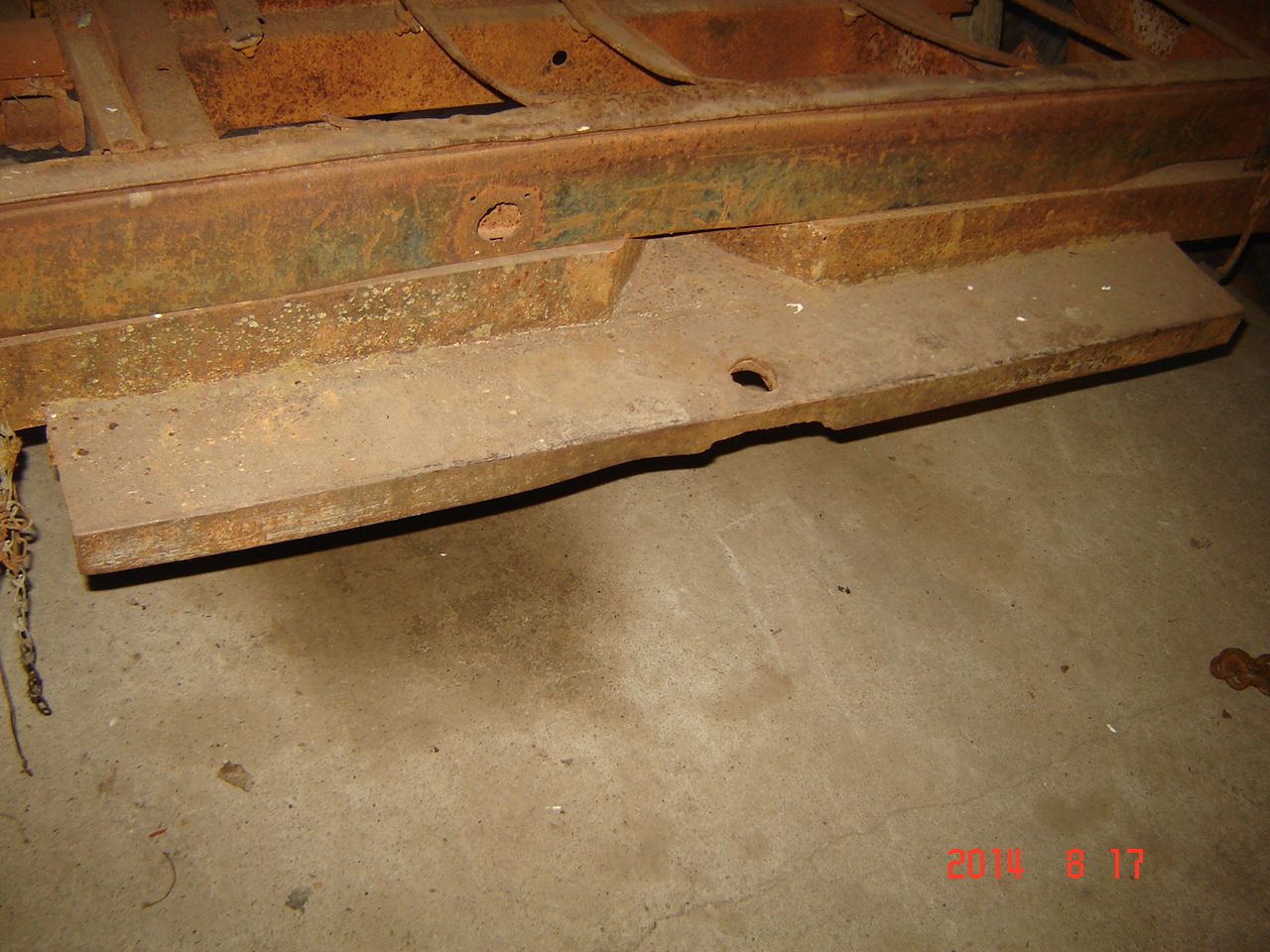 Removed..this is on heavy piece! May or may not end up back on the truck, definately not for the final painted version but as a patina truck it may stay for now.
08-22-2014, 10:20 PM
More pics! Bed goes bye bye so down to the rear suspension complete with overload springs and spring limiters. All has to go away, not sure what this thing was hauling but there were multiple broken leaves in there.
A few hammer swings later and all gone. I cut the rivet heads off and use my trusty rivet pusher and BFH. Didnt have to drill any rivets, they all got knocked out pretty easily. Have to remove the rear most running board mounts next.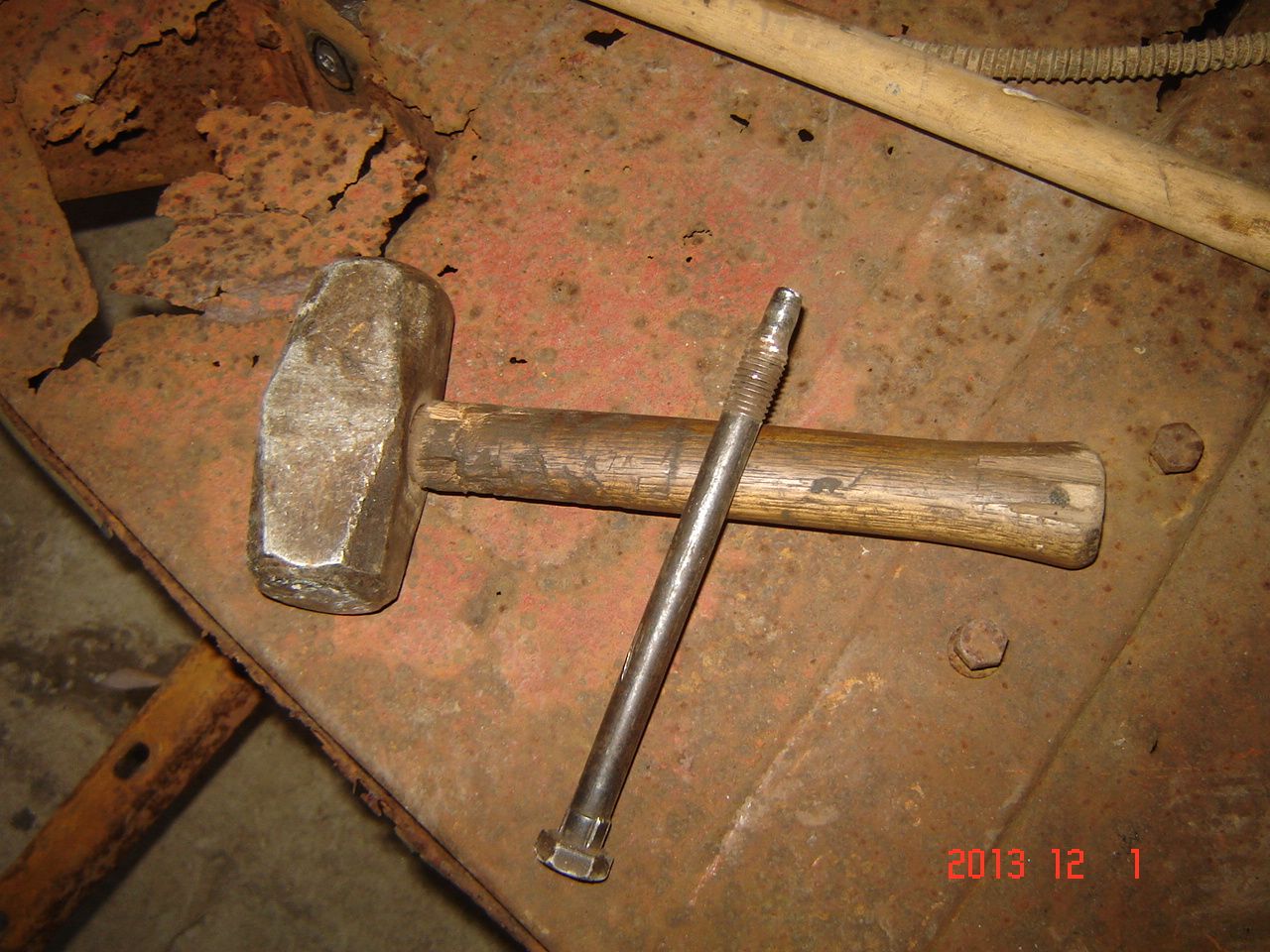 08-25-2014, 09:56 PM
OK, parts arrived and todays task was to get the rear suspension done. This is a mix and match of parts, ranger front and rear spring mounts, ranger rear shackles, S10 leaf springs, generic summit racing axle mounts, swap meet U bolts, and S10 spring plates. So here is my not so scientific rear suspension build.
Rear I am using is a 3:08 10 bolt posi from a 68-72 chevelle. Same width as the 70-81 camaro rear I used in the first build, think it is 61 1/2" WMS to WMS. Nice width for these trucks, and already paid for since I bought it at a carlisle swap meet years ago. With my 25" diameter rear tires and the .75 overdrive I will be 2000 RPM at 64 MPH.
So first is to mount the front leaf spring mounts. I picked an already present factory frame hole to start. That way I know the holes are in the same place on both frame sides so I have a good reference point. It may not be the final mouting point but will be a good reference for any needed movement. I knew already with the longer leaf spring that I would have to remove and relocate the rear most running board mount, so they were removed and I used one of their old mounting holes as a starting point.
Springs were bolted up and the rear mounts were also bolted up using an existing hole. Forgot to get a side shot, but this is how it looked, because the S10 springs have a reversed rear eye (compared to the dakota springs I used in my first build) I mouted the springs with the shackles pointing up instead of down. The S10 springs also have a lot more arch than the dakota springs so putting the shackles pointing up also helps with offsetting it to keep the overall stance lower.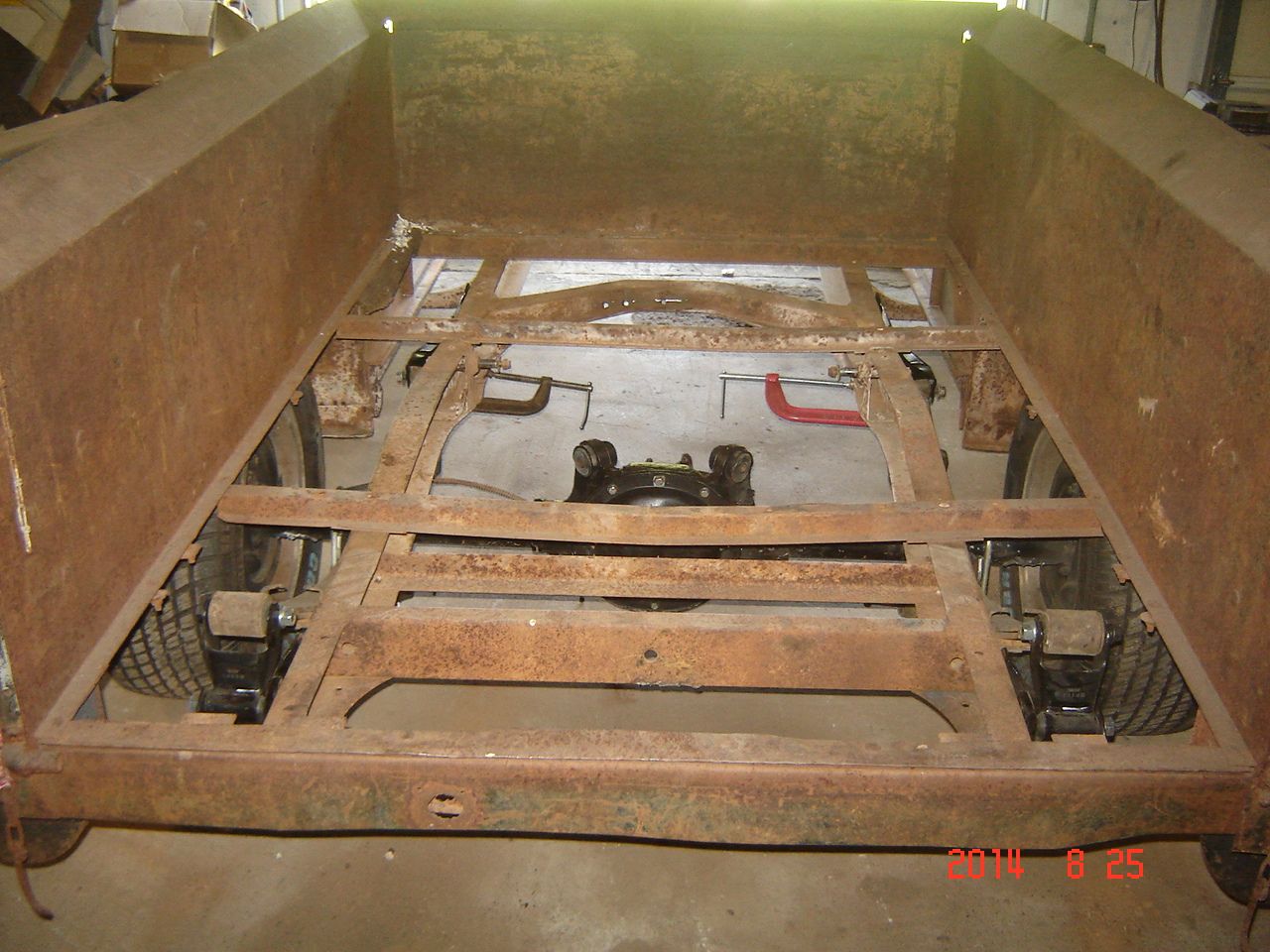 Side shot showed we were close but had to move forward a bit.
Based on this I drilled new holes 3/4" forward for the front mounts and moved the rear mounts forward as well. The rear mounts actually had two bolts line up with the factory Ford rear crossmember rivet holes. I had already knocked out those rivets when the original spring hangers were removed, and that crossmbember is getting relocated to the rear of the frame anyway. This will be the final mounting position.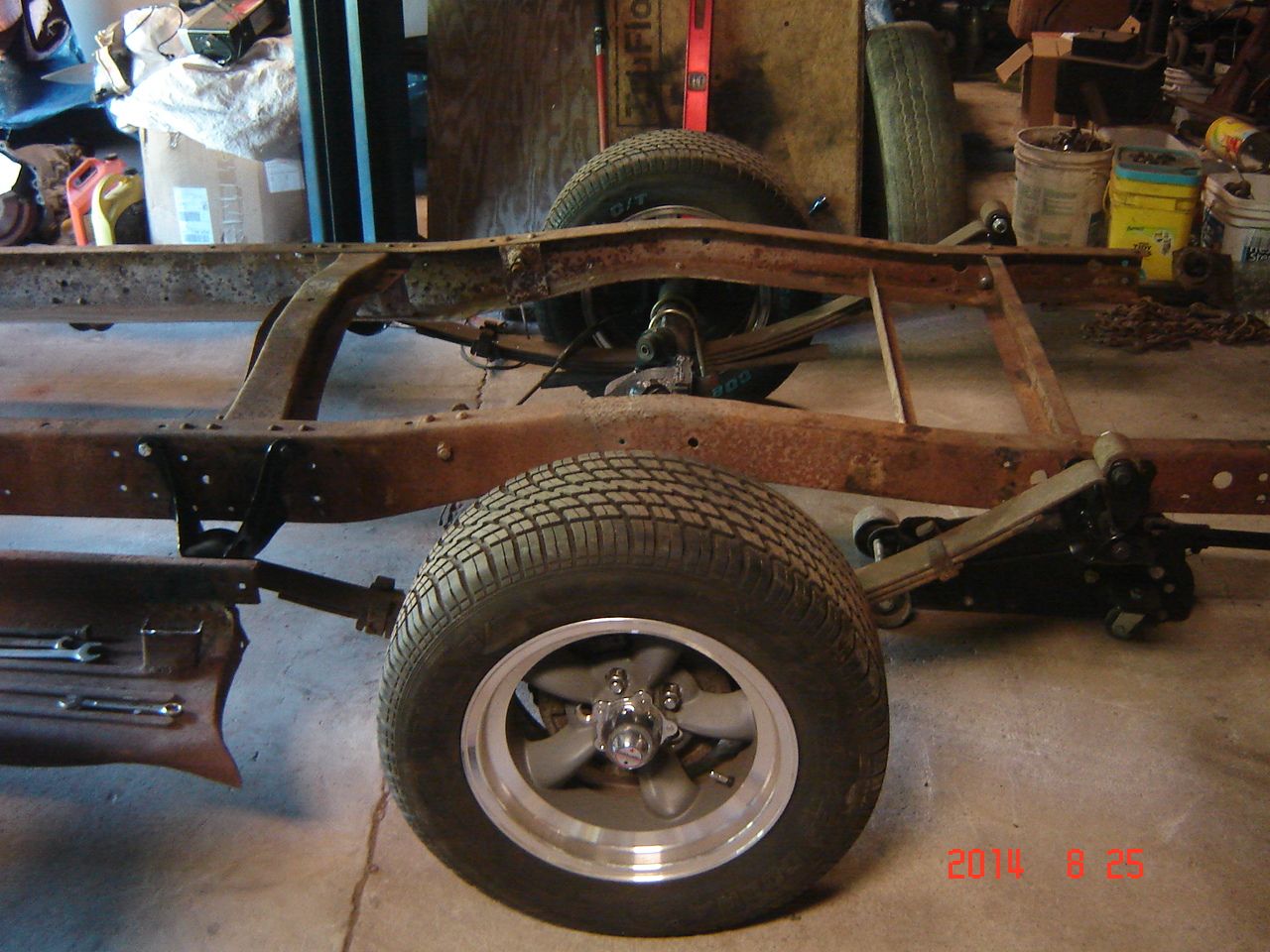 Side shot with the weight of the bed (not much!) Will be more weight when the wood is in.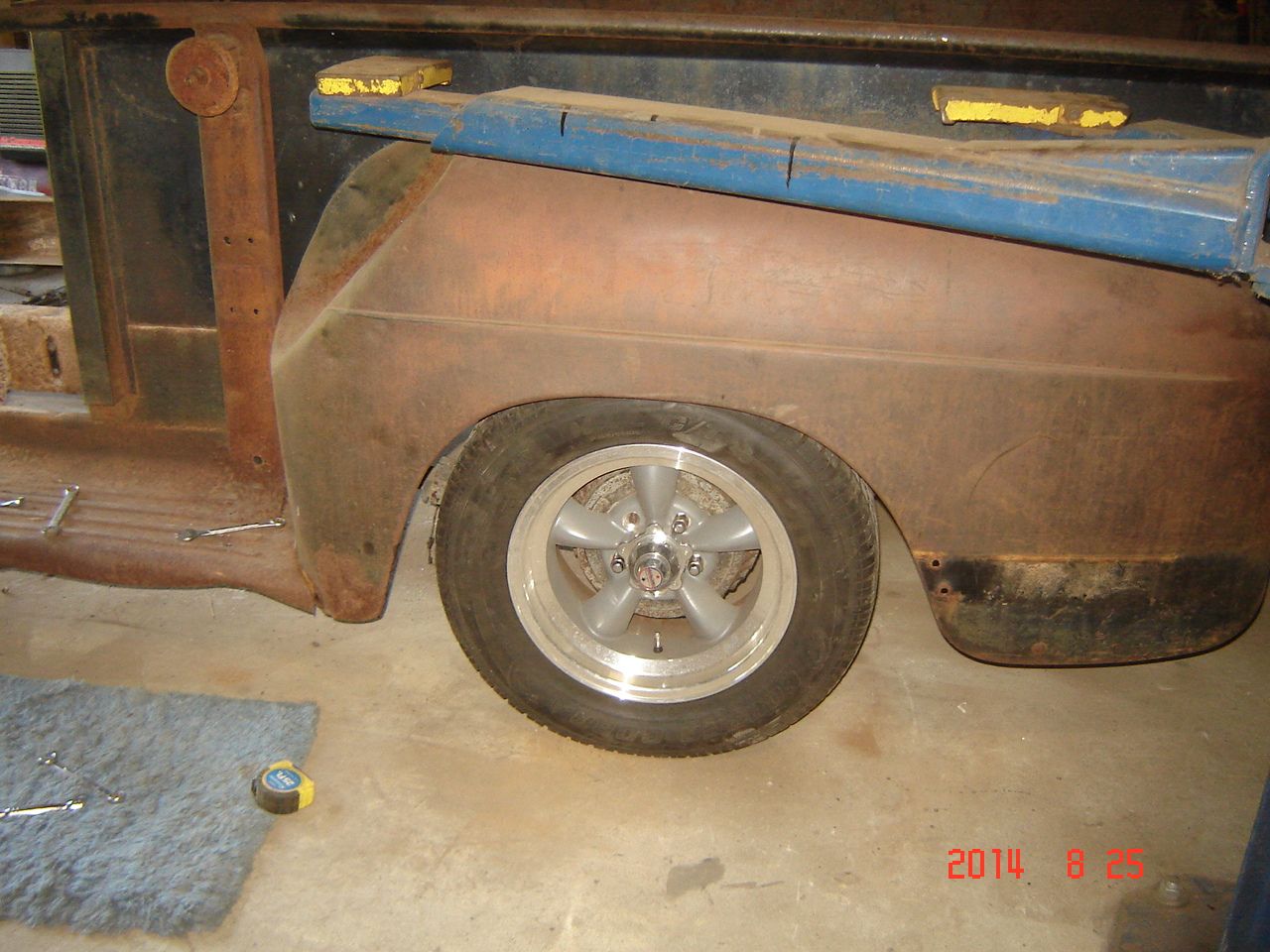 08-26-2014, 09:22 PM
Three weeks into the build!
Not much time to work today but plan was to get the rear frame set for the rear gas tank. Crossmembers have to move.
Main crossmember relocated to the back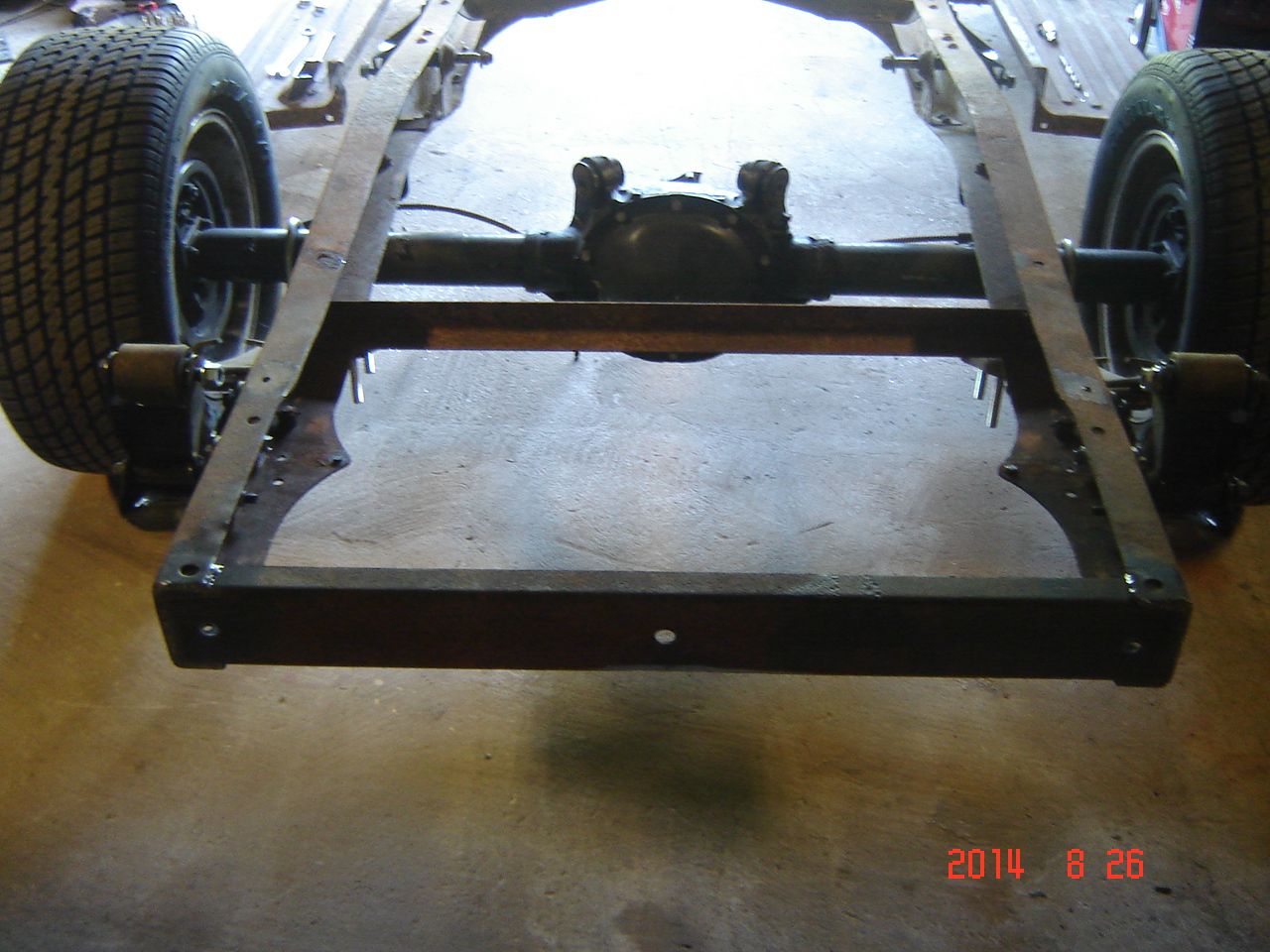 Smaller crossmember removed for now, will be remounted once the tank position is set. Frame rails lower edge trimmed back for tank clearance.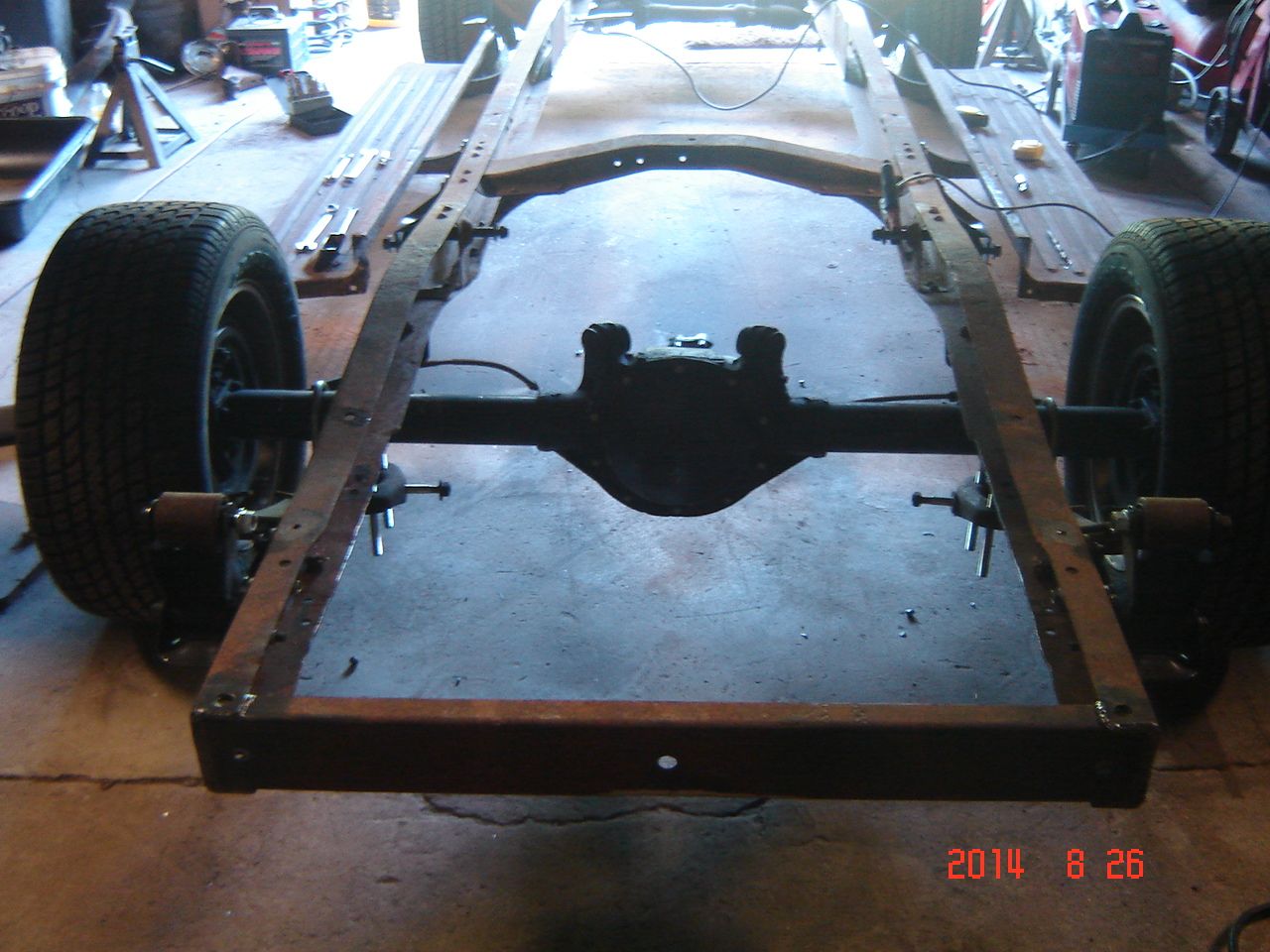 Going with another 22 gallon 95 chevy van gas tank for fuel injection, they are only around $77 new with free shipping. Sending unit new is about double that so grabbed one today at the junkyard for $60. Have to swap out the fuel pump for a higher pressure one but I have good used ones on the shelf for free
Tank is on order so next will be mockup for engine and trans mounts. Have to drag out a temporary engine to use since I have to put the engine together that will be used in the end.
08-26-2014, 09:52 PM
Join Date: Jun 2012
Location: Frankfort, Ohio
Posts: 508
droptop, you da man. I wish I had a neighbor like you. I might learn something..
08-27-2014, 02:24 PM
08-27-2014, 05:10 PM
Hi Wayne,
Doesnt look like I am going to need a notch, hard to see in the pics but it looks like I am not going to have any issues. I bounced on it pretty good with the bed in place and was not able to hit the stock bump stops as they are now. As insurance I am going to either shorten the bump stops or replace them with thinner universal bump stops just to give max clearance.
08-28-2014, 09:33 PM
Spare engine taken out of storage, pulled it from a 95 Z28 years ago. This one had a rod knock, as long as the mains are ok this will be the block for the engine build.
This is the 4L80E I am going to use, fresh GM rebuilt. These are good for 500HP in stock form. Basically a TH400 with OD.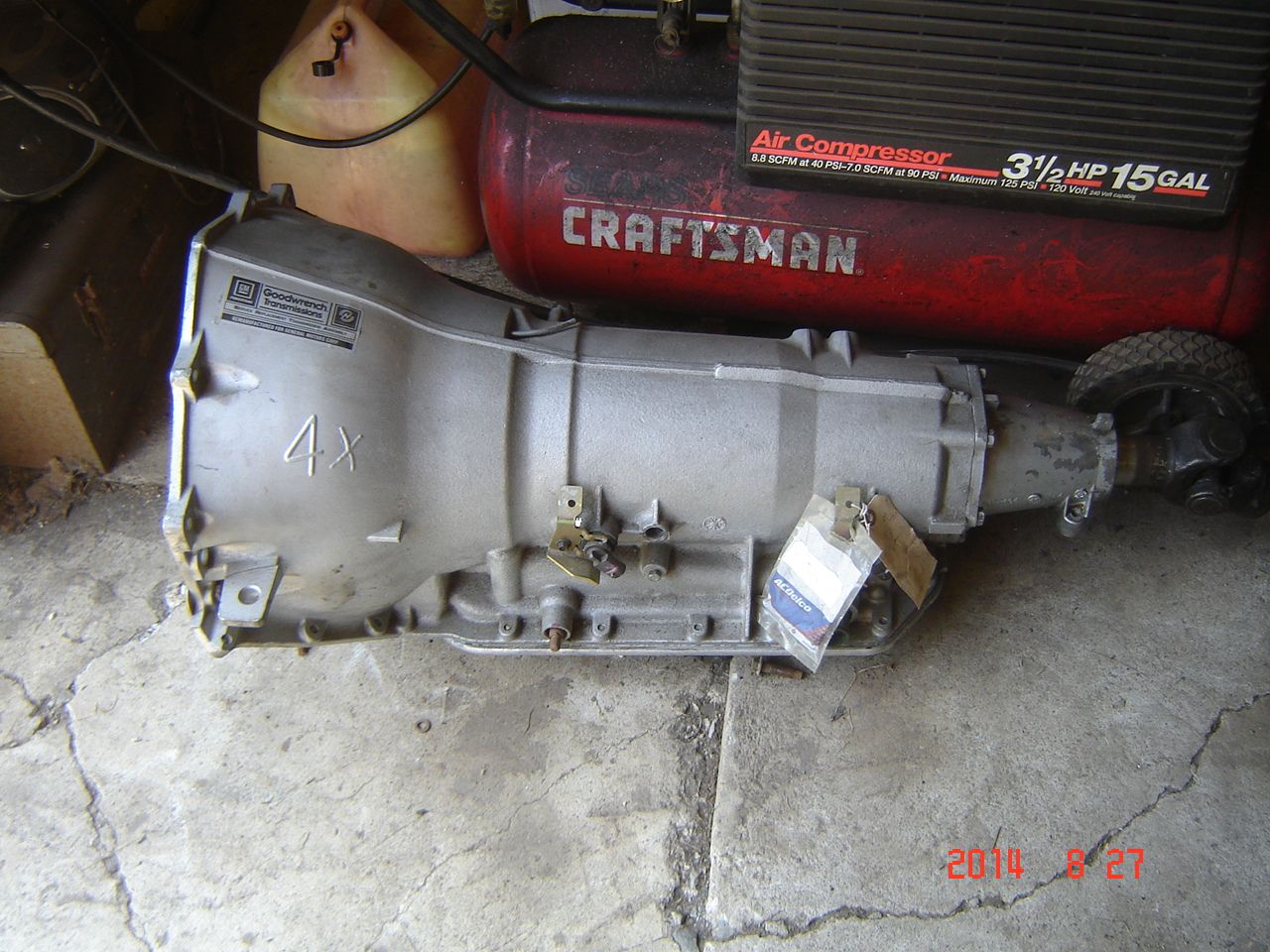 Bolted up. Frame has the amount of rake front to back that I want for ride height so it was left as is. Starting to set up for frame mounts. Frame is level side to side and the engine is also level side to side and set up dead center in the frame. Engine and trans are tilted 4 degrees down, gave it an extra degree just in case I put a little more rake in it. Really doesnt matter with FI as long as I set up the pinion to match the final angle at ride height. The rear axle is just bolted to the pads, no welding gets done on the rear until the very end.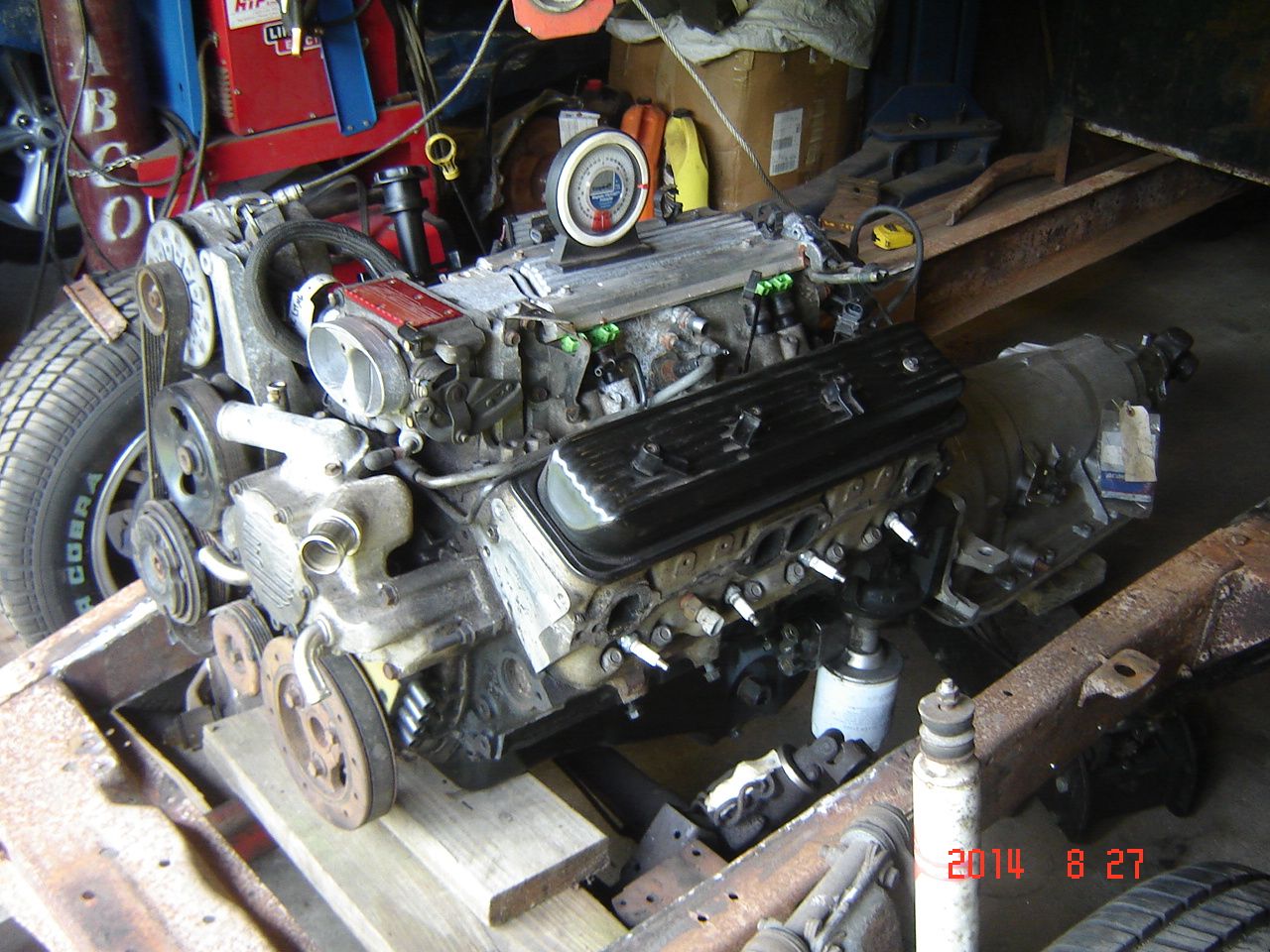 Plenty of room over the jag rack but I am going to raise up the engine another 1/2" more.
08-30-2014, 03:48 PM
Quick fit check with the supercharger, has about 1/2" clearance to the frame so I am going to raise up the engine another 1/2" just because there is plenty of room to do it. Supercharger is a Vortech V1 S trim, should make enough power to turn the rear tires a few times.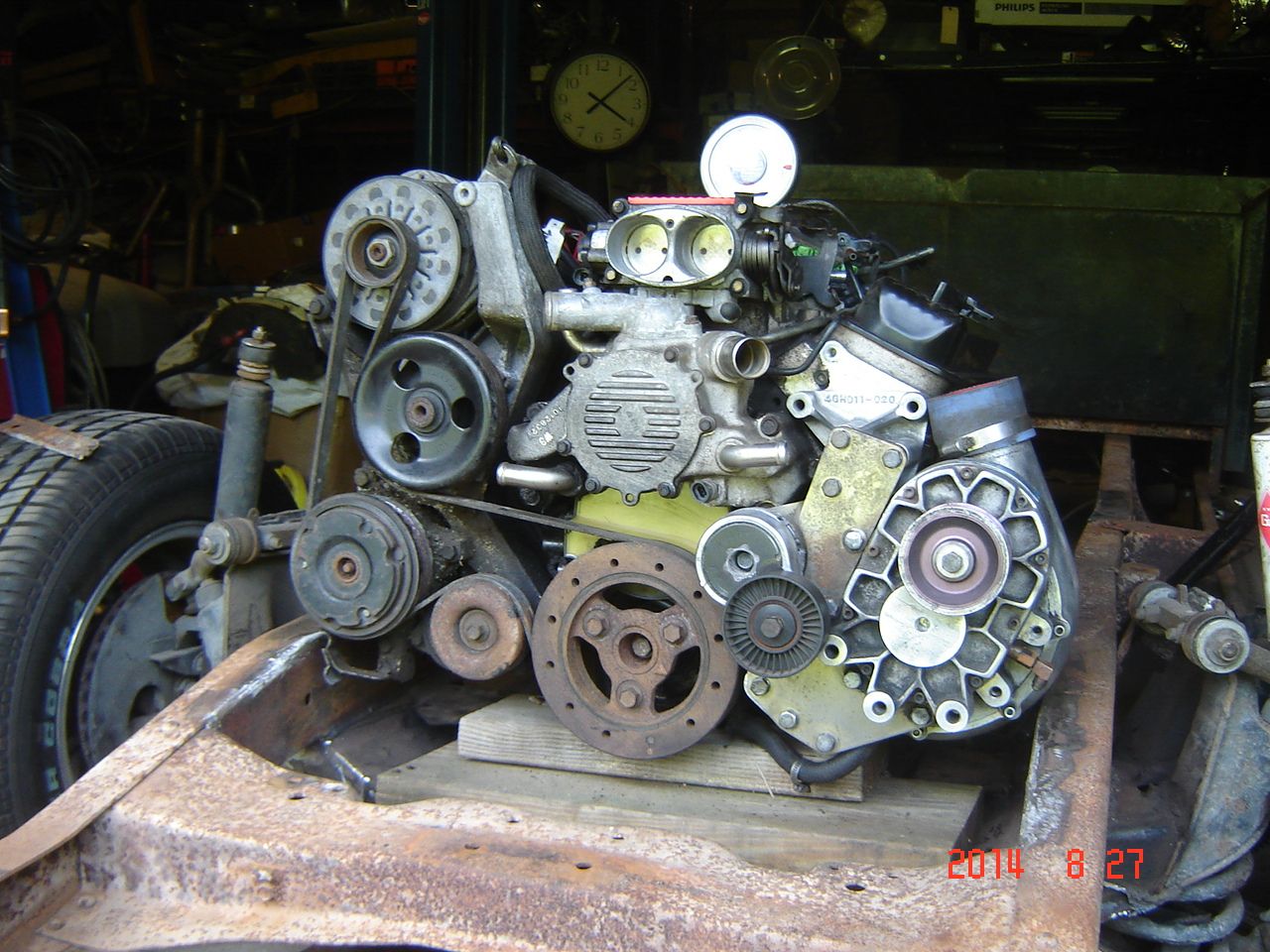 08-31-2014, 04:33 PM
Time to start on engine mounts.
Made the base plate and bolted that in, installed the engine mount (I always run a solid mount on the drivers side with this design mount), and made up the rest from spare steel pieces.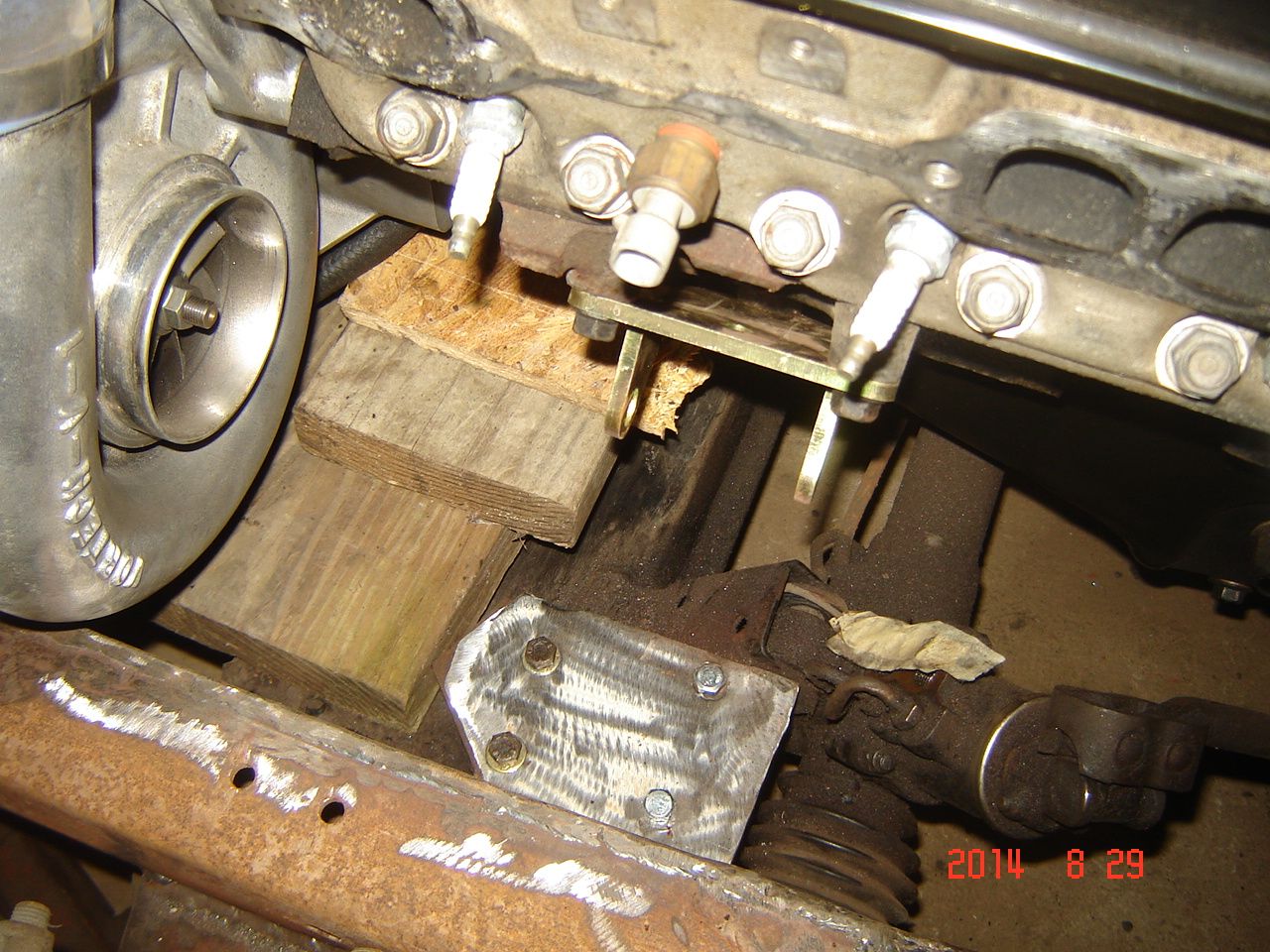 Drivers side done, pass side next.
09-02-2014, 08:22 PM
Pass side mount done, this side uses a rubber mount.
Camaro trans crossmember used, it was so simple I had to use it. No mods other than cutting off the trans tab and centering it, was offset from the factory in the camaro.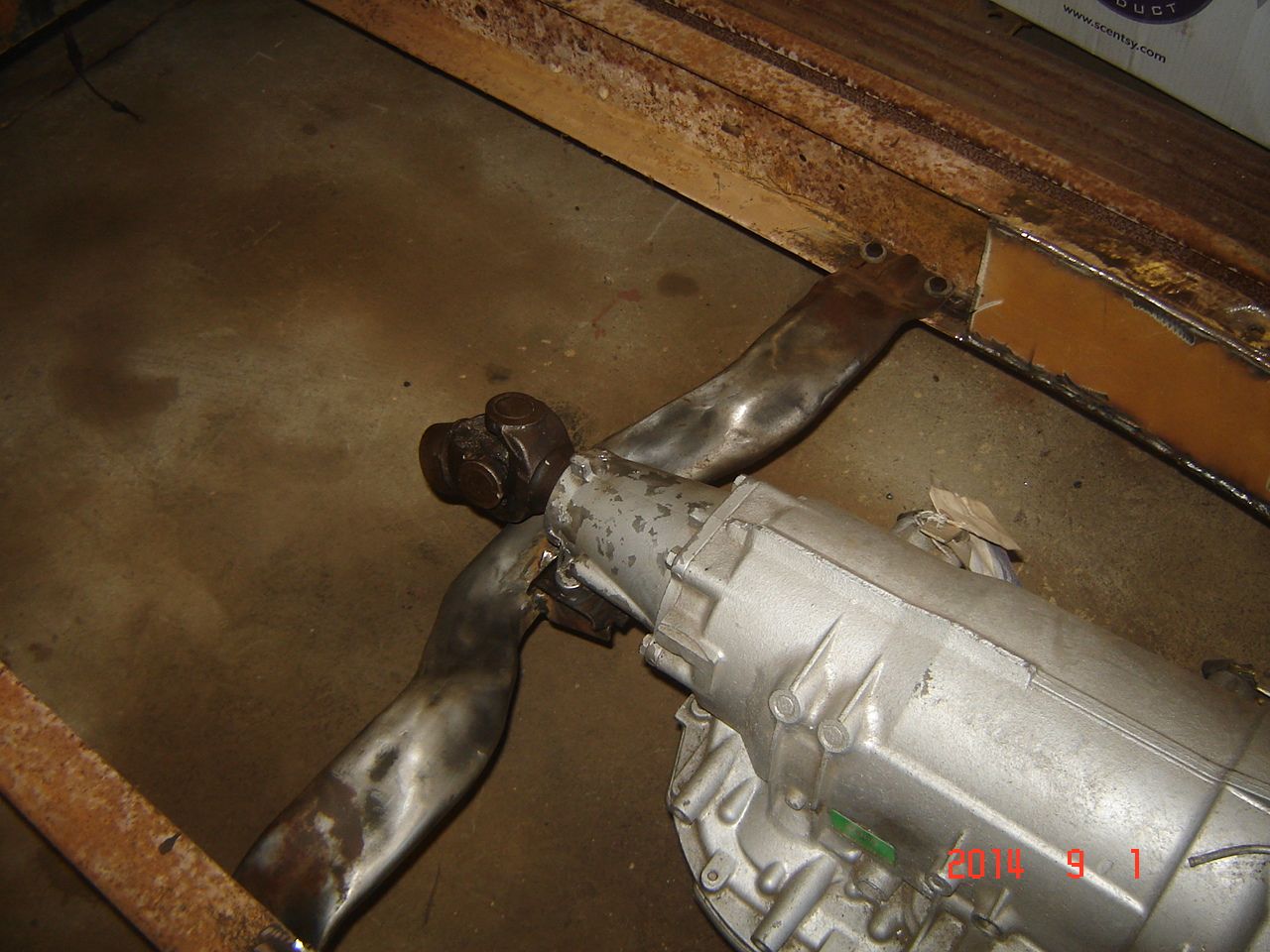 Since this crossmember does not tie the upper and lower webs together like the factory F1 piece I will add a steel piece across the upper webs to keep them pulled together.
09-03-2014, 03:49 PM
Started making the driveshaft but had to cancel that, nobody had the conversion ujoint I needed in stock. So this will have to wait until next week to get done.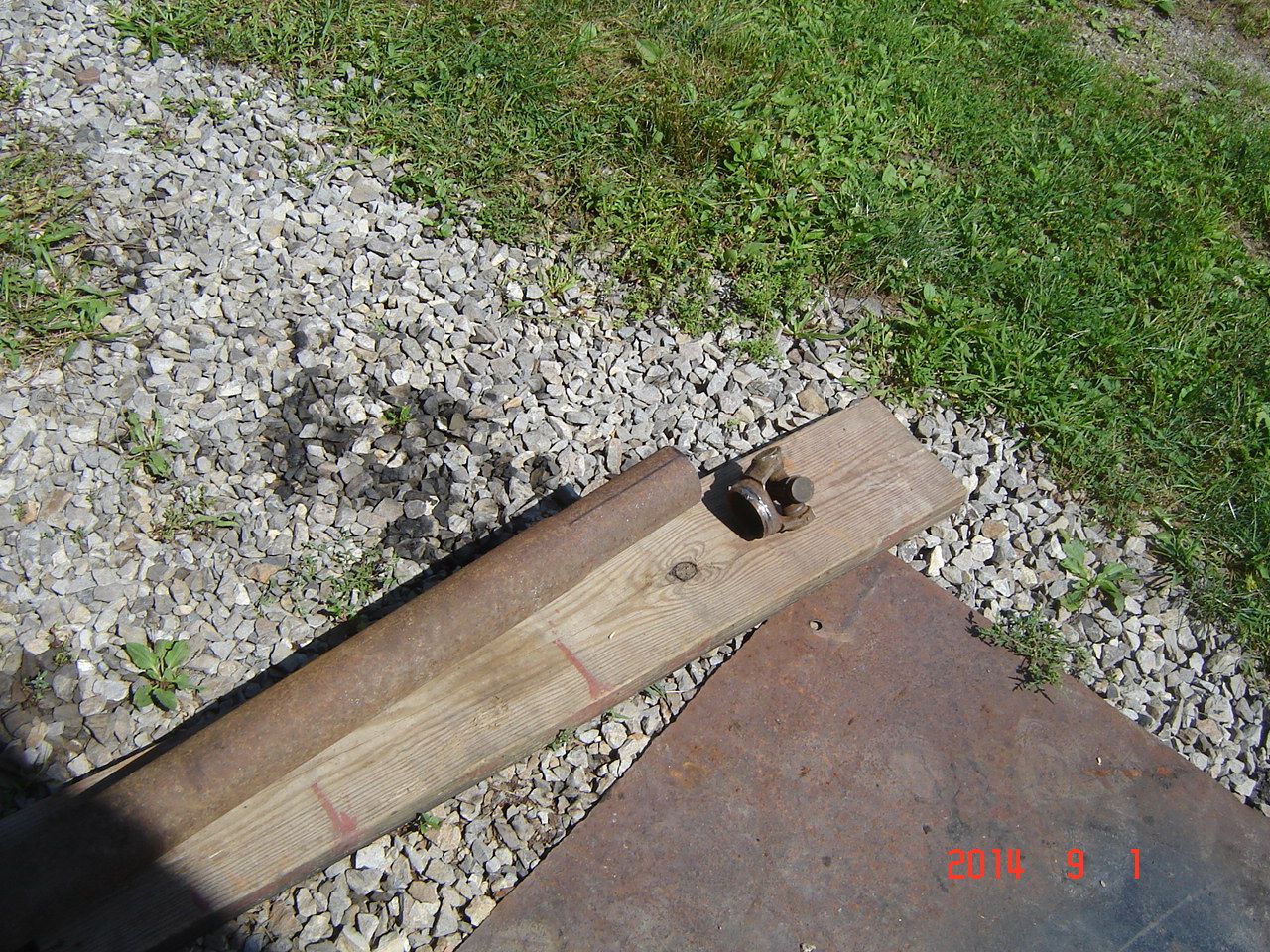 So still plenty to do..put the cab back on to check clearances to the firewall and to the radiator. All ok.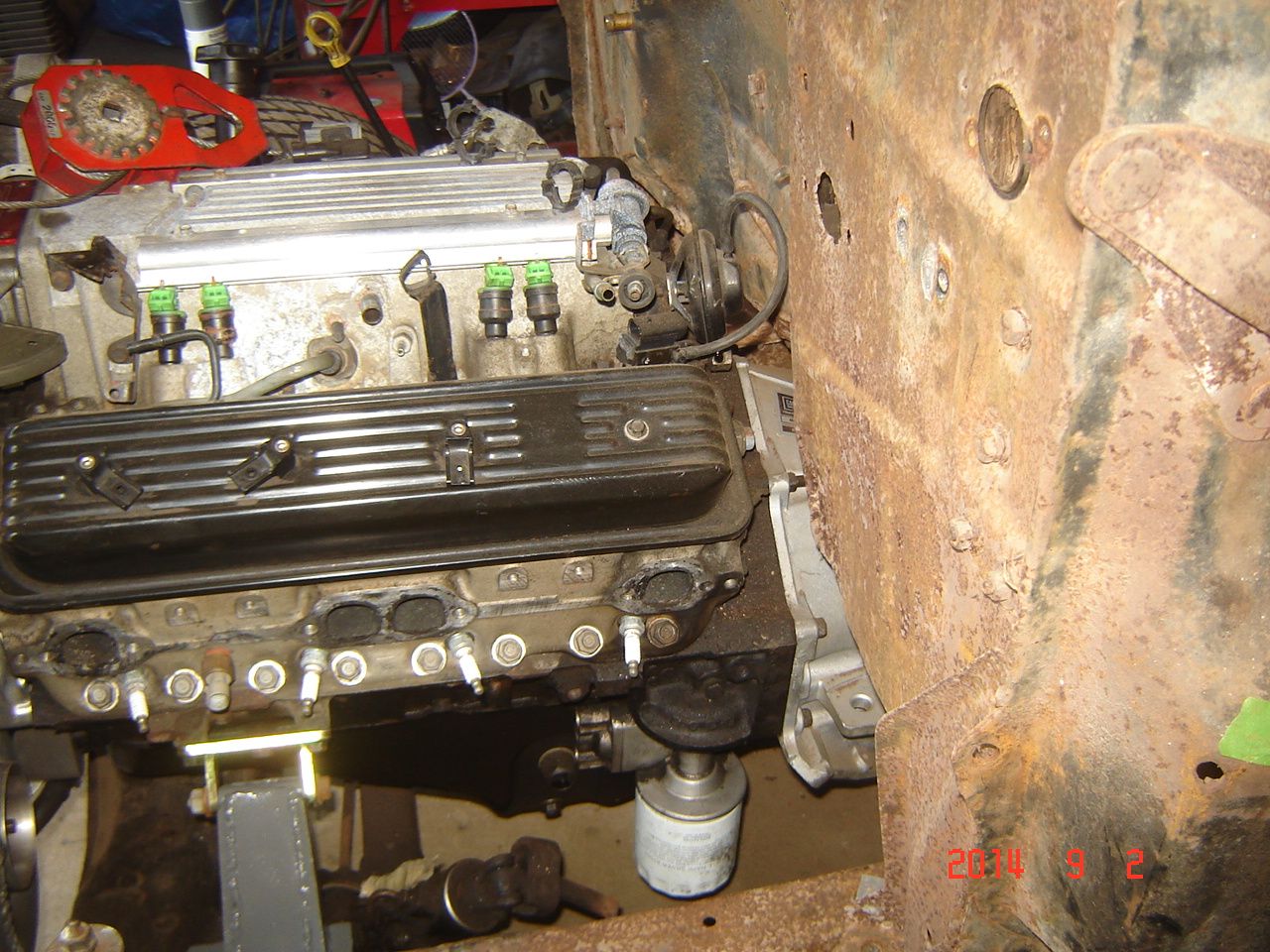 Trans fit fine. only minor floor trimming needed. Factory floor cover hits the trans up high, I do not need a removable cover so most likely will weld it into place after some mods.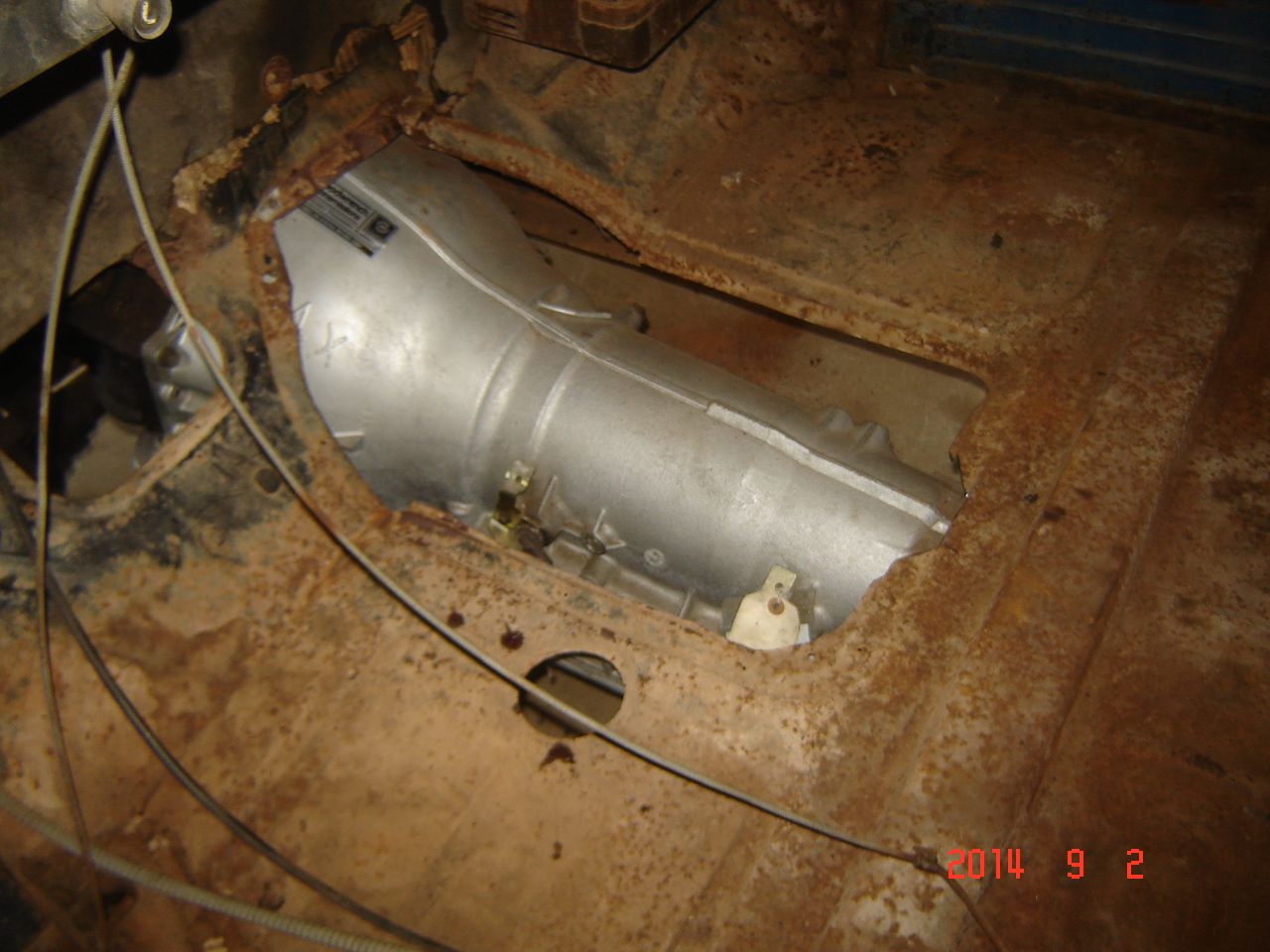 Intercooler mocked up for clearance check, have to mount the brake booster high enough to clear it.
That should be it for awhile, no more build time until next week.