1949 F4 V8 to Mercedes diesel build thread
05-07-2016, 08:37 PM
Fred, that's not a dumb question. It would be very easy to forget the oil in the excitement of hearing it run. But, I did have oil in it. It probably should be 140W, I have 85-90W in it. I rebuilt it several years ago but for some reason I didn't make a cover gasket and seal the top cover. I had the truck in my side shed on my shop for a while and some rain must have blown in while parked there. When I removed the top cover I could see evidence of water getting in, so I think maybe one of the input shaft bearings may be damaged. At least I hope it is that simple. I will have to pull it back apart and check. It does shift easy though, so the shifter is going to work ok.
Thanks for the compliments, Mark
05-09-2016, 09:00 PM
I pulled out my 3 speed carrier bearing, aka Brownie, today and disassembled it. Water had damaged both input shaft tapered roller bearings and both cluster tapered roller bearings. I did find another issue that I didn't see when I rebuilt it several years ago. I was checking the gears for excess clearance before I removed any of the bearing retainers and I noticed the overdrive gear didn't feel smooth when I turned it on the shaft. It turns free on the splined mainshaft when not in overdrive. When I pulled the shafts out, I pulled the overdrive gear off and checked the I.D. The I.D. should be smooth, but I can feel grooves worn into the I.D. by the splines. Since parts are made from unobtainium, I will try to repair what I have. But to do the repair, I will have to eliminate low gear in the Brownie, so I will end up with straight thru and overdrive. I would probably used low very seldom, if ever, anyways. I guess we can't always move forward on our projects.
Thanks, Mark
05-13-2016, 06:08 PM
Can you grind-plate-grind the ID of the overdrive gear? That was the repair method of choice for worn gear IDs and journals at the aircraft engine overhaul shop where I used to work.
I'm looking at the cross section in the parts manual. Out of curiosity what are you planning that would eliminate low?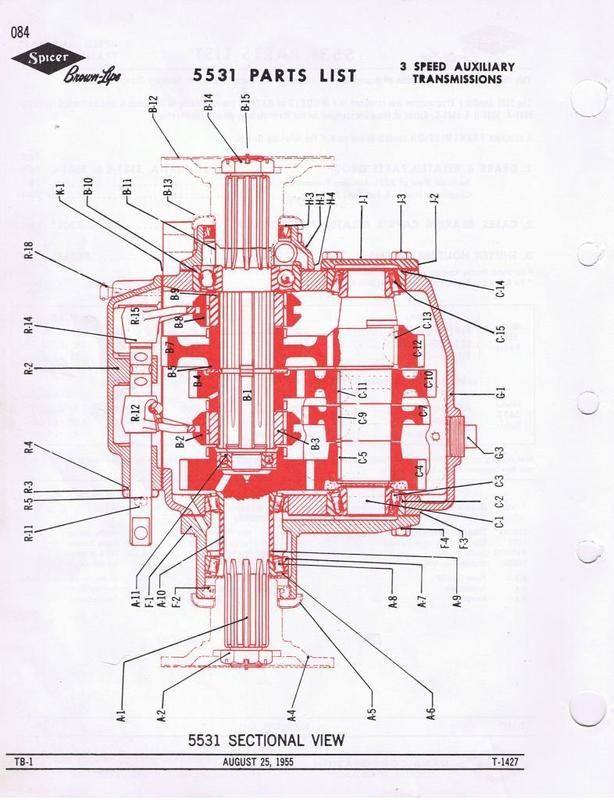 05-13-2016, 07:41 PM
Fred, I was thinking of turning the splines off of the shaft B-1 and bushing the overdrive gear B-4, so I would have to eliminate low gear B-7 and low gear shift hub and ring B-8 and B-9, as there would be no splines for B-8 hub. I have thought about it some more and my thinking now is to bush the overdrive gear and low gear with a hardened steel sleeve with a bore .005" smaller than stock and grind the O.D. of the splines down about .006" to clean them up. I believe the splines on the shaft will center the low speed shift hub ok. I had thought about having the I.D. of both gears hard chrome plated and ground to size, but I think that would be more money than I could afford to put in it right now. Is that just a parts manual you copied that out of, or is it a service/installation manual also?
Thanks, Mark
05-14-2016, 10:46 PM
That image is from a parts manual. I have that parts manual in individual pictures over on photobucket
here
; I have the same manual combined into one PDF file. I also have scans of the 1975 Hollander interchange for Spicer products. It has a very nice exploded view of the 5531. PM me your email address and I will send them to you.
I do not have an installation or service manual for the 5531. I do have scans of pages out of a GM manual that cover the 5831.
09-04-2016, 05:25 PM
I have the Brownie rebuilt and ready to reinstall in the truck. I replaced all the bearings and bushed the overdrive and low speed gears with a hardened tool steel bushing honed to fit the reworked tailshaft. Everything seems smooth. Hopefully it will be quiet now. Here are a couple of pics.
Thanks, Mark
09-19-2016, 08:58 PM
Brownie is back in and quiet. I have 3 qts of 140W and 1 qt of Lucas oil stabilizer in it. I noticed this evening while taking pictures that the PTO access covers are seeping a little. I have to replace all the u-joints in both driveshafts, so I will paint them after I do that. I also have to make new shift rods for the brownie and paint those also. The Brownie shifts really smooth.
Mark
09-19-2016, 09:15 PM
The MC has metric threads and the only fittings that I could find were AN fittings. I have two -4 AN brake hoses that I ordered from a racing supply. They are not DOT rated, but they are rated for 3000 psi. No one that I checked with sells DOT rated -4 AN hose with the 90 degree bend on the end. I plan on putting a piece of rubber hose over them to keep them from chaffing on the edge of the frame. I also have a couple of tube straps to install.
I added a brace, the grey colored piece, to the lower edge of the MC mount, I noticed it flexed a little.
This is the residual pressure valve and the tee to the front disc brakes.
This is the Wilwood proportioning valve, the residual pressure valve and the brake light switch to the rear brakes. I used Loctite 569 hydraulic thread sealant and Loctite Primer T on all of the 1/8"npt fitting threads.
Thanks, Mark
11-20-2016, 09:20 PM
Dave, Here is were I'm at right now. I have driven it to my Mom and Dad's, about a mile away, several times now. Next I will remove the inner fenders and radiator frame so I can take them and all the fender brackets and air deflectors to have them powder coated.
Thanks, Mark