What Did you do to your Explorer/Mountaineer/Aviator today?
05-18-2014, 04:26 PM
What Did you do to your Explorer/Mountaineer/Aviator today?
---
Didn't see a general thread in the Explorer Forum for showing off what you did today.. so here goes..
Installed changed the oil and filter on my wires '04 Explorer (4x4 w/4.6 V8).
Replaced the oil drain plug with the fumoto valve to make future oil changes easier and w/o mess.. refilled with Mobil 1 5w 20.
Also rotated the tires and installed new weathertech vent visors on the 2nd row doors, the 'original dealer installed' front door visors are still attached.
05-19-2014, 07:22 AM
Join Date: Apr 2004
Posts: 117
05-19-2014, 12:37 PM
05-21-2014, 06:09 PM
05-22-2014, 06:25 AM
05-22-2014, 10:32 AM
05-27-2014, 06:48 PM
Join Date: Jan 2004
Location: northwest,sc
Posts: 925
06-02-2014, 04:04 PM
Join Date: Dec 2007
Posts: 20
06-06-2014, 11:42 AM
She went down about a week or so ago so I finally got time to replace the fuel filter. She had the original fuel filter on it and 243500 miles on it! Seems to be running better only a test drive will tell.
I am betting that is what is wrong though.
Those special tools made the task a lot easier glad I picked up an almost new set for $2 that go for $20.
Trav
06-07-2014, 01:10 AM
Join Date: Apr 2000
Location: PNW
Posts: 1,678
Well, not quite today, but all this week. Rough order of events:
1. I swore at it. Multiple times. It ate my 1/4 inch ratchet handle. I dropped it on the left side of the engine compartment and it didn't come out the bottom. Not sure exactly where that sucker went.
2. Removed the upper intake, valve covers, lower intake and injectors.
3. Swore at it again when the torx head twisted off one of the studs that hold the fuel rail to the manifold. Those studs are pretty soft. Two more were stuck in the manifold. It took a lot of patience and about an hour or so to get those three studs out. Ironically, the EGR bolts and a stud in the exhaust manifold came out pretty easily.
4. Got the fuel injectors ultrasonically cleaned.
5. Replaced all the radiator and heater hoses.
6. Replaced the spark plugs. The previous yo-yo (I mean owner) never changed the plugs. All the gaps were out of spec, some a little over .1 inch and the center electrodes were pretty much gone.
7. Cleaned the lower intake and valve covers.

Gotta run to the junkyard tomorrow to grab those studs (NLA from Ford, I'm told), change out some more stuff, put it back together, bleed the cooling system and change the oil. Then I hopefully get to drive it.
06-16-2014, 09:13 PM
Join Date: Apr 2000
Location: PNW
Posts: 1,678
Catching up from the weekend. I replaced the U-joints, replaced the tranny fluid and flushed the power steering system. Prior to that, I recovered the 1/4 inch drive ratchet that was gone forever.

I'm wondering if the previous owner (or his mechanic) used the wrong fluid. The transmission is notchy now when I shift and it shifts just like my '91 Ranger used to shift. Almost feels like going home. The not-as-smooth shifting is OK because the noise that I thought was a bad throwout bearing has gone away and the shift to 3rd doesn't make the noise it did with the old lube. I'll live just fine with the notchy shifting and I hope the noise is now gone for good. Unfortunately, that infamous Ford power steering pump whine (which my other Fords didn't do so badly) wasn't reduced by the power steering flush.
06-17-2014, 10:42 AM
06-17-2014, 11:18 AM
Well, not just today, but over the past two or three weeks, I have replaced the front brakes, all 4 ball joints, front hub assemblies, front struts, water pump, radiator hoses, serpentine belt, thermostat, and the upper and lower thermostat housings....all in the driveway, and all with basic tools....well, except for the oxy-acetylene torch I borrowed, the special tool I rented for the ball joints, and the special tool I rented for the fan clutch. Finally, last night it felt really good to slowly slide my key deep into the ignition switch, fire that baby-doll up, and take her for a nice, long ride....
06-23-2014, 12:12 AM
Today i replaced all the brake pads on my dads '99 Limited V8 AWD. It's about to roll over 37,000 miles here soon and its on its 3rd set of front pads and 2nd set of rear pads...My dad and I share the same braking habits
Yes those are nearly 95% tread depth, Recalled Firestone wilderness A/T's!
Pics from after the test drive and brake bedding, the thing will nose dive and i actually got tire squealing during panic stops! awesome!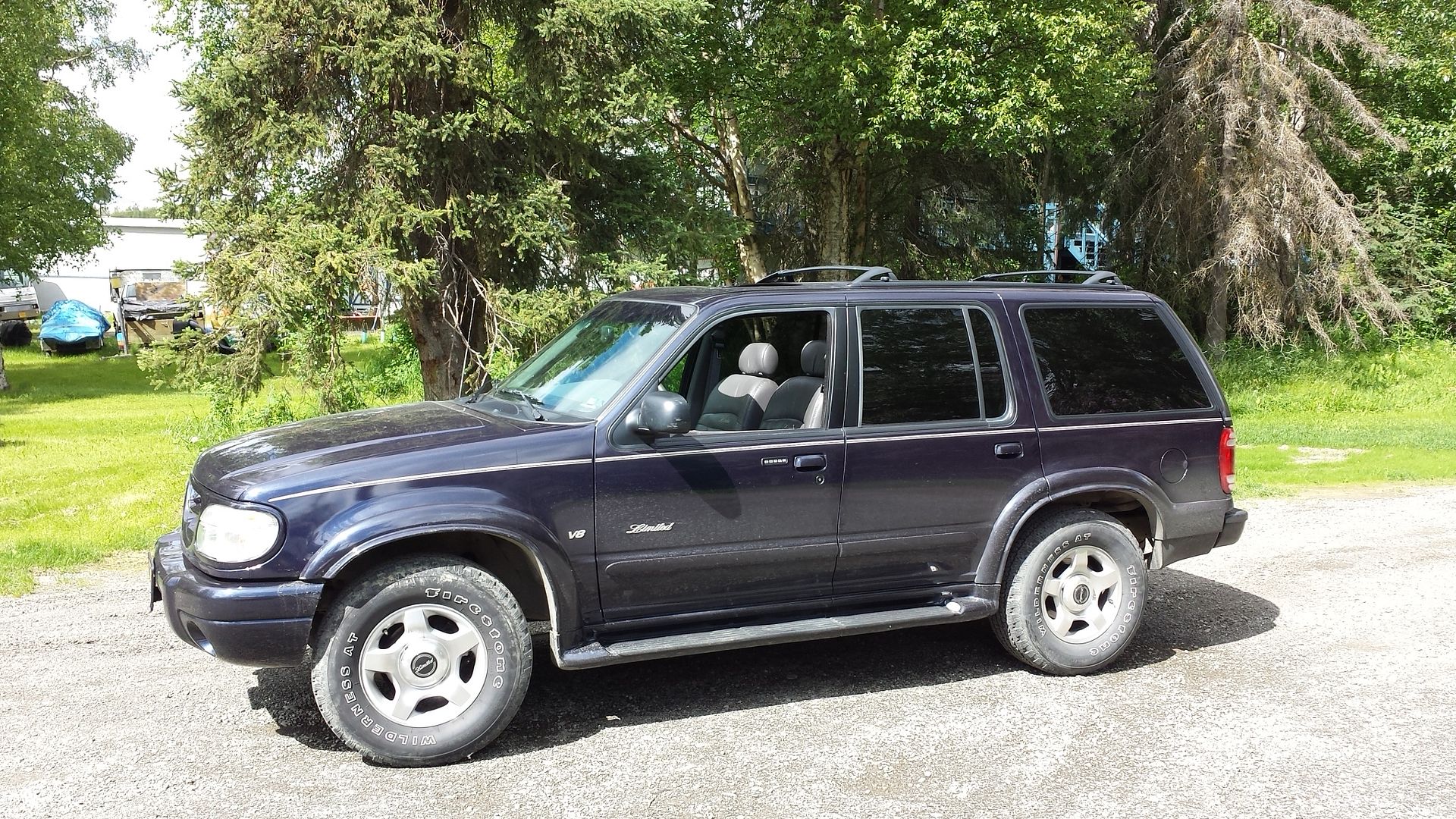 06-29-2014, 10:56 PM
Join Date: Apr 2000
Location: PNW
Posts: 1,678
This weekend, I finally isolated the source of the front end clunk and ordered parts to fix it. Estimated delivery is July 9 so I have to put up with the clunk for almost 2 more weeks.