SUMNER, Wash. (May 7, 2014)
— Torklift International debuts their
first solar-powered, lockable battery box called PowerArmor Solar
.
The PowerArmor Solar is the only aluminum battery box available that locks and features an integrated solar panel to keep spare batteries charged.
"This product has a dual advantage," explained Torklift International General Manager Jay Taylor. "This is an effective security product to prevent battery theft all while maintaining the charge on your spare batteries."
Storing spare batteries in the PowerArmor Solar will maintain the charge, increasing battery life up to 400%. It will also bring batteries back to full charge starting from 50 percent charge.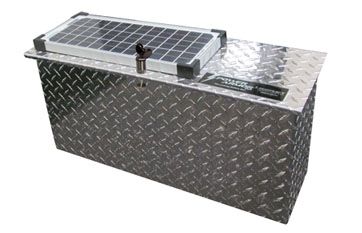 The
lockable battery box
comes in various lengths to accommodate two to five spare batteries and other towing equipment. The PowerArmor line can accommodate more than batteries including messy weight distribution bars, level blocks and other related equipment.
The PowerArmor Solar attaches to the trailer tongue or rear bumper. The PowerArmor line features a slide top to accommodate trailers with an overhanging frontend cap.
All PowerArmor boxes come with interior battery mat that neutralizes battery acid to prevent corrosion.
The
PowerArmor
is backed by Torklift's lifetime warranty. The solar panel is produced by Zamp Solar out of Oregon and is backed by the manufacturer warranty.