My dually conversion, with some porn..
02-02-2014, 03:16 PM
LMC sells
some
trim but it's not quite the factory stuff. Lesser quality, and not quite the same design IIRC. The OEM stuff is (like many things) discontinued or unavailable last I heard.
I think you would probably be okay to pull the old stuff off and run without it. You run the risk that there may be some fading that will show up a little if you pull the moldings, but you could always pull one of the small ones and see how it looks, then reattach it if the paint is faded badly enough that you can tell. They actually look pretty good without it, in my opinion.
Here's NMB2's truck (2wd and crew cab) it's a similar color though so you can get an idea what it looks like.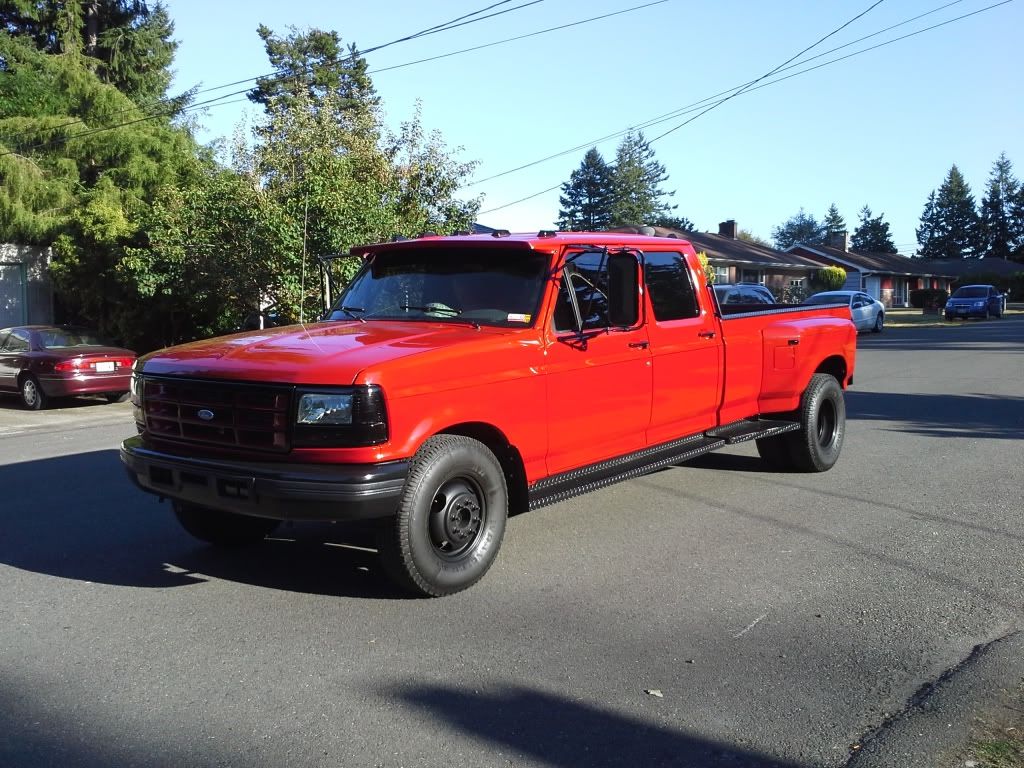 02-02-2014, 06:04 PM
02-02-2014, 06:34 PM
02-02-2014, 09:57 PM
Join Date: Jun 2012
Location: Olney, IL
Posts: 4,021
02-02-2014, 11:34 PM
02-03-2014, 05:46 AM
02-03-2014, 07:30 AM
Join Date: Jun 2012
Location: Olney, IL
Posts: 4,021
Atta boy!
I don't mind black trim but that's a bit much. At least some chrome/aluminum rims, grill, and bumper. Then leave the turn signals stock.
I like the black cab lights, clearance lights on the hips, running boards and mirrors though.
Then it woukda been a good mix of black and chrome!
But who am I to say. Its not my truck! As long as he likes it!
02-03-2014, 06:35 PM
Darin I have the two front factory ford trim pieces that you need one is white that was the only color they made when they discontinued it. The body shop was dyeing them
black. The 97 model did not have the back piece anyway.I bought these for my truck and I done away with it when I painted the truck. My truck had it on the bed when I got it but I don't have any pic with it on you will have to cut it for the dually fender, but it looks good if done right. If you are interested PM me I don't need it any more.
Here is a pic of my without the trim
06-20-2014, 12:29 PM
06-20-2014, 08:49 PM
06-21-2014, 05:52 AM
Originally Posted by
Truck Guy99
So, did you ever get the box painted? What happened to this build? I'm planning a dually conversion myself soon and love the progress your making. You have no idea how jealous I am of that bed! That matches mine perfectly and has nice fenders. How much did that set you back?
It would only match if your truck was clear coated and the same red. Neither of which is true
Thread
Thread Starter
Forum
Replies
Last Post
1980 - 1986 Bullnose F100, F150 & Larger F-Series Trucks
1994.5 - 1997 7.3L Power Stroke Diesel
1973 - 1979 F-100 & Larger F-Series Trucks
1994.5 - 1997 7.3L Power Stroke Diesel