The $500 F250
12-21-2013, 07:21 PM
Thanks guys.
Bought some wheels. They are the style I wanted and the price wasn't bad. Shipping was free. Didn't want to buy new, but also didn't want to jack around waiting for the perfect set to come up for sale on craigslist or whatever.
Like these except in 8 lug of course. 16x8's
Now I can stop obsessing about wheels for a while.
$432.
That brings the total investment to $1152.50
12-21-2013, 07:58 PM
I was looking at similar wheels for mine actually. I think eventually I will get some similar, just got to saves the money for new tires too
01-13-2014, 09:55 AM
Well my shop (AKA my driveway) warmed up to 38 or so and the wind was calm so I decided to pull the carb off.
Unbolted the stock carb, pulled it off and carried it back to the garage. *Came back and looked at the intake.
Hey, that looks funny.
Somebody installed a square bore gasket on a spread bore intake!
Ran back to garage to check carb. Spread bore! Dangit!
It's no wonder this thing would not run worth a flip. *
The Ford spread bore has the same bolt pattern as a regular Holley. *So I have 4 options from cheapest to most expensive.
1. Buy an open spacer, bolt it on and never look back. *
2. Use the square bore intake I drug out of the backyard yesterday.
3. Buy a Transdapt 2199 adapter made just for this reason.
4. Scrounge up an aluminum intake.
Pulling the intake would be nice because I could check out the condition of the inside of the motor, but the immediate gratification part of me wants it done now! *It would be super nice to get that crusty mouse poo intake off and plop on a cleaner one. *Big picture.... big picture.... gotta see the big picture.... *Uncovering the sins of past owners is always interesting.
Square bore intake.
My impatience got the best of me. *Actually I really want to make sure it will run properly before I pull the intake off. *So if I determine something else is awry, I can tear in take care of it all and move on. * I ran to Autozone and picked up a Spectre carb spacer ($20) that can be converted from an open to a 4 hole. *Pretty neat deal. *This is good because to test fit on the spread bore intake, an open spacer is what I wanted to use and on the square bore intake I need a 4 hole to install in place of the egr spacer.
New carb in place.
5.0L HO 4v! *I dug out the Mustang's original air cleaner and unbolted the snorkles. *It is aluminum and weighs about a 1/4th of what the stock steel one does. *haha
It would run if primed, but I never got it to pull fuel from the gas tank. *I should have filled the bowls through the vent tubes, but I just ran out of time to work. *It may be a fuel pump issue but it is more likely just out of gas. I didn't put much in it the last time I messed with it.
01-13-2014, 09:56 AM
The weather started out decent today then the wind shifted to the North and it was less than pleasant. However, that did not stop me from making great progress today.
I started the day trying to get the truck to pull fuel from the tank and run normally. *I filled the float bowls with fuel and connected my underhood starter button. *I primed it and it cranked and ran until the bowls were empty, but still no fuel pressure. *I refilled and reprimed and was greeted by a GIANT FIREBALL in the face when I went to restart!!! *It got some eyelashes, eyebrows and the hair sticking out from under my hat by my ears. * Yowza. *It has been along time since I have had that happen!! * After regaining my composure, I decided to go ahead and pull the ac compressor off since the lines were disconnected and since I would need to take it off in order to get to the fuel pump easier.
After that little chore was complete, I removed the line from the pump to carb and turned the motor over to see if it was pumping anything. *Two little anemic squirts is all it could muster. *So I decided to look at it from the bottom to see if there was anything obviously wrong. * *Well, there certainly was. *When I put a new section of hose from the hard line to the fuel pump, I cut it too long and it had a big kink in it. *I cut 3" off and reconnected. *Problem solved. *Hit the button and it was working perfect. *Reconnected the fuel lines, cranked it over a few times, turned the key on, hit the button and it burbled to a nice steady idle. *Awesome. *Sort of. *It starts and runs 85% better than before but still has a miss that I think I have traced to cylinder #7. *7 was one of the holes I did not test compression on because it's plug is so darn hard to get to.
I went ahead and pulled the valve covers off to verify that all the valves are opening and closing as they should to eliminate the possibility of a flat cam. *Pulled both sides and all 16 are operating properly. *The valve covers have been off before as has the intake manifold. *The inside of the engine looked pretty clean and just had the normal black coating on everything. *I buttoned it back up and started on the interior.
I took the seat and seat belts out and proceeded to rip out the nasty carpet that was in it. *There were plenty of mouse pills and just general filth. *I did find a set of wheel spacers, $0.48 in change and some S&H green stamps. *I vacuumed and windexed the insides of the cab. *It will certainly have to have another round of that, but it is so much cleaner now. *I removed the center dash vents because they had been melted by a small dash fire at some time. *There is one little rusty spot on the floor board that was caused by a dislocated body plug over by the gas pedal. *I reinstalled the plug and the seat and called it a day.
Kinked hose.
Vc off.
Melted vents
Carpet....gone!
Yesterday started out decvent, so I jumped at the opportunity to bolt the new wheels and tires on it. I LOVE the way it looks now!
The wheel spacers I foound under the seat definitely came in handy as the front wheels just barely hit the bump that is just to thenleft of the bleeder in this pic. *Did I mention it has giant brakes? *
I changed the oil, fired it up and drove it around the block and it still runs like crap. I did the plug wire pull test while it was idling again and 3,6,7 had no effect on the idle. These are the cylinders that are adjacent to the exhaust crossover. *I started cleaning on the other intake and looking at it's gaskets, it looks like the exhaust crossover bakes the intake gaskets pretty badly then the gaskets fail. I am going to block the exhaust crossover when I pull the intake.
Ewww. The little pan is supposed to keep oil off the exhaust heated part of the intake. *What it really does is trap oil next to the exhaust heated intake!
It snowed last night, so that will be all the work I can do this weekend.
01-13-2014, 09:58 AM
Lunch time mechanic-ing!
I ate lunch really quick and then started wrenching in the 28 degree windchill. *I unbolted the distributor and quickly found that it was STUCK. *I had to use a rubber mallet to get it to wiggle back and forth and then it finally popped out. *I had planned to just pull the intake bolts and leave the intake in place, but I had plenty of time, so I went ahead and pulled...and pulled.... and pulled... *and finally drove a giant screwdriver into the china wall gasket and pried....and pried.... and finally it popped. *
Whoo hoo it's loose!! * Next, imagine a 6'3" tall guy laying on top of the radiator with his legs stuck straight out parallel with the ground for counterbalance trying to lift the intake off the studs.... *It must have looked pretty funny from afar. *Like an F250 eating it's owner or something.
Once I got it off, it was VERY evident that the intake gaskets were leaking. *It had the 1 piece pan style gasket which is essentially a piece of sheetmetal with gasket material stuck to it. *On the center 4 cylinders, the gasket material was no longer stuck to the metal and was totally burnt up from the exhaust crossover. *It just falls apart if you touch it. *#4 looks kinda ugly. *Like it has been leaking a very long time. *It was probably the reason the intake has been off before. *All the others look very clean and consistent inside. I'm betting the center cyls were burnt and leaking into the exhaust crossover and not the valley just by the looks of the gasket.
Engine is super freakin' awesomely clean inside for something that is 40 years old.
#4 port.
I took some pics of the old gasket. They are Ford gaskets, but were in terrible condition. *I was almost wondering if they pulled the intake to seal up the china walls and then tried to reuse the intake gasket or something.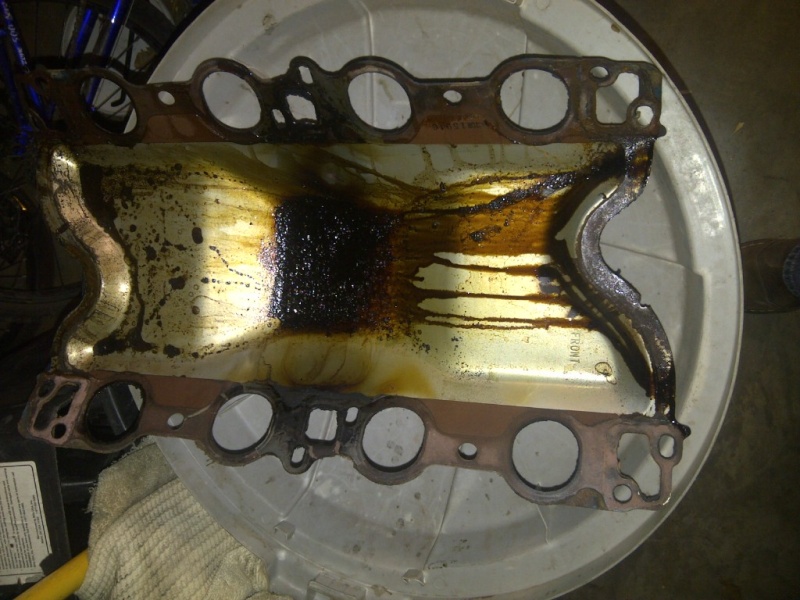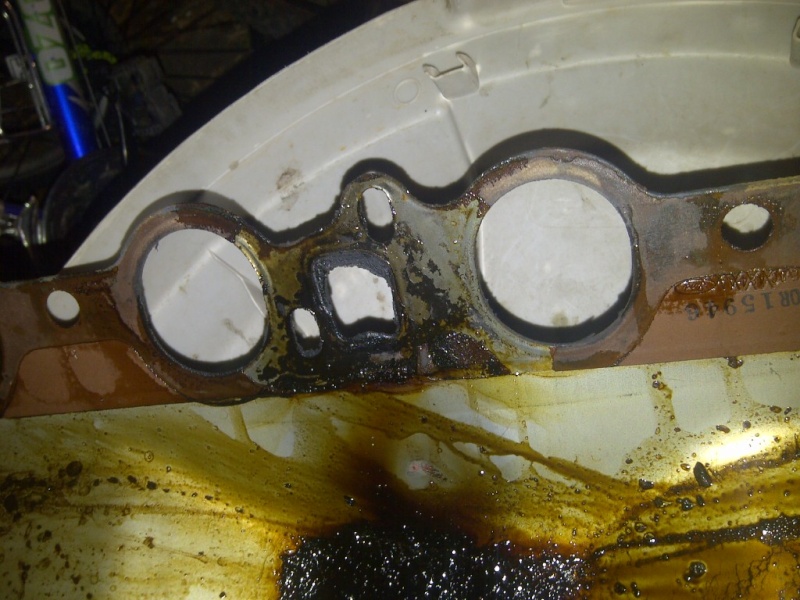 It's obvious it was leaking on the exhaust crossover side of the ports.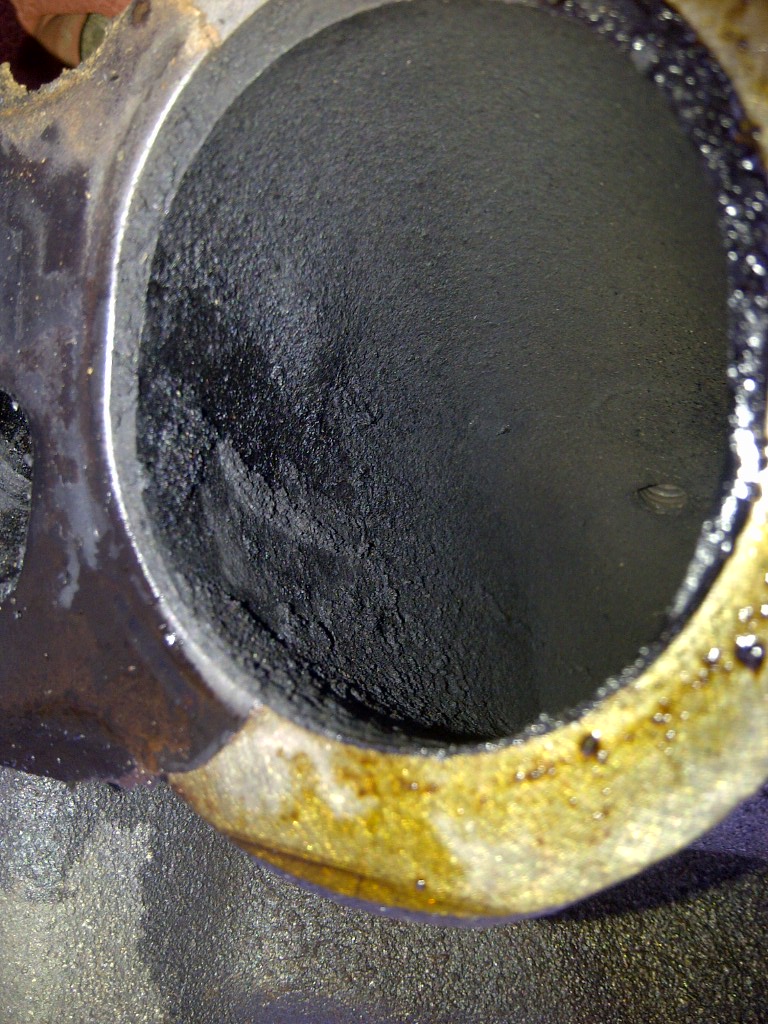 01-13-2014, 09:58 AM
The weather was absolutely beautiful today! * I finished cleaning up the square bore intake and then turned my attention to the truck. *It cleaned up nicely but took much longer than I anticipated. *
Then I cut out some pieces of thin sheet metal to block the heat riser passages. *I stuck them to the heads with some copper rtv and then put the intake gaskets on. *After I put some big ole fat beads of rtv on the china walls I tried to heave the intake over onto the engine..... *Holy crap that thing is hard to handle. *It would probably be easier to deal with if there was some way to hold on to it. *As it is, there is no good way to grab it and set it down. *Well I flopped it on there and the intake gaskets slid out of position... Fail. *Off it came with tremendous effort. * I took the old studs and screwed them into the heads so they would hold the gaskets in place and touched up the rtv. *Round 2. *This time, I repositioned myself where I was sitting on the core support with 1 foot in the engine bay and 1 on the step stool. *I flopped the intake in and it dropped into position perfectly. *Great success. *Earlier I scrounged up a set of stainless bolts for the intake and I proceeded to tighten them all down. *
That went as planned and I began to install all the other stuff. *As I got ready to install the carb, I remembered that one of the bowl screws felt weird the last time I changed the jets. *I unbolted the bowl to find that the bowl screws had heli-coils and that the bottom 2 had backed out and were jacked up. *I removed them and replaced them with 2 new ones I had left over from when I worked on the 950. *When it came time to drop the distributor in, I had to dig around for a new o-ring because the stock one broke and fell off. *Also, I peeked in through a hole in the plate on the distributor and it has a 13 and an 18 slot. *It is set up using the 13, so it has 26 degrees of mechanical advance. *Stabbing the distributor is something that I really dislike doing. *It always seems like the oil pump drive is just a hair out of alignment and the distributor refuses to drop all the way down. *After a very extended period of jacking around with it, it finally plopped in like it needed to. * Ran to the store and got a new tstat gasket and lower radiator hose. *Filled it up with coolant and the moment of truth was finally at hand. *
I cranked it for a bit to fill the bowls and then fired it up. * Yea! *It runs! *Boo! *It still misses on one cylinder!!!! *I let it run for a bit and then took the infrared thermometer to check exhaust manifold temps.... All were around 375 except for #4 which was a lowly 215. *Phooey. *I was really hoping the gaskets would fix it, and they did somewhat, just not to the extent I had hoped for. *The engine was also smoking out of that bank of cylinders, so there is definitely something going on in there.
Now the plan is to go ahead and pull the motor. *I think it would be much easier to pull the whole thing, than to just try to pull a head and see what #4's problem is. *It was hard enough getting the intake out, I can't imagine trying to moose a cylinder head out of there. *I will throw it on a stand, open it up and see what's going on. * Best case would be that 4 just needs a set of rings and hit it with a hone and go. *Worst case would be that 4 is scored up and needs to be bored. *If that is the case, I'll get a kit and take it 30 over, add a cam and hopefully an aluminum intake to the mix. *I suppose it could be a cylinder head problem too, I guess time will tell. *I have a couple of spares just in case. *The temptation to upgrade the Mustang to a better cyl head and use the Trick Flows on the truck is very great right now...... Must. Maintain. Focus.
Feeling a little defeated, but hey, that is bound to happen occasionally.
01-13-2014, 09:59 AM
I didn't have much time to fiddle with it today, but I did manage to get the compression tester screwed into #4. *Bumped it over and it only had 25 psi. Bummer. I went ahead and retested the others and they were all 110-115.
While I was messing with it I decided to pull the vc and make dead nuts sure the valves were opening and closing properly and fully. *Spun the motor over and everything looked great. *Grabbed the phone and took some random pics of the #4 rockers, etc.
Later I was standing in the kitchen looking at the random pics I took and there it was plain as day.... #4 has a broken exhaust valve spring! * Next move is to replace the spring and see if that brings #4 back to life. *Hopefully I just caught a break (pun intended) if the valve is not all gunked up.
Why could it not have been cylinder #1 instead of #4! It *would* have to be the last valve on the head way back next to the fire wall! haha
I am hoping I can rotate it back and forth to maybe grind any goo off that might have accumulated on the seat and valve head. Changing the spring MAY not fix it, but like the gaskets, it's certainly worth a shot.
I just want to reiterate just how lucky I was to take a pic of that. I just randomly took some pics back there and the pic showing the broken spring was the last one I took. It shows up in the other pics, but you'd be hard pressed to identify it in any of the others. Not to mention the fact that the break was not on the opposite side of the spring!
01-13-2014, 08:01 PM
Thanks for the updates, looks like you're having fun with it in a weird way only guys like us can understand
I wish it would warm up already, that or I need to get a garage to work on my truck in. Although my weather hasn't been as cool as yours sounds to be.
01-13-2014, 11:49 PM
Join Date: Sep 2012
Posts: 148
a 750 carb on a 460 with minor mods like aluminum exhaust, headers and a hotter ignition is a waste of money. Edelbrock recommends 600/650 for everthing up to 460 with less than major modifications. I agree with KWE, you will get DOG throttle response out of the 750- stick with a 600/650. better to put your money into fixing things like rebuilding the brake hardware - trust me - on trucks this old, small things like spings start to break- you think you have a siezed wheel bearing, and all that happend is the rear brake return sping broke and wedged in the drum, old fuel hose is cracked and you spend hours looking for vacum leaks, old vacum hoses are dried out and you spend money replacing carb, vacum advance diaphram is dry rotted so youcan't set timing properly, etc - skip all the overcomplicated advice like "recurve your distributor" till you know your distributor even works right. KISS- fix all the small, important things first, as many as you can think of, hoses, belts, old pumps (fuel steering oil), all lines, hoses, belts. get the guages working, buy a tach so you can reasonably set idle. if you replace anyting, make sure to put on a new gasket. change the oil pan gastke, change the valve cover gaskets. Change the valve stem guides (those rubber things that prevent oil from dripping down the valve stem and cause serious smoking), distributor cap & rotor, pickup, check the vacum unit, then, when all that is done, then start overthinking, but not before.